This week's EIA Petroleum Inventory report was a mixed bag for the commodity (NYSEARCA:USO) (NYSEARCA:OIL). While the market is focusing on the bearish headline crude oil inventory build -- sending oil lower to ~$42 per bbl as of this writing -- there was plenty of bullish data in the report to digest.
A look inside the numbers
US crude oil inventories posted a 1.1 million barrel rise last week. Though, as has been the case for pretty much all of 2016, the headline inventory number is linked to imports. Imports fell by 334,000 bpd week over week to 8.4 million bpd. While this is a big decline, imports are still elevated way above the 2016 average of 7.9 million bpd.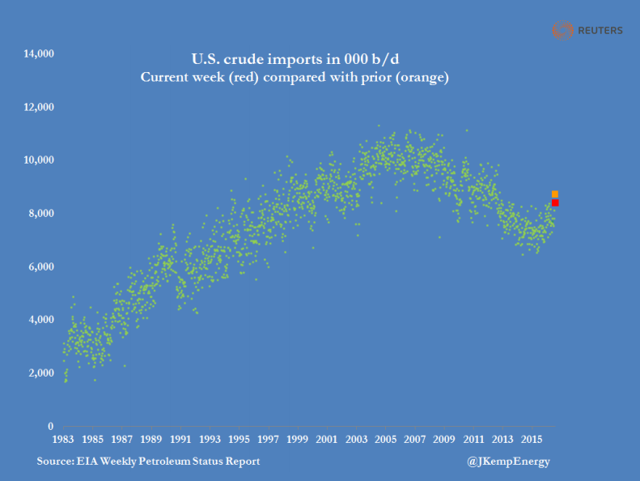 US oil production continues its decline
US oil production fell by 15,000 bpd to 8.44 million bpd versus the 55,000 bpd decline in last week's report. Keep in mind that this data is being impacted by the seasonal pipeline maintenance in Alaska. Though, the trend is clear -- US oil production is declining at a rapid rate.
Over the past 4 weeks, production has averaged 8.48 million bpd, down 10.4% from the 2015 average of 9.46 million bpd and down 12.6% from the 2015 weekly production high of over 9.7 million bpd set in April 2015. This data suggests that production may fall another 400-500k bpd this year if the trend holds.
Gasoline glut is no more?
Refiners processed 16.6 million bpd of crude oil, down 255k bpd from last week. Refiners have responded to plunging refining margins by cutting back throughput. This effort was sparked by rising gasoline inventories and seems to be working.
Gasoline stockpiles fell 2.8 million barrels and distillates fell by 2.0 million barrels. This is despite very high imports of gasoline along the east coast (up 20% y/y). This is an bullish trend and suggests that refiners may have resolved the emerging gasoline glut with the supply cut. Though, surging demand also helped. Implied gasoline demand has averaged 9.8 million bpd, 3-5% higher versus 2015's already high levels.
Keep in mind that gasoline inventories remain high and the summer driving season is nearing an end. Though, the trend suggests that we could hit 2015 supply levels in a few weeks.
Conclusion
Overall, this report had data that both bulls and bears can point at to support their thesis. The headline oil build is bad short-term for prices as most momentum players do not dig deeper. But, falling US production and rising gasoline demand support the bull side.
Keep in mind that a lot of the recent weakness in oil prices (the fall from $50 to $40) has been caused by hedge funds shorting the commodity. Reuters' energy analyst John Kemp noted that this is the 4th major short-selling cycle since early 2015 though with the wrinkle that the shorting has also spread to gasoline futures. As a result, I expect an eventual short-covering rally later this year as these funds cash in their profits from the trade.
As for how to play an oil price recovery, take your pick from the majors: Exxon Mobil (NYSE:XOM), Chevron (NYSE:CVX), BP Plc (NYSE:BP), Royal Dutch Shell (RDS.A, RDS.B), ConocoPhillips (NYSE:COP). Shale players: (NYSE:APA), Anadarko (NYSE:APC) and EOG Resources (NYSE:EOG) are also interesting, though are much more oil pure-plays.
Disclaimer: The opinions in this article are for informational purposes only and should not be construed as a recommendation to buy or sell the stocks mentioned. Please do your own due diligence before making any investment decision.
Disclosure: I am/we are long COP.
I wrote this article myself, and it expresses my own opinions. I am not receiving compensation for it (other than from Seeking Alpha). I have no business relationship with any company whose stock is mentioned in this article.