Originally published August 1, 2016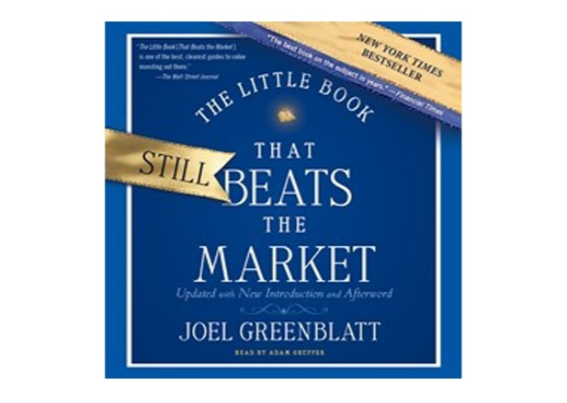 When Joel Greenblatt published The Little Book That Beats the Market in 2005, it was an instant classic.
The 2010 edition - titled The Little Book That STILL Beats the Market - is updated with a new introduction and afterward to convey that this little book is still relevant for individual investors.
The Magic Formula
Greenblatt, founder of Gotham Capital and adjunct professor at Columbia Business School, wrote the book as a gift to his five children.
In an attempt to "teach them how to make money for themselves," he spells out a simple step-by-step process, which anyone can follow to be a successful stock market investor.
Mr. Greenblatt calls his simple process The Magic Formula®. Although there is no magic to this formula, it has been proven to work really well.
Good Companies at Bargain Prices
The Magic Formula is a quantitative approach to selecting "good companies at bargain prices." It does so by ranking a universe of investable stocks by their return on capital (ROC) and their earnings yield.
The stocks with the highest combined rankings after calculating ROC and earnings yield are the best investment opportunities. Greenblatt recommends buying the top 20-30 stocks and holding for one year before rebalancing the portfolio.
To make his case for the validity of this sure-fire formula, Mr. Greenblatt uses both logic and back-tested data. According to the book, the back-tests showed an annual return of over 30% from 1988 to 2004!
The Little Book That Still Beats the Market
While we are left to trust Greenblatt that his data is sound, there is no question that the logic behind the magic formula is legitimate. Scholarly articles have provided exhaustive evidence over the last few decades that:
1.) Stocks with low price ratios consistently outperform the market averages.
2.) Human behavior is the number one cause of poor investment results.
By systematically finding high quality value stocks, the magic formula allows investors to benefit from the "value phenomenon" while simultaneously avoiding negative behavioral influences.
The Little Book That Still Beats the Market is a short and easy read filled with tremendous value investing principles. Aspiring investors of any level will benefit from the principles outlined by Joel Greenblatt.