Siemens ( OTCPK:SIEGY) just released fiscal third quarter results and they were ahead of expectations. Credit goes to cost discipline, strong execution and improved underlying business for the 20% increase in industrial profit, 9% order growth and 7% sales growth.
Vision 2020
When Joe Kaeser, the former CFO of Siemens, was named president and CEO in 2014 he quickly started on a new long term strategy, vision 2020.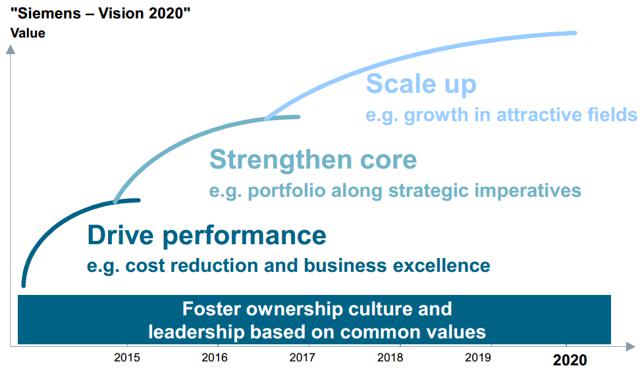 Little was known that he would be spot on, predicting that Siemens would return to growth halfway through 2016. I conclude he is right when:
Eight out of the 9 divisions meet the target margin range.
The overall industrial margin increases 130 basis points.
Revenue growth excluding currency changes has been 9%.
Order backlog excluding currency changes has increased 10% to €21.1 billion ($23 billion).
The expected cost savings have been upped to €950 to €1 billion from €850 to €950 million previously.
Finally, they also increased the expected earnings per share for the full year €6.00 - €6.40 to € 6.50 - €6.70.
Comparing these results with some competitors is interesting as it shows that Siemens beat ABB (ABB) at both sales and order growth (both declined there), US rival GE (GE) at order growth (-16%) and Rockwell (ROK) at the sales forecast.
Revenue growth
Revenue growth has previously been a point of attention. The 9% growth so far is thus a great start and if it managed to keep that up, it might soon break through the €80 billion ($89 billion) revenue threshold again for the first time since 2002.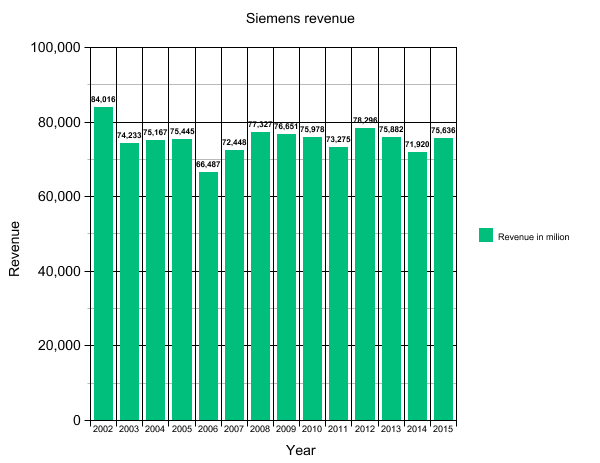 Risks
Despite the positive results, there also is a clouded future ahead. Siemens warned for the expected uncertainty surrounding the terrorist attacks and the upcoming Brexit as Siemens has 14.000 employees in the UK. As Joe Kaeser said "Disorder is the new world order." Siemens has to learn how to adept in the world of uncertainty. Furthermore, the foreign currency issues knocked off a full four percent points of the growth in new orders and three percent points of the total profit growth.
Recent stock performance
The current stock price is €105.65, which is an 11% increase since the start of the year and translates into a market cap of €87.2B and a current PE ratio of 16.88. That is not bad, compared to the PE ratio of Philips (67.03) and general electric (33.09). The all-time high of the stock is €121.39 which they reached in the 2000s.
Conclusion
Siemens is an industrial giant preparing itself for the long run and part three of its vision 2020 plan: Growing and expanding its businesses. For more information about Siemens, I refer you to this article I wrote a few months ago (A Must Have Dividend Growth Investment For The Coming Decades). In this article I stated that it was nearly ready for step three: returning back to growth. That moment has come faster then expected
If you enjoyed this article, please click the " Follow" button next to my name to keep up to date about my latest articles. What are your thoughts about Siemens after the third quarter results? Is it a good long-term value play, or are you waiting for a better entry point?
Disclosure: I am/we are long SIEGY.
I wrote this article myself, and it expresses my own opinions. I am not receiving compensation for it (other than from Seeking Alpha). I have no business relationship with any company whose stock is mentioned in this article.
Additional disclosure: This article discusses one or more securities that do not trade on a major U.S. exchange. Please be aware of the risks associated with these stocks.
Editor's Note: This article discusses one or more securities that do not trade on a major U.S. exchange. Please be aware of the risks associated with these stocks.