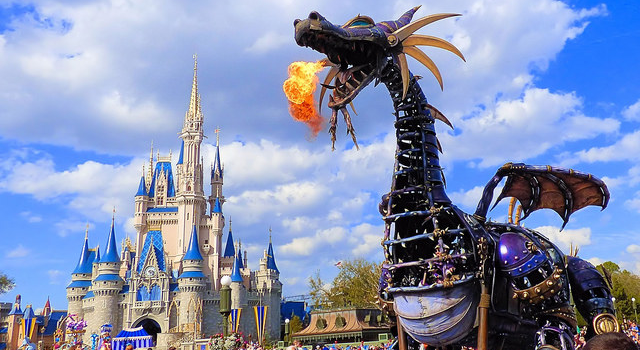 When I reviewed Walt Disney's (NYSE:DIS) Q2 2016 results three months ago I noted that they received a somewhat frosty response from the market. Response to their recently released Q3 results was more positive, however. Rather than shedding $4 from the share price the next day, so far they added over $3.
Why does the market seem more positive on Disney this time round? Taking a look at the results in more depth I think it is quite clear that despite its challenges, Disney continues to show why it is such a quality operator that continues to appeal to a wide-variety of investors. Although far from flawless, Disney's results combined with a recent announced deal leaves me with a lot of confidence in the company's ability to continue to grow in the future.
Let's take a look at what I mean.
Healthy Looking Headline Performance
From a headline perspective, Disney's performance so far in 2016 to Q3 is very impressive. Both revenue and operating income figures suggest that the company continues to generate excellent rates of growth in what is a challenging environment: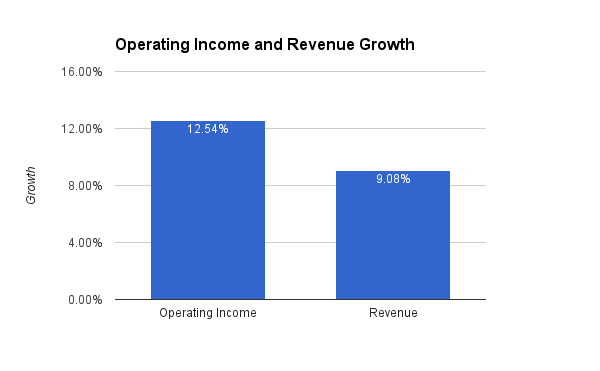 Naturally, as at Q2 time, with operating income accelerating faster than revenue Disney continues to improve upon its already impressive operating margins performance. It had left 2015 with operating margins above 25%. So far in 2016, it looks as though it is set to leave 2016 with even more startling margins: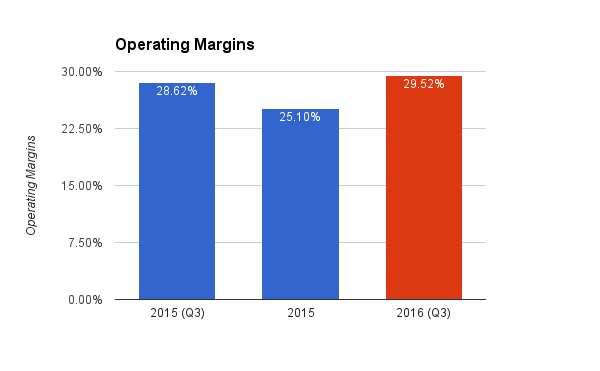 This really is a reminder of the quality of Disney's IP. Disney's pricing power remains compelling, and its ability to efficiently and effectively manage existing IP and manufacture fresh IP is staggering.
Stunning Studio Performance Continues
What is true, however, is that digging a little deeper into the results presents a slightly muddier picture. In some regards, the headline figures hide the story of a somewhat uneven growth on a segmental basis: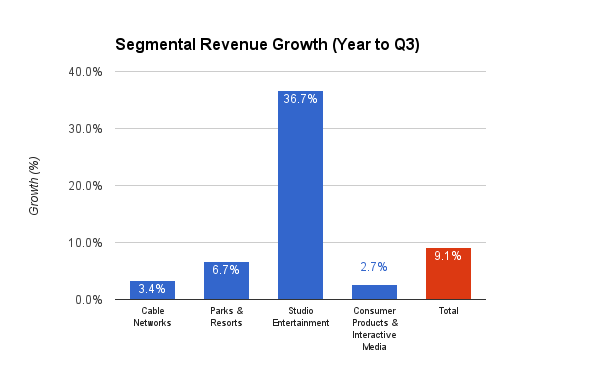 Now, clearly, the most impressive contributor here was the Studio Entertainment segment. Zootopia, The Jungle Book and many other films during the period helped shove revenue higher. Indeed they were able to declare that the top four global releases of 2016 were Disney productions. Quite an achievement. What is more, momentum seems set to continue with fresh productions like Moana and the more familiar Star Wars: Episode VIII finishing filming.
Indeed, this incredible performance means that the share of revenue generated by the Studio segment has grown (and continues to grow) rapidly: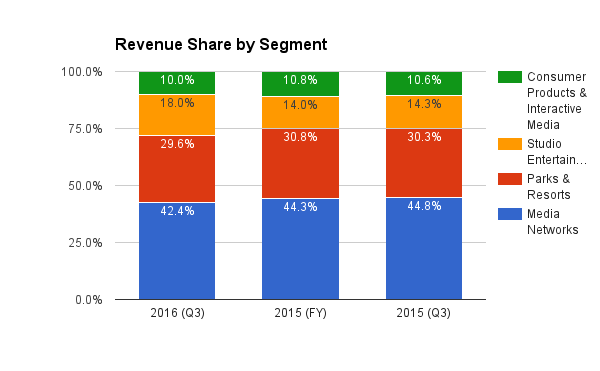 I have written elsewhere about the benefits and disadvantages of this increasing shift away from media networks revenue to other more volatile segments. Yet what is clear is that Studio Entertainments stunning performance so far in 2016 combined with the superbly consistent strong performance from the significant Parks & Resorts segment continues to underpin Disney's impressive top and bottom line growth.
Consumer Weakness
This is great news. Yet drilling down into another of Disney's segments presents a less obviously compelling story. What the 9 month chart at the start of this article disguises is one thing we definitely need to keep an eye on: weakness in the Consumer Products segment. Although only 10% of revenue, the last two quarters have seen revenue decline after strong performances in recent quarters:
This is clearly unwelcome. It does, however, appear to have been driven by very tough comparators in 2015 courtesy of the Frozen franchise. Unfortunately, this does not seem set to disappear for a little while yet. Disney's CFO, Christine McCarthy, was moved to explain that:
I think it's fair to assume that the difficult Frozen comps will continue…. That was a tremendous piece of IP for us and it was very, very successful in our consumer products division. So those comparators will continue to be difficult on a quarterly basis.
This is something to watch, of course. I doubt that the Consumer Products segment will return to the kind of super-charged revenue growth seen in recent quarters. Yet, ideally, I'd like to see them at least stop contracting as we finish 2016 and move in 2017.
Media Networks
Despite this, it is not these segments which have attracted the most interest from investors and analysts alike. Far from it, in fact. The Media Networks segment -- Disney's largest -- continues to draw the most attention. Interestingly, from a 9 month perspective, things generally look pretty robust on this front: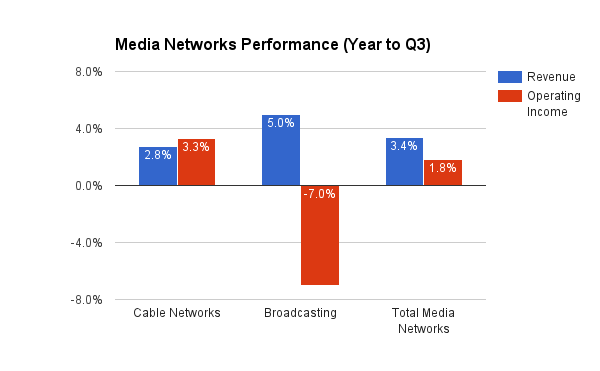 The Broadcasting operating income decline obviously stands out. Nonetheless, it is the core Cable Networks segment (representing 71% of the media networks revenue) which draws our focus. Growth of ~3% in revenue and operating income-though hardly eye-watering high-are certainly robust. Yet zoom into the Q3 results alone, however, and things begin to look less impressive: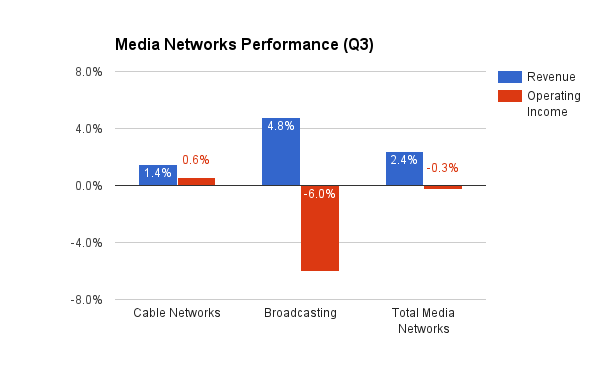 Happily, Disney were able to report that both top and bottom line performance in the Cable Networks sub-segment dominated by ESPN grew in the quarter. Yet it is clear that growth is increasingly hard to come by. Needless to say this was fed by the continued subscription issues derived from the cord-cutting trend amongst consumers.
Cord-Cutting Concern Continues
Many investors and analysts remain fixated on the fact that subscription numbers continue to decline, especially in relation to ESPN. Certainly, in recent years subscriptions numbers have dropped very visibly amongst the main ESPN channels: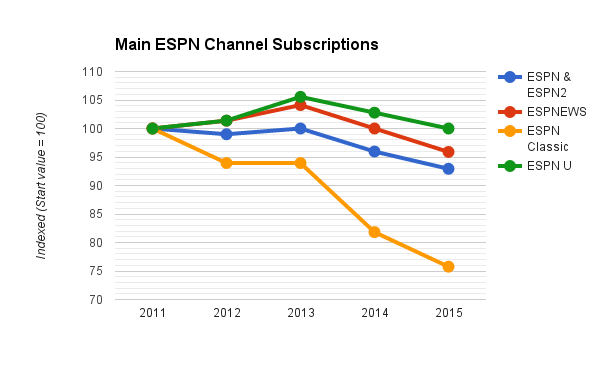 Such charts are unwelcome viewing, and Q3 2016 did not offer much respite it would seem to subscription pessimists in this regard. A "decline in subscribers" was again declared by the company. Yet Disney did report at the same time a potential sign that they are getting to grips with how to manage this secular subs decline.
Light at the End of the Tunnel?
This was the simultaneously announced BAM Tech deal, which saw Disney pick up a 33% stake in the online streaming tech company. Disney's CEO, Robert Iger, in explaining the deal at Disney's earnings call stated that they:
know that new platforms and new entrants in the digital video space are offering consumers more flexibility in variety with exciting new products and impressive user experiences. And we must create or take advantage of these new opportunities in ways that are complementary to the multichannel offering.

With that in mind, … we announced a significant investment that provides us the technology infrastructure to quickly scale and monetize our streaming capabilities at ESPN and across our entire company. We're acquiring a 33% stake in BAM Tech, the industry leader in video streaming, data analytics and commerce management. We have the option to acquire majority ownership in the future, and through this investment, we plan to launch a new direct-to-consumer ESPN-branded, multi-sports subscription streaming service.
This is an interesting move. More interestingly though-although few details have yet been released-this "new direct-to-consumer ESPN-branded, multi-sports subscription streaming service" will not include regular ESPN. The reasoning for this is simple, the ESPN channel is the key money-spinner at present through deals with cable and satellite providers. Offering this direct-to-consumer would potentially harm their current lucrative deals.
Thinking longer term, however, this could serve as a critical move. Getting the direct-to-consumer brand established as early as possible will hopefully serve to make any need to shift regular ESPN to this new mode of delivery far smoother once the time comes. As Iger explained:
joining forces with the BAM Tech team will enable us to make a major leap into the direct-to-consumer video space and will also provide countless new opportunities to expand into this space as the marketplace evolves.

Our goal is to ensure that our brands, notably ESPN, remain strong, vital and relevant in a totally changed media landscape. BAM Tech is a critical component of this strategy."
For now, however, Iger explains that the ESPN branded channel will be complementary to the current ESPN set-up:
The goal is to launch the ESPN-branded service probably by the end of the year, but we're not saying specifically what date it will launch. It will include content that BAM Tech has already licensed for Major League Baseball and the National Hockey League, and we will add content that ESPN has licensed like college sports, football and basketball, tennis, rugby, cricket, et cetera. The goal is not to take product off ESPN's current channels but to use sports and product that ESPN has already licensed that's not appearing on the channels. And so we view this as a complementary service to what ESPN is already providing as part of their multichannel package. Obviously in an over-the-top, direct-to-consumer fashion.
This strikes me as an innovative move by Disney. By developing this complementary direct-to-consumer service they can enhance their current ESPN brand generally. Yet more importantly they will be building the brand in this growing, streaming segment whilst still benefiting from the current cash cow of cable network delivery.
Overall, this leaves me very impressed. Disney has not made a potential painful knee-jerk reaction to the changing consumer environment. Instead they have laid the foundation for a slow evolution in parallel with changing trends. For me, this seems incredibly clever.
Cash Flow
Overall, however, the performance figures for Disney look pretty sound with very little in the way of surprises. Disney's true quality, however, becomes increasingly apparent when we look at the underlying strength of its cash flows. This, combined with robust trading figures, suggest that investors can continue to feel very happy with the House of Mouse's 2016 so far after Q3 results.
Disney always impresses on the cash flow front. Yet it continues to improve massively upon this already impressive historic cash generation: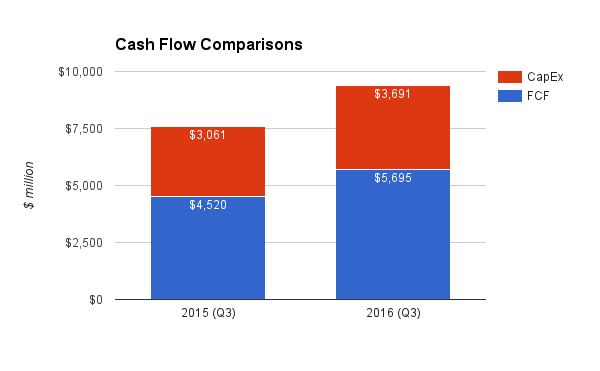 Despite a 20% lift in CapEx, the mammoth operating cash flow generated by Disney in the first 9 months of 2016 compared to 2015 still leaves them about 26% ahead of last year in this regard. Attractive indeed.
What is more this suggests that Disney will leave 2016 with a hugely improved CROIC (cash return on invested capital). Calculated by dividing their FCF by the sum of their total debt and shareholders' equity it tells us how much cash they generate from the capital invested in the business. Judged from current cash flow figures and assuming a similar share of the full-year figures in 2016 as in 2015 suggests Disney could produce a CROIC of nearly 13%: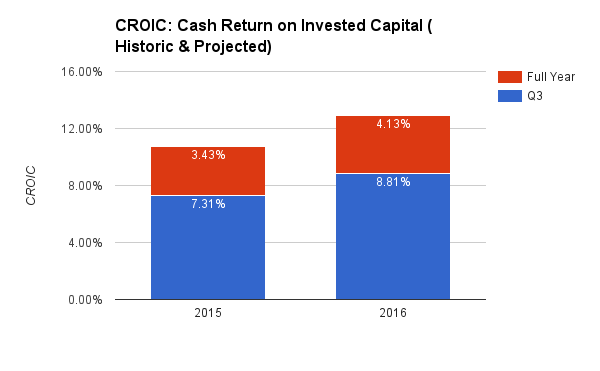 If achieved, this would mean that Disney generated nearly $13 for every $100 invested in the business. A very healthy return. Such impressive cash flow metrics suggest that Disney continue to have ample financial firepower to build up their BAM Tech stake should it be worthwhile or direct funds to other means to adapt to the changing consumer environment. Whatever the case, it provides them with generous amounts of flexibility to continue to build upon their impressive growth history.
Conclusion
Disney is still facing some notable headwinds. ESPN and its important media networks segment generally continue to suffer challenging conditions. Yet on the ESPN subscription front, Disney appears to be making interesting and potentially impressive moves to counter the effects of the cord-cutting consumer in the future. At this early stage it is hard to judge how this would develop and how successful it would be. Yet, for me, I am encouraged that this seems a smart move, which it seems is being cautiously yet confidently managed.
Their increasingly important studio and parks segments continue to impress. Although not mentioned in depth, their parks segment continues to generate consistently impressive growth figures. In turn, their studio segment (despite its inherent lumpiness) has proven to be remarkably adept at churning out productions which chime with consumer tastes. At present there seems little reason to believe this momentum is set to disappear anytime soon.
The consumer products segment is one to watch. Tough comparators have clearly dented its ability to generate the kind of superb growth seen up until recently. Yet two quarters of modest but not insignificant revenue declines is something I had not expected nor wished to see. At present this remains something to watch rather than worry upon. However, it does need to be watched closely. I have little doubt, however, that Disney has the attractive IP to continue to drive robust consumer product performance over the long term. In the short term, it would be good to see revenue growth return even if at a moderate pace.
Set alongside what remains a compelling company with cash flow generating characteristics which never fail to impress, I can't help but think these results suggest Disney remains undervalued right now. Running my straightforward three-layered valuation method across Disney (see my recent Diageo (NYSE:DEO) article to see more on how I do this) suggests that around $110 a share still seems reasonable. With a historic FCF yield of 4.25% and a helpful if unspectacular predicted dividend yield around the 1.45% mark it seems attractive right now for the long-term investor.
Uncertainty around subscription declines as we move towards FY2016 results with the actual publication of subs figures combined with Iger's forthcoming retirement will clearly continue to weigh on the stock. Yet it seems hard to argue that Disney does not still hold more value in it than is currently reflected in the share price.
Notes
Unless otherwise stated, all graphs, tables and the calculations contained within them were created by the author. All data (unless otherwise noted) was collected from publicly accessible company filings and reports. Creative commons image reproduced from Flickr user Jennifer Lynn.
Disclosure: I am/we are long DIS, DEO.
I wrote this article myself, and it expresses my own opinions. I am not receiving compensation for it (other than from Seeking Alpha). I have no business relationship with any company whose stock is mentioned in this article.