Highlights
Crude stock rose by +1.055 million bbls.
Gasoline stock declined by -2.807 million bbls.
Distillate stock declined by -1.959 million bbls.
Cushing stock rose by +1.163 million bbls.
U.S. production dropped to 8.445 million b/d led by declines in the Lower 48.
U.S. imports declined by 334k b/d, but still remain high around 8.404 million b/d.
Refineries slashed throughput by 255k b/d to 16.597 million b/d.
Analysis
Gasoline stock finally took a big dip as refineries slowed down.

The surplus year over year is starting to come down.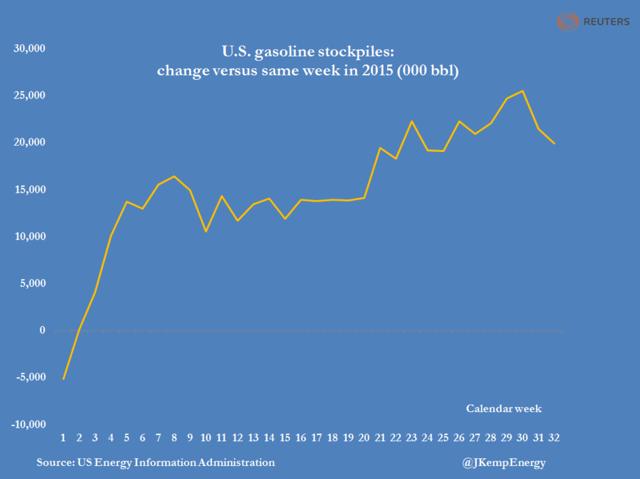 That's a positive development. But as we said many times before, if refineries slow down, then crude stock would see builds. That's exactly what happened this week.
The gasoline glut is mostly on the East Coast. Refineries on the East Coast are the ones that will have to curtail a lot of throughput if they want to maintain healthy crack spreads. What's interesting to us is that gasoline imports into PADD 1 (East Coast) remain unreasonably high despite the glut. Traders we spoke to about this point to cheap refined product from Europe and cargoes being sold at hefty discounts.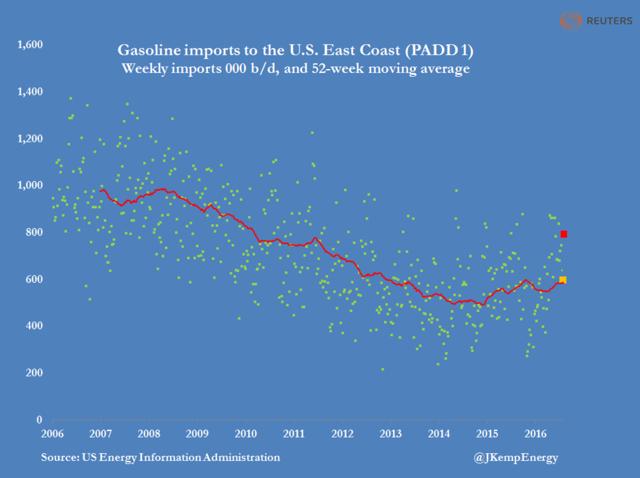 Two things need to happen to alleviate the gasoline surplus in PADD 1. Refineries need to really cut throughput. We aren't just talking about a minor seasonal cut - we're talking about 20%+ more than normal.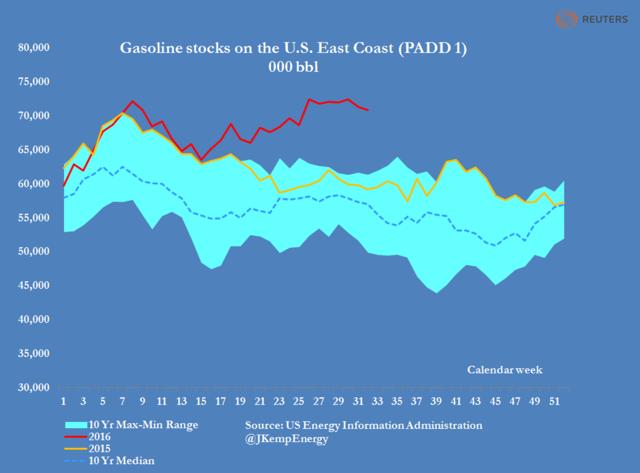 Gasoline stock in PADD 1 is about 10-15 million bbls more than normal, and traders we talked to said they think the glut can go away over a month-and-a-half. But it would require the kind of cut we said was needed.
The other thing that needs to happen is demand needs to remain strong. Looking at the implied gasoline demand, these record figures just need to continue and we should see the excess disappear.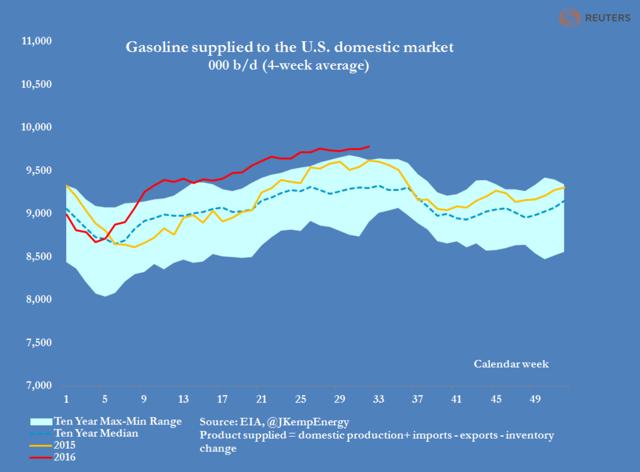 U.S. production continued lower last week and now sits at 8.445 million b/d. Last week saw declines of 15k b/d, with the Lower 48 declining by 13k b/d and Alaska declining by 2k b/d. The recent increase in rig counts won't affect production figures until one to two months from now. Whether these producers are taking advantage of lower servicing costs and drilling drilled but uncompleted wells (DUCs) or actually bringing on new production is still uncertain.
U.S. crude imports remain elevated despite what we reported yesterday from ClipperData. So much for that low crude import figure, but gasoline stock did see a large draw. Overall, it was in line with our expectation. We knew that gasoline glut needs to get resolved first, so a crude build during the summer months isn't a shocker. We think the same trend should continue over the next several weekly inventory reports. If imports drop, however, in any of the coming weeks due to either weather or technical issues, we could see crude stock draw as well.
We hope you enjoyed our weekly oil (NYSEARCA:USO) inventory reports. Be sure to check out some of our old articles, and click on the follow button above if you would like to receive our "Oil Markets Daily" articles. In addition, we also have a premium subscription platform that's tailored to long-term value-oriented investors. We provide recommendations of stock ideas and portfolio composition. We look forward to you joining the HFI platform.
Disclosure: I/we have no positions in any stocks mentioned, and no plans to initiate any positions within the next 72 hours.
I wrote this article myself, and it expresses my own opinions. I am not receiving compensation for it (other than from Seeking Alpha). I have no business relationship with any company whose stock is mentioned in this article.