As a value and income investor, I like to buy stocks that are currently disliked but have the potential for a future turnaround and offer investors a high dividend yield that pays them well for the turnaround to take shape.
CF Industries (NYSE:CF) has seen its stock price plummet over the past year. CF has all the makings of a battleground stock - it certainly looks cheap and has a tempting dividend yield, but many probably view this stock to be a dreaded "value trap," a stock that looks cheap on the surface but only gets cheaper as its fundamentals deteriorate.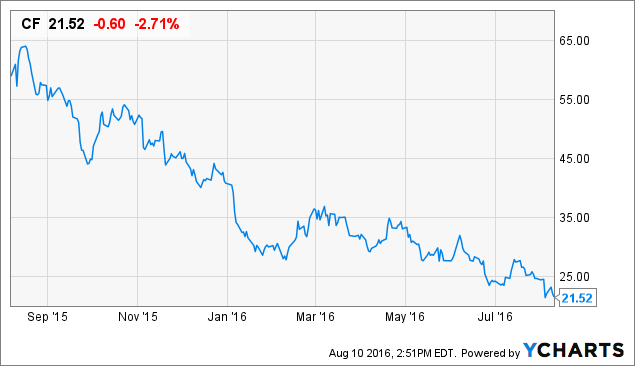 The risk of being a value trap is inherent in value investing. That is why it's important to analyze each company and its unique circumstances to better assess whether a cheap valuation and high dividend yield are true indicators of an undervalued company, or whether instead they are a red flag. CF's earnings have declined substantially over the past year, which may convince some investors that it is a value trap and should be avoided. But I'm taking the opposite view, which is why I recently added shares of CF to my portfolio at $21.60 per share.
Is the Dividend Secure?
Investing in the basic materials sector over the past two years has been like walking through a mine field. Many companies have cut or suspended their dividends as commodity prices fell off a cliff. As a major producer of nitrogen fertilizer, CF has not been immune from the decline in agriculture commodity prices, but it has maintained its $1.20 per share dividend thus far because it has remained profitable.
The stock got hit after reporting second quarter earnings. It's true that CF did miss EPS expectations by a wide margin. EPS came in at $0.33 per share, compared with expectations of $0.68 per share. Net profit fell 87%, from $342 million to $47 million. This stoked fears that business conditions are deteriorating even faster than anticipated and that the company will not be able to maintain profitability, which could threaten the dividend.
But underneath the earnings report, there were a number of items that made CF's results look much worse than they really were. First, CF made a $150 million payment last quarter to OCI N.V. (OTC:OCINF) in connection with the May 22 termination of the merger agreement between the two companies. CF also absorbed $61 million in natural gas hedging losses, up from $5 million the same quarter last year. Adjusting for both of these items would bring CF's earnings back up to more than $250 million, which I believe is a better gauge of the company's earnings power in the current conditions. CF only needs about $70 million each quarter to cover the dividend, so I view the dividend payout as secure, even in the downturn.
CF has a solid balance sheet, with $2 billion in cash and $5.5 billion in long-term debt. The company has suspended share repurchases and expects to be able to retire $800 million of debt in 2018 to further strengthen its balance sheet.
Production Strategy Risky, But Could Pay Off
CF is making a bold decision to continue to increase production even in the face of low prices. This has certainly had a negative impact in the short term, but long term it could be the right call. The reason is because the current supply glut is due largely to higher exports from international markets like China. CF sees this as a short-term issue and there is good reason to believe that will be the case, since Chinese exporters are among the highest-cost producers.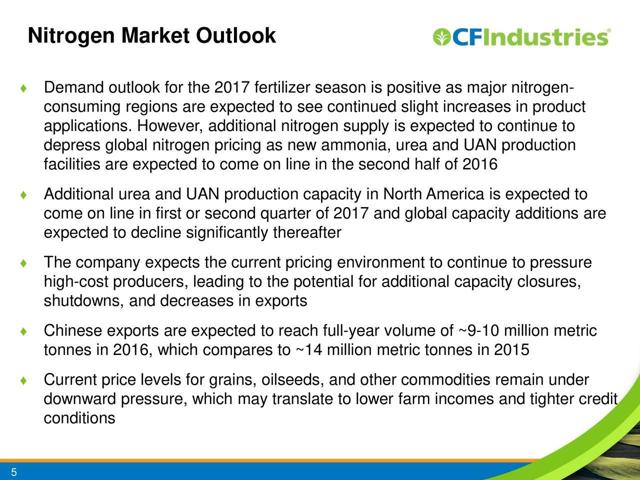 Being a high-cost nitrogen fertilizer producer in a world of low prices is an unsustainable strategy. At some point, production will need to be cut in order for these exporters to survive. That is when prices could finally increase. CF expects Chinese exports will decline to 9-10 million metric tonnes this year, from 14 million metric tons last year.
As a result, CF's strategy is to essentially wait out the higher-cost producers. It's a game of who blinks first, and I believe CF will win, because it can continue to generate solid margins (a 35% first-half gross margin according to the company's recent conference call) thanks to its low-cost structure. Going forward, CF will continue to benefit from falling capital expenditures once its major Donaldsonville and Port Neal expansion projects are complete.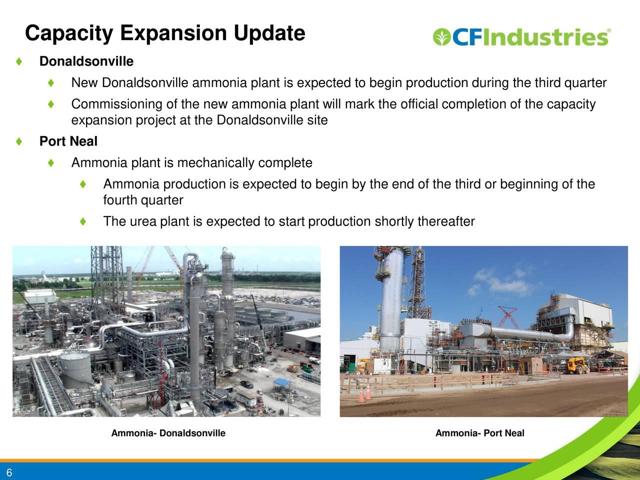 For example, CF spent $2.5 billion on capital expenditures last year alone. This year, capital expenditures are expected to decline to $2-$2.2 billion. Longer term, CF forecasts annual capital spending will fall to $450 million starting next year. This should be a meaningful boost to free cash flow, which will help support the dividend.
Final Thoughts
CF Industries first crossed my radar screen earlier this year during the commodity sell off. I wrote about the company in July after it crossed the 4.5% dividend yield mark. In that article, I wrote that the stock looked tempting, and I recommend investors add the stock to their watch lists. After a continued sell-off, CF recently hit the 5.5% yield mark. With the ex-dividend date of August 11, buying on August 10 will at least give me the next $0.30 dividend. From a longer-term perspective, CF appears to have a viable turnaround path ahead of it.
Pricing pressure is likely to continue this year and into next year, which is why investors should not expect a quick turnaround. But in 2017 and beyond, there is a good chance global supply will finally contract. Assuming demand holds steady, this should result in some pricing relief toward the back half of 2017. If nitrogen fertilizer prices recover at that point, CF will be a good position to capitalize as its major expansion projects will be up and running by then.
Disclaimer: This article represents the opinion of the author, who is not a licensed financial advisor. This article is intended for informational and educational purposes only, and should not be construed as investment advice to any particular individual. Readers should perform their own due diligence before making any investment decisions.
Disclosure: I am/we are long CF.
I wrote this article myself, and it expresses my own opinions. I am not receiving compensation for it (other than from Seeking Alpha). I have no business relationship with any company whose stock is mentioned in this article.