Rio Tinto (NYSE:RIO), the world's second largest iron ore miner, reported half-year results on August 3. Underlying EBITDA fell 27% to $5,367M compared to $7,303M in the year before. Underlying earnings dropped 47% to $1,563M or $0.95 per diluted share.
Strong free cash flow enabled the company to reduce net debt from $13.8B at the end of last year to $12.9B on June 30, and gearing was lowered from 23% to 21%.
Underlying earnings are a key metric for Rio Tinto shareholders as they determine the dividend after the introduction of the new policy in February 2016. Total cash returns to shareholders shall be in a range of 40% to 60% of underlying earnings in aggregate through the cycle. The 45 cents interim dividend which was just declared is in the middle of that range and represents 52% of underlying earnings.
Nevertheless, it is a 58% reduction compared to the last interim dividend of 107.5 cents. Rio Tinto also stated that for FY16, the board's intention is the final dividend paid next year will be at least 65 cents per share.
Business Outlook
After the recovery of prices from their 10-year lows at the beginning of the year, the importance of iron ore for Rio Tinto's profitability is as high as it used to be in the past. Iron ore represents 60% of underlying EBITDA in the first half of 2016 and 82% of underlying earnings before other items.
Rio Tinto's Product Groups
Product Group
Revenue
[$M]
1HY16
Revenue
[$M]
1HY15
Underlying EBITDA [$M] 1HY16
Underlying EBITDA [$M] 1HY15
Underlying Earnings [$M] 1HY16
Underlying Earnings [$M] 1HY15
Iron Ore
6,303
7,004
3,438
4,010
1,743
2,100
Aluminum
4,553
5,455
1,076
1,688
377
793
Copper & Diamonds
2,453
3,263
655
1,335
-67
393
Energy & Minerals
2,960
3,524
531
620
82
74
Other operations/
other items/
exploration/net interest
-4
-12
-337
-350
-572
-417
Total
16,293
19,234
5,367
7,303
1,563
2,923
Source: Company website.
Iron ore is Rio Tinto's bright spot, and it will likely continue to be the driver for an improved business performance going forward. In 1HY16, Rio Tinto realized an average iron ore price of $44.5/wmt FOB basis, equivalent to $48.4/dmt. Pilbara cash unit costs fell to $14.30/ton, compared to $16.20 in the first half of 2015. At present it seems that the iron ore price recovery can be sustainable, and assuming an average price of $55/dmt for the rest of the year, Rio Tinto's EBITDA in 2HY16 could grow by around $800M.
All other segments had to face stronger headwinds in the first half-year, and combined underlying EBITDA fell 38% or $1,381M from $3,463M to $2,262M. This compares to a $572M EBITDA reduction corresponding to a 14% decline for the Iron Ore product group.
Although some improvements can be expected in the second half of the year, the other product groups are unlikely to have a substantial positive impact on Rio Tinto's result. For Aluminum, the second largest segment, I expect a slightly improved performance based on constant volume and better pricing.
Not much progress can be anticipated from Copper and Diamonds. Copper is one of the few disappointments in the commodity sector as prices remain at depressed levels, and the red metal did not benefit from the broad mining rally of 2016. Volumes will not contribute to growth either as Rio Tinto's production will essentially remain flat in the second half-year.
Energy and Minerals is likely to see a stronger second half-year, driven by various factors. Prices for thermal coal recovered noticeably in recent months due to higher imports to China. Metallurgical coal prices are up as well inline with strong demand for steelmaking raw materials. The contribution of iron ore pellets from IOC (Iron Ore Company of Canada) which are reported under Energy and Minerals, will continue to increase on higher production volumes.
All these trends point toward higher cash flows in the second half of 2016. Net cash generated from operating activities of $3.2B in 1HY16 was 24% lower than in 2015, but capital expenditures of $1.3B ($1.1.B less than last year) and raising $0.6B through asset sales increased cash generation, allowing Rio Tinto to reduce net debt by $0.9B.
The reduced dividend in the second half-year will liberate additional cash. With the final payment in April 2016, the company distributed $1.9B to shareholders. The lower interim dividend of $0.45 will save Rio Tinto around $1.1B later in the year.
On the other side, capital and exploration expenditures will increase based on Rio Tinto's guidance of $4.0B for FY16. New projects and primarily the development of the Oyu Tolgoi underground copper mine in Mongolia with a projected investment volume of $5.3B and the Amrun bauxite project in Queensland with $1.8B remaining will increase capex in the near future. They will bring expenditures up to $5.0B in 2017 and $5.5B in 2018, including around $2.0B of annual sustaining capex.
Assuming an at least stable price environment for Rio Tinto's major products and predominantly iron ore, my estimation is that the company's operational performance will continue to improve which should lead to at least constant free cash flow. This should enable the company to reduce net debt further or possibly pay out more than the $1.10 minimum dividend.
Share Price and Dividend
With the strongest balance sheet and the lowest cost delivered to China, Rio Tinto remains the most solid of the major iron ore miners. This has not spared shares from falling nearly 50% to a low of $22 in January, but the stock has recovered nearly 50% since then.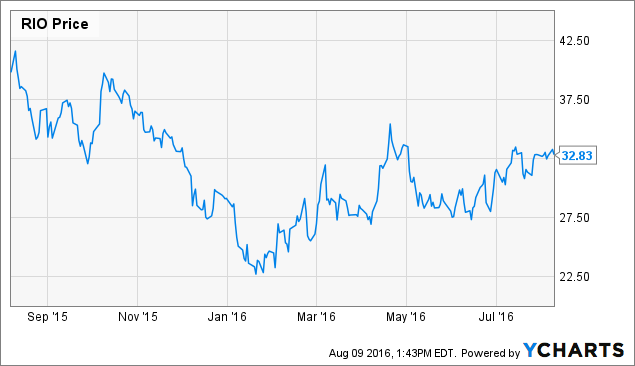 Compared with its peers BHP Billiton (NYSE:BHP) (NYSE:BBL) and particularly Vale SA (NYSE:VALE), Rio Tinto has been less volatile.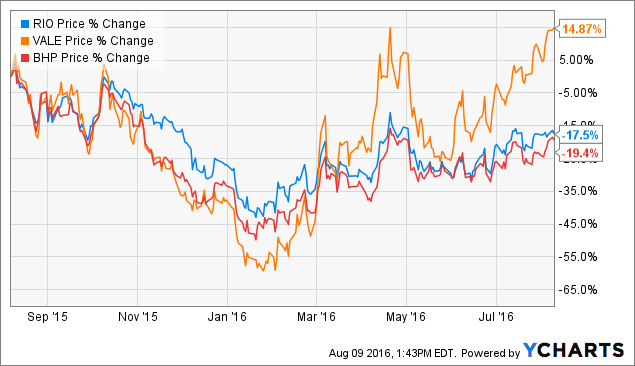 Despite the dividend cut, Rio Tinto maintains an above average yield, higher than BHP's, not to mention Vale which suspended the dividend entirely. With the outlook of a minimum dividend of $1.10 for FY16, Rio Tinto yields 3.4%. As I said earlier, a healthy cash flow might even allow Rio Tinto to pay more than $0.65 final dividend, but it is too early to count on it yet.
Conclusion
Rio Tinto has mastered the commodity downturn quite well, and the stock bottomed earlier in the year. The company's balance sheet which already belonged to the strongest in the industry improved further after the debt repayment. I'm optimistic about Rio Tinto's near-term outlook and the stock remains one of the key holdings in my mining's portfolio.
Disclaimer: Opinions expressed herein by the author are not an investment recommendation, any material in this article should be considered general information, and not relied on as a formal investment recommendation. Before making any investment decisions, investors should also use other sources of information, draw their own conclusions, and consider seeking advice from a broker or financial advisor.
Disclosure: I am/we are long RIO, VALE, BBL.
I wrote this article myself, and it expresses my own opinions. I am not receiving compensation for it (other than from Seeking Alpha). I have no business relationship with any company whose stock is mentioned in this article.