EXCO Resources (NYSE:XCO) updated investors as to the results of its recently announced tender offer. The results are as expected and, in the opinion of this author, are bullish for all members of the EXCO cap structure. EXCO announced that it has secured the maximum tender cap allowance under its proposed tender offer AND that the maximum allowance was reached entirely via the 2022 class (for those unfamiliar, this is the longer duration of EXCO's two junior class issues). This is extremely meaningful for reasons outlined within my preceding tender offer note (which I reiterate and expand on via the screencast below).
EXCO also updated that it has secured the minimum approval necessary to amend the terms of the 2022 notes to allow for an amended definition of "additional indebtedness;" the amended definition will now include debt securities as a permitted form of additional secured indebtedness (in addition to term loans and other credit facilities currently permitted). Again, this is hugely meaningful for reasons outlined within my preceding note (and expanded on within the screencast below):

Post-tender offer and post-tender offer update, EXCO's junior bonds trade at "tender offer" pricing (which makes sense in that EXCO "set the market" with its tender offer) and I believe both issues to be "fully valued" on a cash basis based on today's information. However, I do not believe the bonds (either issue but especially the 2018 notes) to be fully valued on an equity basis; something I elaborate on via the screencast: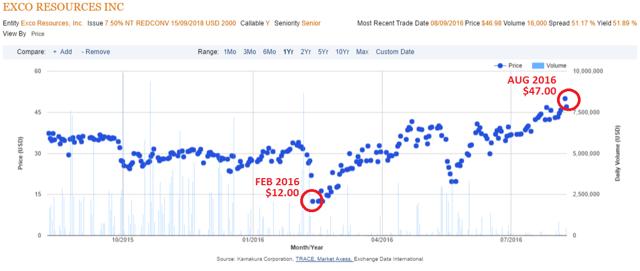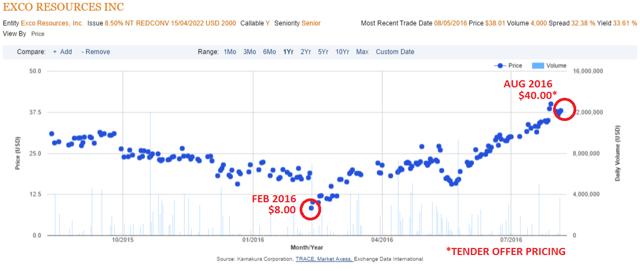 I believe that a major "informational win" was secured by EXCO as a result of the tiered scheduling structure of the tender offer (EXCO's structuring that provided priority tendering to the 2022 notes and secondary tendering to the 2018 notes) in that EXCO was able to gauge the "tender" interest (or generally swap/exchange-based interest) of its 2018 class without actually being at real risk of being forced to tender on a cash basis. Put another way, I believe EXCO knew (or at least speculated with high levels of visibility -- maybe based on calls it was taking and/or conversations it was having with major 2022 holders) that it could fill its tender offer tender cap via the 2022 class alone. I believe that, in turn, EXCO proceeded to include the 2018 class as a potential "second tier" tender only to get a free look at bondholders outstanding which might want to take a swap deal at the tender pricing. EXCO was allowed this "free look" in that 2018 holders would submit bids to tender in the case that it couldn't fill its tender cap via the 2022 class alone.
Now, in light of this new information -- the information of which amount of its 2018 issue would be willing to tender at the tender pricing, EXCO can reach out to partners to seed the market with the information that it is open to debt/equity swaps (which, trust me, happens all the time in the Energy Complex; EXCO has also noted (generally) within public filings that it is considering these types of transactions as a general destressing strategy) and/or can use this information to leverage swap transactions to tender pricing (i.e., to walk pricing down) when taking incoming solicitations for swaps. To be clear, EXCO can't solicit for swaps on an outgoing basis. Put simply, the information gained by including the 2018 class in the tender offer solicitation should limit but not eliminate the equity premium I believe 2018 bondholders can negotiate via outgoing (to the company direct) solicitations. This is good for EXCO, to be sure, while still allowing bondholders some wiggle room for premium negotiating.
Again, this is why I stated above that the 2018s (and this applies to the 2022s as well) are fully valued on a cash basis but not an equity basis. Taking stock over cash (and proceeding to monetize the stock via an exchange) generally is warranting of a premium swap pricing; I don't expect there to be any difference in this scenario. I do, however (and reiterating), expect the equity premium to be limited in light of EXCO executing (yet again) on a level that wouldn't normally be expected of an E&P management team. But would you expect anything less of the "Dream Team" at this point? I don't.
All concepts generally outlined within this note are elaborated on within the screencast.
Screencast Highlights
1:00: The Tender Offer Update
2:30: Capturing the "Free Look" on the 2018 Notes
4:00: The EXCO Equity Premium?
7:00: An MBA Case Study in Cap Structure Stress Management
Disclosure: I/we have no positions in any stocks mentioned, and no plans to initiate any positions within the next 72 hours.
I wrote this article myself, and it expresses my own opinions. I am not receiving compensation for it (other than from Seeking Alpha). I have no business relationship with any company whose stock is mentioned in this article.