By Luke Burgess

[Editor's Note: This is Part II of Luke's Investing in Palladium coverage. For Part I, read Investing in Palladium.]
Like all other precious metals, palladium is bought and sold in the form of bullion coins and bars. The most popular palladium bullion bars today are minted by Credit Suisse, Pamp Suisse and Engelhard. As far as coins, the only government-issued palladium coin on the market today is the Canadian Palladium Maple Leaf.
Palladium bars and coins are available at most large coin shops and online bullion dealers. And the premium on palladium is pretty reasonable, compared to other bullion. Here's a comparison of the approximate premiums that you might expect to pay right now for Canadian Maple Leaf coins that are minted in different precious metal bullion:
Canadian Maple Leaf

Approximate Current Premium*

Gold Maple Leaf

4% – 7%

Silver Maple Leaf

11% – 14%

Platinum Maple Leaf

12% – 16%

Palladium Maple Lear

6% – 8%

*Premiums vary by dealer, coin year, and total purchase.
Coming Soon… The American Palladium Bullion Coin
The U.S. government has plans to release its own palladium bullion in the future.
In 2010, the U.S. congress approved The American Eagle Palladium Bullion Coin Act (now Public Law 111-303), which authorized "the production of palladium bullion coins to provide affordable opportunities for investments in precious metals, and for other purposes."
The law allows the Mint to produce and issue a one troy ounce, .9995 fine palladium bullion coin with a legal tender face value of $25.
Legislation requires a study to analyze consumer demand for the palladium bullion coin, and whether they could be produced at no net cost to U.S. taxpayers. That study is still underway and U.S. palladium bullion coins aren't expected to be available for quite some time.
The one downside to palladium bullion (at least right now) is liquidity. I wouldn't go so far to say that palladium bullion is illiquid. But selling gold or silver bullion is easier than selling palladium any day of the week.
Palladium Futures Trading
Futures contracts of palladium actively trade. However, unless you're a seasoned trader, I'd recommend staying away from any and all precious metal futures trading. Futures trading is very risky, and is often suited better as a hedge against losses, rather than a bet for profit. There are better ways for most investors to get exposure to palladium.
Palladium ETFs and ETNs
Perhaps the easiest and cheapest ways to invest in palladium right now are ETFs and ETNs. But choices are limited, as there are two of these products available for investors today:
ETFS Physical Palladium Shares (NYSE: PALL) – Holds physical palladium with 700,000 ounces of current inventory.
VelocityShares 2x Long Palladium ETN (NYSE: LPAL) – Leveraged note that invests in palladium futures.
The PALL ETF is a simple, cost-efficient way to provide exposure to the palladium market, with a return equivalent to movements in spot prices, less fees. PALL began trading early in 2010 and became very popular, building over 1.2 million ounces of physical palladium holdings by 2011. A recent drop in palladium prices, however, has removed over 40% of the ETF physical metal holdings since then.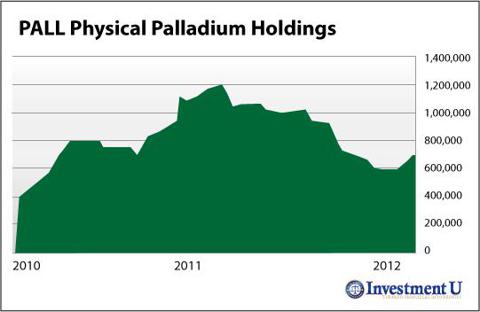 The VelocityShares LPAL ETN is more risky. LPAL – like similar leveraged metal ETNs – isn't backed by physical palladium, but rather invests in futures contracts. As a leveraged ETN, LPAL provides returns (or losses) equivalent to 200% of the movement in the metal's spot prices, minus fees.
Palladium Mining Stocks
Palladium mining stocks are a good way to get exposure to the palladium market. Typically, palladium mining stock prices move in tandem the price of the metal. There are, however, many other things that affect palladium stock prices other than movements in spot prices.
As we've discussed, palladium is almost always found with other precious and platinum group metals. As a result, palladium is often produced as a by-product of other metal production – often platinum and nickel. As such, a company producing palladium as a by-product will subject more to price movements of their primary product, whether it's platinum, nickel, etc.
There are a few companies that are considered primary palladium producers. By definition, this simply means the company generates more than 50% of its revenue from the sale of palladium. So even a company calling itself a primary palladium producer almost always produces other metals as a by-product.
Another very important factor to consider when investing in a palladium mining stock is the company's hedge position. Mining companies with a considerable proportion of their future production hedged are not as affected by short-term movements in metal prices as unhedged miners. So in short, an unhedged palladium mining stock will offer greater leverage, while a hedged producer offers more stability.
And also, there are many other dynamics that can also move palladium stock prices up and down, including future growth prospects or strikes by mine workers, that should also be considered on a case-by-case basis.
Below are seven of the largest and most well-known, publicly-listed mid- and top-tier palladium companies.
Anglo American Platinum Ltd.
Anglo American Platinum (or "Amplat") is the world's leading primary producer of platinum group metals. The company accounts for about 40% of the world's newly mined platinum and produces 1.2 million ounces of palladium per year.
Amplat's main operations are in South Africa, where the company operates seven mines, three smelters and two refineries. The company also has active operations and joint ventures in Canada, Russia, Brazil and China.
Anglo American Platinum's main stock listing is on the Johannesburg Stock Exchange (JSE). For North American investors, the company has an ADR listed on the NYSE under the symbol OTCPK:AGPPY.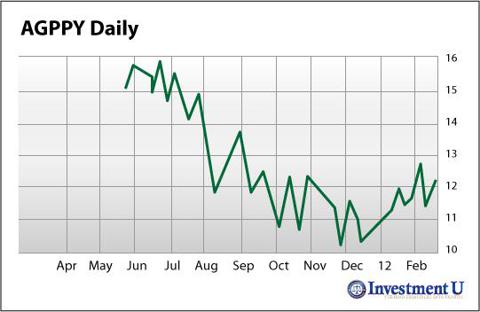 Impala Platinum Holdings Ltd.
Impala Platinum (or "Implat") is another of the world's leading producers of PGMs. In their 2011 financial year, Implat produced 1.8 million ounces of platinum and 1.1 million ounces of palladium.
The company has five mine operations and provides refining services.
Impala Platinum's primary listing is on the JSE, with a secondary listing on the London Stock Exchange (LSE). But the company also has an NYSE-listed ADR that trades under the symbol OTCQX:IMPUY.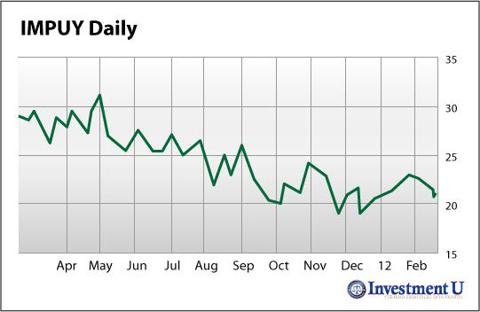 Lonmin Plc
Lonmin operates four platinum group metal mines in South Africa, producing 687,000 ounces of platinum and 324,000 ounces of palladium last year.
The company controls resources of 175 million troy ounces of total PGMs and 43 million ounces of reserves.
Shares of Lonmin Platinum are mainly traded on the LSE, but also have an American ADR under the symbol OTCPK:LNMIY.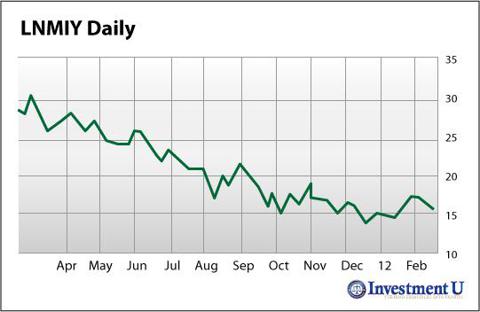 Aquarius Platinum
Aquarius Platinum currently has seven operations located on both the world-renowned Bushveld Complex in South Africa and the Great Dyke in Zimbabwe.
Last year, the company produced 105,000 ounces of platinum and 80,000 ounces of palladium.
Shares of Aquarius Platinum are mainly traded on the Australian Stock Exchange (NYSE:ASX). But the company has other listings on the LSE and on the U.S. pink sheets under the symbol OTCPK:AQPTY.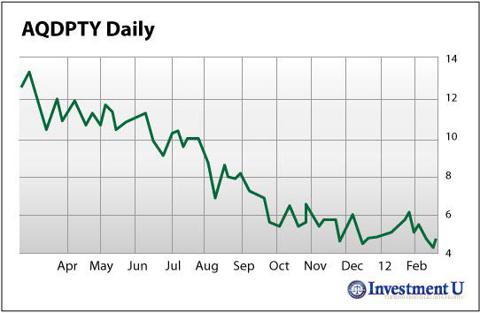 MMC Norilsk Nickel
Norilsk Nickel is the largest diversified mining and metals company in Russia, the world's largest producer of nickel and palladium, and one of the world's largest producers of platinum, rhodium, copper and cobalt.
The company supplies nearly 20% of the world's nickel and produced 2.806 million ounces of palladium last year.
Shares of Norilsk Nickel are traded on the Russian MICEX, LSE, Berlin Stock Exchange, and in Level 1 ADR in the U.S. under the symbol OTCPK:NILSY.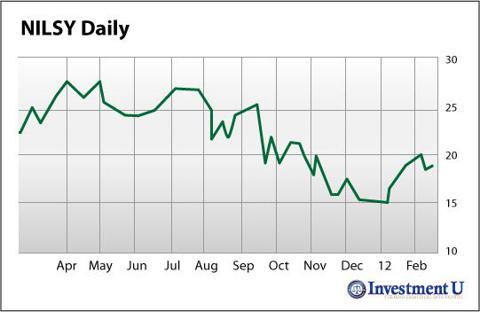 Stillwater Mining Co.
Stillwater is a leading PMG producers and the only significant primary producer of palladium in the Western Hemisphere. The company's operations are comprised of mines and associated metallurgical plants at two main sites in the 28-mile-long J-M Reef in Montana, one of the highest-grade PGM ore bodies in the world.
Last year, Stillwater increased production by 6.6% to 399,000 ounces of palladium, while platinum production increased 7.2% to 119,000 ounces. The increased production was driven by the company's flagship Stillwater Mine, which contains over nine million ounces of PGM reserves.
It's also worth nothing that since the forth-coming American Palladium bullion coin must contain metal mined in the U.S. or U.S. Territories, Stillwater is currently the only company that will be able to provide palladium to the U.S. Mint.
Stillwater's common stock is publicly traded on the NYSE under the symbol SWC and on the Toronto Stock Exchange under the symbol SWC.U.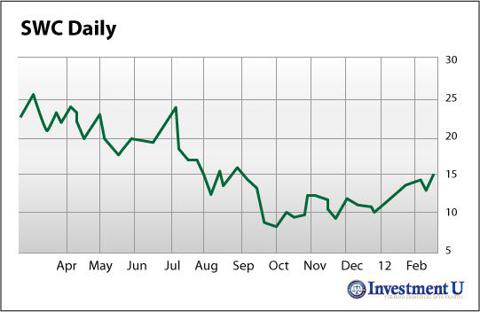 North American Palladium Ltd.
North American Palladium is a mid-tier North American precious metals company, and Canada's only primary producer of palladium.
The company's Lac de Iles Mine in Ontario is one of the largest open-pit bulk mineable palladium reserves in the world. Lac des Iles, one of only two primary palladium mines in the world, is transitioning into a long life, low cost operation.
Once completed and producing at full capacity, expected by 2015, the Lac de Iles Mine is expected to produced over 250,000 ounces of palladium. Lac de Iles is anticipated to be a very low cost operation – expected to produce palladium at under $200 an ounce, possibly positioning the mine as the lowest cost palladium mine.
Shares of North American Palladium traded on the Toronto Stock Exchange (TSX) under the symbol PDL and on the AMEX under the symbol PAL.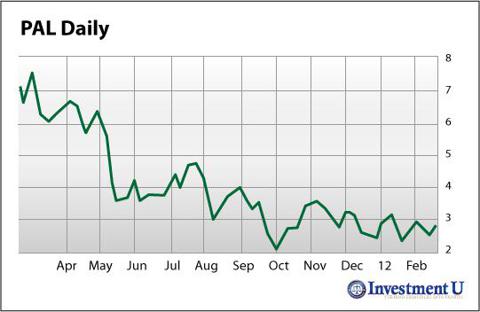 Wrapping it Up
The lack of a super active palladium market right now might be a good opportunity for speculators.
Premiums for palladium bullion are relatively low right now. This could change with the introduction of the American Palladium bullion coin. The U.S. Mint will surely employee an aggressive marketing campaign that will likely boost the general public's interest in palladium bullion. This could drive up the premium for palladium bullion significantly.
The ETFS Physical Palladium ETF only holds about half as much inventory as it did less than 12 months ago. A boost in public interest in palladium could also drive several hundred thousand ounces of bullion back into PALL.
Meanwhile, palladium-mining stocks are just starting to recover from multi-week lows, as the price of palladium seems to be back on the rise.
Of course, palladium shouldn't make up the bulk of your precious metal portfolio. Rather, an investment in palladium is best suited for diversification.
The investment outlook for palladium, in my opinion, is very bright. And there are a lot of good opportunities out there right now for investors to place their bets, as well.
Disclosure: Investment U expressly forbids its writers from having a financial interest in any security they recommend to our subscribers. All employees and agents of Investment U (and affiliated companies) must wait 24 hours after an initial trade recommendation is published on online - or 72 hours after a direct mail publication is sent - before acting on that recommendation.