OPEC supply numbers were worse than expected. They also updated older numbers higher. The US supply numbers were also higher. We don't see how OPEC can come to terms on supply. We think the global economy could be slowing too fast for countries to stick to a deal. We still see downside for oil.
First, Let's Look at OPEC Production
Here are the new numbers they gave on production (pg. 61 of PDF). July was higher than May and June.
| | | | | |
| --- | --- | --- | --- | --- |
| This Month's OPEC Report | | May | June | July |
| Iran | | 3560 | 3617 | 3629 |
| KSA | | 10242 | 10447 | 10477 |
| Total OPEC | | 32617 | 33059 | 33106 |
Not only did the numbers go up in July but last month's numbers snuck higher as well.
Here's last month's reported numbers (below). You'll see May and June were lower (last month, pg. 63 of PDF) last month (below) than May and June's report this month (above).
| | | | | |
| --- | --- | --- | --- | --- |
| Last Month's OPEC Report | | | | |
| | Apr | May | June | July |
| Iran | 3457 | 3567 | 3644 | |
| KSA | 10160 | 10242 | 10308 | |
| Total OPEC | 32620 | 32594 | 32858 | |
May and June in this month's report (the first set of numbers) moved higher than the May and June of last month's report. You can see the first grid also showed a steady build month to month into July.
Higher production is obviously bearish for oil. How bearish? We'll find out how high July really was in August as these numbers restate higher. These production numbers were somewhat of a surprise. Reuters did expect higher numbers but a Bloomberg survey expected lower numbers due to Nigeria (We showed both in our Sunday report.).
OPEC Demand Expectations Go Higher
OPEC raised their demand assumptions (PDF pg. 36). We think they will be disappointed. The U.K. lowered their GDP forecasts. The ECB said there is downside to growth forecasts. And now, in the last week, two senior U.S. Fed officials are talking about global downside risk. We think there will be downside to OPEC's demand figures.
September Meeting
We have two expectations for this upcoming meeting. First, we think global production by OPEC nations will race higher into this meeting fearing they will have to cut production after the meeting. The OPEC get together is scheduled for Sept. 26. We have a ton of time between now and then. Higher production until then should pressure prices lower.
Second, even if they agree, we think the main reason a meeting is being called is because countries are struggling economically. They desperately need higher prices. It's not a desire, it's a need. And they all are in need.
It sounds as if they all hope the other nation drops production, but nobody will ultimately want to take the responsibility for themselves. Especially with economies slowing, they can't so easily. That's why we think Saudi Arabia ("KSA") sounded frustrated when they said: "We believe that Saudi Arabia should not be the one to assume the lion's share of cuts and that everybody should step up and take responsibility, or take steps to ensure there is a balance in the market."
Since each country is having economic problems of their own, we expect it to be difficult that they stick to a bargain. If there is a hint they will not stick to a deal, there will be no deal. We think that could be a material fundamental risk for oil.
U.S. Inventories Continue Higher
U.S. inventories went up for the third straight week. We think that until there are further bankruptcies, companies are incentivized to try to produce as much as they can to stay afloat.
Price Seasonality
Historically, oil prices tend to peak in late July or early August and come down the rest of the year. Here is a chart showing the seasonal nature of prices.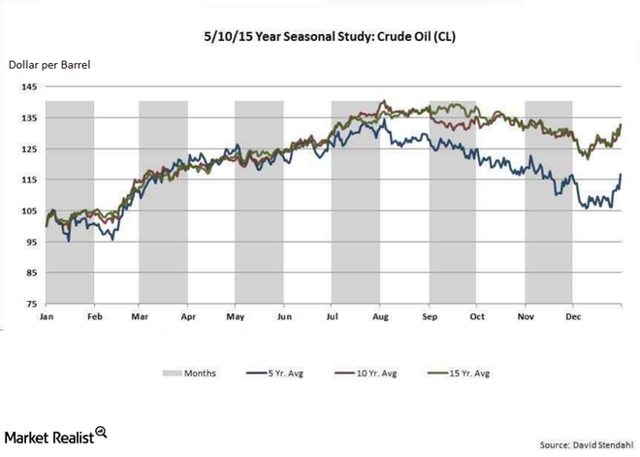 Above, you can see that oil prices tend to peak in late July or early August. This can be an added drag on oil prices. Now, also consider seasonality in relation to the upcoming OPEC meeting Sept. 26. We said we expect production to jump into that meeting as nations worry they may have to freeze sales thereafter. Combining typical seasonality with a race to capture a production window, this could be a tough run for oil.
Oil Price Still in a Downtrend
Our main indicator, price itself, is still in a downtrend.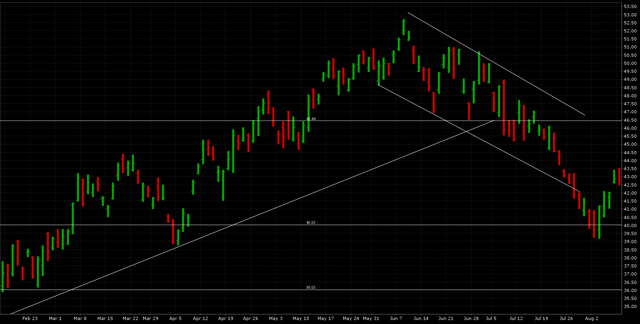 We think the recent downdraft to $40 was overdone. You can see above that the price went below the downtrend. The price went down too fast. Now that price is back in a more normal downtrend it can continue down more easily.
Conclusion
We're still bearish on oil. OPEC and U.S. news were negatives today. We think the globe slowing is helping supplies show up higher. We think OPEC nations struggling economically will mean that even if they agree on production levels, they will not be able to stick to them as each country's economy is struggling. In the near term, OPEC nations have a window to ramp production ahead of that meeting. Combine that with weak historic price seasonality and you can picture further declines in oil.
We remain bearish on oil.
Letting the Market Dictate
To enter a trade, we have to let the market dictate. Whatever we think in the above report, we need a game plan to enter when the market is in our favor. To line up timing on a shorter term basis with risk management spelled out, try "Your Trading Team," an Elazar Advisors, LLC service on Seeking Alpha.
If you want Elazar's analysis on Seeking Alpha, scroll to the top of the article and hit "Follow." Elazar also writes real-time pieces as news is reported. If you want to be among the first updated check the box for "Real-time alerts on this author" under "Follow."
Disclaimer: All investments have many risks and can lose principal in the short and long term. This article is for information purposes only. By reading this you agree, understand and accept that you take upon yourself all responsibility for all of your investment decisions and to do your own work and hold Chaim Siegel, Elazar Advisors, LLC.