Home Depot (NYSE:HD) has outperformed the market since the start of the bull run. Since 2014 HD has outperformed both the SPY and the RWR by roughly 55% and 35%, respectively. Current economic conditions provide a great environment for the home improvement industry and Home Depot has positioned itself as the industry leader to take advantage of growth opportunities. In 2014 we recommended the stock when it was trading at $80.00. Today we continue to support Home Depot and believe there are more gains ahead.
Below is a chart comparing Home Depot to other retailers and the overall market. Notice how gains in the home improvement sector have trumped those gains from other retailers. This supports the findings by the economic report from the president which reveals individuals are using their additional spending power to reduce bad debt and make house related purchases among others.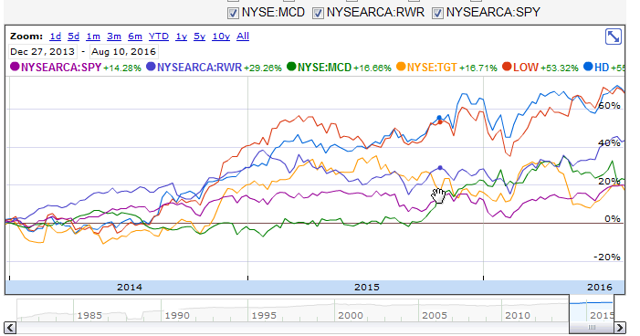 Source: Google Finance
When consumers have more discretionary income, retail sales tend to be driven higher. The catalyst increasing discretionary income in today's environment is the cheap price of oil in addition to low unemployment. Oil continues to remain below $50.00 a barrel, saving consumers money at the gas station. As long as oil remains at these low prices, consumers will continue to have more money to spend on well overdue housing projects, and we believe oil will stay below $50.00 into the foreseeable future. The oil companies essentially create their own price ceiling by slowing production when the price of oil becomes too low. The companies that can survive on low production will until oil becomes more profitable again. The price level at which profitability is high enough is about $50.00 a barrel. Meaning once prices get back up to $50.00, companies max out their production capabilities and flood the supply long enough to drop oil prices back down below $45.00. This already happened once in 2016 and will continue into the foreseeable future unless there is a drastic change in policy.
In addition to low oil prices, interest rates remain low making financing opportunities more affordable for the average person. Low interest rates also reduce the cost of mortgages, increasing the demand for sales. With new homes on the market, the need for home improvement projects and normal maintenance has increased and Home Depot has been a direct benefactor. Increase in demand has increased the price of homes which essentially creates two different markets for companies like Home Depot. After buying a home, the purchaser uses Home Depot for any necessary renovations and additions. Another consumer group using Home Depot are those selling homes at current high prices or those who chose to remain in their current home due to the lack of affordable comparable houses. Since 2014, the biggest consumer of Home Depot products have been those buying homes. However, in 2016, this changed as some consumers are beginning to get priced out of the housing market and decided on renovating their current home instead of purchasing a new one. These consumers also are taking advantage of low interest rates to finance housing projects, spending more on renovations than they normally would have. Interestingly, this consumer is growing in size and spending more than those buying new homes. See below the growth of home improvement projects over the years.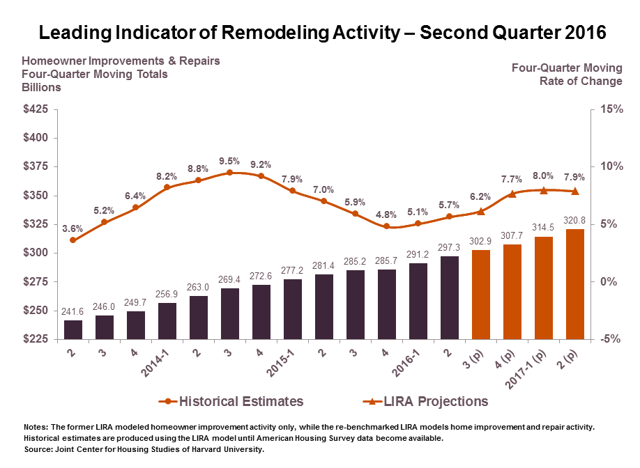 Today's consumers seem to be more peculiar on where they spend their additional savings. Instead of consumer discretionary items benefiting as a whole, only certain industries are really seeing the benefits. The home improvement industry is one that is really benefiting as several types of consumers are going to Home Depot as witnessed by the strong performance on the financials. Since 2014 HD has well outperformed the market. When we originally covered the stock in 2014, before oil's decline, we predicted that HD would be trading around $115.00 in 2016 and have EPS of $4.86 (See article here). Home Depot has actually outpaced our predictions and traded at $132.00 on earnings of $5.46 at the end of 2015. See below our expected vs actual performance figures discussed in our first article on Home Depot .
| | | | |
| --- | --- | --- | --- |
| HD | 2013 (actual) | 2014 | 2015 |
| Total Sales | $78,812 | $83,462 | $88,470 |
| Operating Income | $9,166 | $10,015 | $10,616 |
| EPS | $3.76 | $4.40 | $4.86 |
| Stock Price | $80.98 | $89.45 | $102.22 |
| | | | |
| --- | --- | --- | --- |
| HD | 2013 | 2014 | 2015 |
| Total Sales | $78,812 | $83,176 | $88,519 |
| Operating Income | $9,166 | $10,469 | $11,744 |
| EPS | $3.76 | $4.71 | $5.46 |
| Stock Price | $80.98 | $101.93 | $132.25 |
Home Depot has been able to maintain sales growth and EPS by over 6% and 25%, respectively, since 2013 and even though the stock has gained over 75% in the last three years, it is still relatively cheap trading at only 23 times earnings. We have modified our predictions for 2016 and forecast for the following years based on current growth rates which are derived based on the annual sales growth rate of 6.5% on a future PE ratio of 24. we believe our predictions are conservative as Home Depot continues to increase its margins on higher sales.
| | | | |
| --- | --- | --- | --- |
| HD | 2015 | 2016 | 2017 |
| Total Sales | $88,519 | $94,273 | $100,400 |
| Operating Income | $11,744 | $13,506 | $15,262 |
| EPS | $5.46 | $6.33 | $7.34 |
| Stock Price | $132.25 | $152.00 | $176.23 |
A further look into the technical analysis shows that Home Depot is positioned for another breakout. In 2014 when we covered the stock, HD was showing a double bottom with a W formation after a time of consolidation. Soon after, the stock moved much higher on a great earnings report. The same is expected when earnings come out next week. Notice below a similar W pattern has emerged after a time of consolidation during 2015. This is the same pattern before HD broke out in 2014 and its the first time its emerged since then. Next week we are looking to see if earnings are ahead of expectations and on pace to surpass our expected $6.33 target for the year. If so, the stock should move much higher throughout the year.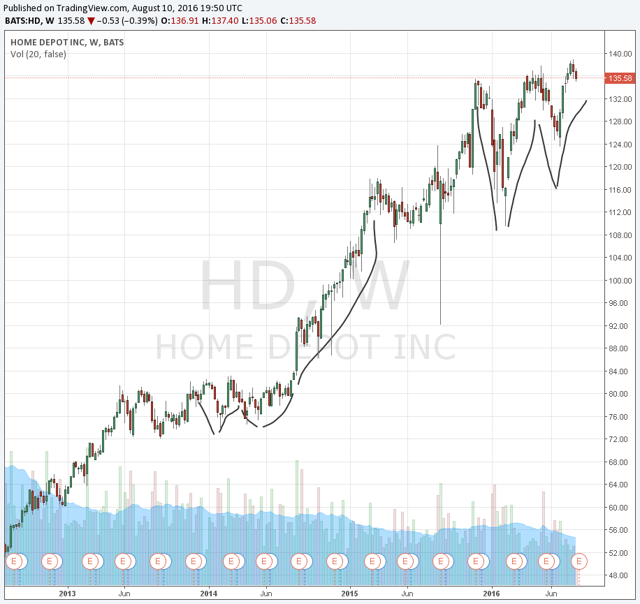 Source: TradingView
Disclosure: I/we have no positions in any stocks mentioned, and no plans to initiate any positions within the next 72 hours.
I wrote this article myself, and it expresses my own opinions. I am not receiving compensation for it (other than from Seeking Alpha). I have no business relationship with any company whose stock is mentioned in this article.