The Thesis
Of all of the things I hold most dear in this world, it is, in fact, the world itself. It lives and breathes just the same as we do in our short lives on it. Fossil fuels pollute our atmosphere, yet are a staple resource in our global infrastructure. We wage wars over it, stockpile it out of fear and rank its importance alongside food, water, and air. However, is it worth the value if it pollutes that food, water, and air? If a quarter of these vital resources can destroy the other three, shouldn't the minority be removed to save the majority? We've come a long way in recent years to allow for a hasty transition into renewables and this article is meant to offer logic behind a new era of energy investing. Now in addition to potential stock appreciation, your investments will be for a virtuous cause.
The Landscape
According to the U.S. Energy Information Administration the United States consumed nearly 11,000 kilowatt-hours (kWh) of electricity per capita in 2015. Since 1971, our per capita kWh use in the United States has increased 73% with 67% of it coming from fossil fuels, 20% from nuclear, and 13% from renewables (e.g. hydro, solar, biofuel, etc.). As our world population expands we will continue to see consumption growth but we haven't reached an aggressive renewable energy plan to date. With this rise in demand, renewable energy sources are the only option to support long-term utilization without depletion or irreparable damage.
How feasible is it to run our entire country on renewable energy? For starters, Apple (NYSE: AAPL) is powering 93% of their entire business on renewable energy. Although it is on a smaller scale, this proves the efficacy of renewables ability to meet today's demand on a commercial level. Germany is also one of many European countries proving this on a larger scale. Bloomberg states that the country was able to power nearly 100% of its energy consumption with renewables in a given day. They're heavily weighted in wind and solar, but generate energy from a diverse set of sources including biofuels and hydroelectric. Meanwhile, states like Nevada and Arizona receive around 2.5x the annual sunlight hours than German cities.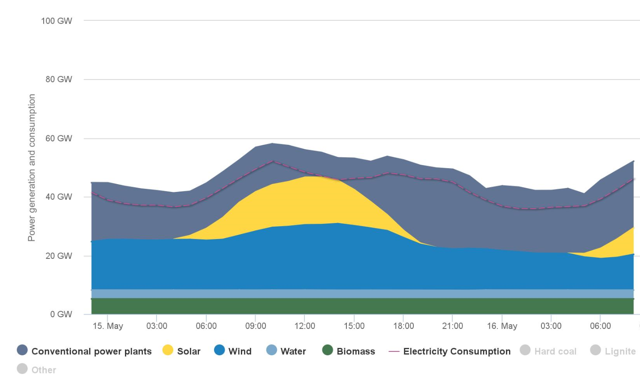 (Source: Agora Energiewende)
Denmark broke world records in generating 42% of its electricity demand in 2015 with wind energy. This is a much safer and intelligent way of producing energy than the risks associated with offshore drilling. Disasters like the BP (NYSE: BP) oil spill of 2010 harmed habitats, livelihoods, and budgets. Fortune estimates BP has paid out a total of $56 billion since the spill, including $1 billion coming from a recent court ruling to pay local businesses impacted. Finally, hydroelectric is one of the cheapest sources of energy, powering nearly 100% of Norway's electricity needs. In some cases, their hydroelectric plants produce more power than nuclear, and after the Fukushima tragedy, we should be evaluating nuclear's risk versus reward profile. Some states in the U.S. are showing more success with renewables than others. For instance, Washington state is powering 30% of the nations net hydroelectric power.
These are important examples when considering the future of energy investing. The collapse in oil prices since 2014 have put many oil and gas companies at risk, and bankrupting more than sixty in the last year. In my opinion this is the innovative disruption of an old and dirty industry.
Investment Opportunities
Although there are many organizations that will profit from the renewable energy market, I will focus on two that I believe are best positioned to capture the majority market share within solar and wind. While I may leave out other obvious investments, please understand these are my opinions of top investment opportunities while I try to keep the article length in consideration.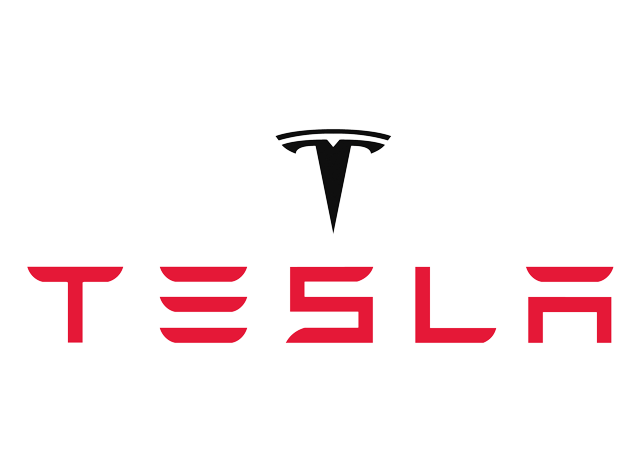 Beginning as a pure-play electric vehicle maker Tesla (NASDAQ: TSLA) is quickly evolving into a full-scale energy company. Elon Musk has made his vision clear that he wants rapid solar succession to fossil fuel. His most recent acquisition of Solar City is one step closer to that vision. This creates a complete ecosystem of vehicle and home batteries, transportation, solar energy hardware, and charging stations to build a perfect vertical integration. Energy can now be created, stored, and used all within the same Tesla framework.
In 2014 Tesla opened up patents to the public for its electric vehicles. This appeared foolish at first, but Tesla understands it cannot create a technology tipping point with their own production capacity. By providing the best technology on the market to other manufacturers, demand can be met at scale. This is important considering the 17.5 million vehicles sold in 2015. Although Elon likely made this decision based on a desire to speed up electric adoption, he's certainly positioned to profit from this move. Competitors will require batteries for vehicles and Tesla's gigafactory will control the largest production of lithium batteries in the world. Therefore, Tesla will be profiting from parts supply to the industry as well as producing vehicles of their own.
Unfortunately, Tesla isn't yet profitable, with a $717 million operating loss at the close of 2015. Year to date their operating loss is already tracking at 67% of 2015, indicating they will have another record operating loss by the close of 2016. Their long-term debt as of Q2 2016 is also nearing a hefty $2.7 billion. This was likely a factor in their decision to raise equity capital of $1.7 billion in secondary stock offers versus additional debt capital, avoiding growth in their lofty net interest expense (see below).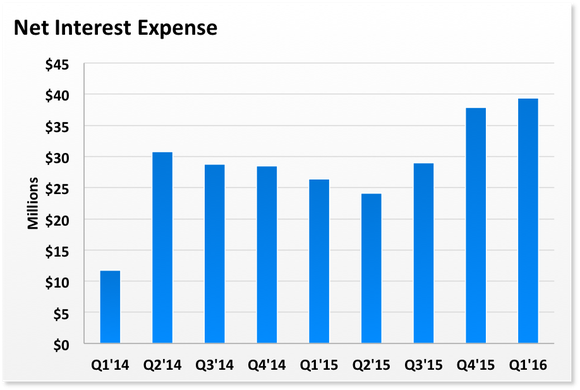 Source (Motley Fool)
Their cash will be required to cover expanding service centers, Gigafactory production, and vehicle production and parts. What concerns me is Tesla still seems to have an issue estimating project costs on a recurring basis (e.g. Gigafactory). On the bright side, the company has over 370,000 reserves for their new Model 3 vehicle. Assuming reservations are the standard vehicle cost with zero upgrades, Tesla stands to make over $13 billion from just these reservations over time. The production will take some time to ramp up as the Gigafactory isn't planned to handle 500,000 units of production until 2018. According to CNBC though, maximum capacity could reach 1.5 million vehicles.
Overall, this company holds massive potential to lead the energy industry in solar power, storage, and transportation. Elon Musk is a visionary that continues to lead in technology as he is often compared to character Tony Stark. Their vehicles provide the longest range per charge of any mass production electric vehicle. Watch closely as they expand their foundation to be the largest source of lithium batteries, a top contending vehicle manufacturer, and home and commercial energy storage supplier. With an ecosystem of this magnitude, the growth potential is enormous as long as the company can tend to their balance sheet and work towards an operating profit.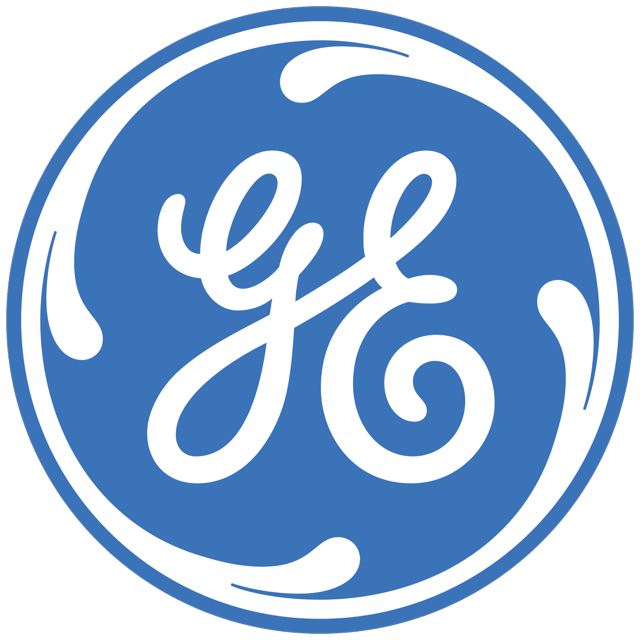 General Electric (NYSE: GE) offers diversity and foundation for investing. Unlike Tesla, this stock gives investors a bit more stability along with a generous yield. The company is comprised of segments including Power and Water, Oil and Gas, Energy Management, Aviation, Healthcare, Transportation, Appliances and lighting and Renewable Energy. It is a mouthful but that diversity provides protection from volatility in any one segment.
The company reported revenue of $33.5 billion in Q2 2016 representing a 15% increase year-over-year and a 20% increase versus Q1 2016. What's most impressive is that the company increased backlog projects 17% to a record $320 billion year-over-year with a lot of success coming from its aviation and renewables business. GE's renewables segment revenue was up 27% year-over-year to $2.1 billion in Q2 2016. CEO Jeff Immelt mentions the global opportunity for wind is strong while oil and gas continue to feel pressure. As the pure-play oil and gas companies feel pain with low oil prices and tightening margins, GE has the luxury of curbing any pain from their Oil and Gas segment with larger growth potential from their Renewables segment. As the transition continues this company has a balanced infrastructure to phase out of segments comfortably while reducing investor risk.
GE has had the most success with overseas shipments of wind turbines but recently hit a milestone shipment for its first U.S. wind turbine at the Rhode Island Block Island Wind Farm. This is a great sign for growth in GE wind, considering wind has remained relatively small in the U.S. as a share of renewables. As of 2013, wind made up a mere 4.5% of U.S. demand according to Energy.gov. Keep an eye on the U.S. as the key growth opportunity for future GE Renewables.
I do however feel the company may be reaching a high valuation at a price to earnings multiple of 29.57x. Compared to peers Honeywell (NYSE: HON) and Siemens AG (OTC: OTCPK:SIEGY), General Electric appears to be trading at a lofty premium. We can make the argument that comparatively, GE's growth rate of 15% year-over-year is much more palatable for investors than the 2% and 5% for Honeywell and Siemens respectively. In addition, GE provides a larger 3% yield compared to 2 to 2.5% from their counterparts.
Overall the companies backlog is something to watch. Although impressive, the company will have the challenge to improve production capacity and turn those projects into realized gains. Based on their P/E multiple, I believe the stock could pull back a bit more as investors may be able to capture a yield above 3%. Based on the stability of the stock over the past year, investors may find supplementing purchased shares with writing put options on dips as a way to increase yield from this industrial leader.
Closing Remarks
Renewable energy is a clear disruptor to our existing model but faces short-term challenges in commercialization, the cost of acquisition, existing corporate investments in fossil fuel, and consumer adoption rates. With the reduction in oil prices, many traditional fossil fuel companies are feeling pressure and those not diversified in renewables could be poor long-term investment strategies. Instead look to Solar and wind which represent some of the better investment opportunities with Tesla and GE as potential industry leaders in each respectively. While Tesla's vertical supply chain is a focal point of the company as they rocket towards leadership in the solar industry, I can't stress enough that prospective investors need to keep an eye on the balance sheet and forecasted vehicle volumes. GE is a more diversified and stable business that is focusing more on its Renewables segment for growth. What you won't get is pure-play renewable exposure from General Electric, However, you will get a steady growth alongside their core industrial business. This means you'll have a more stable investment that is integrated into the renewables industry. GE may translate into a slower appreciation for investors, but supplementing your core ownership with a put option strategy may help expand your return on an annual basis.
Other renewables continue to be a smaller portion of the energy supply. Algae biofuels have been a promising trend to watch. If you have a recommendation of your own ETF or stock within renewables, be sure to let us know in the comments.
Disclosure: I/we have no positions in any stocks mentioned, and no plans to initiate any positions within the next 72 hours.
I wrote this article myself, and it expresses my own opinions. I am not receiving compensation for it (other than from Seeking Alpha). I have no business relationship with any company whose stock is mentioned in this article.