First Majestic Silver (NYSE:AG)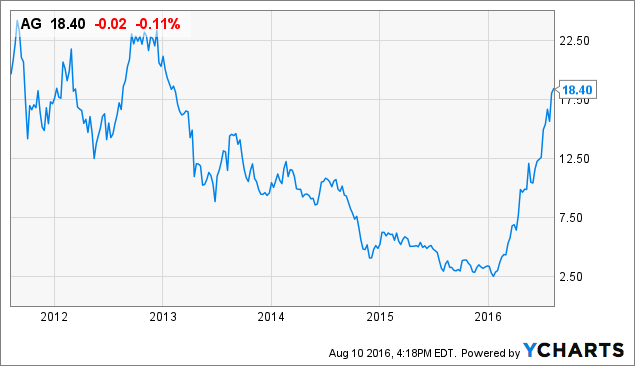 First Majestic Silver has released its second-quarter 2016 financial results, and it was a strong quarter as expected, with average silver prices rising just above $17 per ounce. The company also benefited from strong production and lower cash costs. However, that doesn't necessarily mean shares should be bought here, as I'll explain below.
In the quarter, First Majestic reported silver equivalent production of 4.7 million ounces, a pretty large increase of 23% compared to Q2 2015. All-in sustaining costs fell by a wide margin to $10.97 per silver ounce, a 24% reduction. This is partly due to the company's acquisition of SilverCrest Mines and the Santa Elena mine, which reported AISC under $2 per ounce when you factor in gold production from the mine.
For the first half of 2016, Santa Elena has produced 3.3 million silver equivalent ounces at $1.74 AISC, and it has been First Majestic's best-producing mine. Another strong performer in the first half of this year was the La Parrilla mine (1.9 million ounces at $8.27 AISC) and the San Martin mine (1.1 million ounces at $8.75 AISC).
The strong production, higher silver prices and lower costs led to a 22% increase in revenues to $66.1 million, strong operating cash flow of $23.5 million ($.15 per share) and net income of $6.1 million ($.04 per share), compared to a loss of $2.6 million last year (-$.02 per share).
Another thing to note: First Majestic's balance sheet has improved considerably, but this is mainly due to a $44.7 million equity financing that was completed at $10.95 per common share earlier this quarter. As a result, its cash balance increased 75% to $108.2 million at the end of the quarter, a $46.5 million increase compared to the prior quarter. The company also has entered into an agreement to settle its remaining $1.2 million in debt with First Mining Finance.
Now, for the negatives. First Majestic has revised its 2016 production guidance down quite a bit, to 16.8-18.7 million silver equivalent ounces (reduced 11%), mainly due to lower throughput rates at Del Toro and La Guitarra.
The company also is betting that higher silver prices are here to stay, as it has upped its capital expenditure budget to $88.5 million, up from previous guidance of $63.8 million. The investments are expected to positively impact First Majestic's production and cash costs next year and beyond, but the company needs silver prices to remain at current levels for the increased investments to pay off.
The share count also rose considerably (up to 155.7 million shares) this past quarter due to the equity financing. This has a negative effect on cash flow per share ($.15), which was actually a penny lower than in Q1 despite higher silver prices.
Readers may remember that I previously listed First Majestic as my No. 4 overall silver stock pick for 2016 when shares were trading at just $3.27. I also recommended shares back in November 2015, when shares traded at $3.24, and then most recently, said investors sitting on big gains should consider locking in profits at $12.33 per share.
The stock has just been on a tear this year - shares are now up over 450% year-to-date, compared to a 45.26% gain in the price of silver (NYSEARCA:SLV) and a 185.79% gain in the benchmark silver miners index (NYSEARCA:SIL).
While shares have gone up a bit since my last article, I still think investors sitting on big gains should use common sense and lock in some profits here. I just can't get behind the stock given its meteoric rise and current valuation.
I never recommend buying or selling an entire position at once - instead, I think investors should buy and sell in blocks. And with shares now trading over $18, it's another great time to sell some shares. If you're looking to build a new position in First Majestic, I would wait for a pullback. There will be better opportunities to purchase shares, so be patient, and if you're sitting on big gains, don't be greedy.
Disclosure: I/we have no positions in any stocks mentioned, and no plans to initiate any positions within the next 72 hours.
I wrote this article myself, and it expresses my own opinions. I am not receiving compensation for it (other than from Seeking Alpha). I have no business relationship with any company whose stock is mentioned in this article.