Note: Husky reports in CAD; unless otherwise indicated, all prices are quoted in that currency.
Husky Energy (OTCPK:HUSKF) is a Canadian integrated energy company with producing assets in both Western and offshore East Coast Canada and offshore China, near-production assets in offshore China and Indonesia, and downstream operations in both Canada and the U.S. Its oil and liquids production represent about 75% of the total. It is controlled by a single majority (~70%) owner through Hong Kong entities.
Husky's diversification and its exposure to the Asian natural gas market have distinguished it and given it a degree of attraction. Recently, so have its efforts to remain profitable even with WTI in the high $30s by a focus on core production that involves low sustaining capital and low decline rates. Major non-core divestitures have significant improved its balance sheet. Still, CIBC recently called its stock "cheap as chips."
Husky's current share price reflects the impact of some recent headwinds. Its debt was high. It was probably over-diversified, with the result of higher than needed operating costs. Its refining margins did not offset the low crude pricing. It suffered considerably when it played with and then eliminated its dividend. It had to contend with a major dispute with CNOOC, an essential partner in its and liquids production re marketing of Asian gas. Very recently, it had a Saskatchewan pipeline spill that it seems to have mishandled badly. All this has adversely affected its share price. The recent settlement with CNOOC should provide a catalyst for some recovery.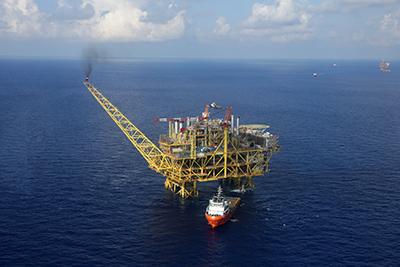 Liwan gas platform. Husky Energy photo.
The CNOOC Settlement
Since late last year, Husky has been involved in a significant contractual dispute with CNOOC and its affiliates, the Chinese state-controlled entities that have a monopoly in the sale of Chinese offshore oil and gas production into the mainland market. The dispute concerned their joint (HUSKF, 49%) Liwan gas project off the south Chinese coast. The dispute was occasioned by the substantial drop in Chinese market gas prices since the contract was originally entered into. While the contract was a take and pay one for gas prices in the US$11-13 range, in November CNOOC began to take less than the total output, and insisted on lower prices for what it took. (CNOOC still took all the liquids at the originally agreed price.) At the end of the first quarter, Husky was threatening to sue.
The Q2 Report indicated that some measure of agreement had been reached, and on August 3 Husky announced that it had agreed to a reduced price for the gas. Husky said that the new price range would be in the area of C$12.50 to $15.00 (US$9.54 to $11.45), with a mid-point of about C$13.75 (US$10.55). At the same time, it noted that CNOOC had again committed itself to take the full Liwan gas output, and that the new pricing would apply retroactively to the gas produced since November 2015.
The resolution of the dispute itself is a major positive step, even in that it now provides pricing clarity. I had suggested in a recent SA article that for meaningful positive cash flow from Liwan, Husky required a price of at least C$10 (US$7.67). The new price range is significantly better than that and should result in solid profits for Husky, if somewhat less than those previously envisioned. At the new rates, the annual free cash flow from Liwan could be in the area of $250 million. There would also be some immediate benefit to Husky from the retroactive payment, which could come close to $100 million. Husky, which had always maintained that any new agreement should be "value neutral", did not release further details of the agreement, but some degree of 'value neutrality' could had been achieved, for example, if the contract has been extended beyond its original five-year term from 2014.
Apart from the pricing agreement, a huge benefit of the dispute resolution is that it now paves the way for completing the new Lihua 29-1 project (~80 MMcf/d), also a joint Husky-CNOOC one, and tying it in to the Liwan infrastructure. This could be completed in 2018. The dispute resolution should also preclude any difficulties with Husky-CNOOC arrangements for the ongoing development of offshore gas fields in Indonesia, now scheduled for first production in 2017.
Bringing Back the Dividend?
The share price for Husky responded positively to the announcement of the relatively early resolution of the CNOOC dispute. Despite the oil spill overhang (see below), the HSE share price in Toronto rose by approximately $1.00 just after the announcement, and has risen further since then (closing, August 5, $16.55; HUSKF, US$12.60).
The combination of the favorable divestitures that deleverage the balance sheet, some recovery in oil pricing and a fairly reasonable price settlement with CNOOC should pave the way for Husky's early reconsideration of restoration of its dividend. Earlier this year, the company had estimated that at $50 WTI it might have an annual free cash flow of $800 million. Late in 2015, Husky suspended its cash dividend of $0.30 quarterly, and instituted instead a "share dividend". The market reaction was overwhelmingly negative, and the experiment was quickly terminated, resulting in a complete dividend cut.
Husky has consistently maintained that it would review its dividend policy on a quarterly basis, and if the oil price recovery seems to be maintaining itself at close to a WTI $50 level into the end of 2016, the announcement of a restoration of the company's dividend could take place even before the end of the year or in early 2017. A restored dividend could raise the share price significantly, perhaps to over $20 for HSE on the TSE, or US$16 for HUSKF. The company undoubtedly realizes that a restored dividend would do much to restore tarnished shareholder confidence.
Saskatchewan Pipeline Spill
On July 20, a Husky pipeline ruptured onshore, discharging about 1,300 barrels of oil, but was close enough to the North Saskatchewan River that some of the discharge went into the river. The slick discharge quickly flowed downstream and has affected the environment for some 350 km, including the water supply for two Saskatchewan cities. There are indications that Husky knew of problems for a 14 hour period before closing the pipeline and reporting them. Husky has taken full responsibility for the spill.
There is still uncertainty about the extent of the damage and the time required for a full, or nearly complete, cleanup. The two cities now have temporary links to other water sources, but these cannot withstand freezing temperatures. Even in Canada's most "pipeline-friendly" jurisdiction, Husky's handling of the spill has created serious public questioning. The amount of Husky's liability for damages and possible penalties is still very unclear, as is the extent of its insurance coverage, but this could be material.
Risks
The largest potential risk to Husky, as to other producers, is a further major decline in oil or international gas prices, or sustained pricing at current levels for a long period.
There is always a particular risk to a company like Husky from some major incident damaging its physical operations at an oil sands project like Sunrise or its offshore platforms that could greatly curtail its production or cause environmental damage.
As a major oil sands producer, Husky could be impacted by any further restrictions on GHG emissions, although the new Alberta provisions are probably beneficial to the company.
With a single major controlling shareholder, there is always the possibility that the interests of minority holders will not sufficiently be considered.
Given the international nature of Husky operations, which include projects in China, Indonesia and Taiwan, there is always a certain geopolitical risk.
For U.S. investors there is a risk from any decline in the Canadian dollar. Given a Canadian economy that is weaker than the U.S., the CAD could decline still further. At the same time, the current slide in the CAD is largely attributable to the economic damage from low oil prices; an increase in crude pricing would almost certainly strengthen the currency.
Investment Thesis
Husky has made major efforts to repair its balance sheet and to prepare itself to lower for longer crude pricing, even at the high $30 level, by an emphasis on low-sustaining capital operations. It may be currently under-appreciated.
Husky's current divestitures, on advantageous terms, should go far to improving its balance sheet position, without greatly impairing future growth possibilities.
Its fixed-price, take-or-pay, Asian gas prices with their consequent high netbacks, are, however, what made it particularly attractive as an investment with an untypical area of secure growth potential. The settlement with CNOOC continues to give Husky advantageous exposure here.
Early restoration of the dividend is a real possibility, and should significantly improve the share price.
Right now, energy investing offers numerous types of opportunities. Potential Husky investors must first decide whether they value the company's diversification, or whether they might wish to invest in another company with a more particular focus.
In the short term, Husky has been made more defensive by its downstream operations, which profit from low crude pricing. With refining margins generally trending lower, however, the integrated companies may be losing their advantage.
Disclaimer: The information provided above is not a recommendation to buy or sell a stock. It intends to increase investor awareness and to assist investors in making smarter decisions. Prospective investors should always do their own further research, and take into account their own current financial holdings, their risk levels and their shorter or longer-term outlooks.
Disclosure: I/we have no positions in any stocks mentioned, and no plans to initiate any positions within the next 72 hours.
I wrote this article myself, and it expresses my own opinions. I am not receiving compensation for it (other than from Seeking Alpha). I have no business relationship with any company whose stock is mentioned in this article.
Editor's Note: This article discusses one or more securities that do not trade on a major U.S. exchange. Please be aware of the risks associated with these stocks.