Silver Wheaton (SLW) Posts Strong Q2 Results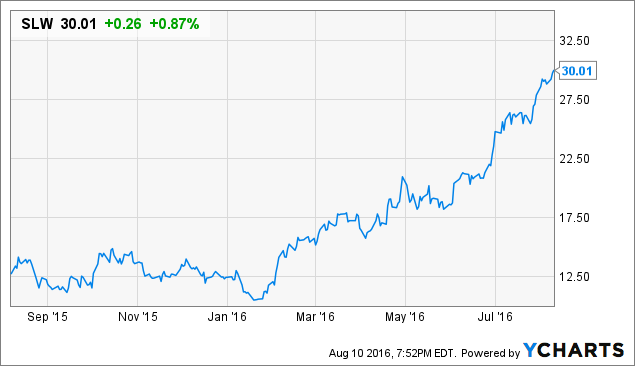 Silver Wheaton just reported its Q2 2016 financial results. Not surprisingly, the company had one of its strongest quarters ever. I say I'm not surprised because Silver Wheaton clearly benefited from higher gold and silver prices in Q2 (6% and 5% higher, respectively, from Q2 2015), and because the company's new streams are starting to pay off, as I expected. There's is one lingering issue that remains, but as I'll explain below, I think it might be resolved shortly, which should lift the share price higher.
First, for the quarterly results. Silver Wheaton says its silver production rose 5% to 7.6 million ounces, while its gold production jumped 40% to 50,100 ounces. Combined, the company reported silver equivalent production of 12.9 million ounces, an 18% increase from last year.
Due to the fixed-cost nature of the streaming and royalty business model, Silver Wheaton was able to book average cash costs of just $4.46 per silver ounce and $401 per gold ounce. Sure, this is a profitable company with lower silver and gold prices (as we saw last year), but it only gets better during gold/silver bull markets like the one we are in now.
Higher production, fixed cash costs and higher gold and silver prices have a strong impact on Silver Wheaton's results. The company says its revenues rose 29% to $212 million, but more importantly, its operating cash flow was very strong at $134 million ($.31 per share), compared to $109 million ($.27 per share) last year, an increase of 23%.
On an annualized basis, that means it is bringing in over $530 million in operating cash flow, and with gold/silver prices rising from Q2, I would expect even stronger results in Q3.
Now, this cash flow per share increase is really important to note, because it shows that even though Silver Wheaton issued 38.10 million new common shares in a bought deal financing back in April of this year (which raised $607 million to repay debt on its revolving credit facility, which was used to purchase the Antamina stream), the company's new assets contributed enough in cash flow to offset the dilution, since cash flow per share actually increased alongside cash flow.
Next, net earnings were $60 million ($.14 per share), compared with $54 million ($.13 per share) in Q2 2015, a 12% increase. The company also declared a quarterly dividend of $.05 per share, giving shares a current yield of .68%.
Finally, Silver Wheaton says it repurchased 3.06 million common shares under its share repurchase plan, but has cancelled the remainder of the plan - most likely due to the higher stock price and the company's wise focus on completing new streams, such as the recent $800 million deal with Vale (NYSE:VALE).
As I mentioned in the article, this new stream will add approximately 75,000 ounces of gold production annually at $400 cash costs, which should equal a little more than $70 million in annual cash flow at $1,350 gold prices. Read the article for further details.
To sum up earnings - Silver Wheaton had a very good quarter. Production was particularly strong at the Sudbury mines, which produced a record 14,9000 attributable ounces of gold in Q2, a year-over-year increase of 82%.
In addition, the company says Goldcorp (NYSE:GG) has approved a new expansion project at Peñasquito that is expected to be completed by early 2019, and it will add 1-1.5 million silver equivalent ounces to Silver Wheaton, which is not included in its current production guidance. This is certainly positive news for shareholders.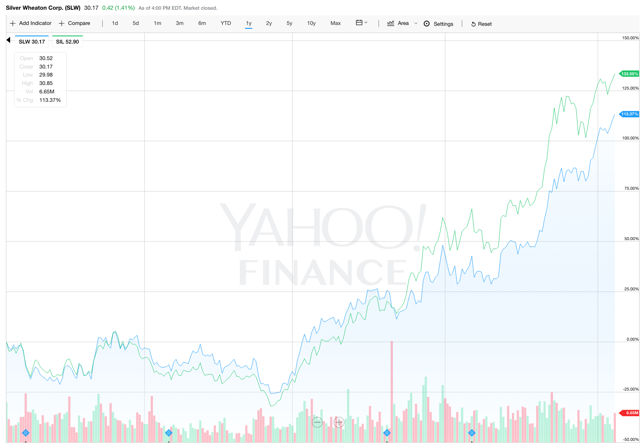 Source: Yahoo Finance
The only thing still lingering over Silver Wheaton's shares is its ongoing tax dispute with the Canadian Revenue Agency. I believe this tax issue is the reason Silver Wheaton stock has underperformed the silver miners index (NYSEARCA:SIL) over the past year (SLW shares are up 142% year to date, compared to a 133% gain in SIL).
As mentioned in a previous article, the company received a reassessment notice from the CRA in 2015, which says any income earned by its foreign subsidiaries outside of Canada should be subject to tax in Canada and be increased for the years 2005-2010. Currently, Silver Wheaton operates through its foreign subsidiary in the Cayman Islands.
The CRA is seeking total penalties, taxes and interest payments of C$353 million, and it could also seek more money for the years following 2010. But Silver Wheaton has vigorously defended its business, and has been fighting this tax bill and reassessment. Pleading closed back in May, and Silver Wheaton says it is still "aggressively pursuing" a resolution in the Tax Court of Canada.
Now, I was a bit disappointed that the company did not provide an update on this issue in its quarterly earnings. Perhaps we will get an update in the quarterly conference call on Thursday.
However, one good piece of news worth mentioning is that Silver Standard Resources (NASDAQ:SSRI) recently resolved a similar tax dispute with the CRA, getting a full refund. In that dispute, the issue was centered around the tax treatment of Silver Standard's sale of shares in its subsidiary that owned and operated its Snowfield and Brucejack projects. This particular dispute was resolved about 18 months after the reassessment notice.
It's possible this tax issue resolution will benefit Silver Wheaton, but perhaps that is just speculation on my part. It just may take a bit longer to resolve than we all expected.
My views on Silver Wheaton haven't changed much following Q2 2016 earnings - it's a great growth stock to own, even with the tax issue. The company is estimating more than 70 million silver equivalent ounces of production by 2020 - a rise from 54 million ounces in 2016 - if all of its major streams come on-line by then.
The stock has more than doubled since the start of this year, so I would recommend investors sitting on profits take some off the table, and if you are interested in building a new position, I think waiting for a pullback is a smart idea. Silver Wheaton remains a core holding of mine and a solid long-term pick.
Disclosure: I am/we are long SLW.
I wrote this article myself, and it expresses my own opinions. I am not receiving compensation for it (other than from Seeking Alpha). I have no business relationship with any company whose stock is mentioned in this article.