CorEnergy Infrastructure Trust (NYSE:CORR) announced earnings for the second quarter of 2016, which were generally in line with expectations. The following are the highlights of the quarter:
FFO/sh of $0.99 (diluted) and AFFO/sh of $1.01 (diluted for the second quarter, $1.59 and $1.98, respectively, for the first half. Comparisons aren't overly valid due to acquisitions.
At June 30, 2016, CORR had approximately $63.2 million available for future investment representing cash of $8.1 million plus revolver availability of $55.1 million (there are approximately $12 million in commitments, for a net cash available of approximately $50MM).
All tenants continue to make timely rent payments.
Completed ~$2 million of share repurchases and ~$1 million of convertible debt repurchases during the first half of 2016 [average cost of approximately $22/sh].
Sold Black Bison Assets and expect to convert a portion of the Four Wood Financing Note to a preferred equity interest.

Grand Isle Gathering System: The parent company of our tenant of the GIGS, Energy XXI Ltd. (EXXIQ), had its Disclosure Statement approved on July 15, 2016, enabling EXXI to begin soliciting creditor approval of its proposed Plan of Reorganization.
Pinedale Liquids Gathering System: Ultra Petroleum Corp. (UPLMQ), the parent company of our tenant of the Pinedale LGS, has requested an extension to file its proposed Plan of Reorganization and Disclosure Statement until first quarter 2017. We anticipate UPL will accept or reject its leases, including the Pinedale Lease Agreement, by year-end 2016.
Black Bison Financing Note: On June 16, 2016, CorEnergy sold substantially all of the assets of Black Bison Water Services and its subsidiaries to Expedition Water Solutions for a combination of $1 million in cash, plus an earn-out of up to $6.5 million in royalty payments. Royalty payments will not increase AFFO.
It is necessary to recall the importance of Pinedale and GIGS to CORR, as they are both still in bankruptcy (the GIGS tenant was excluded from EXXIQ's filing, but nothing is off the table):

As nearly all of the REIT's revenues are derived from tenants in bankruptcy or with parents in bankruptcy, the reason why it trades at approximately 7x FFO is somewhat apparent.
CORR's recent financials: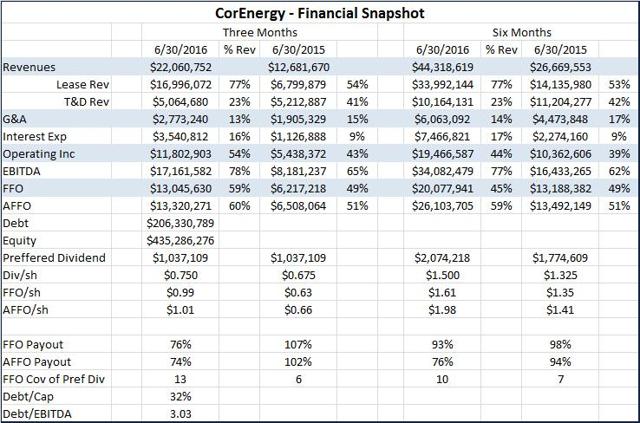 The REIT's financials continue to be strong, with debt at 3x EBITDA and 32% of capitalization (counting the convert as 100% debt). Further, the FFO coverage of preferred stock dividends at 13x is very strong, and the payout ratio on the common shares remains low (76% and 74% of FFO and AFFO respectively).
As we have stated numerous times, one of the selling points for REITs is the covenants, as they help protect investors from overreaching and over-levering by management (especially when management is external, as it is here). To this end, the following are the bank covenants that CORR is bound by (per the 10-Q):
Under the terms of the amended and restated Regions Revolver and term loan agreement, as of June 30, 2015, the Company is subject to certain financial covenants as follows: (i) a minimum debt service coverage ratio of 2.0 to 1.0; (ii) a maximum total leverage ratio of 5.0 to 1.0; (iii) a maximum senior secured recourse leverage ratio (which generally excludes debt from Unrestricted Subs) of 3.0 to 1.0.; and (iv) a maximum total funded debt to capitalization ratio of 50 percent.

The $70 million secured term credit facility is subject to a minimum interest rate coverage ratio of 5.5 to 1.0; (ii) a maximum leverage ratio of 3.25 to 1.0; and a minimum net worth of $115.0 million, each measured at the Pinedale LP level and not at the Company level. As a result of the March 30, 2016 refinancing the minimum interest coverage ratio was amended to a ratio of 3.0 to 1.0. We were in compliance with all covenants at June 30, 2016.
It has been a wild ride on this infrastructure REIT, as the charts below indicate.
Since REIT status: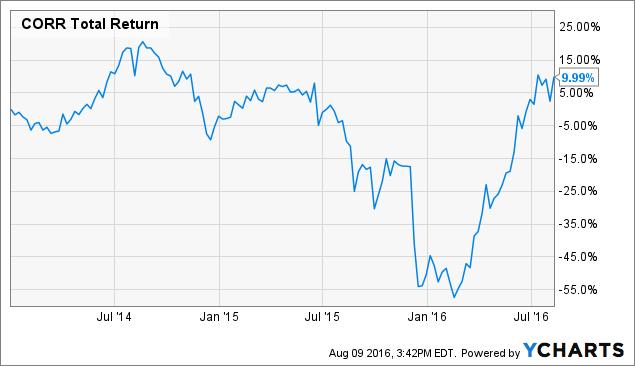 If we look since the end of 2013 (when it became a REIT), we see that CORR is still well below its prior high-water mark: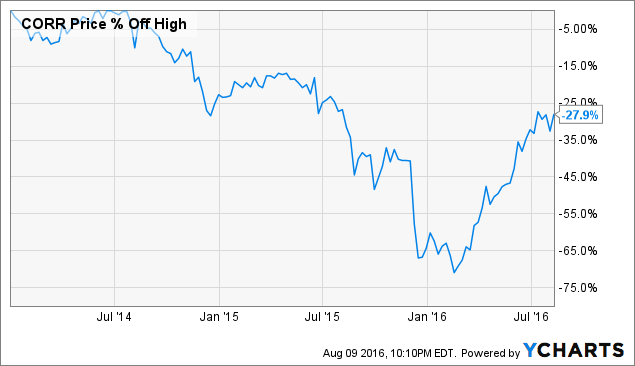 Year to date, its performance has been nothing short of spectacular:
Bottom Line
We continue to like this REIT, and believe there is upside from current levels should the UPLMQ and EXXIQ leases ultimately be affirmed (yes, the EXXIQ tenant is not in bankruptcy, but I have learned one thing over time - until it's over, it's not over).
That is a pretty steep IF (or rather when, as we believe they will be affirmed) - we get that, and believe this is the reason the REIT trades at 7x 2016 FFO.
Unfortunately, the investments in Black Bison (written down and sold) and Four Wood were made at the wrong time and have hurt shareholders, but it appears the majority of that pain is behind us, clearing most of that overhang.
The buyback of shares and converts is a positive in the near term, as financing for acquisitions could be somewhat difficult, so cash was deployed into the company's shares at a lower level (and higher yield), creating accretive purchases.
While the 10% yield is compelling, we are somewhat cautious on the name, as it has outperformed most expectations so far this year without a clear resolution as to the status of the leases of its two largest tenants and continued volatility in energy prices.
That said, we underestimated the performance of the shares since June when we stated:
Bottom Line: At over $25 and without further clarification on the UPL and EXXI bankruptcies, we have a hard time moving beyond "hold" on the common shares (Rubicon has a $23 stop on his shares) and are somewhat cautious on the preferred shares. This is not because we believe that the REIT will not emerge from these troubling times, but rather we are cautious that negative news could surface and lower the price of the common and preferred shares.
Rather than try to compensate for our caution and slap a BUY on the shares, we reiterate our HOLD rating until we get resolution on the leases.
Author's Note: Brad Thomas is a Wall Street writer, and that means he is not always right with his predictions or recommendations. That also applies to his grammar. Please excuse any typos, and I assure you that he will do his best to correct any errors if they are overlooked.
Finally, this article is free, and the sole purpose for writing it is to assist with research (Thomas is the editor of a newsletter, Forbes Real Estate Investor), while also providing a forum for second-level thinking. If you have not followed him, please take 5 seconds and click his name above (top of the page).
Sources: CORR Q2-16 Supplemental and YCharts
Disclaimer: This article is intended to provide information to interested parties. As I have no knowledge of individual investor circumstances, goals and/or portfolio concentration or diversification, readers are expected to complete their own due diligence before purchasing any stocks mentioned or recommended.
Disclosure: I am/we are long O, DLR, VTR, HTA , STAG, GPT, ROIC, HCN, OHI, LXP, KIM, WPC, DOC, EXR, MYCC, TCO, SKT, UBA, STWD, CONE, BRX, CLDT, HST, APTS, FPI, CORR, NHI, CCP, CTRE, WPG, KRG, SNR, LADR, PEB, BXMT, IRM, CIO.
I wrote this article myself, and it expresses my own opinions. I am not receiving compensation for it (other than from Seeking Alpha). I have no business relationship with any company whose stock is mentioned in this article.