There's a lot of bearish talk about the restaurant industry lately and how sales are decelerating despite increased consumer spending, higher consumer confidence and increasing wages.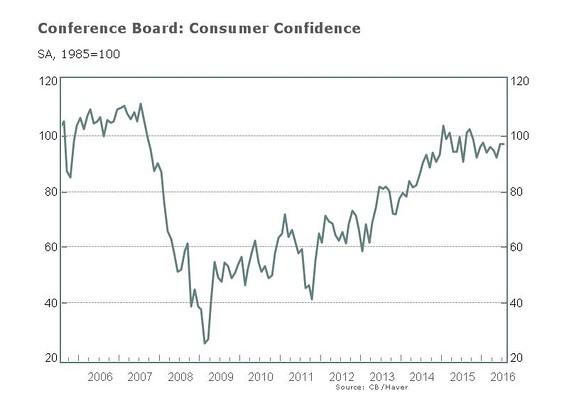 Most notably, Stifel senior analyst Paul Westra believes that the broad 2% to 3% sales declines year-over-year in the restaurant industry are a precursor to a U.S. recession.
He then proceeded to downgrade a number of restaurant stocks to a sell recommendation, including Chipotle (NYSE:CMG), Panera Bread (NASDAQ:PNRA), Darden (NYSE:DRI), BJ's Restaurants (NASDAQ:BJRI) and Cheesecake Factory (NASDAQ:CAKE).
Unmentioned is a restaurant company that has stood the test of time, possesses a superior business structure in its industry, has been consistently profitable and due to a sell-off after registering relatively flat earnings, is now sporting a ~5% dividend. The company is none other than DineEquity (NYSE:DIN).
DineEquity: Franchise Extraordinaire
DineEquity is the owner of the iconic IHOP and Applebee's full-service restaurant franchises, which have been around for a long time -1958 and 1980, respectively. In contrast, Chipotle Mexican Grill was founded in 1993.
IHOP and Applebee's franchises operate mostly in the United States although both companies have restaurants internationally owned by franchisees. Neither franchise has exposure to China, and international revenues only accounted for 3% of revenue as of FY2015 - barely a piece of the revenue pie. This makes DineEquity a viable candidate for an investor looking to put together an "All-American" portfolio that pays dividends, as DineEquity's exposure to international risk is minimal.
Applebee's has 2,033 locations and IHOP has 1,672. Between the two, IHOP generates more revenues, but Applebee's takes in more gross profits.
100 percent of the IHOP and Applebee's restaurants are franchised, and DineEquity collects revenue via royalties and fees from franchisees and also rental income from 696 IHOP restaurants and 1 Applebee's restaurant.
A small percentage of gross sales are contributed to a national advertising fund for IHOP and Applebee's franchisees in the United States, 2% and 3.25%, respectively.
Why Invest In DineEquity?
Since DineEquity has franchised virtually all of its restaurants, the company is less exposed to the overhead and maintenance costs of its restaurants than say, a company like Chipotle who owns and manages all of its restaurants and bears the full brunt of all costs including advertising.
DineEquity's franchise structure means that restaurant expenses and improvements such as renovations are absorbed by the franchisees themselves. So while competitors are paying for their advertising and renovations out of pocket, DineEquity has no such costs as its franchisees are responsible for those expenses.
For example, Chipotle does not franchise any of its restaurants and the company owns all of its locations. So if Chipotle wants to open 265 restaurants, then it needs to fund all of the expenses out of pocket or dip into its own credit lines. That is not the case for DineEquity, whose franchisees absorb all the startup costs.
DineEquity is less exposed to typical restaurant risks because its revenues are generated through flat franchise fees and royalties which are based on a percentage of sales while the startup and overhead are maintained by its franchisees. The flat fee is especially favorable and offers protection against broad market declines, so long as its franchisees remain standing.
So basically, DineEquity is paid first, regardless if a particular IHOP or Applebee's restaurant is not profitable, since paying royalties is simply a necessary cost of doing business for the franchisee that comes right out of net sales. That's a great set up for DineEquity, and bodes well for its shareholders.
Essentially, as long as DineEquity's restaurants are still standing and generating sales, the flat-payment franchise fees should be steady and although the royalty payments may fluctuate, it is based on net sales and not gross profits.
This is a tangible competitive advantage that DineEquity possesses, and at the current price and dividend yield, DineEquity is worth a serious look.
Post-Earnings Dip Has Put DineEquity Shares on Discount
DineEquity reported earnings on the morning of August 3, 2016. The results were relatively flat and share price tanked.
Due to the sell-off, an opportunity now exists for prospective dividend investors to take ownership in a solid business that's been around for years while at the same time collecting an approximately 5% dividend.
If you are an investor that likes to collect dividend income from easy-to-understand and easy-to-follow businesses, and if you believe that the broad market is not all doom and gloom, then DineEquity should be considered a strong candidate for your portfolio.
Many analysts are bearish on the restaurant industry but there is a reason Stifel did not include DineEquity in its list of stocks to sell which included Chipotle, Panera Bread, Darden, BJ's Restaurants and Cheesecake Factory. After understanding how DineEquity makes its money, one should naturally see that DineEquity's cash flows are more protected than competitors whose businesses aren't structured in a similar fashion.
DineEquity's Dividend
Since 2013, DineEquity has increased quarterly dividend payments from $0.75/share to $0.92/share. At current market prices, that is nearly a 5% dividend yield. The company is currently paying out $66.8 million per year in dividends which is backed by approximately $100 million in net income on the strength of $388 million in gross profits. So even if there is a market downturn, DineEquity should be able to survive it without cutting its dividend.
Do Not Worry Excessively About Competition
True. There is a lot of competition these days for the diner's buck. Local diners, bars, fast casual concepts, fast food, full-service restaurants, franchises and even people simply cooking from home. But that has always been the case. Every restaurant is talking about competition, and its competition is talking about competition. It's just one big circle. The restaurant industry has never been a winner-take-all proposition. Consider the countless burger chains; countless pizza chains and numerous Mexican-food chains, etc.
Unless a particular restaurant chain has breached its customers' trust on a large-scale, then there is really no reason to worry about the state of the restaurant industry as long as you do not pay too high of a price for your shares.
The biggest reason to invest in DineEquity is not necessarily for growth but its franchise business model that reduces company costs and overhead, big dividend and a share price that is increasingly going on discount.


At the time of writing, DIN trades at $75 per share or $1.3 billion market cap. I have chosen to buy at these levels despite the bearish market. That's because I see $75 as a fair discount on the company - a discount which has presented itself due to broad market fears and even more fear in the restaurant sector. Reading this report, you now know that DIN is less exposed to these risks than a "pure restaurant stock" and if that doesn't convince you, the dividend is solid at ~5%.
I am not trading DIN but initiating a longer-term position. My plan is to collect the dividend and as long as the financials support the dividend, I don't see it as my job to try and predict whether there will be a market correction or not. The current price is a decent discount and I have given myself the option to buy more shares if the price goes even further into discount territory.
My long position in DIN also serves as a hedge against my Chipotle short position, which I believe has lost all of its competitive advantages. I wouldn't consider this the ultimate pair trade as DIN is not necessarily a growth stock, but the company is predictably profitable, its dividend is solid and the current price is a decent deal. Since I do worry about the possibility of a broad market correction, I am adamant on only buying dividend stocks that have the financials to keep paying the dividend during a correction or even a recession. For this reason, I chose to buy DineEquity rather than a Shake Shack (NYSE:SHAK) or a Buffalo Wild Wings (NASDAQ:BWLD) despite both companies having considerably more growth prospects than the mature DineEquity, since they trade at premiums and do not pay dividends.
The only reason I would sell DIN is if the company were to cut its dividend or if I lost a pre-determined amount of capital. The price point of this protective stop is unfairly distant from current prices to reduce my risk of being stopped out by a fair amount of volatility. But with net income around $100 million and the dividend payouts at $66.8 million and comprehensive store comps relatively flat, there is quite a large buffer for DIN to keep offering the dividend even if sales decline. Add to the fact that DIN's franchisees absorb all the costs of running their restaurants and I see the dividend as being stable.
Disclosure: I am/we are long DIN.
I wrote this article myself, and it expresses my own opinions. I am not receiving compensation for it (other than from Seeking Alpha). I have no business relationship with any company whose stock is mentioned in this article.
Additional disclosure: I am/we are also short CMG