In 2014, Best Buy Co. (NYSE:BBY) was facing its demise due to a loss of retail traffic thanks to major competitors like Amazon (NASDAQ:AMZN) and online shopping. Facing the brink of extinction, Best Buy had to do something to stay relevant in the world today, and they appear to have made it past that hurdle.
At the beginning of 2012, Best Buy reached the pinnacle of earnings growth reporting an EPS (earnings per share) of $3.64, but unfortunately, this was the same year many investors believed they would start to face extinction if things did not change quickly.
Over the next two years, Best Buy plummeted. Its EPS went from $3.64 at the start of 2012 to $2.07, a whopping 43% overall decrease in earnings (down 28% over 2012-2013 and down another 21% during 2013-2014), but Best Buy was not going down without a fight. With this eye opener, Best Buy knew it had to make a change to keep up with the ever-so-changing expectations of the market.
The next fiscal year ending in January 2015, Best Buy showed they were still in the game by increasing its EPS from $2.07 to $2.59, an impressive 25% increase, especially after their two horrific years that put investors on edge, and have had a steady earnings growth rate averaging 10.5% per annum.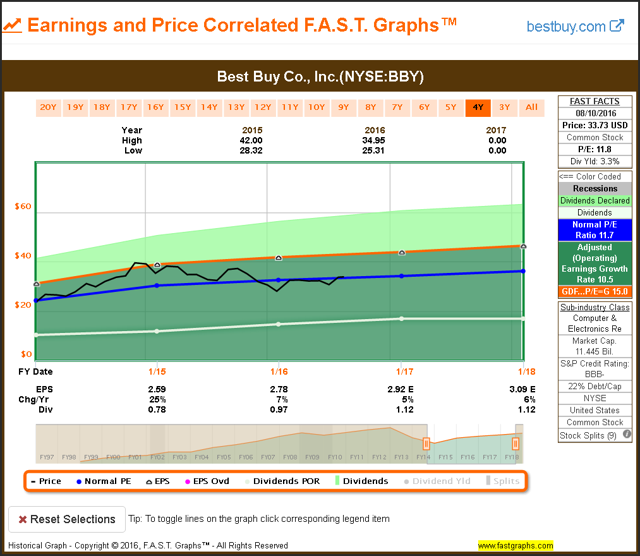 To breathe some life back into the company, Best Buy incorporated some major changes. Their first move was to keep up with the ever-so-popular online shopping craze. They revamped their website and added a new search engine with recommendations of new tech to buy.
They also incorporated a new program called the Renew Blue program. Under the Renew Blue program, Best Buy focused on rebuilding a strong position in the market by improving their multi-channel customer experience and by decreasing their costs coupled with the change of their website to accelerate online growth.
Best Buy has a high dividend yield (3.3%), and has increased it every year from its inauguration back in 2004. Best Buy's compound annual dividend growth rate has averaged 17.4% since inception.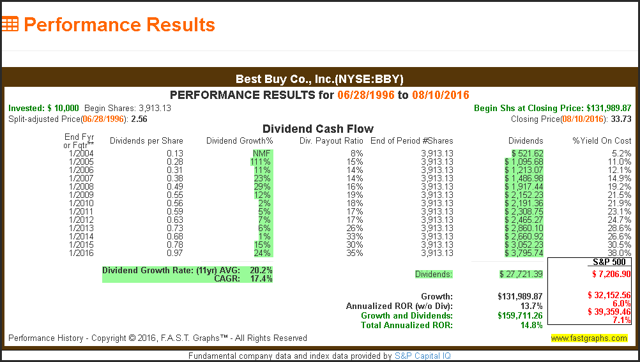 And they've had the cash flow to back it shown by their Free Cash Flow correlated to their dividends paid over the last 12 years.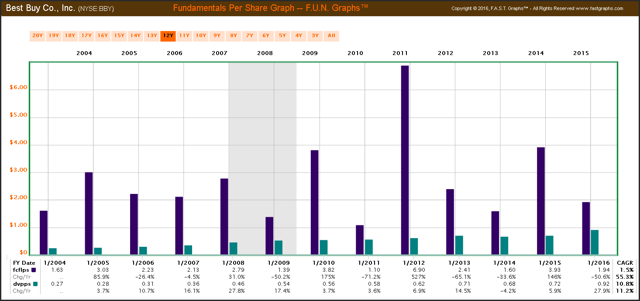 Best Buy isn't a great stock just because they increased their dividends since introduced, but they turned around the company's demise and are actually expected to grow at a very comfortable 8.9% over the next two years based on the consensus estimates of 23 analysts, and 9.29% according to the estimated 3-5Y TL Growth based on the consensus of 7 analysts.
With that in mind, if Best Buy were to grow at its expected 9.29% rate and traded at a more reasonable P/E ratio of 15 up from its current low valuation, the rate of return calculates to a Total Annual Rate of Return of a grin-inducing 16.69%. If it achieved those same earnings growth rates, but traded at its current P/E ratio of approximately 12, it would still produce a double-digit Total Annual Rate of Return of 12.20% out to its fiscal year-end 2021.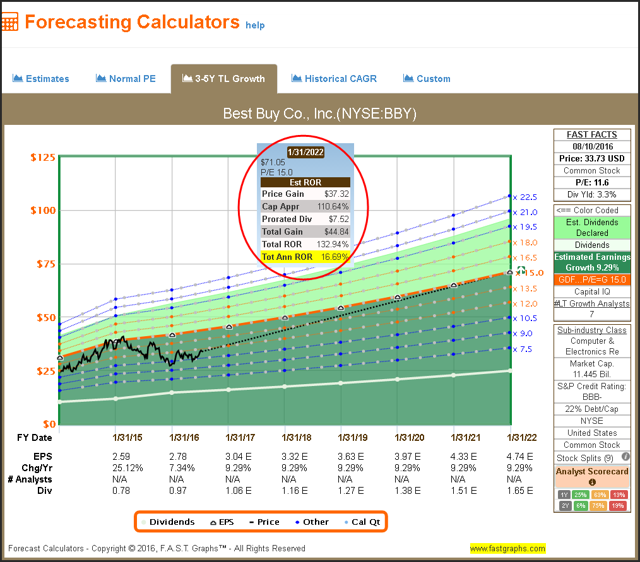 Not only is Best Buy a well-paying dividend stock that is underpriced, it is expected to achieve above-average growth over the next few years. And historically, Best Buy has generated exceptional and consistent growth (mind the two years before the company was revitalized). In the grand scheme of things, even with its two down years, Best Buy's 20-year historical chart still shows an exceptional representation of a solid company at the forefront of technology sales, and with F.A.S.T. Graphs, you can see a clear and quick representation of that.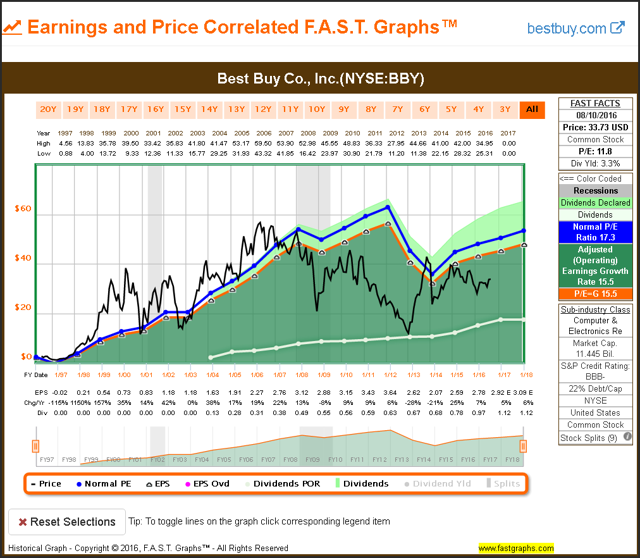 Best Buy has been a tech sales mogul for practically its entire life, and it is still proving to be holding its ground in this very competitive market today. It has a solid dividend rate, the cash flow to back it, the expected growth to see some potentially great returns, and more importantly - its current valuation is unreasonably low. Best Buy could be one of your best buys of 2016. However, there are risks to their forward earnings potential that should be carefully considered.
As always, we recommend that the reader conduct his or her own thorough due diligence.
If you enjoyed this article, scroll up and click on the "Follow" button next to our name to see updates on our future articles in your feed.
Author: FAST Graphs Team Member Colton Carnevale
Disclosure: No positions.
Disclaimer: The opinions in this document are for informational and educational purposes only and should not be construed as a recommendation to buy or sell the stocks mentioned or to solicit transactions or clients. Past performance of the companies discussed may not continue and the companies may not achieve the earnings growth as predicted. The information in this document is believed to be accurate, but under no circumstances should a person act upon the information contained within. We do not recommend that anyone act upon any investment information without first consulting an investment advisor as to the suitability of such investments for his specific situation.
Disclosure: I/we have no positions in any stocks mentioned, and no plans to initiate any positions within the next 72 hours. I wrote this article myself, and it expresses my own opinions. I am not receiving compensation for it (other than from Seeking Alpha). I have no business relationship with any company whose stock is mentioned in this article.