Introduction
Retail stocks are some of the most story and sentiment driven on the market - everyone has an opinion. Analysts spend hours trying to ascertain which stocks have deep growth runways and which have the most attractive long-term economics, with high sales per sq/ft and sustainably strong gross margins.
While this is a noble pursuit, it's a difficult and often subjective one. And we're always dubious of subjective judgments when it comes to stocks - it's easy to get caught up on an exciting growth story or down in the dumps about a company which is temporarily underperforming. That's a problem when it tends to be the beaten-up stocks which deliver the best long-term returns.
So we got to thinking - is there a simple test we can perform on backwards-looking data to figure out how retail stocks are usually valued? From there, we might figure out what drives the market's thinking… and understanding is always the first step.
A Simple Dataset
We took a dataset consisting of US retailers larger than $1B, not including catalog, internet or automotive retailers (as these tend to belong to their own niches, with different economic characteristics). This left us with around 60 stocks.
We adjusted some of the numbers - for instance, putting leased buildings on the balance sheet so as to present a fair picture across all businesses. Leasing vs. buying is a financing choice, and a business with billions of dollars of lease commitments is as effectively leveraged as a company which has bought real estate with a bunch of secured debt. We also cleaned up some of the numbers to strip out the effect of big acquisitions.
With these clean numbers, we plotted some simple statistics, showing the market valuation (on adjusted EV/EBITDA) vs. a few variables we thought would be predictive. Our question wasn't a complicated one - which factors tell you how a stock is being valued?
Variable 1: Like-for-Like Growth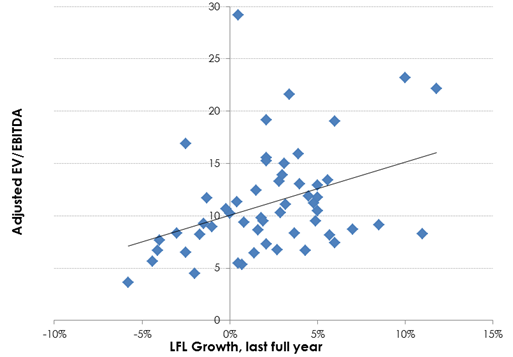 Like-for-like growth is one of the most commonly cited retail metrics. It shows how the company is growing or shrinking while taking out the effect of store openings and closures. After all, a 10% growth rate is great, but if the business had to increase their store base by 8%, it's a lot less impressive. Store growth requires capital and tells you less about whether the productive potential and long-term profitability of the brand is growing or not.
As you can see from the scatterplot above, like-for-like sales in the last full year are reasonably well-correlated with the valuation of stocks. Stocks with negative like-for-like growth are nearly all on EV/EBITDA ratings of less than 10.
Variable 2: Store Growth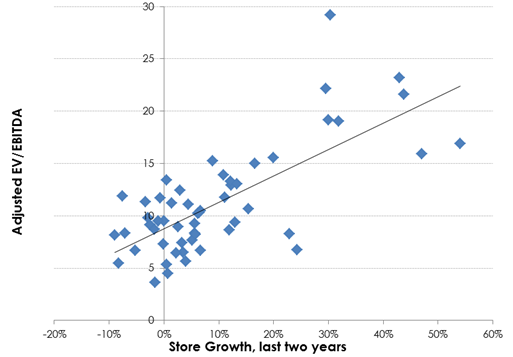 … that said, store growth is still incredibly relevant. We plotted store growth over the last two years in the graph above, and the correlation with market valuation is strong. Wall Street really does love roll-out stories, with stores which have grown their footprint more than 30% over the last two years on an average rating of above 20x EV/EBITDA.
The real question here is to what extent past store growth is predictive of future store growth. On some level, the market appears to simply be extrapolating out the past; so real money can be made if one can identify either stalling growth plans or management teams with the capacity to significantly ramp openings up.
Variable 3: EBITDA Margins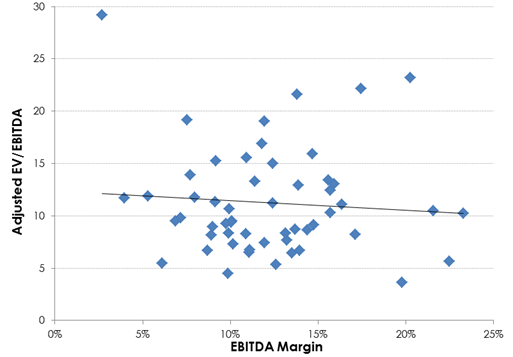 Here's an interesting one - we had expected EBITDA margins to have a strong positive correlation with valuation. After all, margins can be an indication of a moated business and are typically seen as signs of strength. But that's not the case - there is no real correlation between margins and valuation.
Our working hypothesis for this is that there are two effects at play. Namely:
Many mature retail stores (think Buckle) nonetheless have very strong margins. Lack of investment in growth might allow them to earn these margins.
Growing companies are given a 'free pass' on margins while they are ramping up. The market doesn't mind if you're not making the margins yet - they trust you will once you're at full scale.
Interestingly, changing the axis from EBITDA margins to a return based measure, like return on capital or assets, does not improve the correlation. This is also a surprise to us because sell-side analysts love modelling the 'four wall returns' of retail stocks and figuring out how much money they have to put in to grow their revenues. We defer to our two explanations above as the best guess for why it just doesn't seem to work here.
The Grand-Daddy: Our Composite Growth Variable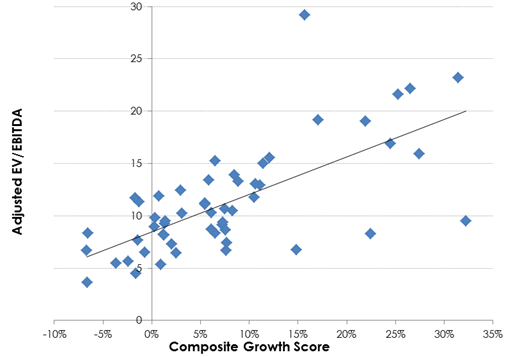 The only thing that remained for us, of course, is to combine our two predictive growth variables - LFL Growth and Store Growth - to create one neat series. As you can see from the chart above, it's a better predictor than either of the individual series, and captures a great deal of the variation in valuation.
So here's the crux - more than anything else, when you're trying to figure out which retail stocks to invest in, your best bets are the ones you think will maintain like-for-likes over the coming couple of years while rolling out a large number of stores. Margins and cash seem to take a back seat, and stories can be contradictory - these are the anchoring 'hard-data' factors.
For interest, we also picked out a few individual stories from the numbers:
Ulta (NASDAQ:ULTA), Lululemon (NASDAQ:LULU) and Five Below (NASDAQ:FIVE) all sit more or less where predicted by the model. These companies have the golden combination of a rapid roll-out and strong like-for-like growth. Importantly, again we note that this is just a backward looking analysis - we have said nothing about what the growth rate will be for these companies, only what it has been. The market seems to extrapolate the recent past.
This, of course, is why short cases on high-flying retail stocks - like Prescience Point on ULTA - spend an enormous amount of time trying to prove that the future won't be like the past; why stores are completely saturated, and why cannibalization will start to hurt LFL growth. The shine comes off these growth stories when these two metrics start to turn, so the burden of proof on the shorts is proving how and why that will be the case, and soon.
Mattress Firm (NASDAQ:MFRM), which received a takeover offer from Steinhoff a few days ago, stands out as being fairly significantly above the valuation trend-line. This perhaps isn't a surprise given the control premium Steinhoff will be paying to take over the company. Pre-takeover, it was more or less in line.
Finally, Conn's (NASDAQ:CONN) - statistically the most expensive on the chart - presents itself as being a clear restructuring story. The high valuation is a function of the dramatically depressed current levels of EBITDA, which the market is implying is (at least to some extent) a temporary phenomenon. That said, Conn's equity has fallen to the level of stub anyway, with debt predominating the capital structure.
Conclusion
While it's obvious we haven't rediscovered the wheel here - store growth and like-for-likes dominate in retail valuations - we have busted our hypothesis that EBITDA margins are crucial to valuing retail stocks. The market, at least at the moment, seems to give companies a 'free pass' with growth.
We were also a little surprised to see the strength of the correlation. It seems to us that, if you're looking to really distil investing down to its simplest components, two metrics in retail will get you a really long way. So cut through the noise and focus on what matters - who will grow their store base, and which stocks will see like-for-like growth?
In a coming piece, we will take a look at some of the companies in the different 'quadrants' of the scatterplot above - the expensive-but-poorly performing stocks, and the cheap-but-growing ones, and see if they present value plays or justified laggards.
Disclosure: I/we have no positions in any stocks mentioned, and no plans to initiate any positions within the next 72 hours. I wrote this article myself, and it expresses my own opinions. I am not receiving compensation for it (other than from Seeking Alpha). I have no business relationship with any company whose stock is mentioned in this article.