Original Top 10 Review
It has been a roller coaster ride since my initial top ten list for the industrial sector was published last August. Volatility in the commodity markets has had a big impact on certain segments of the sector, with the Industrial Select SPDR ETF (NYSEARCA:XLI) tracking the price of oil fairly closely, as both hit their 52-week lows during Q1.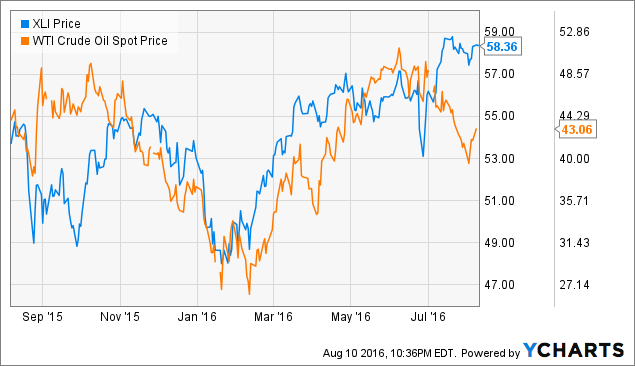 This trend was noticeable when looking at the returns from that list, as the companies associated with heavy industry generally lagged the returns seen by more diversified or less impacted companies.
As a whole the selections performed pretty well, as they saw an 11.86% return compared to 11.63% from (NYSEARCA:SPY). However, underperformance from the likes of Cummins (NYSE:CMI), Caterpillar (NYSE:CAT), and Fastenal (NASDAQ:FAST) kept it from matching the XLI.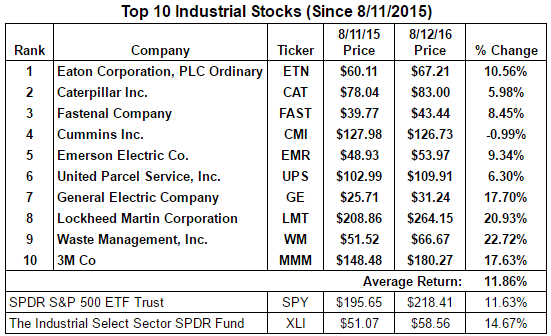 Here you can see where the companies more related to oil & gas and mining generally lagged the aerospace and diversified industrials, as the top five saw average returns of 6.67% while the bottom five saw gains of 17.06%.
I'll also point out that these companies had an average initial yield of 3.2%, and were selected based on income potential rather than capital gains potential. So while they did produce some impressive gains, the fact that they lagged the market shouldn't necessarily be a surprise.
The Watch List
The companies on the initial top ten list were selected based on projected income. I will change things up a bit with this one and also take total return projections into consideration for the new list.
With that in mind, I have expanded the watch list from 25 to 30 companies, with the addition of: A.O. Smith Corp. (NYSE:AOS), Boeing Co. (NYSE:BA), Canadian National Railway (NYSE:CNI), FedEx Corp. (NYSE:FDX), and Honeywell International (NYSE:HON).
With the exception of Boeing, these companies yield 2% or less, but they make up for it with strong growth rates.
Here is the updated list:
| | | | | | | | | | |
| --- | --- | --- | --- | --- | --- | --- | --- | --- | --- |
| Company | Ticker | Sub Sector | # Years Div. Inc. | S&P Credit Rating | Market Cap (B$) | 52-Week High | 52-Week Low | Share Price 8-12-16 | % Below 52-Wk High |
| 3M Co | (NYSE:MMM) | Conglomerate | 58 | AA- | $110.3 | $182.27 | $134.00 | $180.27 | -1.10% |
| A. O. Smith Corp | (AOS) | Industrial Equipment | 23 | N/A | $8.3 | $94.92 | $50.09 | $94.10 | -0.86% |
| Boeing Co | (BA) | Aerospace/Defense | 5 | A | $83.5 | $150.59 | $102.10 | $133.10 | -11.61% |
| Caterpillar Inc. | (CAT) | Industrial Equipment | 22 | A | $48.8 | $84.29 | $56.36 | $83.00 | -1.53% |
| C.H. Robinson Worldwide, Inc. | (NASDAQ:CHRW) | Transportation | 18 | N/A | $9.9 | $76.10 | $59.71 | $69.68 | -8.44% |
| Canadian National Railway 'USA' | (CNI) | Railroad | 19 | A | $49.5 | $66.22 | $46.23 | $63.09 | -4.73% |
| CSX Corporation | (NYSE:CSX) | Railroad | 11 | BBB+ | $26.6 | $30.53 | $21.33 | $28.06 | -8.09% |
| Cummins Inc. | (CMI) | Machinery | 10 | A+ | $21.5 | $129.17 | $79.88 | $126.73 | -1.89% |
| Deere & Company | (NYSE:DE) | Farm Equipment | 12 | A | $24.1 | $94.49 | $70.16 | $77.00 | -18.51% |
| Donaldson Company, Inc. | (NYSE:DCI) | Industrial Equipment | 30 | N/A | $4.9 | $37.08 | $25.21 | $36.67 | -1.11% |
| Dover Corp | (NYSE:DOV) | Industrial Equipment | 60 | A- | $11.6 | $74.66 | $50.91 | $73.67 | -1.33% |
| Eaton Corporation, PLC Ordinary Shares | (NYSE:ETN) | Machinery | 7 | N/A | $30.6 | $67.46 | $46.19 | $67.21 | -0.37% |
| Emerson Electric Co. | (NYSE:EMR) | Industrial Equipment | 59 | A | $35.1 | $56.82 | $41.25 | $53.97 | -5.02% |
| Fastenal Company | (FAST) | Trading Company | 17 | N/A | $12.8 | $49.99 | $34.45 | $43.44 | -13.10% |
| FedEx Corporation | (FDX) | Transportation | 15 | BBB | $44.2 | $169.30 | $119.71 | $165.50 | -2.24% |
| General Electric Company | (NYSE:GE) | Conglomerate | 5 | AA+ | $280.1 | $33.00 | $19.37 | $31.24 | -5.33% |
| Honeywell International Inc. | (HON) | Industrial Equipment | 5 | A | $88.6 | $120.02 | $87.00 | $116.10 | -3.27% |
| Illinois Tool Works Inc. | (NYSE:ITW) | Machinery | 42 | A+ | $42.6 | $119.19 | $78.79 | $118.89 | -0.25% |
| Lockheed Martin Corporation | (NYSE:LMT) | Aerospace/Defense | 13 | BBB+ | $80.4 | $265.34 | $181.91 | $264.15 | -0.45% |
| Norfolk Southern Corp. | (NYSE:NSC) | Railroad | 14 | BBB+ | $26.2 | $98.75 | $64.51 | $88.36 | -10.52% |
| Parker-Hannifin Corp | (NYSE:PH) | Industrial Equipment | 59 | A | $16.7 | $123.92 | $83.32 | $122.81 | -0.90% |
| Pentair plc. Ordinary Share | (NYSE:PNR) | Industrial Equipment | 40 | BBB- | $11.9 | $66.07 | $41.57 | $65.63 | -0.67% |
| Raytheon Company | (NYSE:RTN) | Aerospace/Defense | 12 | A | $42.4 | $142.73 | $96.68 | $142.25 | -0.34% |
| Republic Services, Inc. | (NYSE:RSG) | Waste Management | 14 | BBB+ | $17.8 | $52.92 | $39.48 | $51.71 | -2.29% |
| Rockwell Automation | (NYSE:ROK) | Machinery | 6 | A | $15.2 | $120.75 | $87.53 | $117.64 | -2.58% |
| Union Pacific Corporation | (NYSE:UNP) | Railroad | 9 | A | $77.0 | $98.28 | $67.06 | $91.90 | -6.49% |
| United Parcel Service, Inc. | (NYSE:UPS) | Freight & Logistics | 7 | A+ | $97.4 | $111.83 | $87.30 | $109.91 | -1.72% |
| United Technologies Corporation | (NYSE:UTX) | Conglomerate | 23 | A- | $92.0 | $109.29 | $83.39 | $108.87 | -0.38% |
| W W Grainger Inc | (NYSE:GWW) | Trading Company | 45 | AA- | $14.4 | $239.95 | $176.85 | $228.97 | -4.58% |
| Waste Management, Inc. | (NYSE:WM) | Waste Management | 13 | A- | $29.6 | $70.50 | $48.79 | $66.67 | -5.43% |
Looking at the numbers we find just four companies: Boeing, Deere (DE), Fastenal, and Norfolk Southern (NSC), trading more than 10% below 52-week highs. Meanwhile, 20 of the 30 (66%) are trading within 5% of 52-week highs.
Next we will look at valuations to see if any of them are still attractive candidates for investment.
Historical & Current Numbers
The following table contains historical dividend growth information as well as current dividend rate, dividend yield, analyst earnings expectations, and the corresponding PE ratio and payout ratio from these numbers. This information was collected from various sources, including: F.A.S.T. Graphs, Yahoo Finance, Seeking Alpha, and the U.S. Dividend Champions List.
For the "Fair Value PE" I used F.A.S.T. Graphs to look at various time frames to determine what valuation each company historically trades at. This number was then compared with the PE from analyst EPS estimates to calculate the "+/- Fair Value" number. In this case, a negative number is a good thing, as that means it is currently trading below the fair value target.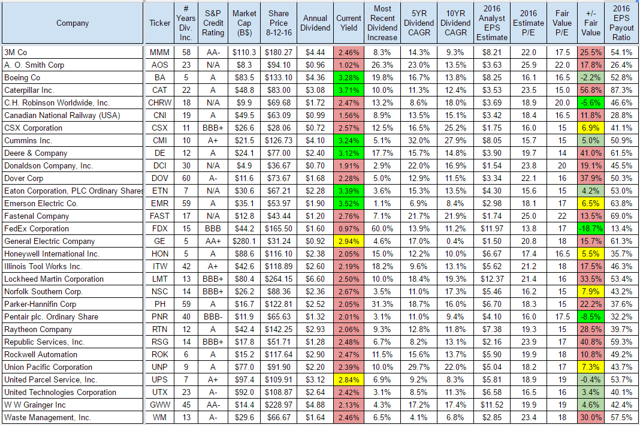 Considering how grossly overvalued many companies in the consumer staple and utility sectors are right now, I am a bit surprised by how many industrial companies are reasonably priced. 14 of the 30 companies are trading within 10% of the fair value target and 5 are actually trading below it. Additionally, there are 6 companies offering better than a 3% yield, which is getting rather tough to find in this market.
Future Projections
Now that we've looked at historical growth and current income yields, it's time to take a shot at future earnings and dividend growth projections. To do this I have collected analysts' 5YR EPS growth projections from Yahoo Finance and F.A.S.T. Graphs. I also searched through historical conference call transcripts and investor presentations to see if there is any guidance from management regarding a targeted payout ratio. Where no guidance was provided, I used F.A.S.T. Graphs and looked at historical payout ratios and used those trends as my basis for a targeted payout ratio.
I then used the expected EPS growth rate, current payout ratio, and targeted payout ratio to estimate a 5YR dividend growth rate for each company. This was then used to project the 5YR yield on cost (YOC) number.
Finally, these growth numbers along with the +/- fair value target were used to project total returns for the next 5 years. This total return number assumes reinvestment of dividends.
I will point out that these results are heavily dependent on the analyst estimates for future EPS growth, and also assume that shares will normalize towards the "Fair Value PE" number in the future. What I have been finding in the more volatile sectors is that earnings estimates can change quickly, and what looks "cheap" today can look expensive tomorrow if earnings are missed and estimates are cut. Also keep in mind that the income projections are more likely to prove correct than the total returns projections, as they are unaffected by future valuation.
With those thoughts in mind, here are the results: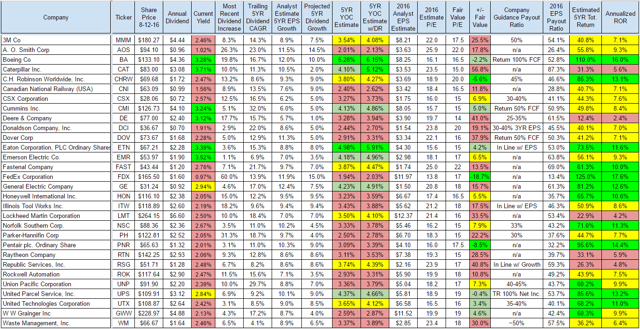 Boeing scores well on the list, as it is projected for the highest income potential as well as the second highest total returns. Meanwhile, FedEx has the highest total return projection at 17.6% annualized yet has the lowest income projection since it has an initial yield of less than 1%. It appears that the addition of those two companies to the list produced some attractive results.
I thought the results for Deere and Caterpillar were interesting in that they had some of the higher dividend income projections, yet neither are expected to produce much in the way total returns due to depressed earnings expectations. Lockheed Martin also scores well on income, but less so on total returns, however that is due to its current valuation being much higher than historical norms rather than as a result of poor earnings.
The Top Ten
As I said previously, I am approaching the top ten a bit differently this time as I will be taking total returns into consideration as well. That said, dividends and income are a bit more predictable than earnings growth and price appreciation are, so the income projections will still carry the most weight.
With those thoughts in mind, here is my current top ten based on information as of 8/12/2016: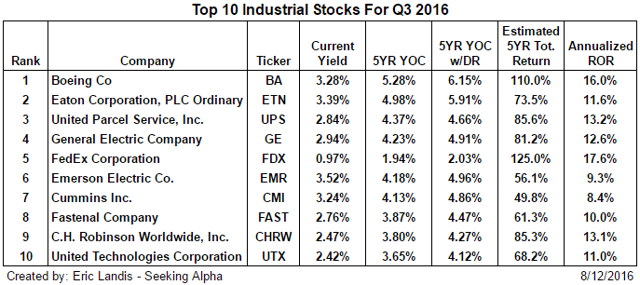 The top ten have an average yield of 2.8% and an average annualized total return projection of 12.3%. New additions to the watch list, Boeing and FedEx, make their initial appearances on the top ten list at #1 and #5.
Boeing Company makes its debut at #1 on the list based on a healthy initial yield of 3.28% and double digit EPS growth prospects that should lead to double digit dividend growth as well.
Valuing Boeing is a bit tough right now as it is taking restructuring charges of $3.23 per share related to its 787, 747 and KC-46 programs. This reduced their guidance for reported earnings for 2016 from $8.55 to $6.50, which on the surface makes the current PE appear overvalued. However, these are one-time charges, and expectations for 2017 remain positive, as analysts are forecasting earnings of $9.70 per share, which gives a forward PE of just 13.7, which is well below historical levels. For the spreadsheet, I have discounted the original guidance and plugged in $8.25 as my base earnings for this year, which gives a current PE of just over 16.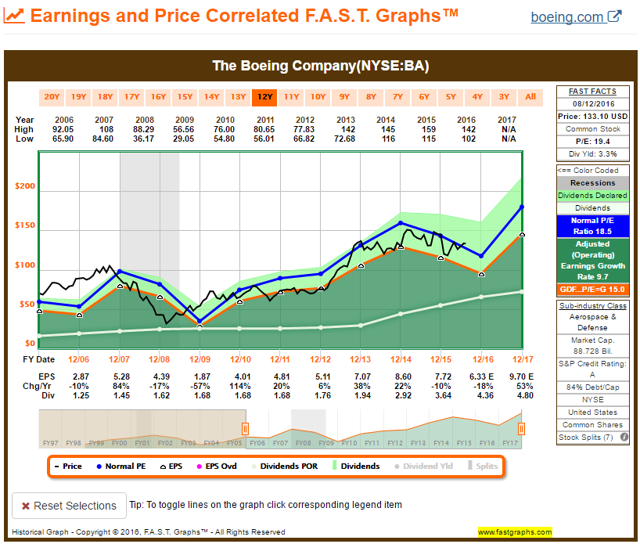 Either way you look at it, it appears Boeing is trading near fair value, which is attractive when double-digit growth is expected. Some caution is warranted, as Boeing does business in a fairly volatile sector; but for those with a long-term horizon, the combination of higher yield and strong growth are appealing.
Eaton Corporation (ETN) comes in at #2 on this list after being named #1 last year. It too has an attractive initial yield of 3.4%, and the stock is reasonably valued at 15.6 times expected 2016 earnings.
Analysts again are bullish on growth prospects, as they are projecting 8.8% growth going forward, which should translate into high-single digit dividend growth as well.
There is some uncertainty with those forecasts however, as the company has struggled since 2014 to produce growth. I would also point out that Eaton is headquartered in Dublin, Ireland, which may be something to consider for U.S. based income investors.
United Parcel Service, Inc. (UPS) moves up to #3 from #6 on the list due to its across the board strong numbers. It has a decent yield of 2.8%, growth expectations of around 10%, and is trading pretty much right at fair value levels.
The proliferation of online retail, a growing international business, and increased efficiencies are driving earnings and cash flow growth for the company. It has made huge capital investments in recent years, and as those have slowed, cash generation has picked up, allowing management to return 100% of net income to shareholders through dividends and share repurchases.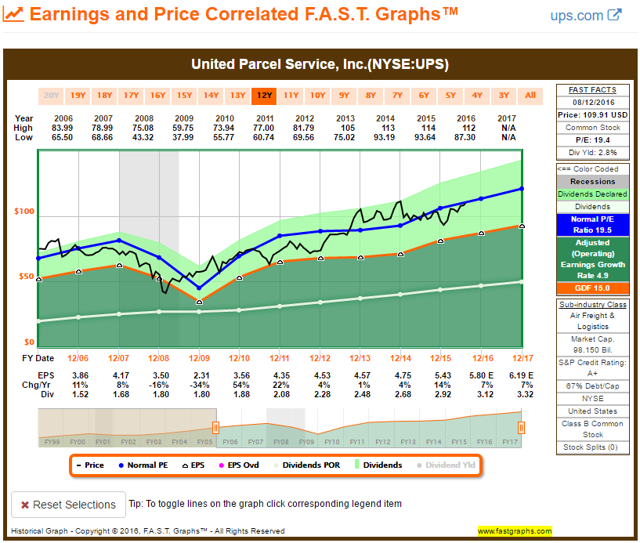 Earnings did take a hit during the recession, but the company was able to maintain the dividend and has grown it well since then. In my mind, UPS is a nice complement in a portfolio to some of the other more cyclical opportunities in the sector.
General Electric Company (GE) makes the move up from #7 to #4 on the list due primarily to its expected 12.4% earnings growth. The company has become one of the favorite stocks to hate by income investors after slashing the dividend during the recession and freezing it now as it plows cash proceeds from divestitures into share repurchases. However, despite those negatives, I still believe GE will be an excellent long-term holding for a portfolio.
The company has shed the majority of its financial arm of the business and is now focused on its diverse industrial assets. On top of that, it is flush with cash to use towards share repurchases and potential bolt-on acquisitions that should drive earnings growth going forward. Analysts are currently projecting EPS growth of 12.5%, which is tops on the watch list. Based on this, I am projecting 7.5% dividend growth going forward, which leads to a future payout ratio of just under 50% after 5 years.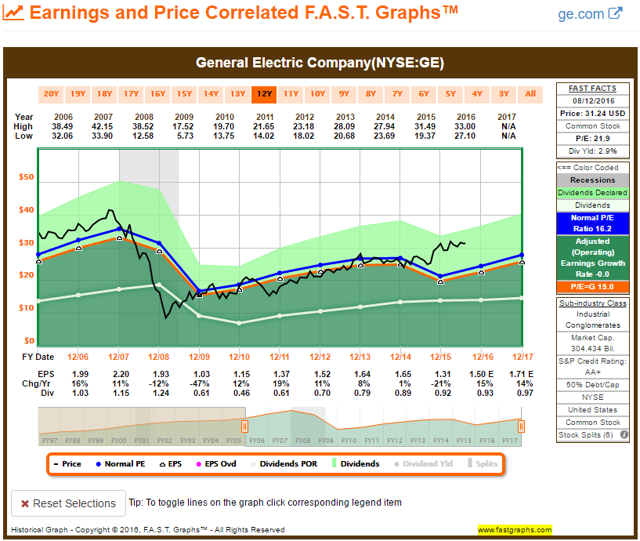 The F.A.S.T. Graph highlights the volatility seen in the stock, and on the surface, makes GE appear quite overvalued against a "Normal P/E" of 16.2. However, looking forward rather than backward, I think an 18 multiple is appropriate for a company of the quality and strength of GE. While still overvalued, a 3% yield with double-digit should not be ignored in this market.
FedEx Corporation makes its debut at #5 on the list after being added to the watch list as a higher growth idea. With a current yield of under 1%, this is a capital gains idea more than an income one, but with a 60% boost to the dividend and a current payout ratio of just 13.4%, the potential exists for that to change in the future.
Like UPS, FedEx has benefited from on-line retail expansion, as it has seen 15% annualized EPS growth since the recession. Analysts expect this to continue, as they expect 11.9% growth going forward. I am likely too conservative on my dividend growth forecast of 15%, but without a payout ratio target from management, I decided to play it safe with my number.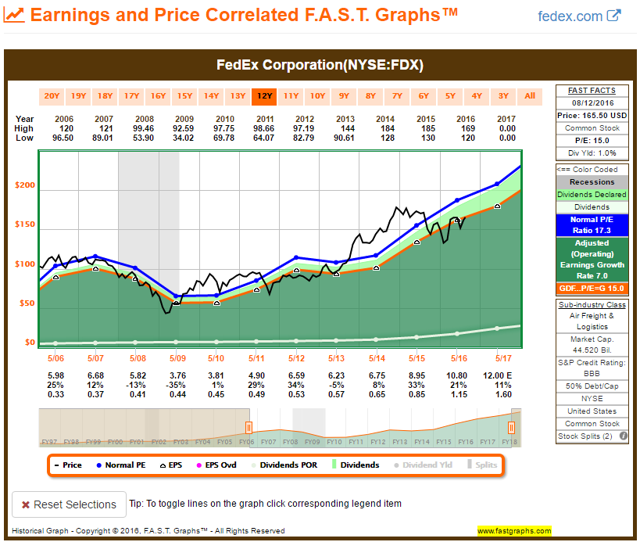 Its not often you can find double-digit EPS growth trading at a discount to fair value, but that seems to be the case with FedEx at the moment. While it may not be a top choice for income, it could more than make up for it in potential capital gains for long-term investors.
Emerson Electric Company (EMR) drops one spot in the rankings to #6 after it moved up in price and saw lowered earnings expectations since the original article.
Emerson remains one of the stalwarts of dividend growth as it now owns a 59-year streak of increases. However, that growth has slowed significantly after the most recent raise came in at just 1.1%. The company has struggled since the recession, as 2017 EPS projections of $3.03 are actually three cents lower than the $3.06 it made in 2008. This has caused the payout ratio to balloon from ~40% to ~64% over that time frame.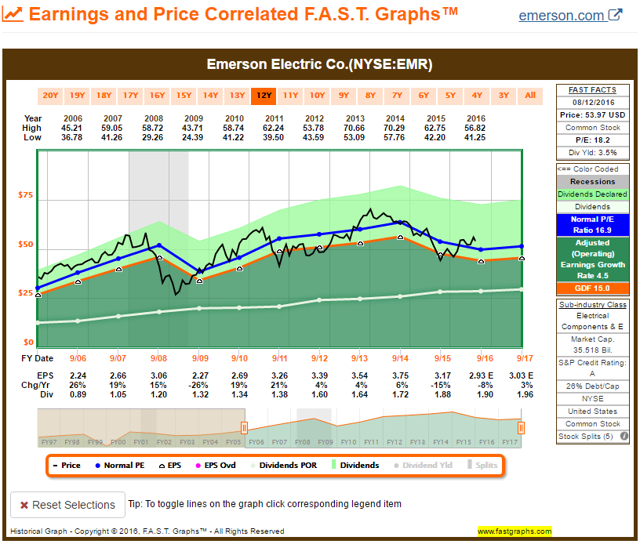 The 3.5% yield (second highest on the watch list), is still attractive for income investors. However, the bloated payout ratio leads me to forecast just 3.5% dividend growth going forward, which would bring the payout ratio down to the mid-50% level if analysts' growth expectations of 7% come to fruition.
Cummins Inc. drops from #4 to #7 on the list due to lowered growth expectations, as analysts cut growth forecasts from 10% to 6%. This makes sense to me, as the company has struggled to find growth due to depressed commodity prices.
The downside to this is a payout ratio that has expanded from ~20% to ~50% and a slowing dividend growth rate. The most recent increase was just 5% compared with a 10YR growth rate of 28%. As a result, I have dropped my projected dividend growth rate to 5%, 1% below EPS growth forecasts.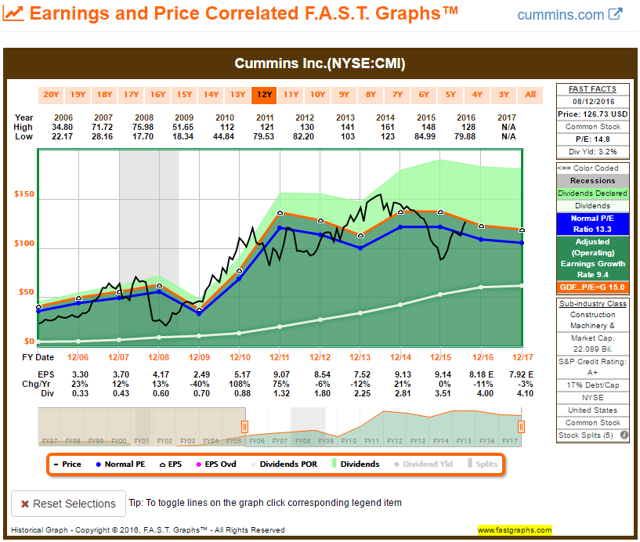 While Cummins is trading near fair value, I don't expect much movement from here until it can show earnings growth. It does have a decent yield of 3.2% though, so it remains an attractive candidate for income investors.
Fastenal Company drops from #3 to #8 for many of the same reasons as Cummins. It has suffered due to weakness in the oil & gas sector, and analysts have cut their projected EPS growth rate from ~17% to ~10% as a result.
I have responded accordingly by trimming my dividend growth projection to 7%, which is still attractive, but less so on a company yielding just 2.7%.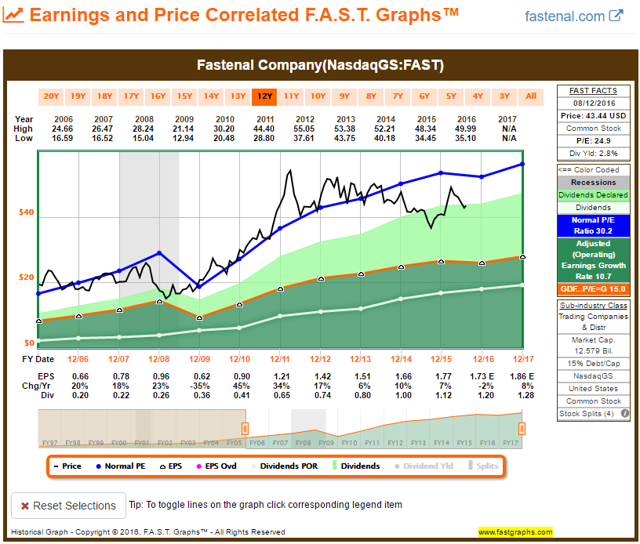 Fastenal is a bit difficult to value as its historical "Normal P/E" is around 30, however, much of that time frame was during periods of double-digit EPS growth. I am playing it conservative with the spreadsheet, and peg "fair value" at a 22 PE due to the slower growth forecasts. Despite the lower projections, the spreadsheet still sees nearly 10% annualized returns going forward. Should the company return to growth and see its multiple expand again there could be upside to that projection.
Air freight and logistics company CH Robinson Worldwide Inc. (CHRW) makes its debut at #9 on the list. CHRW is rarely discussed on Seeking Alpha, which is a bit surprising to me when looking at its excellent performance over the years. The company has been one of the fastest and most consistent growers on the watch list, producing annualized EPS growth of 14% over the last 15 years, with just one year of negative growth in that time frame.
The company has seen growth slow a bit in recent years, and analysts are projecting roughly 9% growth going forward. As a result, it appears that valuation is being reset a bit for the company. It has historically traded with a PE in the 26-28 range, but the last couple of years has been more at the 20-22 levels. Currently trading at 18.8 times expected 2016 earnings, this looks like a decent point to open a position.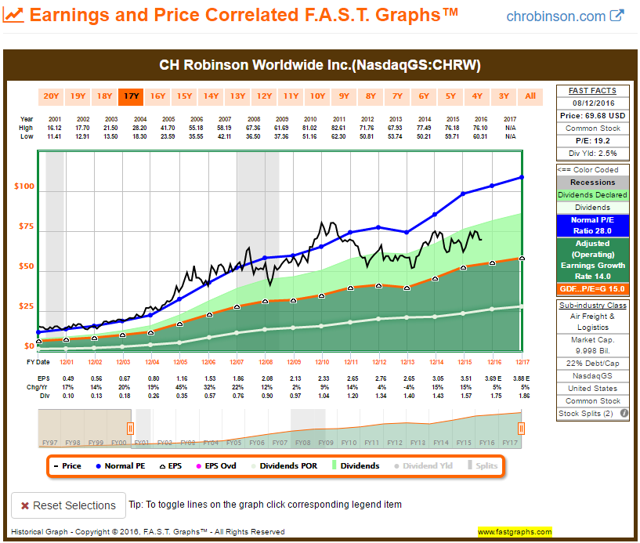 The yield of 2.5% isn't as attractive for income investors, but with a valuation below historical norms and strong growth prospects, CH Robinson could be a nice play for capital gains.
United Technologies Corporation (UTX) rounds out the list as it makes its debut in the #10 spot. UTX is an aerospace, defense and building products company with a 23 year streak of dividend increases.
Looking at the numbers, nothing really stands out by itself, but across the board everything falls in line with its track record. It has consistently grown earnings in the 6-10% range and is expected to continue grow at 9% going forward; has a fair value PE of 16 and trades at 16.7 times expected 2016 earnings; is targeting a payout ratio of 35-40% and currently pays out 40.1%.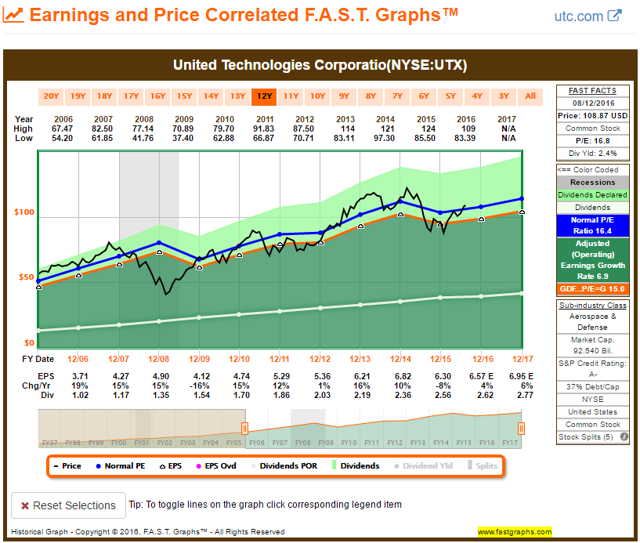 Again, none of these things alone make United Technologies a screaming buy, but add up the 2.4% yield and high-single digit growth and you get 10% annualized returns, which "ain't too shabby" in this market.
Conclusion
After seeing sky-high valuations in my recent coverings of the Consumer Staple and Utility sectors, it is refreshing to find some companies that are actually trading at reasonable valuations. Sure, there are some questions marks with growth right now, but with many of these companies yielding 3%+, they look like attractive options for long-term investors.
With crude oil seemingly on the upswing after bottoming in February, and the economy as a whole on stable ground, it appears the industrial sector may be ready to rebound as well.
I hope this top ten list proves useful to readers, and maybe gives some new ideas to people for further due diligence. If you wish to get future updates on this and other sectors, I kindly ask you to click the follow button next to my name at the top of the article.
Disclosure: I am/we are long CMI, DE, FAST, GE, LMT, NSC, UNP, UPS.
I wrote this article myself, and it expresses my own opinions. I am not receiving compensation for it (other than from Seeking Alpha). I have no business relationship with any company whose stock is mentioned in this article.
Additional disclosure: I am a Civil Engineer by trade and am not a professional investment adviser or financial analyst. This article is not an endorsement for the stocks mentioned. Please perform your own due diligence before you decide to trade any securities or other products.