We are on a mission to build the ultimate yield portfolio, follow us for regular updates on classic yield names like IBM, M and PEP as well as consistent high yield equities you have likely never heard of. Smart Dividend Stocks wants to help income investors protect their dividend income streams from dreaded yield reductions, and discover new gems for their income portfolios.
Comparable company yield analysis. It's important to not look at stocks in vacuum and always be mindful that there may be better opportunities for your investment dollars. One way to do this is by keeping an eye on similar companies, which allows you to see if there is possibly a company with similar characteristics but with a better yield, better yield safety, or better valuation. The list provided is not supposed to be comprehensive in nature, but simply provide a few benchmarks to use and generate ideas for further research.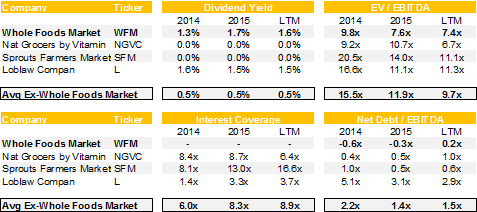 We compared Whole Foods WFM against some of the higher end grocery chains including Loblaw's L, Sprouts SFM and Natural Grocers NGVC , to give some perspective to our analysis. Not only does WFM offer the strongest dividend yield, it is also quite cheap on an EV/EBITDA basis, trading at 7.4x LTM. Neither Natural Grocers nor Sprouts even pays a dividend, not overly surprising given both are quite early in their lives as public companies, IPO'ing in 2012 and 2013, respectively. Still, these companies have not performed very well and remain less attractive than Whole Foods across most of the metrics we examined. When we look at a lower margin grocery business like Loblaws, we see that it is highly leveraged, more expensive, and pays a lower dividend, can you guess which company Smart Dividend Stocks likes more?
Use of Cash: the use of cash test provides a visual overview of the various cash uses that a company has been allocating cash towards. It shows the relative size of the cash uses versus the outstanding cash balance available to the company. It is a quick and simple way to view how the company has used its cash over the past 10 years, and is indicative of what the company may do in the next 10 years with its cash reserves. We examine dividend payments to all shareholders (including payments to preferred dividend holders) as well as net repurchases which includes equity issued via stock option plans etc… as well as interest payments on debt, this offers a more wholesome view of how the company allocates capital.

WFM uses a mix of dividends and buybacks to return capital to shareholders, since 2011 the company has allocated over $3B to shareholders, not bad for a company with a market cap of sub $10B.
Following the repayment of a significant amount of debt between 2007 and 2011 Whole Foods has maintained a very strong balance sheet. They have managed to create a large cash stockpile, currently around $750M, as they completed a significant amount of buybacks using debt rather than cash reserves. We like this move given we think the stocks are undervalued and debt is relatively cheap. Given the trend of high buybacks in 2014 and 2015, we think the CEO agrees and will continue to favor buybacks over dividend yields at WFM prices in the sub $40/sh range
Nonetheless, dividend growth has been solid although somewhat unreliable. Given the strong state of the balance sheet we expect WFM to continue incremental dividend increases as its earnings grow.
10-Year Dividend Yield and Payout Ratios: Higher dividends are great but not if they come at the expense of dividend sustainability. Assessing the payout ratio is a key metric in determining the sustainability of a dividend, and is calculated as dividend per share dividend by earnings per share (DPS/EPS).
Dividends have been lumpy over the past ten years, but consistent over the past five. We expect dividends will continue to rise, supported by store growth and a return to solid FCF generation. WFM's payout ratio has increased from about 20% in 2011 to closer to 35% now; but with dividends increasing from $0.20/sh to closer to $0.60/sh this is to be expected. While growth has come at the expense of a higher payout ratio, at just 35% we still see the payout ratio as easily sustainable, and WFM should see further cash flow growth supporting an even higher dividend in the coming years, a dividend growth investors dream.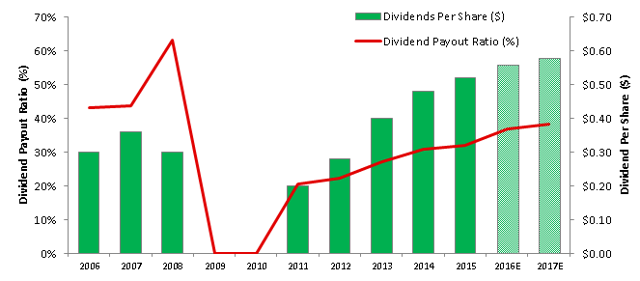 Long-term Dividend Growth: It is important to view dividend sustainability across market cycles, following the prolonged bull market we have seen in recent years it is necessary to look a bit further out to get a more balanced view of dividend sustainability.
Whole Foods doesn't have the same history of many of the companies that we analyze, including the illustrious Dividend Aristocrats with over two decades of continuous dividend increases. Nonetheless, WFM has seen strong dividend growth over the past five years, with dividends rising from just $0.20/sh to over $0.50/sh. We note that 2009/10 were years that WFM cut its dividends entirely, not surprising given the calamity that the global financial crisis brought. Still what is even more interesting than the dividend cuts, is that the company continue to grow through the financial crisis, with EPS rising markedly in both 2009 and 2010. While WFM elected to not pay a dividend in these years, they could have maintained a rising dividend if they chose to.
When the decision to cut was made it was 2008 and the outlook for sales growth was looking bleak, while the results in the following years perhaps did not reflect WFM's conservative approach, we appreciate that the company took proactive steps in managing its payout.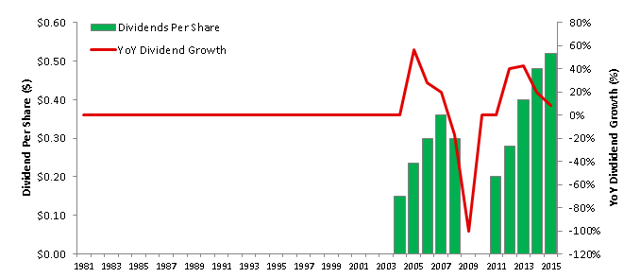 Credit risks: One of the largest risks to dividend sustainability is a leveraged company facing large debt payments and/or putting its credit ratings at risk, which would lead to higher interest charges.
WFM has only $1B of long-term debt on the balance sheet, and given its long-dated nature, not due until 2025, the liability is extremely manageable. As a result of the conservative debt profile WFM has an insignificant interest coverage ratio and leverage ratio of 0.1x, which is extremely low. The company also has ~$750M of cash on the balance sheet, so the overall financial position is very strong. We normally like to dive into the credit risks of a company, but in the case of WFM it is irrelevant, they have a pristine balance sheet.

Whole foods has taken a bit of a dive in FCF over the last two full calendar years, this is one of the main reasons the investor community has backed off the name, as they are worried about the sustainability of the WFM business model. Nonetheless, FCF is expected to rebound this year. A rebound in FCF generation will reduce the FCF payout ratio, which means whole foods is likely to continue raising its dividend. More FCF and earnings means more dividends. Overall, FCF is strong enough to continue supporting the existing as well as a rising dividend.

Summary: Whole Foods offers investors a very safe dividend, but lower earnings and a slowdown in same store sales has kept many investors on the sidelines. Nonetheless, WFM has made the right moves in terms of capital allocation and is a good business, making much higher margins that its grocery peers. While the dividend yield is currently a low 1.7% we expect this to continue growing in the coming years, supported by a strong balance sheet and growing FCF and earnings. Beyond this, large share repurchases mean the dividend will pose less of a strain in the future, as the shares outstanding are reduced. We think WFM is well on its way to 10+ years of dividend growth, which means the Smart Dividend Investor can get many years of growing dividends.
Disclosure: I/we have no positions in any stocks mentioned, and no plans to initiate any positions within the next 72 hours. I wrote this article myself, and it expresses my own opinions. I am not receiving compensation for it (other than from Seeking Alpha). I have no business relationship with any company whose stock is mentioned in this article.