South32 (OTCPK:SOUHY) sounds like the name of a high-end vodka or a nightclub. Actually, it's a new billion dollar plus mining company. This article will make the bull case for it.
Like many miners, BHP (NYSE:BHP) (NYSE:BBL) (the world's largest miner) found the need to rationalize its operations when the commodity cycle turned down a few years ago. During the good times, it had accumulated a large number of assets in many markets. It decided to spin off everything it considered non-core into a separate company. The new company was named South32 in reference to the average latitude of its operations. These are in Australia, South Africa and South America. The major products it produces are manganese, alumina, aluminum, thermal and metallurgical coal, silver and some others.
The new company was not loaded with much debt, and debt has been paid down since the spin. Here's a table of capital structure compared to others in the industry:
| | |
| --- | --- |
| | Liabilities to Total Assets |
| South32 | .28 |
| BHP | .47 |
| FCX | .74 |
| RIO | .58 |
Source: Morningstar, South32 Semi-Annual Report
One might think that such a gently levered company would pursue acquisitions or return some capital to shareholders. Instead, management wants to keep a high level of financial strength. They intend to maintain an investment grade rating over the entire commodity cycle. Once they are satisfied there, they will begin to pay 40% of profits in dividends. On the latest conference call, there were several questions from Wall Street analysts about why they weren't increasing their leverage. Management was adamant that they want to remain financially strong in case the down commodity cycle lasts longer than expected. Also, in the products they think have upside potential (base metals), assets have not come down enough to make sense.
South32 has a highly varied collection of assets for its size. However, most of them are (according to management) in the lowest quartile of world production. Here's a list of their major operations and their position on the cost curve:
| | | |
| --- | --- | --- |
| Cannington | Au, Pb, Zn | 1st Quartile |
| Cerro Matoso | Nickel | 2nd Quartile |
| Australia | Manganese | 1st Quartile |
| S. Africa | Manganese | 2nd Quartile |
| S. Africa | Thermal Coal | 1st Quartile |
| Illaware | Met Coal | 2nd Quartile |
| Worsley | Alumina | 1st Quartile |
| Brazil | Alumina | 1st Quartile |
| S. Africa | Aluminum | 1st Quartile |
| Mozal | Aluminum | 1st Quartile |
Source: South32 Management
The cost news is even better than this. Because the new company is smaller and leaner, there are a lot of cost savings that can be taken. From inception in 2015 through 2017, it expects to reduce controllable costs by $300 million and headcount from 27 thousand to 22.5. It has already done the negotiations with the unions and/or government in various areas and says it is fully on track.
Costs have also been sharply reduced by the devaluation of the currencies it works within. Of course, this is not controllable and can snap back at any time.
Valuation
Commodity companies do not lend themselves to standard analyses. The time to buy is during the down phase of the cycle. This is often when profits are low or negative, and thus P/Es are very high. My philosophy is to buy the strong and low cost producers. The world is going to continue to need the products the miners produce. Eventually, the cycle will turn up. I want to be in a company that will be around to reap the fruits of the upcycle. With that in mind, here are some valuation metrics versus others in the space:
| | | | |
| --- | --- | --- | --- |
| | Forward P/E | Dividend % | P/Book |
| SOUHY | 20.7 | 0.0% | 0.9 |
| BHP | 35.7 | 4.9% | 1.3 |
| RIO | 17.6 | 4.7% | 1.9 |
| FCX | 11.6 | 0.8% | 4.0 |
| SCCO | 89.7 | 0.7% | 3.6 |
| VALE | 23.0 | 1.7% | 1.8 |
Source: Morningstar, SOUHY P/E is by author
For many SA readers, the lack of a dividend will be a big negative. But remember, if the commodity cycle does not turn up, many of these dividends will be cut. SOUHY has the financial strength to weather the worst. And assuming no further commodity price weakness, its investment grade will be secure, and it will commence a dividend. That could well be the catalyst for the stock to move.
Commodity Analysis
This is the trickiest and most interesting part of the analysis. Because SOUHY produces many products, there's a lot to look at. Here are my views in a nutshell:
Alumina and Aluminum: Alcoa (NYSE:AA) is forecasting about a 7% growth in aluminum usage. Much of the additional supply will come from China. However, South32's big advantage here is low cost. Its Australian alumina has an integrated bauxite mine. The Brazilian operations are profitable at today's prices. I believe this will continue to be a profitable business. Longer term, Chinalco (OTC:CNMLF) may probably shut down its older facilities, leading to slowly rising prices.
Manganese: This is the big upside. Mn prices are very low, actually about as low as they have ever been, although they have had a little bounce in the past two months. Here's a graph of a price index for Mn going back to 1990. The black line is the actual index; the red line is deflated to 2016 US dollar: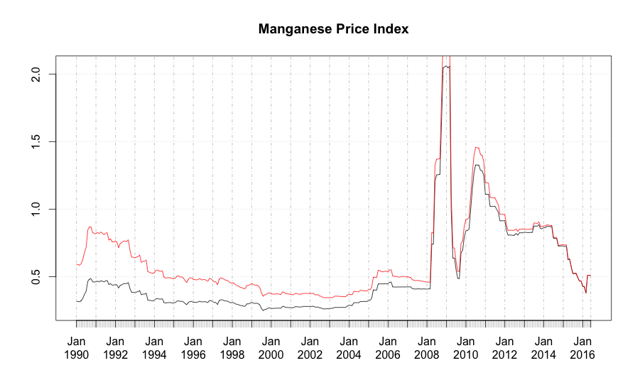 Source: Bank of Japan via Quandl
Mg is used to make steels that are quite strong and not that expensive. It is heavily used in infrastructure such as railroad tracks. With the infrastructure buildout in emerging markets continuing, and possibly coming in the US, demand for it should be strong. SOUHY is one of the world leaders in this metal. A repricing of Mn upward might also be a catalyst for the stock.
Coal: I recently wrote a SA piece giving the bullish argument for coal producers. Now much of this was that they are simply too cheap, and I do believe that over the very long term, coal will go the way of firewood. Nonetheless, there will be a big market in coal for many years, and SOUHY will be able to make profits from its existing mines. I doubt that this will be a major upside catalyst, but more steady profits.
Nickel: I am bullish on these. Again, the argument is longer term. Here's a SA article I wrote on it. Right now I wouldn't be surprised if it pulls back a bit, but I believe the bottom is in.
Silver, Lead, Zinc: No view.
How to Invest
South32 trades on several exchanges. For US readers, the simplest trade might be to buy the ADR SOUHY. It also trades in London, Johannesburg and Australia under symbol S32. Naturally, the foreign markets are quoted in their home currencies.
Disclosure: I am/we are long SOUHY.
I wrote this article myself, and it expresses my own opinions. I am not receiving compensation for it (other than from Seeking Alpha). I have no business relationship with any company whose stock is mentioned in this article.
Additional disclosure: I am giving here my analysis for my personal investment. I am not a professional advisor. Use your own judgment. Also South32 does not trade on a major US exchange. That may add additional risks.