The field of study surrounding the revised Renewable Fuel Standard [RFS2] was something of a backwater when I first started learning about it in 2008. Besides agricultural economists, Midwestern ethanol producers, and the occasional journalist, it was difficult to find anyone who understood the blending mandate that it created, let alone had heard of it. It was an afterthought in most of the financial community given that corn ethanol Renewable Identification Numbers [RIN], as the mandate's blending credits are known, traded for a few pennies apiece during their first few years on the market. Even the conventional wisdom among experts on how the RFS2 would evolve was, in retrospect, largely wrong.
How times have changed. The broader class of energy investors first became aware of the mandate in the summer of 2013 as independent refiners, which are required to either blend biofuel under the mandate or purchase an equal number of RINs from other parties, attributed their growing quarterly losses to unexpectedly high RIN expenses. Initial calls for the RFS2's repeal came to naught, however, and the debate has reached new heights this year as refiners' RIN costs have surged to new records. The debate was hit by its biggest jolt to date this week when, as Reuters reports, billionaire activist investor Carl Icahn sent a letter to the Environmental Protection Agency [EPA] predicting a wave of refiner bankruptcies if the RFS2 isn't reformed. (The EPA oversees the implementation of the RFS2.)
The merger backdrop
News of this letter comes only days after the New York Post reported that Mr. Icahn was preparing to "make an offer" for independent refiner Delek US Holdings (NYSE:DK) via industry peer CVR Energy (NYSE:CVI), which he owns a controlling stake in. The Post also reported the existence of industry speculation that Mr. Icahn is building a personal stake in Delek US Holdings as well. Delek US Holdings in turn owns a 48% stake in independent refiner Alon USA Energy (NYSE:ALJ) and has spent the last five quarters discussing the acquisition of the remaining shares. Mr. Icahn's move could potentially result in a merger of the three independent refiners, each of which also sponsors its own MLP as well.
With a combined market cap of $2.8 billion, the three refiners would still be a relatively small refining entity following such a merger when compared to the likes of Phillips 66 (NYSE:PSX) or Valero Energy (NYSE:VLO). What would not be small, however, would be the post-merger entity's RIN expenses under the RFS2. RIN prices rebounded at the end of 2015 and, while they have yet to see their 2013 daily highs, are on the verge of achieving their highest YTD averages yet (see figure). The corn ethanol D6 category's price hasn't fallen below $0.70/RIN in more than six months, its longest such stretch on record. To put this in perspective, the D6 RIN price was $0.05 at the beginning of 2013.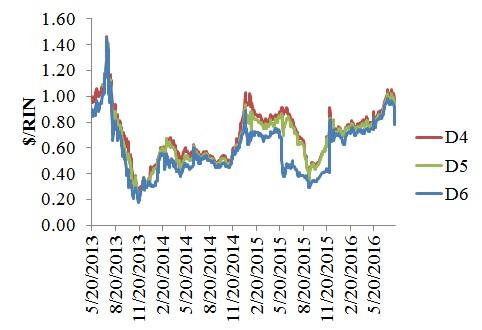 Source: EcoEngineers (2016).
High average RIN prices mean that independent refiners are on track to spend approximately 46% more on RINs in 2016 than they spent in the record year that was 2013 and 134% more this year than last year. These figures are based on my analysis of the combination of average RIN expenses in H1 2016 and projected annual prices as reported by the following refiners: Alon USA Energy, Calumet Specialty Products Partners LP (NASDAQ:CLMT), CVR Refining LP (NYSE:CVRR), CVR Energy, Delek US Holdings, HollyFrontier (NYSE:HFC), Marathon Petroleum (NYSE:MPC), PBF Energy (NYSE:PBF), Tesoro (TSO), Valero, and Western Refining (NYSE:WNR). In all, these refiners are on track to spend at least $2.7 billion on RINs in 2016 (see figure); this number could move higher still if RIN prices remain at or above their current levels, since some of the annual projections are based on an individual refiner's average H1 RIN price rather than the average in Q3 to date, which is still higher.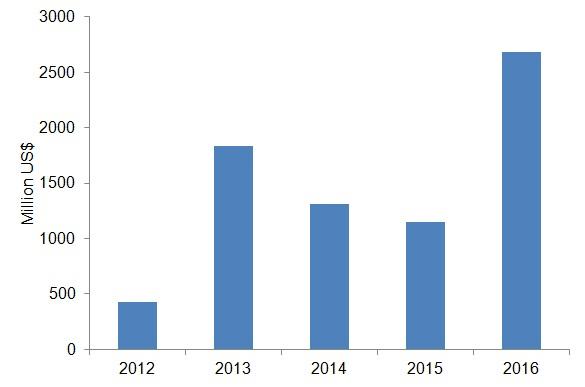 Annual RIN expenses for publicly-traded U.S. independent refiners. 2016 is an estimate. Sources: Quarterly earnings reports, quarterly earnings calls, 10-K filings.
Why Icahn's interest in refiners
Alon USA Energy, Delek US Holdings, and CVR Energy are on track to incur combined RIN expenses of $306 million in 2016, an amount that equals 13% of their combined market capitalizations at the time of writing. So why is Mr. Icahn investing so heavily in independent refiners? Yes, their share prices are all near multi-year lows, but they are also reporting large losses during the normally-strong summer driving season. Furthermore, fuel retailers are reporting higher margins resulting from the sale of RINs generated by their own non-obligated blending operations. Wouldn't these firms make more sense as investment opportunities?
I can think of two possible explanations in light of his recent letter to the EPA predicting refinery bankruptcies in the absence of RFS2 reform. The first, that he only learned about the negative impact that RIN prices were having on refiners after he began building a stake in Delek US Holdings, can be dismissed immediately. An investor doesn't become one of the 20 richest Americans without performing thorough due diligence on every potential investment. The second possible explanation is that Mr. Icahn considers Delek US Holdings (and, by extension, CVR Energy and Alon USA Energy) to be undervalued on an expectation of lower future RIN prices.
There is some precedent for this second explanation. Independent refiners launched a major lobbying effort during the summer of 2013 directed at the EPA. The effort's goal was to convince the EPA to make changes to the RFS2's implementation that would cause RIN prices to fall. It was successful and D6 RIN prices ultimately collapsed by more than 80% between July and November of that year. A similar effort is underway this year: in June, refiners began pushing for the RFS2's definition of "obligated blenders" (i.e., those entities responsible for purchasing RINs in the absence of sufficient blending activities) to be changed from refiners to fuel wholesalers and marketers. Earlier this month the refiners' trade group, the American Fuel & Petrochemical Manufacturers, formally requested the change. (Investors will be interested to note that the letter cited work published here on Seeking Alpha in support of the request.)
The 2013 lobbying effort was successful and it didn't even have one of the world's most famous activist investors involved in the push. It could be a coincidence, but the price of D6 RINs has fallen by 16% over the last two weeks as the news of Mr. Icahn's involvement has generated headlines. The RIN market tends to front-run headline news while also demonstrating a large amount of headline volatility, so the possibility that Mr. Icahn is moving into the battered refining sector with the intention of helping to bring down RIN costs and thereby boosting refining margins isn't unreasonable. It is hard to imagine any other reason for him to invest in a sector that, according to Reuters, he expects to undergo "a number" of bankruptcies if the status quo remains in force.
Pity the retailers
Finally, I want to point out the awkward position that fuel retailer Murphy USA (NYSE:MUSA) has been placed in by recent events. The retailer is a non-obligated blender, and it generates substantial income by selling the RINs generated by its blending operations to obligated parties such as independent refiners. To its credit, it also routinely publishes the contribution of its blending operations to its quarterly and annual earnings for the benefit of investors. I have yet to find any other non-obligated blender that is as diligent at doing so, although fuel retailer Casey's General Stores (NASDAQ:CASY) also includes quarterly data in its earnings reports (but not annual data).
Both retailers have come under attack by the refiners' lobbying effort due to their transparency. Both are mentioned by name in the American Fuel & Petrochemical Manufacturers petition to the EPA as profiting from the RFS2 (Murphy and Casey's are on track to generate $165 million and $37 million, respectively, from RIN sales in 2016). Mr. Icahn's letter characterizes them as profiting at the expense of small business, stating that:
"The RIN market is the quintessential example of a 'rigged' market where large gas station chains, big oil companies and large speculators are assured to make windfall profits at the expense of small and midsized independent refineries which have been designated the 'obligated parties' to deliver RINs." (emphasis added)
The forecast RIN income for the two retailers this year is less than 8% of the total expenses presented above. Clearly, there are other entities generating RIN income. While some of these are possibly large, others are logistics MLPs and small fuel jobbers that don't match up with Mr. Icahn's characterization. I am in the process of building a database of publicly-traded companies that generate income from RINs for another Seeking Alpha article that will hopefully provide more insight on the nature of the downstream RIN trade. If you are aware of any that are not mentioned above, feel free to let me know either in the comments section or via private message.
Mr. Icahn's recent involvement in the lobbying effort to have the RFS2's definition of "obligated parties" changed is good news for independent refiners but potentially bad news for fuel retailers. The proposed change could deprive the latter of a substantial source of income, although many refiners would no longer be required to take the other side of the trade. Investors in both segments of the petroleum supply chain should watch to see how this debate moves forward.
Disclosure: I am/we are long WNR, PBF.
I wrote this article myself, and it expresses my own opinions. I am not receiving compensation for it (other than from Seeking Alpha). I have no business relationship with any company whose stock is mentioned in this article.