Banks are in a very interesting place right now-M&A is a battlefield, earnings are growing and investor sentiment is beginning to change. It's because of this that an investor can purchase a basket of community banks that is likely to outperform the market, something we've written about in the past.
There are a few things an investor can do with this information, the first is what the majority of the market will do, absolutely nothing but then brag in retrospect that "they saw it." The rare few will take note of the profitable trend and put their money where their mouth is and invest. To help those who want to take action we've created a model portfolio of the cheapest banks. We're going to take it a step beyond just throwing tickers into an article and profile each and every bank in the portfolio and then continue to update readers with news as it warrants.
The banks included in this model portfolio where chosen based on their absolute 'cheapness'. Cheapness in this context is defined as the bank's Acquisition Value ((net income + (operating expenses * cost savings)(1-tax rate)) * 10 ). When we initially ran our screen there were 67 banks selling below their takeout value. In order to be included in the portfolio, the upside to takeout value needed to be higher than 25%. This narrowed our portfolio down to 32 companies. We also didn't include some of the most illiquid and semi-private banks that are nearly impossible to trade.
The portfolio contains one larger bank: CIT Group (NYSE:CIT). The rest of the banks are either small caps or micro-caps.
There are seventeen small-caps in the portfolio: Bancorp Inc. (NASDAQ:TBBK), Century Bancorp (NASDAQ:CNBKA), MidSouth Bancorp (NYSE:MSL), MVB Financial Corp (NASDAQ:MVBF), First National Community Bancorp (NASDAQ:FNCB), Kentucky Bancshares (OTCQX:KTYB), Chesapeake Financial Shares (OTCQB:CPKF), Royal Bancshares of Pennsylvania (NASDAQ:RBPAA), BNCCORP (OTCQX:BNCC), First United (NASDAQ:FUNC), AmeriServ Financial (NASDAQ:ASRV), Kish Bancorp (OTCPK:KISB), Eagle Bancorp Montana (NASDAQ:EBMT), Broadway Financial (NASDAQ:BYFC), Blackhawk Bancorp (OTCQX:BHWB), and Reliance Bancshares (OTCPK:RLBS). We are defining small-caps in this context as any company with a market cap bigger than $30 million and smaller $1 billion.
There are fourteen micro-caps in the portfolio: First Federal of Northern Michigan (NASDAQ:FFNM), Central Federal Corporation (NASDAQ:CFBK), Jefferson Security (OTCPK:JFWV), CIB Marine Bancshares (OTCQB:CIBH), ASB Financial (OTCPK:ASBN), DAMASCUS CMNTY BK (DMAS), County First Bank (OTCQB:CUMD), Community Investors Bancorp (OTCPK:CIBN), Peoples BK Commerce (OTCPK:PBCO), Crazy Woman Creek Bancorp (OTCQB:CRZY), Sound Banking (OTCPK:SNBN), CNB Bancorp (OTCPK:CNBV), Pacific West Bank (OTCPK:PWBO) and SouthFirst Bancshares (OTCQB:SZBI). We are defining micro-caps in this context as any company with a market cap smaller than $30 million.
We have highlighted multiple times in the last few months that banks are one of the most underfollowed sectors - the subsector of community banks especially. When creating this portfolio, it didn't surprise us to see that out of the 32 banks, 23 have never been profiled on Seeking Alpha. Moreover, nine have only been profiled once and three of the nine were profiled by us. This gives us further confirmation that these banks are undervalued and overlooked.
The portfolio can be seen below.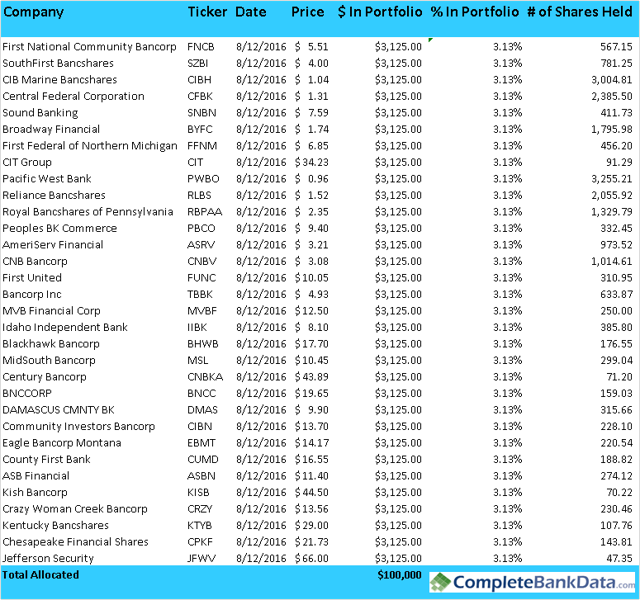 For record keeping purposes we are sizing the model portfolio to be $100,000 in value, with all positions equally weighted at 3.13% a position. All buys within the portfolio were initiated on 8/12/2016. For simplistic purposes, there will be no transaction fees.
The average and median market cap in the portfolio is $218 million and $34 million respectively. The average and median price per share is $13.43 and $9.90. The average and median P/TBV is 0.81x and 0.80x. Finally, the average and median upside to takeout value is 121% and 73%.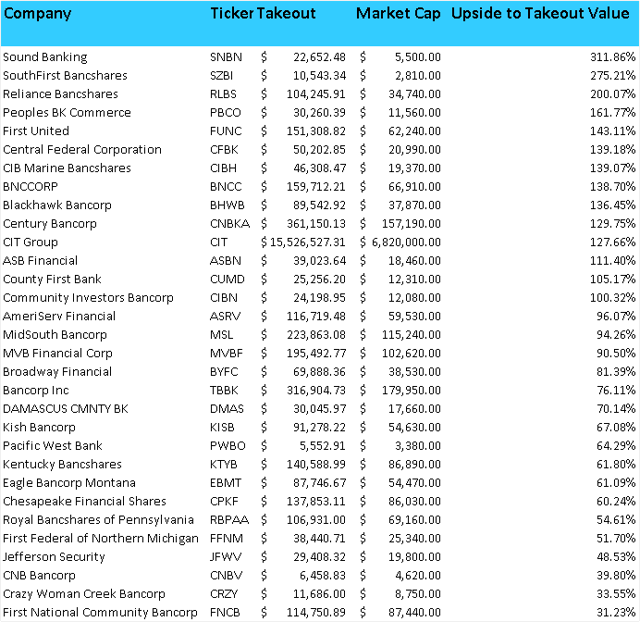 There are three companies in the portfolio have an upside to takeout value greater than 200%. Eleven companies have an upside to takeout value over 100%. Finally, seventeen companies have an upside to takeout value greater than 25%.
We have included the P/TBV for each company in the image below.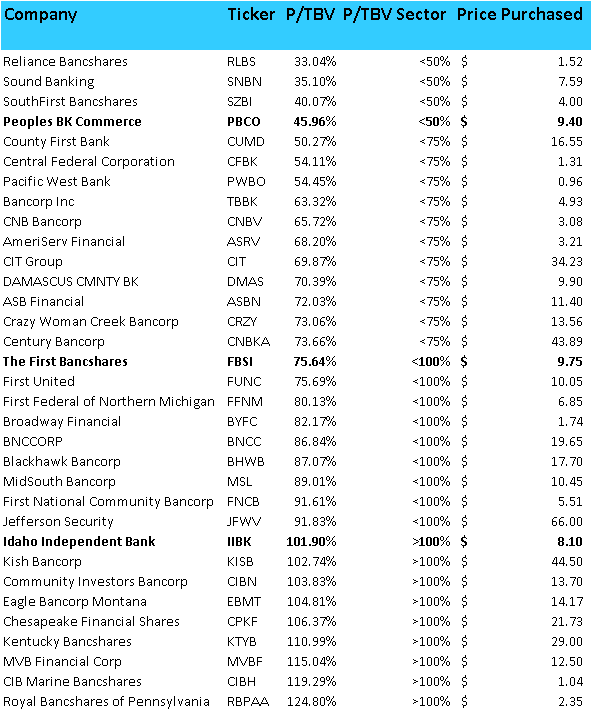 Four companies have a P/TBV below 50%. Twelve companies have a P/TBV between 50-73%. Nine companies have a P/TBV between 75-91%. Finally, nine companies have a P/TBV greater than 100%.
It's our belief that a basket of undervalued banks will outperform the KBW Regional Bank Index over the next 2-3 years. Small and micro-cap stocks outperform large-caps - almost all of the companies within the portfolio have market caps less than $100 million, and a good majority less than $50 million.
There is massive consolidation trend within the banking industry and especially amongst community banks. Because all of the companies within the portfolio are trading below takeout value and have P/TBV's under 1.00x, there is a good chance than a handful of banks in the portfolio will be acquired. Moreover, a significant number of companies in the portfolio do not have $1 billion in assets. This is an important threshold in the banking world, banks with less than $1b in assets are viewed as "too small" and are likely acquisition or merger candidates.
Finally, the absolute undervaluation assures a margin of safety, letting the portfolio avoid getting 'pigeon-holed' by a black swan entering the area.
A natural question is "what's the best way to implement this portfolio?" The first thought most of you will have to this article is to pick out a few of the banks that are the most undervalued with the expectation that they will rise the most. Unfortunately the market doesn't work like that. Returns are a random walk and often securities that are extremely undervalued have some type of issue or problem lending validity to the undervaluation. Likewise some of the banks that aren't quite as undervalued are simply neglected by the market, and when a bank comes looking for an acquisition it's easier to buy something high quality and neglected rather than cheap with problems.
The strength of this portfolio is in its total composition. Not every bank in this portfolio will appreciate, some will sit stagnant forever, and some will make mistakes and decline in value. But in the aggregate these banks should outperform the market. And that is the key, to outperform with this strategy you can't just cherry-pick one or two banks, you need to buy them all.
There will be no buying or selling within the portfolio. All data here on forth will be tracked for the next few years. There will be weekly updates on the portfolio in regards to: company updates, portfolio performance and other relatable/non-relatable events.
Banks are one of the most interesting sectors around yet one of the most unfollowed sectors. In fact, one third of stocks in the US are banks - yet they are one of the most highly disregarded securities. It is in our belief that in order to outperform, one must do what others do not want to do. Moreover, it is easily noted that the vast majority of investors avoid banks. Building this portfolio will help test our 'thesis' that banks will outperform in the next 2-3 years.
Disclosure: I/we have no positions in any stocks mentioned, and no plans to initiate any positions within the next 72 hours. I wrote this article myself, and it expresses my own opinions. I am not receiving compensation for it (other than from Seeking Alpha). I have no business relationship with any company whose stock is mentioned in this article.
Editor's Note: This article covers one or more microcap stocks. Please be aware of the risks associated with these stocks.