On August 8th, OPEC published a press release stating that H.E. Dr. Mohammed Bin Saleh Al-Sada, Qatar's Minister of Energy and Industry and current OPEC president, had scheduled an informal meeting of OPEC member countries to take place on the sidelines of the 15th International Energy Forum which will take place in Algeria from 26 to 28 September 2016. This renewed rumors of another production "freeze." But then prices began to fade until last Thursday, when the Saudi Press Agency reportedly emailed a statement to journalists quoting Saudi Energy Minister Khalid al-Falih as follows:
We are going to have a ministerial meeting of IEF in Algeria next month, and there is an opportunity for OPEC and major exporting non-OPEC ministers to meet and discuss the market situation, including any possible action that may be required to stabilize the market.
In an interview published Monday, Energy Minister Alexander Novak was quoted Saudi-owned newspaper Asharq al-Awsat that a complete return of market stability is likely in 2017.
With regard to the cooperation with Saudi Arabia, the dialogue between our two countries is developing in a tangible way, whether in the framework of a multi-party structure or on a bilateral level...We are ready to achieve the widest possible level of coordination... and put in place joint measures to achieve oil market stability, with the condition that these measures will not be for a limited period of time.
As a consequence, crude futures prices have gained 11% since August 5th. However, recent data reveal how this attempt to talk the market up will backfire.
Rebound in Rig Activity
As a result of the hype surrounding the freeze talks this spring, followed by a confluence of supply outages, crude futures prices rallied nearly 100% from February 11th through June 8 th, closing at $51.23. But this rise in prices put an end to the drop in the U.S. rotary rig count. Specifically, oil rig activity had peaked in the week ending October 10, 2014 at 1,601, four months after crude futures prices had peaked.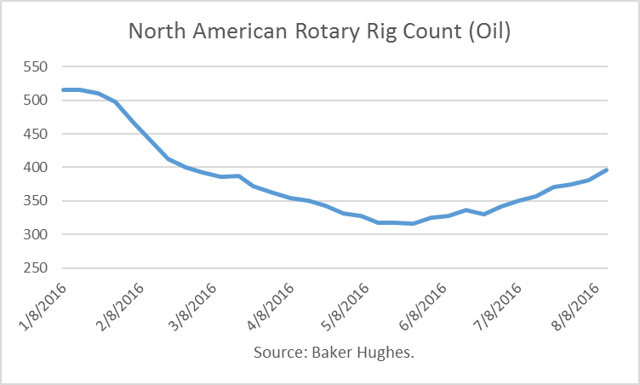 Rigs steadily declined until the week ending May 27, 2016, at 316. Because prices became more attractive, the industry has added 80 rigs, a 25 percent gain. And in today's Energy Information Administration's (EIA) Weekly Petroleum Status Report (WPSR), the EIA revised its estimate of U.S. crude production up by 152,000 b/d to 8.597 million barrels per day (mmbd). This is almost 400,000 b/d higher than the EIA had forecast last month for August.
As I have explained, the reason this revision is so important is that the EIA, as well as other major forecasting sources, have been predicting world supply and demand to be coming into balance by the end of this year. However, a significant part of this forecast was based on a decline in non-OPEC production of about 800,000 b/d, much of it in the U.S.
Producer Hedging Increasing
Since the week ending May 24 th, oil producers have also increased short hedges by over 50 million barrels to over 551 million barrels. Although hedging strategies vary, they are designed to insulate oil producers from the adverse effects of lower prices. By talking the market up, the Russians and Saudis are giving U.S. producers additional hedging opportunities because the price rose to levels that some firms find acceptable.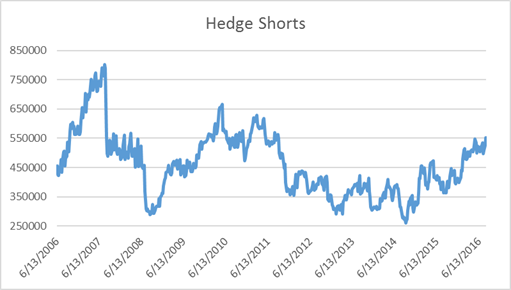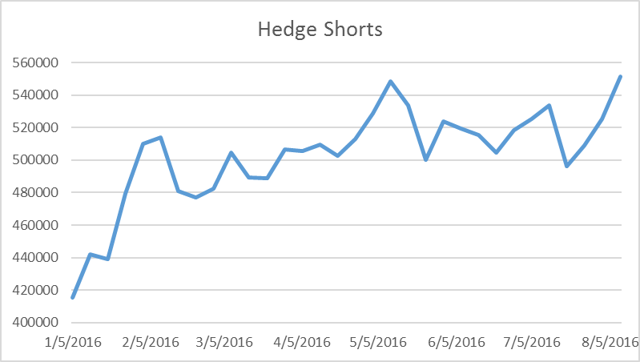 For example, EOG Resources, Inc. (NYSE: EOG) reported that it has increased its targeted number of well completions for 2016 from 270 to 350 net wells. Many of the additional well completions are scheduled for late 2016. In addition, due to increased drilling productivity, the company expects to drill 250 net wells, 50 more than in its original 2016 plans. This increase in activity will be accomplished while maintaining 2016 capital expenditure guidance of $2.4 to $2.6 billion, excluding acquisitions."
EOG went on to claim that "assuming a flat $50 West Texas Intermediate crude oil price (WTI), EOG would expect 10 percent compound annual crude oil production growth through 2020. Assuming flat $60 WTI, EOG would expect 20 percent compound annual crude oil production growth through 2020."
Conclusions
The likelihood that Saudi Arabia or Russia will actually limit their production is close to non-existent. Therefore, this is just a bluff.
By causing traders to bid up the price up, they are enabling U.S. producers to increase drilling and hedging. These activities will cause this strategy to manipulate prices to ultimately backfire.
Disclosure: I/we have no positions in any stocks mentioned, and no plans to initiate any positions within the next 72 hours.
I wrote this article myself, and it expresses my own opinions. I am not receiving compensation for it (other than from Seeking Alpha). I have no business relationship with any company whose stock is mentioned in this article.