The U.S. stock market keeps hitting new all-time highs despite the second quarter of 2016 being another quarter with negative earnings growth. While there are still a few more earnings announcements to be released before the quarter is closed out, it looks as if earnings were down approximately 5% from the same quarter a year ago. It is also likely that the final numbers will come in below expectations. This will be the sixth consecutive quarter with declining earnings - not the stuff of which record high stock prices are made.
The last time the S&P 500 experienced double-digit earnings growth was in Q3 2014. Prior to that, there were three down quarters for earnings from Q3 2012 to Q1 2013. The last time there was really impressive earnings growth was in Q3 2011 - almost five years ago - when earnings were up 21%. This was during the final phase of recovery from the earnings collapse that took place between Q4 2007 and Q3 2009. At the worst point, S&P 500 earnings were down over 90% from their prior peak. A spectacular recovery took place with triple-digit earnings gains between Q4 2009 and Q3 2010. The largest gain was 793%. While this seems impressive, keep in mind that if a number is down 90%, a 900% gain is needed to get back to where it started. The chart below shows the earnings history of the S&P 500 for the last ten years.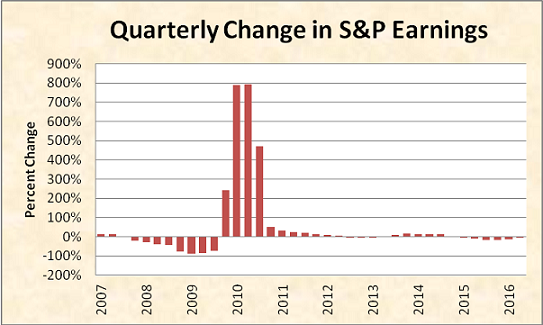 The recent behavior of earnings and stock prices has many market commentators scratching their heads, puzzled by the market's resiliency in the face of weakness in the fundamentals. This represents a failure to understand that in the short and intermediate term central bank liquidity drives stock prices (in the longer term, the piper must be paid and stock prices must regress back to the mean). The last time there was an analogous earnings situation to today's was in 1998-99. Company earnings growth was negative for five quarters from Q1 1998 to Q1 1999. A short and sharp bear market in Nasdaq stocks took the index down 30% in August. In response to this and the impending Y2K issue (which turned out to be insignificant), Fed Chair Alan Greenspan flooded the financial system with a wave of excess liquidity (nevertheless, fed funds only fell as low as 4.63% in January 1999). Stocks consequently began a major blow off top starting in late 1998. See chart below for S&P earnings growth history between 1996 and 2006.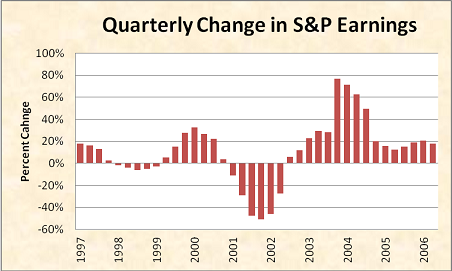 Central banks have maintained unprecedented easy money policies with close to zero rates and massive amounts of quantitative easing (QE) since 2008. The ante has been upped in 2016, with the ECB expanding its negative rate regime, the Bank of Japan instituting negative rates, and the UK beginning a new round of rate lowering with the goal of getting to zero, while at the same time expanding its QE program. This liquidity sloshing around the global financial system is enough to push U.S. stocks to new highs, even with the Fed having raised its funds rate to 0.5%. This doesn't mean a massive 1999 type of rally is on the way. The situation now is very different than it was back then. After eight years of extreme levels of central bank stimulus, why would a little more have a large impact? Stimulus in all systems eventually loses its effectiveness because the system adjusts to it.
From a technical perspective the market rally is weak. The breakout to new all-time highs has taken place on below average volume, as has been the case with the entire stock rally since the low in February this year. Price action is anemic and lacks enthusiasm. Trend indicators show an up move lacking in strength. This does not look like an emerging blow-off top, but a rally that is exhausted after seven years and a stock market that is struggling to go higher. It should be noted from the chart above that after the bubble burst in 2000, the negative impact on stock earnings wasn't nearly as bad as it was in 2008. This tells us that central banks are inflating each stock bubble higher and higher and the negative impact when the bubble bursts is getting larger over time.
So, what should an investor do? Despite all the hype from the financial press, big profits haven't resulted from U.S. stocks going to new all-time highs. Many stock markets are outperforming the U.S. and other asset classes are outperforming U.S. stocks. See here, here and here for some insight into the performance of commodities, currencies and other stock markets. Investors who want to make the biggest returns on their capital should always think globally and outside the stock box.
Disclosure: I/we have no positions in any stocks mentioned, and no plans to initiate any positions within the next 72 hours.
I wrote this article myself, and it expresses my own opinions. I am not receiving compensation for it (other than from Seeking Alpha). I have no business relationship with any company whose stock is mentioned in this article.