The global economy is in a steady state of decline and that has hurt the earnings of cyclical names like Caterpillar (NYSE:CAT). The company has vowed to cut costs to help soften the diminution in its bottom line, but it will be difficult to cut its way to profitability. Investors should continue to avoid CAT for the following reasons:
Double-Digit Declines In Revenue
It is difficult to be bullish on a company whose top line is eroding. Caterpillar's Q2 revenue fell by 16% Y/Y. It also experienced declines in every product line.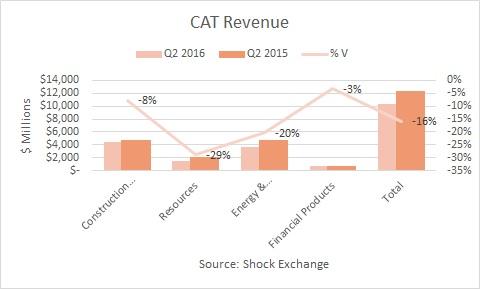 The biggest revenue decliners were Resources (down 29%) and Energy and Transportation (down 20%). Mining companies have been hurt by the rout in commodities prices - the Bloomberg Commodity Index is down over 13% over the past year. Mining remains in a slump and customers are delaying purchases and repairs which punished the Resources segment. China's slowing economy and its intimations of cutting back on imports of steel and iron ore won't help matters.
With oil prices sub-$50 and no noticeable bounce in the rig count, revenue from Energy and Transportation has been in the doldrums. Revenue fell 20% Y/Y and the segment is not expected to generate top-line growth for the rest of the year. The popular narrative was that E&P was going to pick up in 2017. However, after disappointing earnings results from Chevron (NYSE:CVX) and Royal Dutch Shell (NYSE:RDS.A) (NYSE:RDS.B) big oil may batten down the hatches on capex even further.
Falling Profit Margins
While revenue fell 16%, segment profit was down 32%. Caterpillar's profit margin also declined from 14% in Q2 2015 to 11% this quarter. The problem is that Energy and Transportation represents over 50% of total revenue, and it also has the heftiest margins; margins for the segment were 16% versus 20% in the year-earlier period. There is a dearth of new orders in the deepwater segment of the oil space. North America land drilling has been characterized by price wars between Schlumberger (NYSE:SLB), Halliburton (NYSE:HAL) and lesser-capitalized players. This could portend that Caterpillar's margins in the energy space could fall further.
Meanwhile, segment profit for the Resources group declined from $27 million in Q2 2015 to -$263 million this quarter. Resources will likely accumulate further losses due to declining economies of scale. Overall, I anticipate falling revenues and margins will punish Caterpillar going forward. Given a global economy in shambles, this could be the calm before the storm for CAT. Avoid the stock.
Disclosure: I/we have no positions in any stocks mentioned, and no plans to initiate any positions within the next 72 hours.
I wrote this article myself, and it expresses my own opinions. I am not receiving compensation for it. I have no business relationship with any company whose stock is mentioned in this article.