Introduction
Dollarama Inc. (OTC:DLMAF) is a dollar store in Canada that sells its items at $3.00 or less. Since being founded in 1992, the Montreal, Québec-based company has expanded and is currently represented in every Canadian province. I place an outperform recommendation on Dollarama, with a target stock price of $109.25. Though this price is at a premium of 12.53% of the closing share price on August 15, 2016, I believe the market is underpricing Dollarama due to concerns about its market share, foreign exchange risk and the Canadian economy.
Business Overview
Dollarama has 1,038 stores across Canada, making it the largest dollar store operator nationwide. For the fiscal year ended January 31, 2016, the company opened 75 net new stores, with 8 net new stores being opened in the first quarter of 2016. The stores are found in every single province, with Ontario having the most in number by far (see Figure 1). The average store size is 9,970 square feet, with newer ones averaging 10,301 square feet. Roughly 80-85% of the square feet of the stores are considered selling square feet, which explains the rather cramped and narrow aisles found in each store. Dollarama stores have a payback period of less than two years, as a minimal initial investment of $700,000 ($500,000 for capital expenditures plus $200,000 for inventory) starts bringing in annual sales of over $2.1 million within two years of existence. Stores are strategically placed in shopping malls, strip malls and other high-traffic areas, with Dollarama studying various pertinent variables, including the area's population and demographics. Speaking from first-hand experience, I have personally witnessed the opening of two Dollarama stores, both within a five kilometer radius of my greater Toronto area home. Both stores have opened up in strip malls next to large residential areas containing people of all ages and races, and both strip malls lack a value retailer.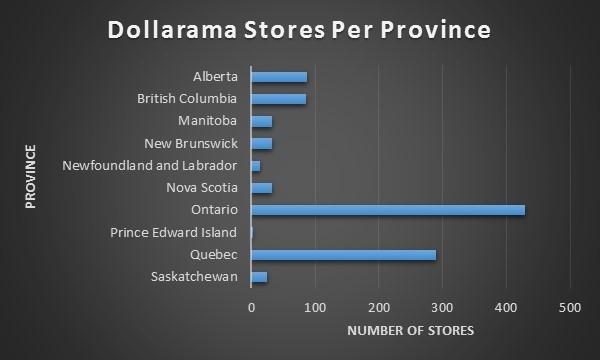 (Figure 1: Chart produced by author from information found in Dollarama Annual Information Form, fiscal year ended 2016.)
In addition to its stores, Dollarama also has five warehouses, totaling over 1.1 million square feet and one distribution center of over 320,000 square feet, all located in Québec. On February 2, 2016, the company invested approximately $60 million in the construction of a new warehouse located in Montreal, Québec, measuring 500,000 square feet, making it Dollarama's largest warehouse.
Dollarama stores contain a wide variety of products, including general merchandise, consumable products and seasonal products, which accounted for 47%, 38% and 15% of total merchandise, respectively (see Figure 2). These categories include items ranging from office supplies to soft drinks to Halloween decorations, all priced at various price points ranging from $0.77 to $3.00. Since its inception, Dollarama has gradually increased the price in its stores, and will progressively introduce price points of $3.50 and $4.00 during the second half of 2016 for both general and seasonal products. Each store has over 4,000 active annual stock keeping units (SKUs; each is a unique number identifying a specific product), as well as over 700 annual stock keeping units, at any point in time. Dollarama's merchandise is sourced primarily from overseas, particularly China, with the remainder sourced from North America; this amounts to 56% and 44%, respectively (see Figure 3).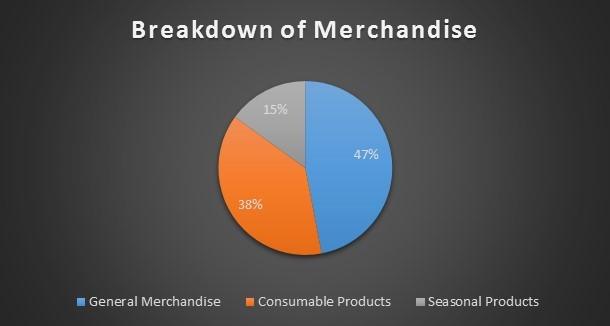 (Figure 2: Dollarama Annual Information Form, fiscal year ended 2016.)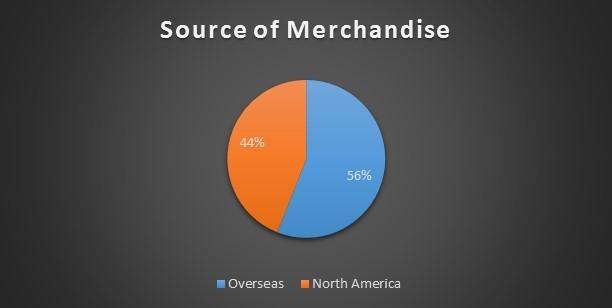 (Figure 3: Dollarama Annual Information Form, fiscal year ended 2016.)
Industry Overview
Dollarama is part of the Canadian value retail industry, which has grown substantially over the past two decades. There is continual growth within this industry, evidenced by the increase in the number of smaller value-priced chains, dollar stores, discount food stores, warehouse/club stores, as well as other value retail shops. This segment of the industry has benefited from economic malaise in Canada, buttressed by record high household debt ratios and a troubled oil sector in the West.
However, the dollar stores industry differentiates itself from its value retail peers by the following factors:
i) Low fixed price points;
ii) Convenient locations and store size;
iii) Extensive offerings of everyday branded and unbranded merchandise;
iv) Individual sized product quantities; and
v) Self-service environment.
Within the dollar store industry, dollar store retailers can be split into two different groups based on their product availability. Some dollar stores have a "treasure hunt" type of set-up, similar to close-out retailers. In this type of store, product selection and availability are subject to frequent change, and are therefore often inconsistent. Other dollar stores, including Dollarama, provide a more consistent line-up of products, differentiated between everyday products and seasonal merchandise, which is intended to increase customer loyalty and continuous traffic.
One of the main differences between the U.S. dollar store market and the Canadian market is the disparity in the merchandise mix. U.S. dollar stores have a higher proportion of consumable products, including refrigerated goods, which is not found in Canadian dollar stores, including Dollarama. Also, in comparison to the U.S. market, Canadian dollar stores are underpenetrated. For the top five U.S. dollar store chains by number of stores, there are roughly 12,000 people per dollar store, on a per capita basis. For the top five Canadian dollar store chains by number of stores, this figure stood at 24,000 people per dollar store. Despite differences in the merchandise mix between the two countries, there is still a lot of growth potential within the industry.
Though management initially placed an upper bound of 1,200 stores in Canada, Dollarama has now projected to increase stores to a threshold amount of 1,400 stores over the next six years. As the store count reaches this upper amount, cannibalization is expected to increase, leading to the average capital payback period increasing from the current two-year amount to within two to three years.
Competition
The Canadian dollar store market is highly fragmented, with a number of independently owned dollar stores in addition to privately owned multi-outlet chains. Following Dollarama, the largest chains of dollar stores include, in descending order: Dollar Tree Canada, Dollar Store with More, Great Canadian Dollar Store and Buck or Two Plus!
Dollar Tree Canada and Dollar Store with More both have a market share similar to that of Dollarama in the Western provinces, while Great Canadian Dollar Store and Buck or Two Plus! combined have a market share similar to that of Dollarama in the Maritimes. In Ontario and Québec, however, Dollarama dominates market share, while the other competitors together have a significantly lower level of market share.
Overall, Dollarama is the most dominant player in the Canadian dollar store market, with a market share of 53.7%, while the remaining 46.3% is comprised of all of the other players (Figure 4). Due to the highly competitive nature of the industry, there is a high competitive barrier to entry for new firms. Being the most dominant market player, Dollarama is not necessarily under competitive pressure from newcomers. To remain strong nationwide, the company should focus on expanding in parts of Canada where it does not have as strong a presence, such as the Western Provinces and the Maritimes.

(Figure 4: Retrieved from IBISWorld, Dollar & Variety Stores in Canada.)
Risks
One of the main risks affecting Dollarama, and by extension the Canadian dollar store industry, is the recovery of the Canadian economy. The recession caused wage cuts and job losses, thus allowing dollar stores to benefit from consumers' tighter budgets. With a gain in the economy, as workers begin to earn more money and re-enter the workforce, expect consumers to shift to larger bulk purchases as opposed to smaller, individual purchases at dollar stores. Increasing wages will likely lead some consumers to shift to stores such as Costco (NASDAQ:COST) and Wal-Mart (NYSE:WMT) for their purchases. Additionally, Wal-Mart's successful small format stores for express shopping have gained great popularity in the U.S., and since the company already has a large presence in Canada, expect it to introduce these stores in the future, directly competing with dollar stores.
Aside from industry-related risk factors, factors which apply specifically to Dollarama include foreign exchange risk. Though the company's sales are in Canadian dollars, most of its overseas merchandise is purchased with U.S. dollars. In a world of extraordinary monetary policy, negative interest rates and trade-bashing politicians, foreign exchange risk is fairly high. Additionally, the Canadian dollar has been relatively weak in comparison to the US dollar, thus pressuring Dollarama's profits. In order to hedge its risks, Dollarama uses foreign exchange forward contracts, which bring about its own risks via illiquidity and exchange rate changes in the opposite direction of the forward contracts.
Valuation
Revenue Growth
Revenue is grown by way of three factors: same-store sales, net new locations and revenue per store. Under the base case, I maintain same-store sales growth of 5% for 2017 and 2018, with it falling to 4% in 2019 and 2020, and 3% in 2021 and 2022. This is due to the likely decrease in consumer traffic with the recovery of the economy. The bull case and bear case follow similar paths, albeit with higher and lower percentages, respectively.
Net new locations total 370 over the following years, as Dollarama looks to expand its stores to total 1,400 over the next 6 years. Again, I expect stores to grow at a decreasing rate over time due to the economic recovery. The bull case accounts for an additional 450 stores, while the bear case accounts for an increase of only 170 stores, reaching the previous upper limit Dollarama had set at 1,200 stores.
Revenue per store in the base case is set to maintain the current amount of roughly $390,000 per store for the next two years, slightly falling off to $380,000 and $370,000 per store over the following four years as the Canadian economy picks up. The bull and bear cases follow similar trajectories, albeit with higher and lower revenue per store numbers, respectively. Refer to Figure 5 for the revenue growth numbers and Figure 6 for the base-case revenue schedule.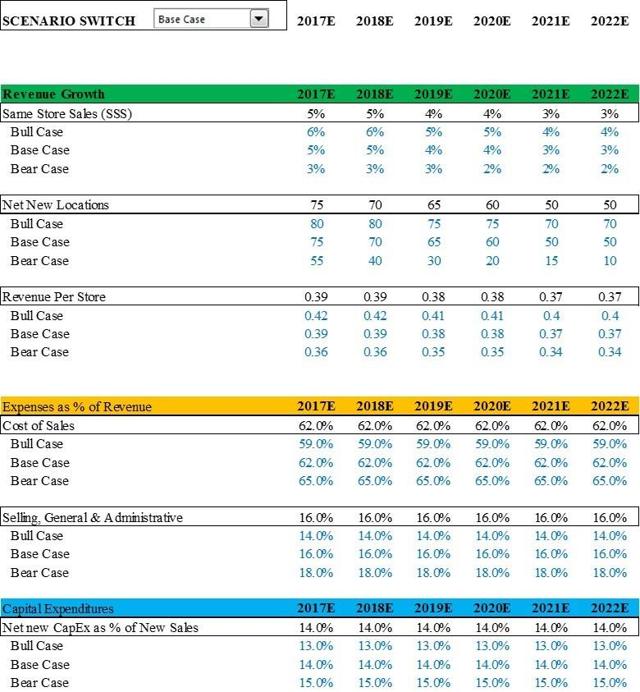 (Figure 5: Model scenarios)

(Figure 6: Revenue Schedule, with base-case figures. Revenue presented in millions of Canadian dollars.)
Expenses
Expenses are projected in the base case as the percentages pertaining to the previous fiscal year's amounts. Since cost of sales were approximately 62% in fiscal year 2016, I project it will remain at this percentage into the future for the base case; a similar approach is taken for selling, general & administrative expenses. Again, the bull and bear cases are similarly projected, but with different percentages (Figure 5).
Capital Expenditures
Capital expenditures are broken down into maintenance and growth capital expenditures. Maintenance capital expenditures are determined based off of the depreciation of the previous year's capital expenditures, while growth capital expenditures are calculated as a percentage of new sales (Figure 5). Property and Equipment for Dollarama mainly comprise of store and warehouse equipment and leasehold improvements, both items that are necessary for Dollarama's growing business in the future. As such, I believe the company will continue to spend on growing its Property and Equipment (Figure 7).

(Figure 7: Capital Expenditure Schedule, base case. Numbers in millions of CAD.)
Intangible Assets
Dollarama continues to invest in intangible assets, with the largest intangible asset being its trade name. As it expands, I forecast that computer software will continue to grow, as it is a crucial component of the proper conduct of the company's business. However, deferred leasing costs will decrease into the future as leases are paid off (Figure 8).

(Figure 8: Intangible Asset Schedule, base case. Numbers in millions of CAD.)
Debt and Share Repurchases
Dollarama has been taking out an increasing amount of debt over the past three fiscal years, with a lot of the debt being used to repurchase shares. I forecast that debt will continue to be used to buy back shares; however, this will occur at a decelerating amount. Concurrently, shares will be repurchased at a decelerating amount, as it is not sustainable for the company to continue adding debt in order to repurchase shares (Figure 9).

(Figure 9: Debt Schedule, base case. Numbers in millions of CAD.)
WACC
The cost of equity for Dollarama is calculated using the CAPM model, with β = 0.70, indicating that the company is less risky than the market. Additionally, the risk-free rate used is the yield on a 10-year Government of Canada bond, and the risk premium is approximately 6.00%. This results in a cost of equity of 5.23%.
The cost of debt for Dollarama is approximated from the interest rate on its long-term debt, which stands at 4.17%. The tax rate pertaining to the company's current income taxes equates to 26.3%, thus culminating in an after-tax cost of debt of 3.08%.
The market value of equity is determined by multiplying the closing price as of August 15, 2016, by the number of diluted shares outstanding. The market value of debt is essentially the same as the book value of debt, which is the sum of short- and long-term debt. With this information, WACC is computed as 5.08% (Figure 10).

(Figure 10: WACC calculation)
Discounted Cash Flow
A discounted cash flow model is used to value the share price of Dollarama, with a terminal growth rate of 2.00% (Figure 10), reflecting long-term GDP growth rate expectations. Under the base-case scenario, this resulted in a share price of $109.25, a 12.53% premium over Dollarama's current market price (Figure 11).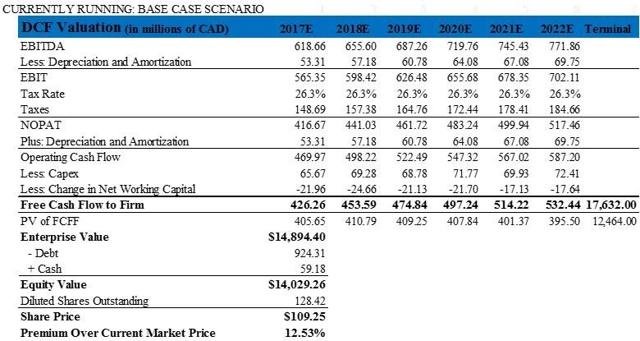 (Figure 11: Discounted Cash Flow Model, base case)
As for the bull case, the share price is $147.38, resulting in a 51.82% premium over the current share price. In this case, as mentioned above, I assume that Dollarama is able to open up 80 additional stores, above the 370 stores it already expects to open. Additionally, there is an increase in same-store sales and revenue per store, while expenses and capital expenditures are not as substantial compared to the base case. Conversely, the bear case yields a $72.17 price per share, resulting in a premium of -25.66% over the current share price. Here, Dollarama ends up opening 200 less stores than predicted, reaching its 1,200 upper limit as stated a few years prior. Furthermore, in the bear case, Dollarama is unable to produce revenue as efficiently, and incurs higher expenses and capital expenditures compared to the base case (Figure 12).
| | | |
| --- | --- | --- |
| Case | Price per Share | Premium Over Current Price |
| Bull | $147.38 | 51.82% |
| Base | $109.25 | 12.53% |
| Bear | $72.17 | -25.66% |
(Figure 12: Price per share and premium in all three cases)
Scenario Analysis
Finally, a scenario analysis is undertaken to forecast the range of share prices under the base-case scenario. In order to run the scenario analysis, I used various WACC and terminal growth rate values to forecast free cash flows and, ultimately, the share price. As such, the values for share prices ranged from as low as $66.11 per share in the case of a WACC of 6.08% and a terminal growth rate of 1.00%, to as high as $311.70 with a WACC of 4.08% and terminal growth rate of 3.00% (Figure 13).

(Figure 13: Scenario analysis under the base case)
Conclusion and Recommendation
In conclusion, given market conditions, competitors and the state of the economy, I personally believe the figures for the base case are more realistic than those for the bull case. It is unlikely that Dollarama will see growth comparable to that in the bull case, as consumers are likely to shift from Dollarama to stores such as Wal-Mart as incomes rise. In addition, competition from other dollar stores, notably Dollar Tree Canada, is likely to increase over the years, thus squeezing profits. Conversely, though the bear case is more applicable, I expect Dollarama to perform better than what's predicted under the bear case. The company still has the capacity to grow within Canada, and possesses the ability to provide goods that are not easily found in larger value retailers on an individual basis. Furthermore, Dollarama has the advantage of operating multiple stores within neighborhoods, while larger department stores open up a relatively smaller amount of stores. This allows for consumers to regularly visit Dollarama as opposed to less frequent visits to larger value retailers. In addition, the Canadian dollar store market is still underpenetrated in comparison to the U.S. market, thus enabling the company to continue to grow and expand. As such, I conclude that Dollarama should receive an outperform rating, maintaining a target price of $109.25.
I believe the market is likely underpricing Dollarama due to concerns about market share, foreign exchange risk and the health of the Canadian economy. As shown in the previous paragraph, the worries about market share and competitors are overblown. Though foreign exchange risk is a concern, Dollarama is prudent in using foreign derivative contracts to hedge their risks. Risks inherent with forward contracts are still applicable; however, the company has yet to incur any substantial losses from these contracts. Again, the main factor out of Dollarama's reach lies with the recovery of the economy, though it is tough to predict just how substantial a change in its revenues will occur with increasing wages. A case could be made that shoppers may still frequent Dollarama even after any wage increases, as the possible savings could be used for increased consumption in other goods. Shifting to profitability, the company has done well in increasing its revenue and net income consistently from fiscal years 2014 to 2016. It has also increased its dividend while repurchasing shares, thus signaling confidence in the company's future. For these reasons, I believe Dollarama share price still has room to appreciate.
Projected Financial Statements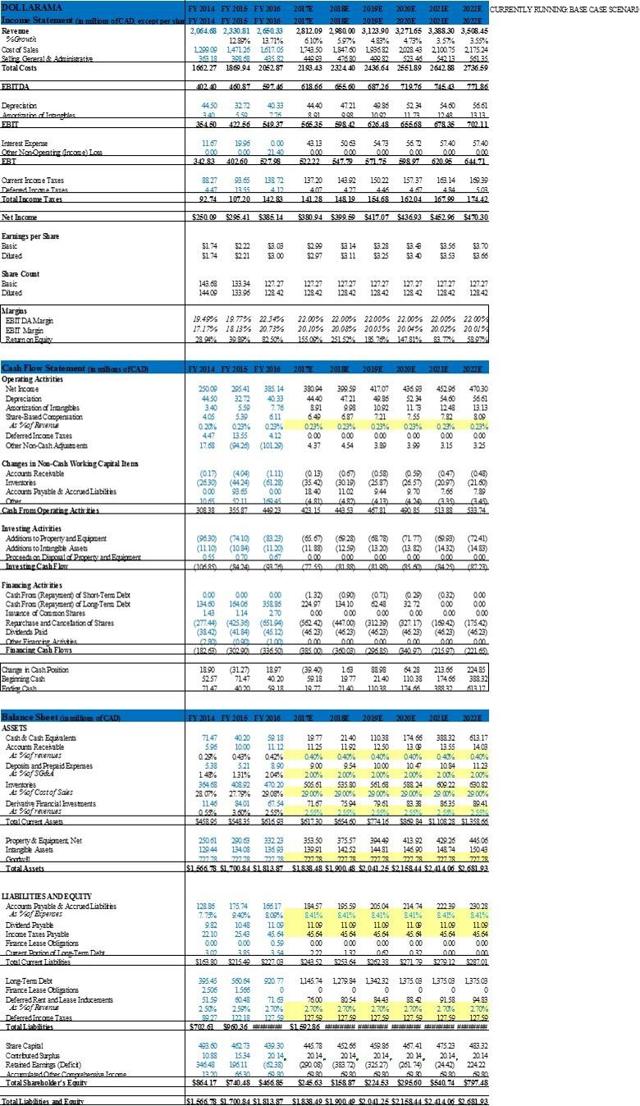 Disclosure: I/we have no positions in any stocks mentioned, and no plans to initiate any positions within the next 72 hours.
I wrote this article myself, and it expresses my own opinions. I am not receiving compensation for it (other than from Seeking Alpha). I have no business relationship with any company whose stock is mentioned in this article.
Editor's Note: This article discusses one or more securities that do not trade on a major U.S. exchange. Please be aware of the risks associated with these stocks.