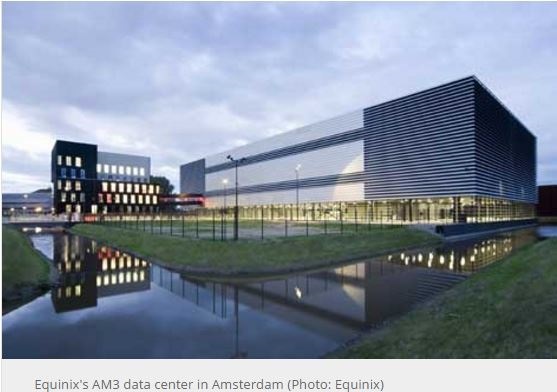 Source: Data Center Knowledge/Equinix
The most recent Equinix (NASDAQ: EQIX) Analyst Day was held on June 23, 2016.
Although I regularly cover events like this one in the news cycle, somehow this major industry event flew under my radar screen. I checked on Seeking Alpha and none of the technology or REIT authors wrote it up.
Redwood City, California,-based Equinix is the largest data center REIT, an S&P 500 company with a market cap of $26 billion.
A simple way to conceptualize Equinix if you are not familiar with data centers would be, Equinix operates in large metros around the globe, providing connectivity to business customers, and also functions as an on-ramp to the public cloud providers.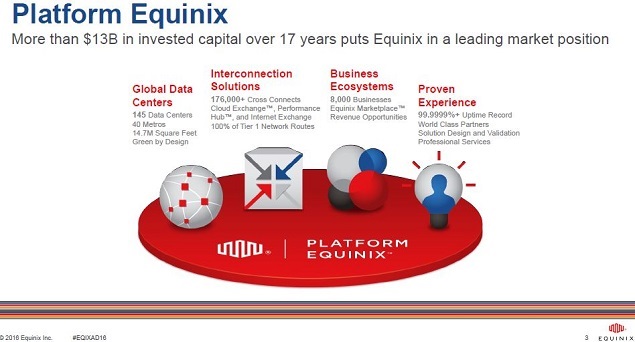 Source: Equinix Analyst Day presentations (for unattributed slides)
When I went back to the Data Center Knowledge archives to read about it, I was surprised that my editor hadn't written up Analyst Day either.
On June 17, DCK wrote up the groundbreaking of SV10 in San Jose, CA, which is the latest Equinix Silicon Valley data center addition. It is part of the Equinix ongoing global expansion strategy, which includes Sao Paulo, London, Amsterdam, Sydney and Tokyo, as shown below.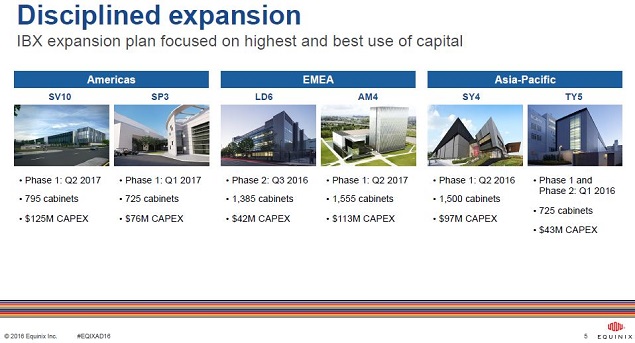 However, the following week, there was nothing published about Analyst Day. Perhaps, David Copperfield made the event vanish into thin air, or my equally non-existent dog ate my homework.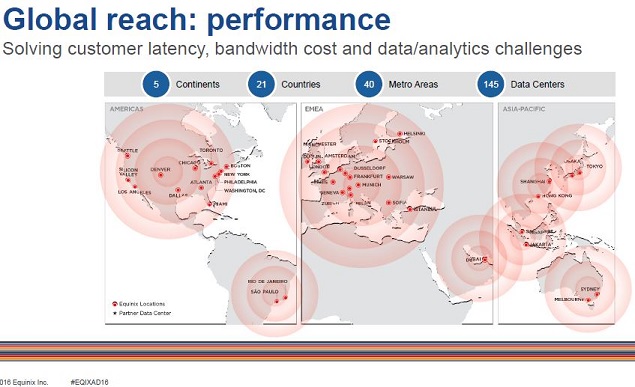 It finally dawned on me that Analyst Day had been eclipsed in the news by the market-roiling Brexit vote.
Perhaps, not as flashy as a master magician's illusion - but just as captivating, and far more real. Of course, I wrote about Brexit that week on both Seeking Alpha and Data Center Knowledge instead.
So, here is the Equinix "big picture," better late than never.
Equinix - Overview
Almost 20 years ago, Equinix was awarded the original RFP to provide a neutral facility located at key fiber-dense locations where the various telecom networks could come together. The Equinix first-mover advantage naturally grew out of the deep interconnection roots of the business. Equinix helped to create the foundational infrastructure which supports the Internet, and its facilities sit on top of some of the most valuable digital real estate in the world.
Equinix has grown relentlessly during its history as a publicly traded company, in part due to being a "serial acquirer," as shown in the slide below. This has helped Equinix to accelerate the growth of what has become the largest global network of connectivity-focused data centers, or what it calls Platform Equinix.
The most recent Equinix acquisitions shown below, Bit-isle (Japan) and TelecityGroup (Europe), were discussed in my March SA article "Data Center REIT Equinix Hits All-Time Highs - What Investors Need To Know." The article provides plenty of background if you are unfamiliar with the newest member of the data center REIT club.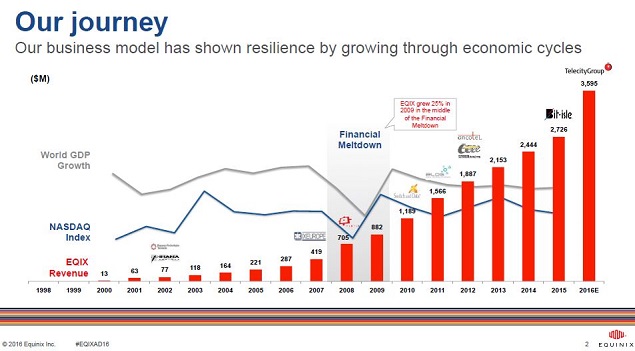 However, this chart also illustrates one of the most important and underappreciated aspects of the Equinix business model. EQIX shares also have a defensive component compared with most other REIT sectors which are typically leveraged to GDP growth, or health of the global economy.
Equinix revenues grew 25% during 2009, despite the global financial crisis, because the business model is leveraged to the exponential growth of data and increase in Internet data traffic.
Notably, wholesale data center REIT and significant Equinix landlord Digital Realty (NYSE: DLR) demonstrated a similar ability to grow during the Great Recession.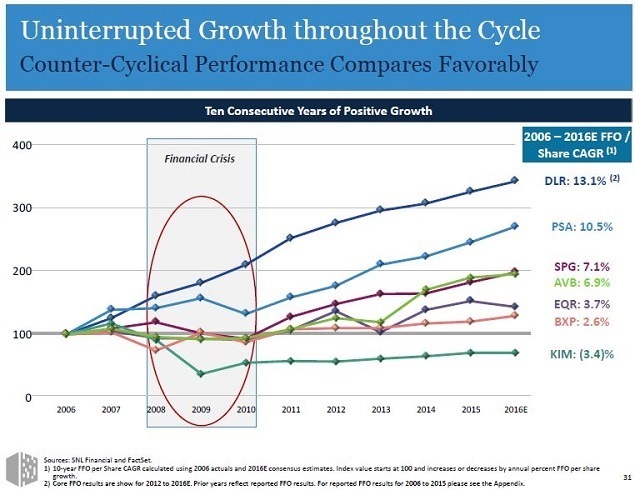 Source: Digital Realty - June 2016 presentation
Digital's consistent FFO per share growth shown above was in sharp contrast to other blue chips and S&P 500 REIT peers, which are highly leveraged to GDP growth, employment trends and consumer confidence.
Equinix/Telecity and Digital/Telx
Fast forward to 2016, and Digital Realty having acquired colocation, and connectivity-focused Telx (a former tenant) now appears to be in competition with Equinix in some markets.
In reality, Digital Realty has a very different go-to-market approach than Equinix. While this important relationship will continue to evolve and bears watching closely, both management teams have said there is very little direct competition at the current time.
I wrote an article in late May highlighting the importance of the sale of eight European data centers by Equinix to Digital Realty for competitive reasons to satisfy the European Commission as part of the EQIX/Telecity acquisition approvals. Equinix CEO Steve Smith mentioned at that time that he was pleased to sell those assets to a company that was not currently a retail competitor.
The key takeaway here is that both wholesale and retail data center business models grew revenues during the global financial meltdown. This supports the claim that "growthy" data center REITs can also be defensive holdings in a slowdown.
EQIX - Analyst Day Overview
The enterprise shift away from legacy data centers toward a more distributed and interconnected hybrid-cloud architecture is a massive IT paradigm shift which benefits Equinix.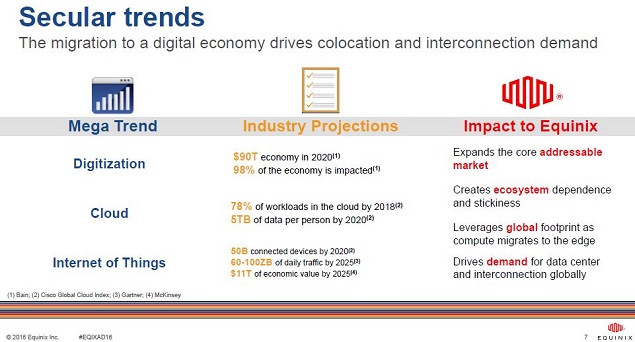 These trends layer growth on top of existing Equinix bread and butter tenants, (Network, Social, Mobile, Content, Cloud and IT Services), who act as magnets to attract other customers. The global growth in connected devices, machine-to-machine communication or IoT (Internet of Things) and wireless data is simply relentless.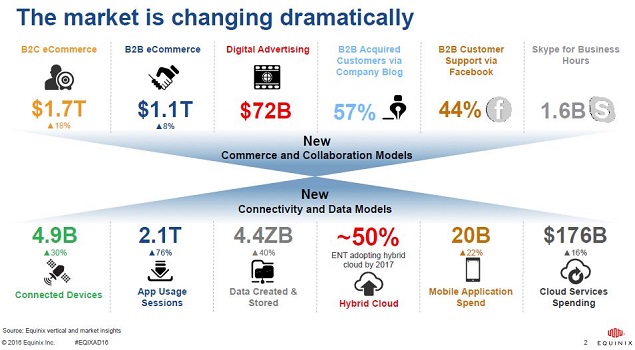 Over the years, Equinix IBX data centers have grown in each individual market. Different industries such as: financial services, healthcare, content distribution, etc., may be attracted to specific markets, creating a unique customer ecosystem at each location.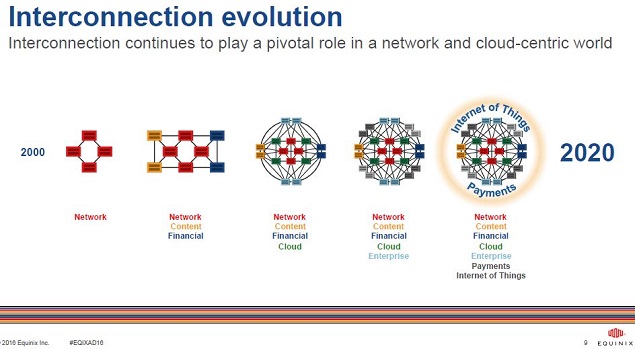 If you believe that network traffic will continue to grow, as more data becomes shared in public and dedicated clouds, then Equinix is a great way to place a bet on this future growth.
Equinix already has a dominant market share in many global markets.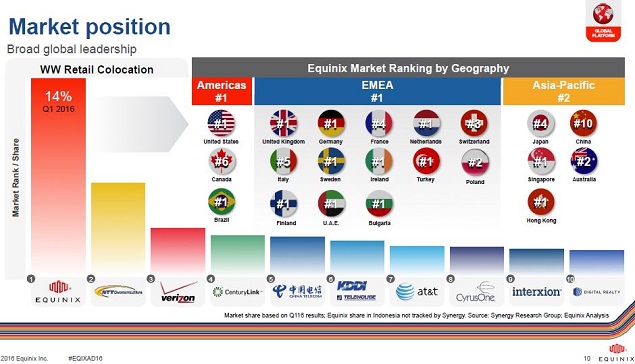 Equinix does compete with some of the other data center REITs, as shown on the slide above.
However, since connectivity is a crucial aspect for EQIX customers, Equinix also partners and competes with global telecom stalwarts around the world.
EQIX - Enterprise Customer Focus
Back in a January 2016, Equinix CEO Steve Smith unveiled an aggressive plan to court enterprise businesses. Smith intends to triple its customer base, or more over the five to 10 years. Equinix research has revealed that there are 350,000 global enterprises with 500 or more employees and over $10 million in sales revenues.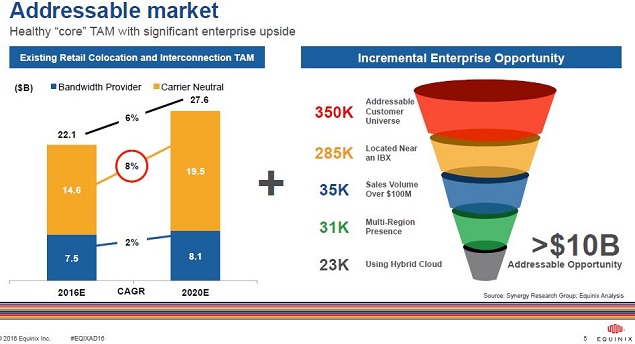 This represents a huge TAM relative to the 1,000-plus Equinix enterprise logos represented currently among its ~8,000 customers.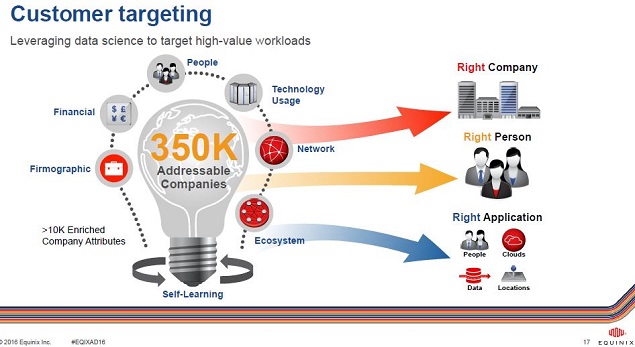 Equinix has learned over years how to identify the "right" customer. This reduces churn, adds value to the ecosystems, and helps generate increased interconnection revenues.
One of the challenges Equinix faces is reducing the time required for enterprise customers to research and begin to adopt a distributed hybrid-cloud IT architecture.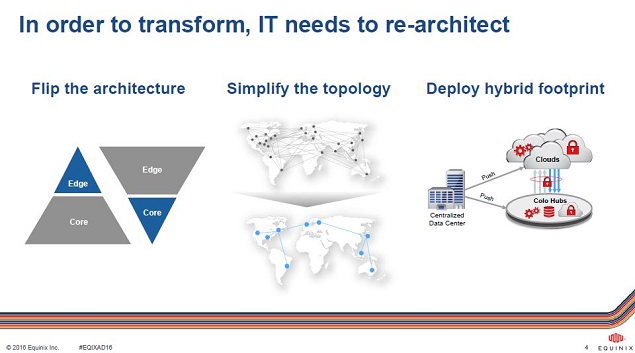 Equinix coined the term "Interconnection Oriented Architecture" to underscore how businesses can benefit from distributed IT strategies.
Equinix is using its IT solution engineering talent to help remove the pain points as businesses migrate IT stacks and create new applications which are designed to work in public cloud or hybrid cloud environments.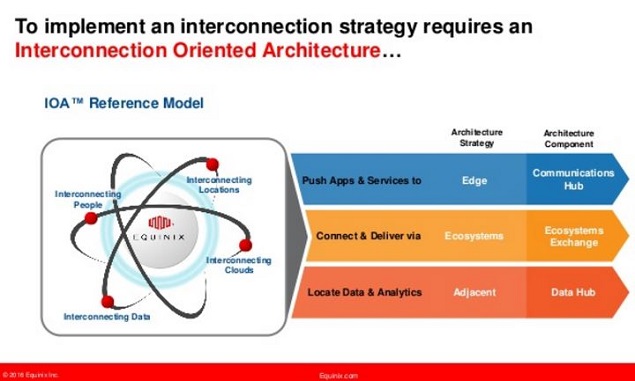 Source: Equinix IOA AWS case study
Equinix continues to develop industry case studies to illustrate how there can be a quick payback and high ROIC derived from adopting these strategies.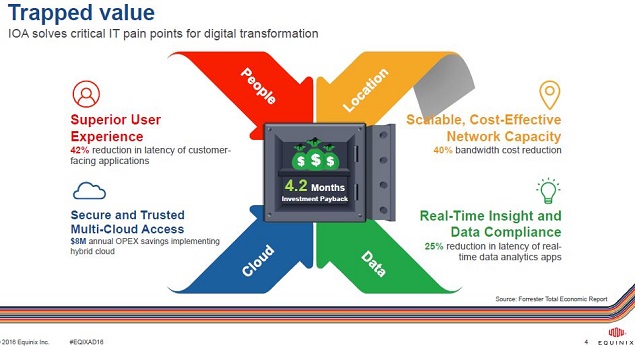 Of course, this becomes a virtuous cycle for Equinix as it eases the way for companies to utilize its Platform Equinix to help facilitate a "digital transformation."
Equinix Moat
The $13 billion Equinix investment to create a fleet of 145 networked IBX data centers can be leveraged by enterprise customers interested in replicable solutions across multiple geographies and markets.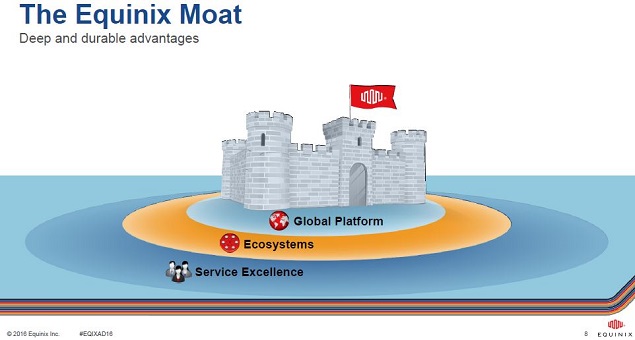 Dense ecosystems evolve over time, and they effectively become a moat.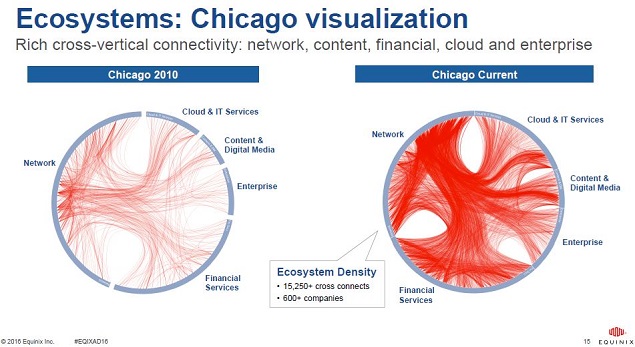 In a sense, a well-located, state-of-the-art IBX data center can become a "natural monopoly" as industry ecosystems develop in a given market over time.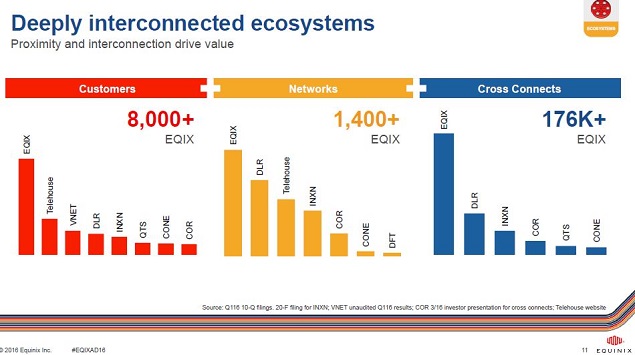 Over time, this moat becomes wider and deepens as more customers desire to cross-connect with each other. Highly interconnected customers are generally "sticky" and will remain far longer than an initial two- or three-year lease term.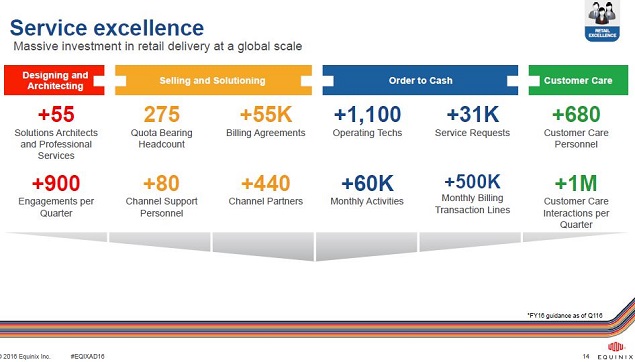 Equinix has built up expertise and has in-house skill sets that cannot be easily duplicated.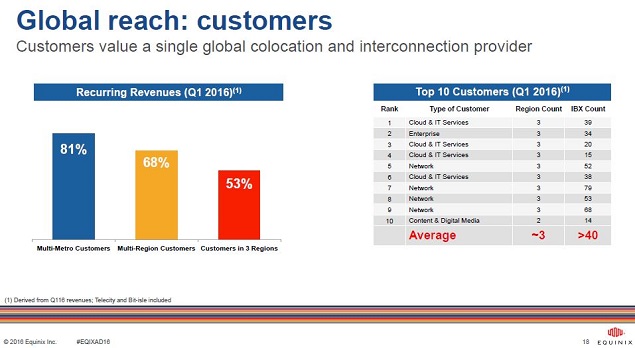 This is not an insignificant part of the global moat, especially when it comes to servicing customers across multiple geographies.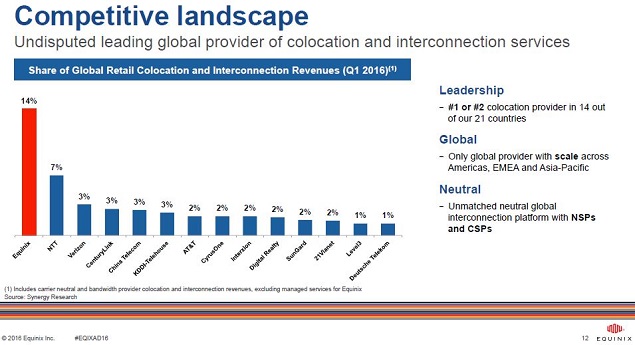 EQIX - Five-Year Goals
Here is a handy-dandy "scorecard" investors can use to measure Equinix financial performance going forward.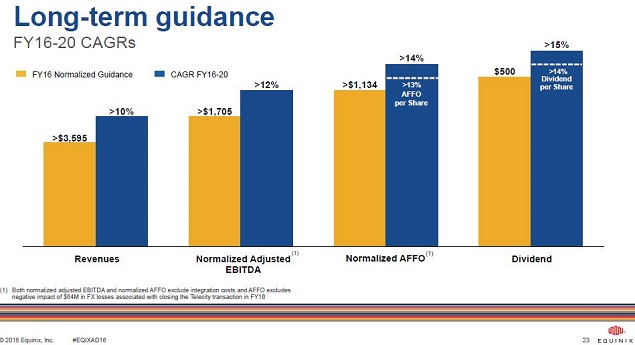 Equinix has a low dividend payout ratio, so there is certainly the flexibility to grow the dividend a bit faster than AFFO.
Equinix has a unique business model compared with any of its REIT peers, and management has guided to 30%-plus unlevered returns on its stabilized IBX facilities.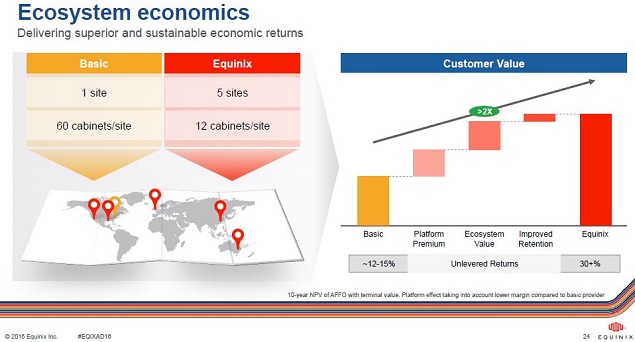 However, M&A activity, new developments and expansions make it difficult to compare apples to apples with other data center REITs.
Additionally, over 50% of revenues are now generated from international markets, which is by far the highest of any of the US data center REITs.
Investor Takeaway
When it comes to data center REITs, at one end of the spectrum there is DuPont Fabros (NYSE: DFT), a 100% wholesale-focused company that specializes in providing customers four walls, a roof, and reliable power.
DuPont Fabros currently operates in less than a handful of markets, and revenues are highly concentrated with less than three dozen customers. DuPont has a successful business model, with high margins in part due to the sector's lowest SG&A expenses.
The rapid expansion of the hyperscale public cloud providers has been a huge boon and generated record leasing over the past few quarters. However, revenue generated per square foot from a DuPont Fabros data center is capped at a much lower number than colocation and interconnection-focused REITs. It also remains to be seen seven to 10 years down the road what will happen when the hyperscale cloud leases come up for renewals.
Equinix operates at the other end of the spectrum, with the largest number of customers and a network of 145 data centers that span the globe. It is on the forefront of helping to facilitate the shift to cloud computing by operating some of the most network dense and cloud dense data centers in the world. It leases out valuable space by the cabinet, rather than by the square foot or megawatt.
Notably, the addition of the "right" customer in any given market can create an opportunity for hundreds of new cross-connects, creating a growing income stream within the same building footprints.
Equinix works closely with the Big 3 public cloud providers (and hundreds of others) to facilitate low-latency connection for cloud provider customers. In this way, Equinix also benefits greatly from the enterprise shift to distributed cloud computing.
My next article will take a look at where the rubber hits the road for many Seeking Alpha readers; the Equinix share price outperformance year to date and prospects for it to continue moving forward.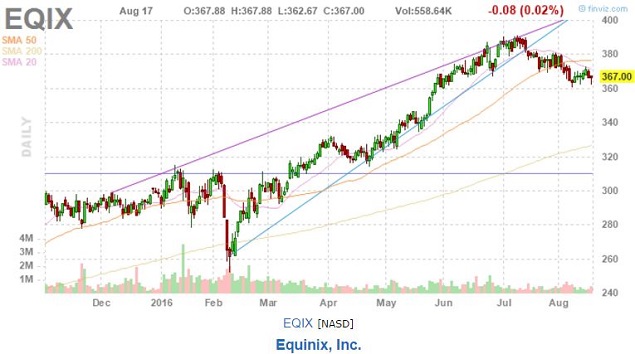 I felt it made more sense to go back and write up Analyst Day for Seeking Alpha readers prior to writing my analysis of the Equinix Q2 2016 operating results and earnings call update.
Hopefully, this article was helpful in showing how the Equinix business model differs from the rest of the data center REITs.
I relentlessly hunt for diamonds in the rough and rising stars, in addition to closely following data centers, covering REIT blue chips and breaking news. Please consider following me as a Seeking Alpha author if you would like to be notified when my future articles are published.
Disclosure: I/we have no positions in any stocks mentioned, but may initiate a long position in EQIX over the next 72 hours.
I wrote this article myself, and it expresses my own opinions. I am not receiving compensation for it (other than from Seeking Alpha). I have no business relationship with any company whose stock is mentioned in this article.