The real GDP/capita growth rate YOY of the US economy has been declining since early 2015 (Chart 1) and is now below the level of all but two recession starts since 1960. It has also been declining on a long-term trend since around 2000, and is now below its 65-year trend line for the first time since 1939 (Chart 2). This suggests that there are structural weaknesses in the US economy, as I have previously discussed, and that these are now probably being over-printed by cyclical factors that are borderline recessionary. It was only seven years ago that the Great Financial Crisis took GDP/capita all the way down to near-Great Depression levels (Chart 3).
Chart 1: GDP Per Capita and Recessions Since 1960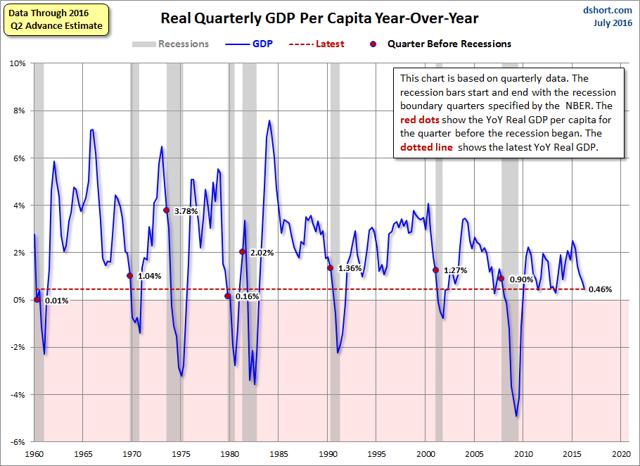 Source: dshort.com
Chart 2: GDP/Capita Long-Term Trend Recently Violated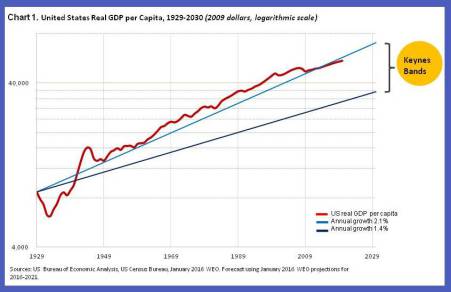 Source: blog-imfdirect.imf.org
Chart 3: Real GDP Per Capita in Financial Crises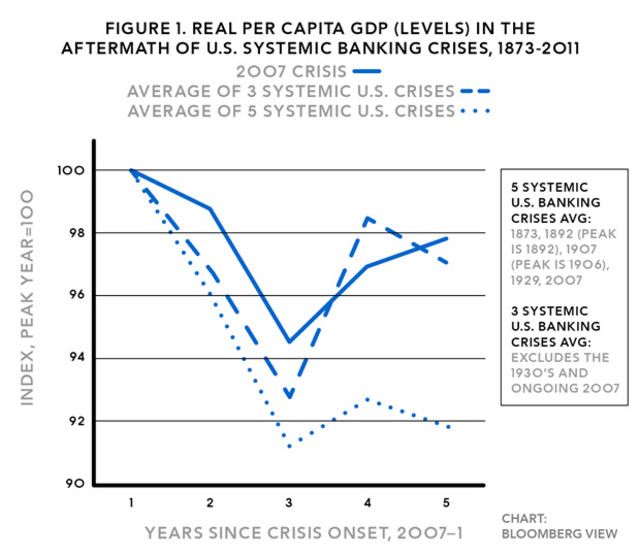 Source: Reinhart & Rogoff, 2009; anticap.wordpress.com
The money multiplier, which indicates the conversion of bank reserves into money in the economy, fell to a new 100-year low in 2013 and has only recently risen very slightly off that low (Chart 4). This number is startling because it is actually lower than the level of the money multiplier seen in the 1930s (Chart 5). Monetary velocity, the term for the speed with which money turns over in the economy, has recently dropped to the lowest levels seen in six decades (also on Chart 5 below), according to economist and bond manager Lacy Hunt. This suggests an extremely sluggish economy that could easily be knocked off course by an external shock of some kind.
Chart 4: Money Multiplier 2004-2016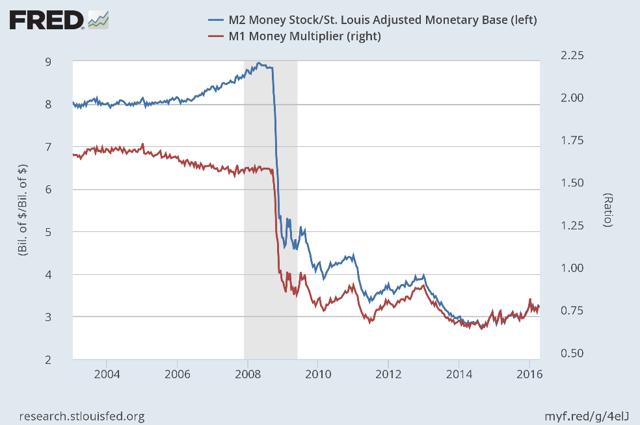 Source: St. Louis Fed; alt-m.org
Chart 5: Money Multiplier & Velocity in Last 100 Years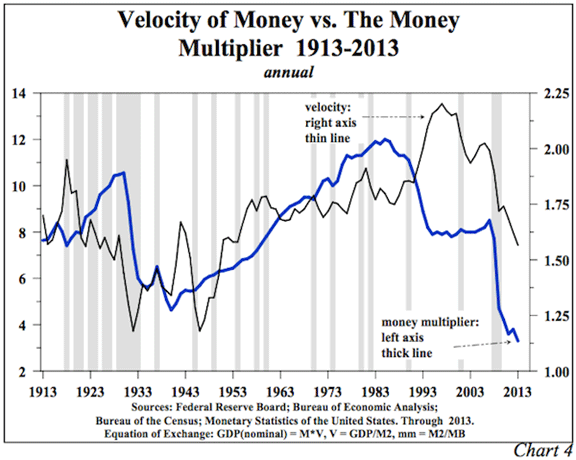 Source: Hoisington Mgmt.; mauldineconomics.com
Industrial production has recently peaked as it has many times before at the onset of a recession (Chart 6). Indeed, industrial production has continued to decline since peaking and has just recently reached typical recession start levels (Charts 7 and 8). Industrial production has also been declining on a long-term structural trend since around 1960.
Chart 6: US Industrial Production Has Peaked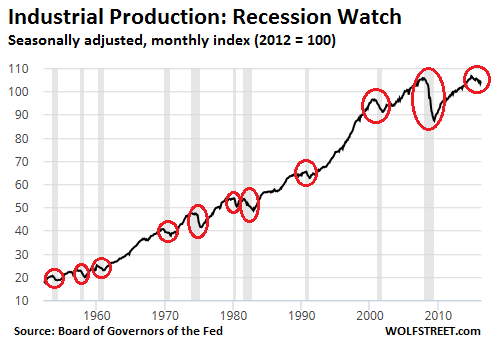 Source: wolfstreet.com
Chart 7: US Industrial Production Since 1919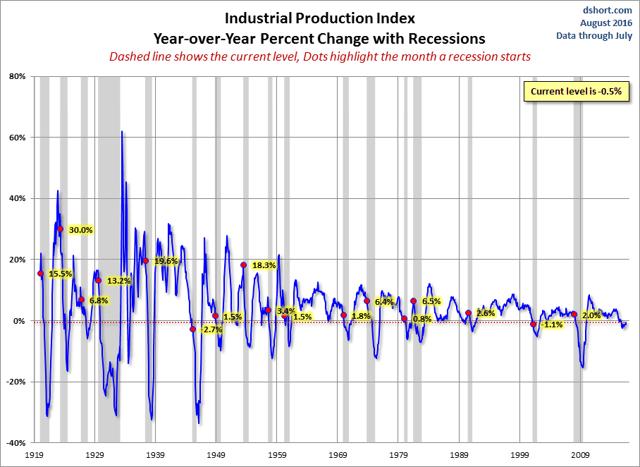 Source: dshort.com
Chart 8: Strong Divergence Between IP and GDP 2014-2016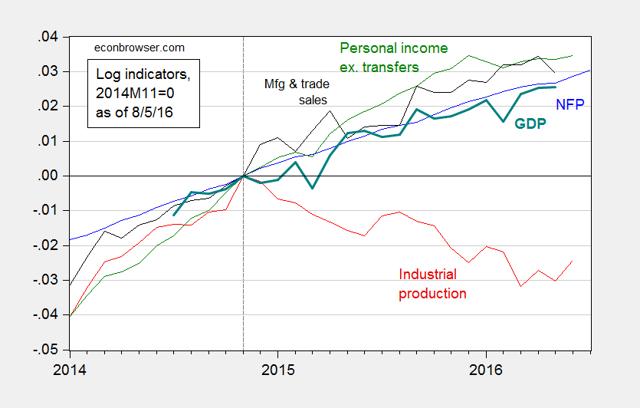 Source: econbrowser.com
This decline in industrial production is potentially a big problem for the markets, based on historical evidence that the Dow Jones Industrials Index and US industrial production were closely correlated in the 1930s (Chart 9). In light of this, the fact that recent all-time highs for the Dow Jones Industrials diverge sharply from the industrial production trend (Chart 6 above) is a cause for concern. Either a fundamental change has occurred in the way the US economy and markets interact, or a major sell-off in the markets is imminent. Furthermore, the valuation of markets is quite high right now, and in fact is comparable by certain measures to that seen in 1929 (Charts 10 and 11).
Chart 9: Industrial Production and Market in 1930s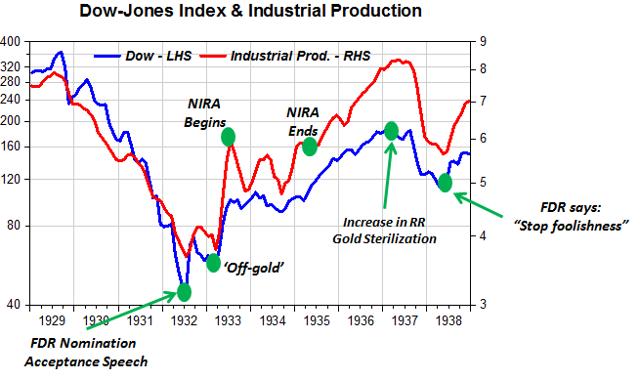 Source: thefaintofheart.wordpress.com
Chart 10: DJI Price/Dividend Ratio 1900-2016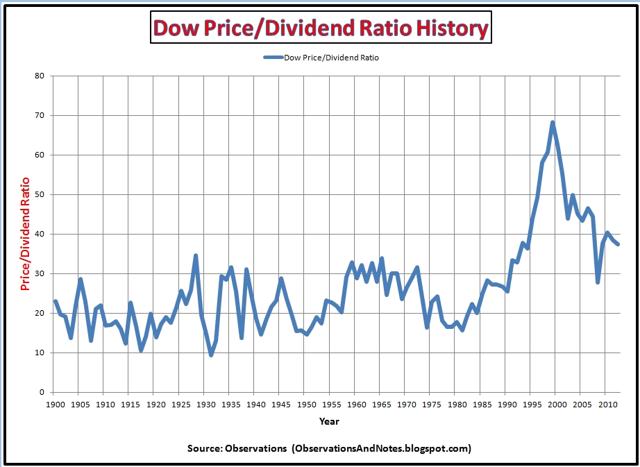 Source: observationsandnotes.blogspot.com
Chart 11: Four Valuations Averaged Since 1900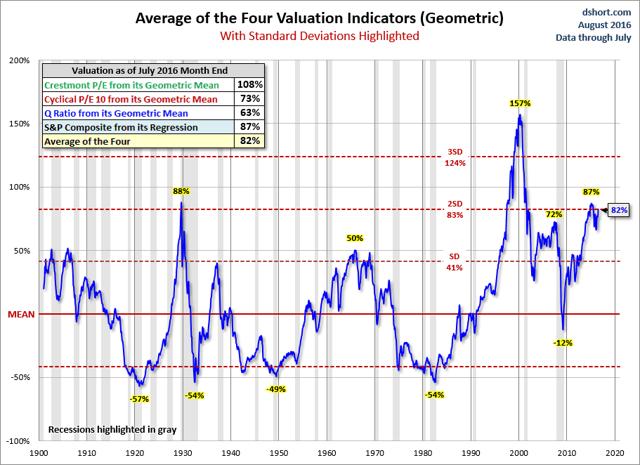 Source: dshort.com
There are other warning signs as well. For example, margin debt has recently reached a level of about 2.1% of GDP (Chart 12), comparable to the 2.2% reached in 1929 (Chart 13). Additionally, the S&P 500 price index crossed the 10-month moving average recently, just as it has at the beginning of the two most recent bear markets (Chart 14), and similarly to what happened with the Dow Industrials Averages in 1929 (Chart 15). However, in the recent case, the market has bounced back above the 10-month MA, much like it did in 1998, suggesting that there may still be some fight left in the current bull market. But can we expect another 50% rally off the lows like that seen after 1998? It would seem possible only if a narrative that feeds a bubble mentality is present like it was in 1998. That is clearly not the case here.
Chart 12: NYSE Margin Debt/GDP Since 1955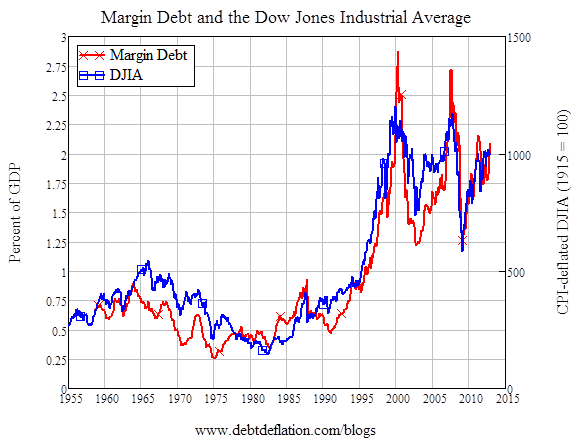 Source: Steve Keen; debtdeflation.com/blogs
Chart 13: NYSE Margin Debt 1926-1933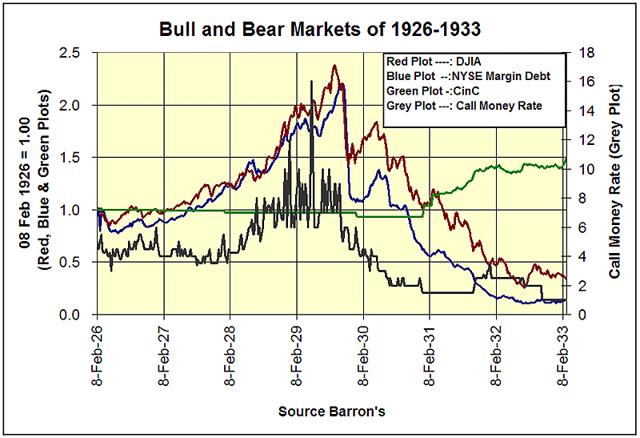 Source: gold-eagle.com
Chart 14: S&P 500 Just Crossed Below 10-Month MA and Then Rallied Like It Did in 1998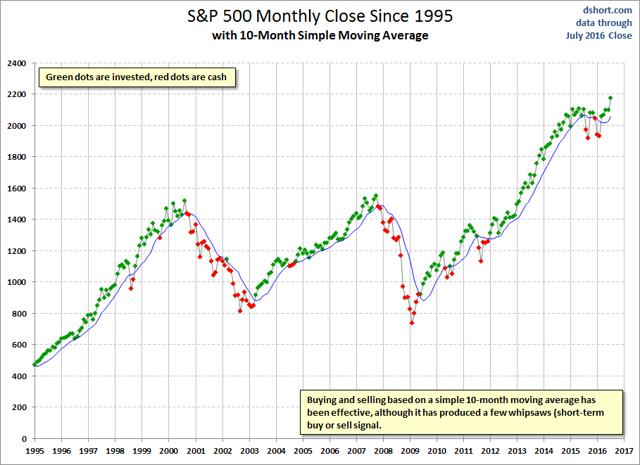 Source: dshort.com
Chart 15: Dow Crossed 10-Month MA to Mark the Great Crash in 1929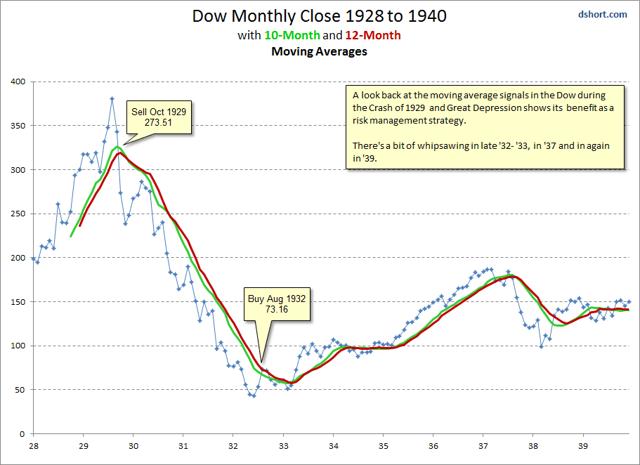 Source: dshort.com
We can also look at other risk parameters like the corporate bond Baa-Treasury yield spread, which soared to about 350 bps in 1930, and then to about 425 bps in 1931 (blue line in Chart 16). In comparison, during the Great Financial Crisis in 2007-2009 (red line in Chart 16), this spread reached 550 bps. Right now this bond yield spread is about 265 bps, but in 2015, it was elevated to 350 bps. As one can see from the chart, more normal levels during expansions are around 150 bps for this spread. Baa-Treasury bond yield spreads are broadly inversely correlated with industrial production (Chart 18), which we have argued above is declining dangerously. It is somewhat alarming that "triple-hook" ("CCC") high yield spreads have blown out recently, just as they have in previous market downturns and recessions (Chart 19).
Chart 16: Baa Corporate Bond Yield Spread, 1930 and 2008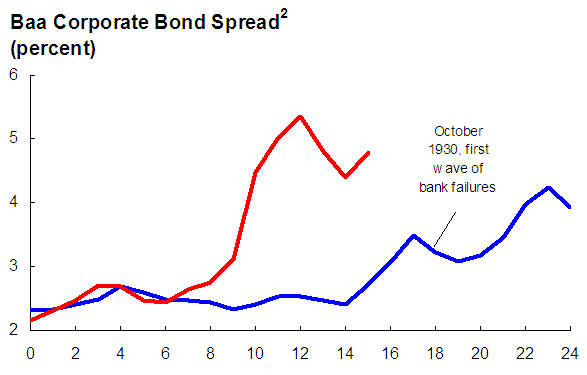 Source: voxeu.org
Chart 17: Baa Corporate Bond Yield Spread 1990-2016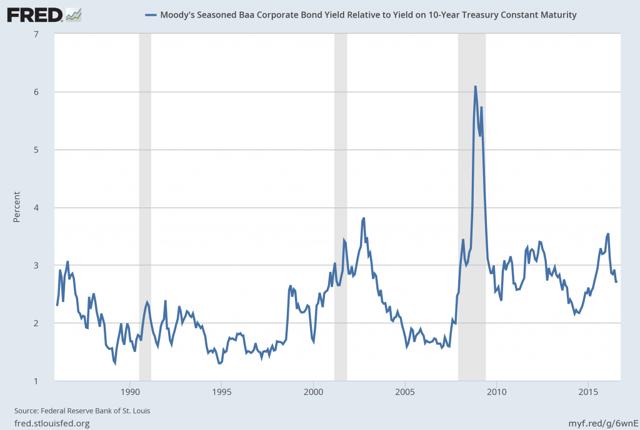 Source: St. Louis Fed; economicgreenfield.com
Chart 18: Inverse Correlation of Baa Yield Spreads and IP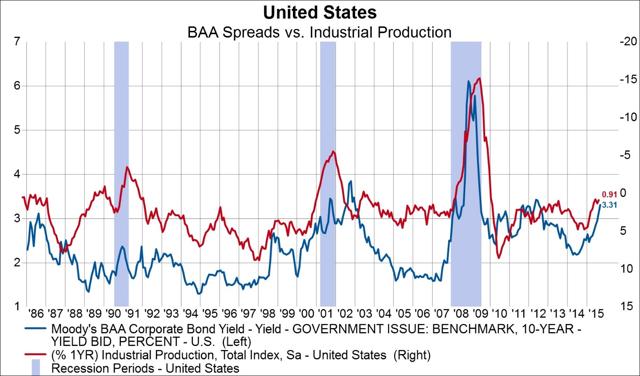 Source: advisorperspectives.com
Chart 19: CCC Bond Yield Spreads Have Exploded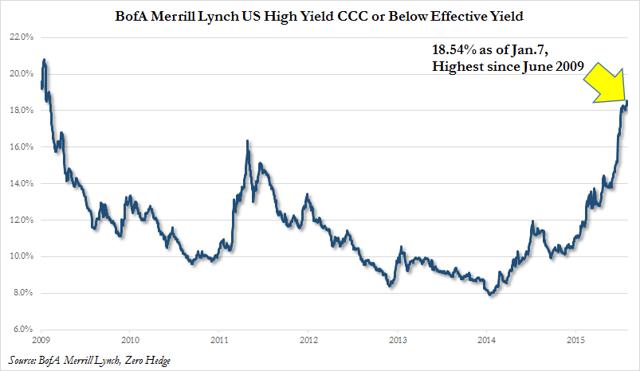 Source: zerohedge.com
Finally, it appears that the huge divergence between WTI Crude Oil prices and the Dow Jones Industrials Index since 2014 is almost unprecedented (Chart 20). This suggests reversion to the mean by one or the other, or both. If oil rises enough to close the gap, it will be high-priced again, and could help push us into recession like it did in 2008. If the Dow drops enough to close the gap, it will enter a de facto bear market as a result. Taken all in all, this market is as much like the one in 2000 as I care to see: flat for almost two years, with the potential to break upwards sharply if the bubble narrative takes hold, or collapse by 50% if it doesn't. Based on all of the forgoing data, I am inclined to think that the 50% downside risk is more likely to happen.
Chart 20: Dow Industrials Have Diverged from WTI Crude Prices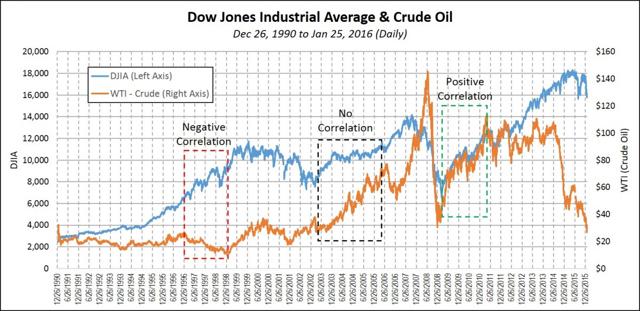 Source: forbes.com
An interesting question might be how that 50% drop takes place, assuming it does. Will it be "slow like the molasses in January" (apologies to the makers of the movie Romancing the Stone), or "quick like the tongue of a snake?" In other words, will it take two years to hit bottom like it did in 2000-2002 (Chart 21), or will it cover the same distance in a few months, like it did (Chart 22) in 1929? If this comparison sounds outlandish, remember that we have never operated in a world with negative interest rates, QE, and potential helicopter money before. We have never had this much debt in the world before. We have never had a Federal Reserve blowing bubbles in almost every type of asset before.
Chart 21: Topping Process and Bear Market 2000-2002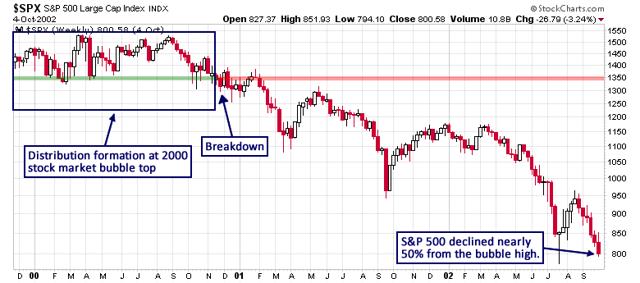 Source: prometheusmi.com
Chart 22: The Dow Industrials Crash of 1929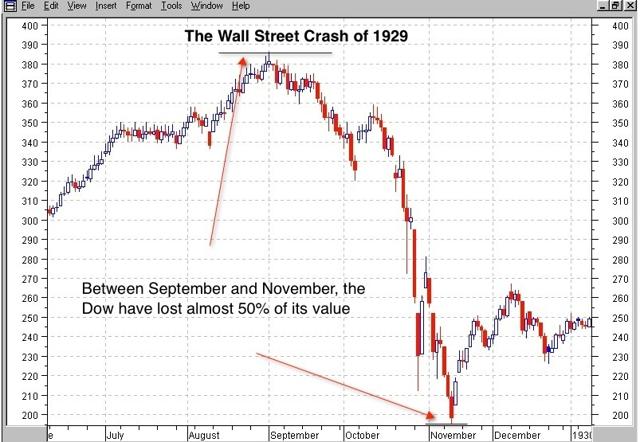 Source: financial-spread-betting.com
It seems likely to me that current trends cannot stay in place much longer. At any point, a number of unpredictable events (e.g., China devaluing its currency, a Japanese or European banking crisis, etc.) could trigger a big market move without much advanced warning. Just in case, a small allocation to a managed futures fund like the AQR Managed Futures Strategy Fund (AQMNX) could be put in place now. I would also consider making at least some allocation to a gold ETF such as the iShares Gold Trust ETF (IAU). Otherwise I would remain defensive, so it makes sense to hold some intermediate to long Treasuries: the iShares 20+ Yr. Treasury Bond ETF (TLT), the Vanguard Intermediate Term Bond Fund (BIV), the PIMCO Total Return ETF (BOND), and the SPDR DoubleLine Total Return Tactical ETF (TOTL); also defensive sector funds like the PowerShares S&P 500 Low Volatility Portfolio ETF (SPLV) and the iShares MSCI USA Minimum Volatility ETF (USMV); also some liquid alternatives like the Otter Creek Long/Short Opportunity Fund (OTCRX), the AQR Long/Short Equity Fund (QLENX), or the AQR Equity Market Neutral Fund (QMNIX); and even some sophisticated hedge-like Closed-End Fund strategies like the Nuveen S&P 500 Buy-Write Income Fund (BXMX).