Confirmation of Mammoth Crop
My last article anticipated a sharp increase in expected corn yield prior to the WASDE release last Friday. The USDA released its revised estimate by 4.2% to 175.1 bushels/acre, surpassing the prior all-time record yield of 171 in 2014. I had previously stated that given the high quality and near record good/excellent rating, expect an above-trend yield.
Now that the news is in the market and supply expectations have unilaterally increased in the marketplace, prices have actually rebounded by $0.12/bushel or 3.3% to $3.43/bushel as of 8/19. While there will be changes to the realized yield, there is no denying this is the record year for yield and production. I never quite understood the rationale for liquidating a position after confirmation that a hypothesis was correct!
Amidst this slight rally, it appears that in the short term, speculators increased their short bets through 8/16 and approached closer to the record net short position set last spring.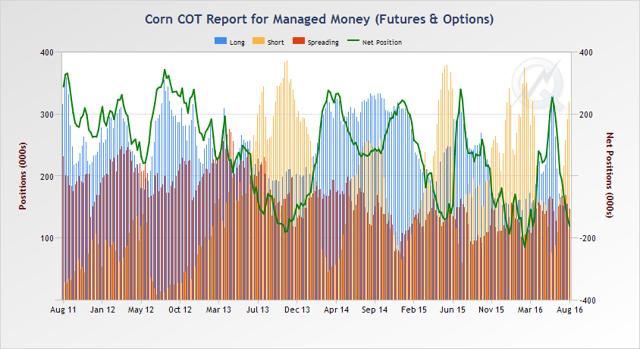 Source: CME Group
So What Does This Mean For Corn Prices?
The USDA reduced its marketing year average price to farmers range by $0.25/bushel to $2.85-3.45/bushel. Using ($0.20/bushel) historical basis as a reference point, this would imply futures between $3.05-3.65. Another contributor's article recently referenced that price would not fall below $2.90, which I thought was rather arbitrary so I wanted to estimate the fair value for 2016 corn. Here goes:
First, I looked at the new projected year ending stocks level (August 31, 2017) in the context of the prior 28 years relative to a smoothed Total Disappearance in a similar fashion as Shiller's Cyclically Adjusted Average Price Earnings (C.A.P.E.). This puts the level of inventory on a comparable framework over time. I then compared the corresponding how inventories related to historical average corn prices received by farmers. See plot below.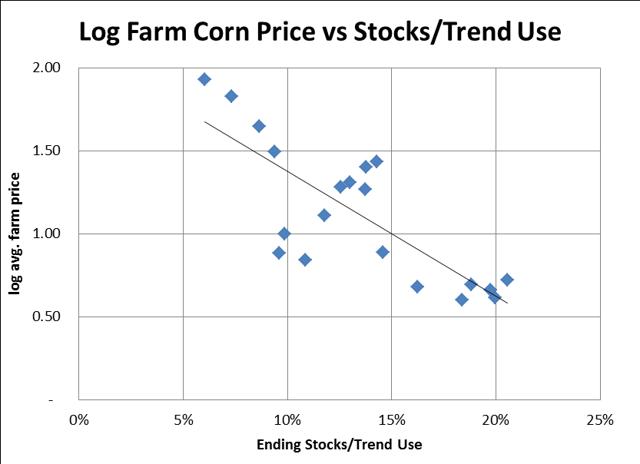 Source: USDA Feed Grains Database, own compiled
Using an estimated Stocks/Trend Use at 18% from the latest WASDE and my trend model, I estimate the fair value of 2016 on farm corn prices at $2.25-2.50/bushel. Accounting for cash basis, I estimate corn futures value between $2.45-2.70. With the average 2016 marketing year strip settling at $3.55 as of 8/19 close, there is still tremendous downside opportunity for selling at current market levels.
Recommendation:
If you have conventional corn to sell, do so! While shorting a corn market with such a large net speculator position is usually not a smart decision, the historical rationale for lower prices exists. For an enterprising opportunist, buy some put options on Teucrium Corn ETF (NYSEARCA:CORN).
Disclosure: I/we have no positions in any stocks mentioned, and no plans to initiate any positions within the next 72 hours.
I wrote this article myself, and it expresses my own opinions. I am not receiving compensation for it (other than from Seeking Alpha). I have no business relationship with any company whose stock is mentioned in this article.