Emerging markets (NYSEARCA:EEM) have been a pretty lousy investment over the past five years or so. In fact, during a span when the S&P 500 (SPY) is up 80%, emerging markets have actually lost ground:

Even with the rebound this year that has led markets such as Brazil (EWZ) to rise 68% year-to-date, emerging markets still badly lag developed markets. They particularly trail the US.
I've heard some chatter asking whether emerging markets can "continue to rise" after 2016's robust gains. However, the longer-term chart, shown above, indicates that emerging markets are more coming out of a slumber rather than booming at the moment.
The crash in commodity prices and slowdown in China greatly diminished the appeal of emerging markets. Southeast Asian markets take a big hit when China and Japan struggle. South America sees exports fall when China doesn't need the continent's raw materials. And so on. The fall in oil has been a big punisher for many of these markets.
However, the long-running underperformance of emerging markets has created some huge opportunities. Here's the chart we need to think about for a minute (from the Economist):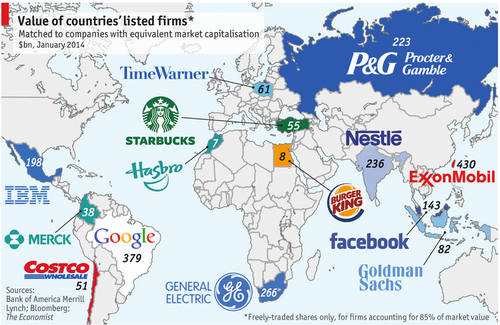 As we can see, in many cases, whole countries have market capitalizations that can fit inside one western company's market cap. Also, this data came from early 2014, so in many cases, the emerging markets in question have lost even more of their value in the interim.
Take Russia (RSX) for example. As of 2014, its whole market was worth only the equivalent of Procter & Gamble (PG). P&G is a great company, but it doesn't come with the world's second largest oil industry, vast mineral reserves, and a surging middle class.
Russia has a GDP of $2.1 trillion, Procter & Gamble has annual sales of $65 billion. It's worth asking if Procter & Gamble is worth as much as Russia's entire market while producing gross output just 3.1% the size of Russia's.
US total market cap tends to run at 70% of GDP (though it's far above this at the moment). So while it's not fair to expect Russia's market - particularly with its well-documented governance issues - to trade at 100% or even 70% of GDP, trading at only 10% of GDP seems a little low.
Indonesia (EIDO) is another incredible example. It's the world's fourth largest country by population, has robust demographics, and its GDP is just shy of $1 trillion. Yet its market cap of $82 billion is comparable to merely that of Goldman Sachs (GS). Goldman is a great franchise, but is it truly as valuable as the booming economy of the world's fourth-largest country?
Perhaps most shockingly, India is worth just the equivalent of Nestle (OTCPK:NSRGY). India will be the world's largest nation by population in coming years, and comes with a $2 trillion GDP. And that GDP is steadily growing at about 7% a year.
That rate of growth means India should have a $4 trillion GDP in 2026. Figure the country's Market Cap/GDP rises to 25% - still a far cry from the 50%+ you see in developed markets, let alone the over 100% rate in the US currently. With those inputs, the Indian market is four-bagger over the next years, not counting dividends. Nothing is a guarantee in investing, but I like those odds.
Turning to my neck of the woods, incredibly enough, the Mexican stock exchange, in total, is equal in value to just IBM (IBM). I've got no grudge with IBM, but it's mind-boggling to me to suggest that Mexico is worth just what IBM is.
Mexico comes with more than 100 million people, the world's 11th largest economy, is the emerging manufacturing arm of USA Inc., and is likely to experience an unprecedented tourism boom in coming decades. All of that for just the price of IBM? Seems like an easy decision.
Similarly, Costco (COST) is a great retail operation, but it hardly compares to Chile (ECH), Latin America's most politically agreeable and prosperous economy.
In both the early 1990s, and mid-2000s, emerging markets put up 400%+ returns within a few year spans. In between this runs, emerging markets took breathers, trading sideways for a few years.
The overall market capitalizations of these emerging markets are still so low that another such huge run is exceedingly likely. In a world where developed markets return very low yields on investment, investors will turn to markets where 5%+ GDP growth can still occur on a regular basis.
If you're investing for growth, you really need to consider emerging markets. In an expensive world, it's one of the best opportunities left. Also consider that when emerging markets boom again, there will be a ton of developed market capital chasing markets with tiny capitalizations. When you get a flood of money into small illiquid markets, good things happen to share prices.
As a cautionary note, not all emerging markets are created equal. In my area of expertise, Latin America, Colombia and Peru (EPU) are far better bets than, say, Brazil due to governance. Similarly, I'd rather own India than Pakistan (PAK). However, don't let political risks put you off from some of the world's best investment opportunities altogether.