Part One: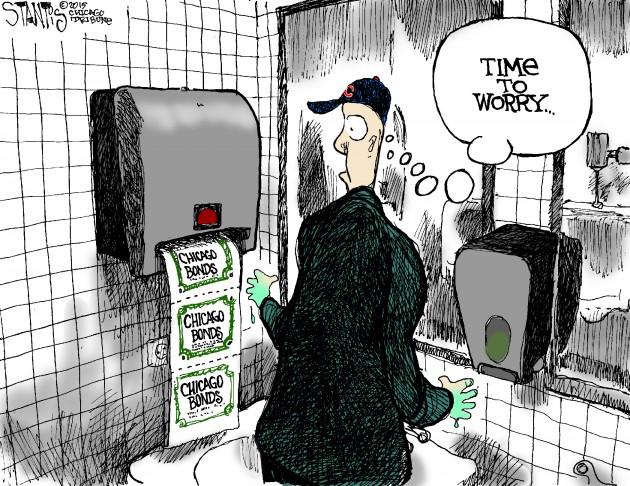 (Source: Chicago Tribune)
Back in late 2014, a Forbes article titled, "Investors, Just Say No To Illinois, NJ, and PR Muni Bonds" was released. In it, the author mentioned the "mile-high pension promises given to public employees - with a snowball's chance of ever being paid." This was definitely prescient as since then, Puerto Rico has gone into default and is now in the process of restructuring its debt with others extremely likely.
Puerto Rico came a few years after the City of Detroit was forced to file for bankruptcy. Investors in those muni bonds received between 34 and 74 cents on the dollar. Atlantic City is now a near certainty to file in the next year, with its debt well into junk territory. The Mayor noted that the city was "running on fumes" after making their last debt payment on May 1. He noted that even if he fired every city employee, they wouldn't be able to survive due to large legacy costs.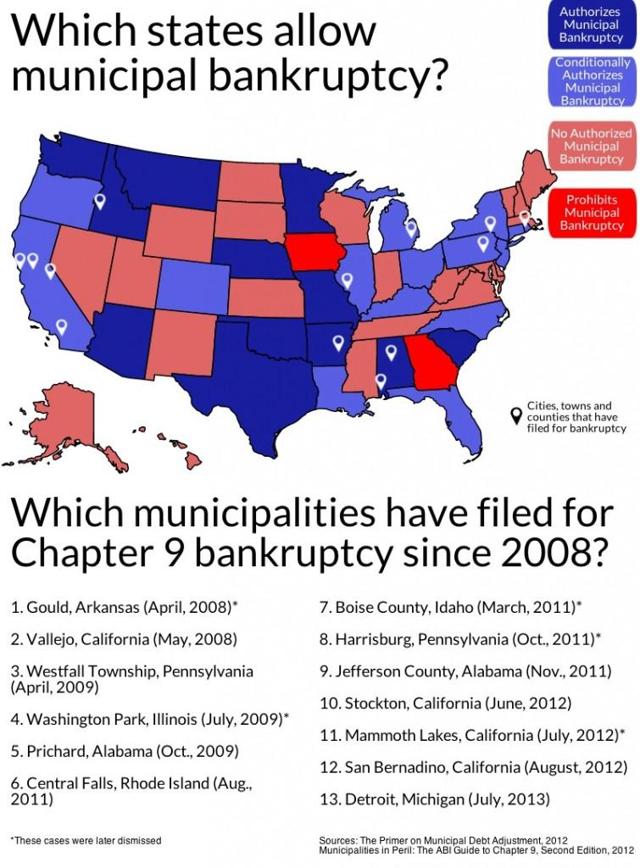 Chicago Is Up Next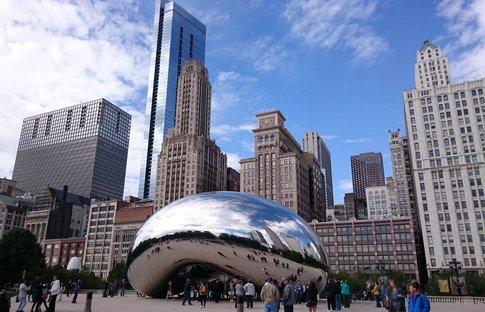 The city of Chicago is likely the next large city on the bankruptcy block which could have much more significant ramifications for the municipal bond market. About 15 months ago, the city's debt was downgraded to junk status given the massive shortfall in funding status within their four pension funds. This led to a widespread selloff in their bonds- much of it forced as many institutional investors are restricted from holding junk debt.
In response, Mayor Rahm Emanuel instituted a record property tax increase for city residents. Bills in 2016 will be, on average, 13% higher. The increased 'revenue' to the city is being used to help fix the four pension funds' large underfunded status.
The real blow came in late May when the state supreme court ruled that the state and Mayor's plan to fix the $20 billion public pension shortfall was unconstitutional. The restructuring plan was passed by the state legislature in 2014, but was struck down due to the state's constitution, which conveniently has a clause that forbids the reduction of public pensions - clearly put there by corrupt politicians and union leaders as sheer crony capitalism.
The ruling was the second in three years as the same court rejected another restructuring plan in 2013 to help solve the $111 billion state shortfall in their pension funds. That court case led to Moody's cutting the city's credit rating to junk, likely in anticipation of nothing getting done. In January, the city returned to the bond market after the downgrade and tax hike and priced $500 million of bonds at 4.93%, about 230 bps above the benchmark.
Republican Governor Bruce Rauner has publicly stated that he will not bail out the city of Chicago, but will push forward reforms that will allow it to solve many of the problems. The problem for Rauner is that the state legislature refuses to act. The reforms needed (allowing municipal bankruptcies, workers and unemployment comp reforms) will be unlikely to pass the Democratic-controlled state assembly.
The public pensions are in such a dismal state, despite one of the strongest bull markets in history. The problem is that bond yields are down to 1.5% on the ten-year and with stock valuations where they are, future returns over the next five years are unlikely to be much above 3%-4%. In that type of environment, returns are likely to fall well short of the pensions' assumed 7% to 8% rate.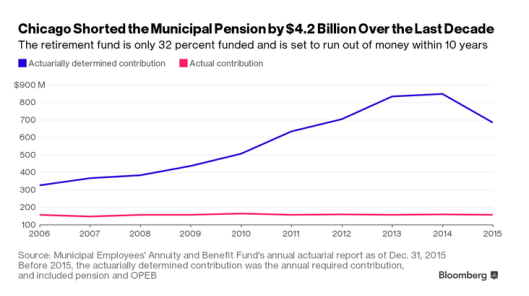 (Source: Bloomberg)
With the state unlikely to bail out the city through higher taxes, the state legislature will need to act to create a path for reforms. Mayor Emanuel has already increased property taxes, and the only other course being to increase sales taxes, of which Chicago already has the highest rate among the large cities, more taxes seem unlikely. Emanuel will need to get concessions from the unions, something highly unlikely to happen. The only quiver left for him is to press the state legislature to pass a bill that would allow for municipal bankruptcies, so he can do an end run around the crony capitalist unions and force reform.
What Does That Mean For Muni Bond Investors?
We think investors are not pricing in enough risk of default on many of the higher-yielding states and municipalities. Those include, Chicago, Illinois state, New Jersey, Connecticut, and Kentucky bonds. Muni bonds, and bond funds, saw a strong selloff in 2013 during the Taper Tantrum and Meredith Whitney's call in 2010 on a "wave of muni bankruptcies."
In 2013, she doubled down on that call in the wake of Detroit's bankruptcy filing. She noted that there could be 50 to 100 cities defaulting on their debt, totaling $100s of billions of dollars. Many have discredited her call, but we believe that is extremely short-sighted. These municipalities have benefited from a strong bull market and have only experienced the start of their demographic challenges. Once we see another sharp market downturn in conjunction with a large amount of retirements from baby boomers, the stress on these funds will become much more acute and bankruptcies are likely to pile up.
In April 2015, New York Federal Reserve President William Dudley noted in a speech that municipalities need to be able to restructure their finances and warned about the "emerging fiscal stresses in the sector."
Our advice is to conduct more fundamental analysis on the muni funds we choose. So many open-end mutual funds garnered significant amounts of assets by gobbling up high-yielding Puerto Rico bonds unbeknownst of the risks by many shareholders. That came back to bite many of them recently.
Some things to consider are:
The full faith and credit of a municipality does not guarantee a full recovery of bondholder positions.
Many of the assets that are thought to be part of the "asset pool" are typically excluded.
The pensions tend to make out better than the bondholders.
Analyzing Closed-End Municipal Bond Funds
We look at several factors before delving into the fundamentals like discount/premiums, net investment income and yield, distribution coverage, effective duration, and other typical variables.
Percentage of bonds insured
Percentage of bonds that are investment grade
AMT percentage
State diversification
Bond call schedule
If possible, how much of the bond portfolio is revenue versus general obligation.
Diversification away from a single state being a large concentration of the total value of the funds is paramount when looking at these funds. The average national muni closed-end fund that is leveraged and insured has approximately 12.2% allocations to the state of Illinois - more than the state of California at 11.7% which is a much larger issuer.
One of the safer funds in this group is the BlackRock MuniYield Quality Fund III (NYSE:MYI). It has just 5.5% in Illinois bonds with just over 20% of its portfolio in AAA-rated bonds. That allows it to have over 99.33% of its portfolio investment grade and one of the highest overall credit qualities among the insured class of funds.
On the non-insured levered national muni side, there is a larger dispersion of credit quality. Average credit quality ranges from BBB to AA. AAA-rated debt is very close to risk-free, given there has not been a default on debt that carried that rating in over 30 years. The chart below shows the differences in default rates between municipal and corporate debt of the same credit rating.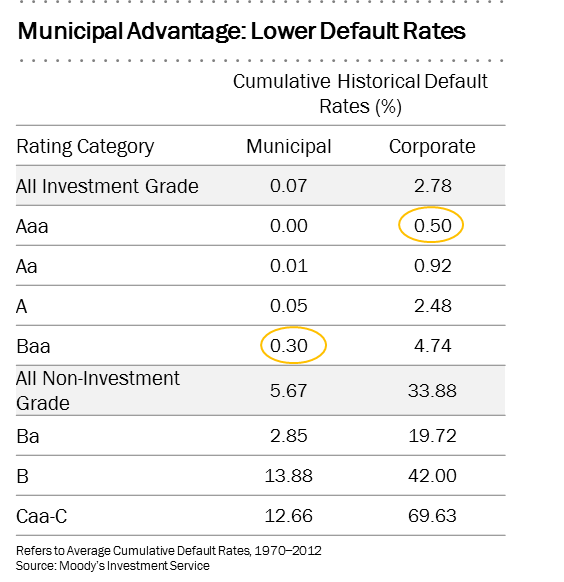 The Bottom Line
Investors need to be cognizant of the way that portfolio managers are achieving their yields. Many fund managers loaded on Puerto Rican debt because of the higher rates before having the rug pulled out from under them due to the restructuring. We would implore investors to do substantial due diligence on the underlying holdings of the funds in order to ascertain the source of those yields.
Chicago, and to a lesser extent, Illinois bonds are the most susceptible over the next five to seven years given the predicament the city is in currently. Atlantic City is the likely next shoe to drop in terms of municipal bankruptcies and investors should analyze whether their holdings contain any of these bonds. Detroit has provided a solid template for muni investors and yet, just a few years later, investors appear to have forgotten those lessons. The bondholders, for the most part, drew the short-stick and suffered substantial losses.
Bankruptcy courts are likely to do the same during the next string of municipal bankruptcies. They have been trickling out in the last few years with the market helping many of these more vulnerable cities and pension systems. However, during the next downturn which is inevitable, we think the trickle could turn into a larger stream and investors will want to not have exposure to funds that have the vulnerabilities mentioned above.
Our marketplace service analyzes, in-depth, municipal closed-end funds for our high-income subscribers looking for good tax-free opportunities.
We will be diving more into muni CEFs in the second part of this piece.
Marketplace Service For Those Hunting For Yield
In April 2016, we launched our marketplace service Yield Hunting: Alternative Income Investing dedicated to yield investors who wish to avoid the froth associated with the equity, REIT, and other more volatile areas of the market. We encourage investors to utilize the free two-week trial in order to benefit from our yield opportunities within closed-end funds, business development companies, and other niche areas. We attempt to construct a "low-maintenance portfolio" with a yield in excess of 7% on a tax-equivalent basis with capital gain optionality.
Disclosure: I/we have no positions in any stocks mentioned, and no plans to initiate any positions within the next 72 hours.
I wrote this article myself, and it expresses my own opinions. I am not receiving compensation for it (other than from Seeking Alpha). I have no business relationship with any company whose stock is mentioned in this article.
Additional disclosure: The commentary does not constitute individualized investment advice. The opinions offered herein are not personalized recommendations to buy, sell or hold securities. As I have no knowledge of individual investor circumstances, goals, and/or portfolio concentration or diversification, readers are expected to complete their own due diligence before purchasing any stocks mentioned. The strategies discussed are strictly for illustrative and educational purposes and should not be construed as a recommendation to purchase or sell, or an offer to sell or a solicitation of an offer to buy any security. There is no guarantee that any strategies discussed will be effective. The information provided is not intended to be a complete analysis of every material fact respecting any strategy. The examples presented do not take into consideration commissions, tax implications or other transactions costs, which may significantly affect the economic consequences of a given strategy. This material represents an assessment of the market environment at a specific time and is not intended to be a forecast of future events or a guarantee of future results. This information should not be relied upon by the reader as research or investment advice regarding the funds or any security in particular.