Herbalife's new SKIN Collagen Beauty Booster
The Skin Collagen Beauty Booster was released in the United States on August 6, 2016 by Herbalife (NYSE:HLF) and according to two studies, reduces fine lines and wrinkles. The product is a strawberry lemonade flavored powder, and is meant to be taken once a day by mixing one serving (2 scoops) in a cup (8 fluid oz.) of water or any other liquid of preference.
[For reference, the press release of Herbalife's product release can be found here.]
Each serving of Herbalife's new product contains 2.5g of a third-party product called Collagen Hydrolsyate formulated by Verisol, which is owned by Gelita in Germany.
According to Herbalife's press release, studies conducted on a total of 172 healthy women between the ages of 35 and 65 showed that ingesting 2.5g of Verisol Collagen per day improves skin elasticity and "eye wrinkle volume" within 4 to 8 weeks.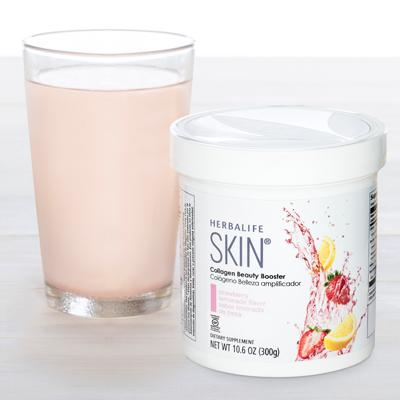 While I do believe the product has the potential to sell well and don't doubt that the powder mix indeed tastes like strawberry lemonade, I am skeptical if the collagen component of the drink works at all in terms of reducing wrinkles in the skin.
This is because my own research based on the opinions of more knowledgeable individuals in the field seem to conclusively point to the fact that eating collagen does not benefit the skin.
According to Jill Lee from Livestrong, eating collagen does not benefit the skin because collagen is a protein, which our bodies naturally break down into amino acids during the digestion process, which basically means that when you eat collagen, your body converts it into a form that makes it structurally impossible to gain beauty benefits from it.
Here is the direct quote:
"Since collagen is a protein, it breaks down into amino acids during digestion. This process is what prevents the collagen you eat from natural sources and collagen-enhanced foods from passing along benefits to your skin in the form of less wrinkles or improved elasticity. Eating collagen does not benefit the skin at all."
Furthermore, Lee states that "Some forms of collagen may stimulate arthritis, which could render collagen-enhanced foods detrimental for older people and those diagnosed with arthritis."
Collagen only works if injected into the skin
According to Florence Barrett-Hill, an internationally acclaimed dermal science educator, practitioner, researcher and author:
"Injection of collagen has been shown to be the only method of delivering effective quantities of this protein below the epidermis."
Florence also states that even when collagen is injected into the skin, the cosmetic effect is only temporary and does not stimulate the growth of new collagen:
"Injecting forms of collagen below the epidermis does indeed provide temporary supplementation of the existing collagen before being slowly broken down into amino acids and then absorbed by the body, however this introduced collagen is simply a dermal filler. It does nothing to stimulate the new growth of collagen."
That's simply not how the body works
Eating/drinking collagen and expecting more youthful skin is the equivalent of eating fish and expecting to become a better swimmer, or eating carrots and expecting to regain 20/20 vision.* Simply put, that's just not how the body works.
* In the example of carrots and eyesight, it was a myth perpetuated by the British air force during World War II, to hide the fact that their ace pilot who shot down 20 German planes - 19 of them during the night - was using new secret radar technology.
Well, what about Herbalife's cited studies?
In Herbalife's press release (screenshot of excerpt below), they cite two studies:

The second study's abstract can be found here. I could not find a link to the first study, but I do not require it for my next point.
While I found that researchers in Germany did test Gelita's Verisol Collagen product, their numbers did not match up with Herbalife's. For example, the German study states that 114 women participated, but Herbalife's press release only shows 110. I wonder what that number discrepancy is about.
Anyway, even though the German studies on Verisol Collagen peptides showed an average of 20.1% reduction in "eye wrinkle volume" after 8 weeks - I do not consider it conclusive evidence that Verisol Collagen works, because I believe the studies may have been flawed.
Why I Believe The Collagen Studies on Collagen May Have Been Flawed
The sample size was too small - only 172 women total in two separate tests. The first study had 62 healthy women between ages 35 to 55. The second study had 110 healthy women between ages 45 and 65.
Out of 172 women, half of them took a placebo as a control group, which means that only a total of 86 women used the Verisol Collagen product. This is an extremely small number of participants to draw any conclusions from.
Did the study account for their subjects exfoliating their skin or applying topical lotions within the 8 weeks? Since they were testing only women, did they account for menstrual cycles? All these factors can skew their measurements immensely. Even drinking more water or getting better sleep can skew results substantially.
Only healthy women were tested. So how does this product affect someone with high blood pressure or asthma? Remember what Lee said before: "Some forms of collagen may stimulate arthritis, which could render collagen-enhanced foods detrimental for older people and those diagnosed with arthritis."
Long-term effects were not studied, as the study lasted only 8 weeks. When and where do benefits cap off? Is 20% wrinkle reduction the maximum benefit? Long-term effects are either unknown or worse, undisclosed. If there is a cap on wrinkle reduction, then I do not believe the product works at all. Consider that if you keep eating more calories than you need, you have the potential to get infinitely fat - there is no such thing as "weight gains capping off at 20%." This is the nature of a process that truly works - it works infinitely. In the same token, if ingesting collagen reduces wrinkles, wrinkles should have the potential to be reduced indefinitely.
No men were tested. Seems rather odd not to, considering that a few men already have reviews of the Beauty Booster product on YouTube.
What's disturbing to me in particular is a review by an older male Herbalife distributor who states that he is selling Herbalife's Skin Beauty Collagen Beauty Booster. In the video, he holds up the product and says:
"Skin's gonna be really tightened up for men, women, it's gonna be good for your face, your whole body, I can really see there's gonna be other benefits for this, good for your joints, your muscles [...] we all need collagen, especially the older we get, so this is a real good product for everybody, especially if you start in your 50's and 60's when you start losing all the elastic in your skin."
His statements are quite disturbing considering that the product was not tested on men, or a large enough sample size of older people. What is large enough? For a product making these kinds of claims, I would say no less than 2,000 over a period of time (1,000 in the control group, and 1,000 taking the actual product.) Sure, it may be expensive, but if a product like this truly works, then the addressable market is basically the entire world until the end of time.
How exactly does one measure "eye wrinkle volume"? What is the margin of error on these measurements? Where are the pictures?
Was cosmetic makeup accounted for? If a test study's makeup was removed before measuring eye wrinkle volume, could washing and exfoliation of the face have contributed to possible flaws in the measurements?
In the first study, average skin elasticity dropped 2.7% from the 4-week milestone to the 8-week milestone, from +10.3% after 4 weeks to +7.6% after 8 weeks. This suggests that the product: (1) does not work (2) has limited benefits or (3) the study was flawed.
Like I said, if a product really works, there shouldn't be a cap or regression in improvement. If you eat more calories than you burn off, you will get infinitely fat. Your weight will not cap off after a 20% weight gain. If you continue eating, you will not suddenly lose 3% of your weight and then stop gaining weight and regress back to skinny. If you continue the process of eating more calories than you burn, your weight will increase infinitely without fail (until death, of course.)
So why was there a 3% drop off from the 4-week milestone to the 8-week milestone in the Verisol Collagen study?
If you have a product that reduces wrinkles, it should reduce wrinkles indefinitely, until one appears that they just came out of a womb. The fact that results cap off and regress leads me to believe that a simple overlooked factor such as exfoliating the face, drinking more water, getting better sleep, or even menstruation, could have led to the positive results.
If the collagen product truly reduces wrinkles, then why was the study not extended to see if perhaps there could be a 100% wrinkle-reduction? Why did they stop at 20%? Why end the study after 8 weeks? The only logical answer is that the product does not work. And with only 86 women taking the product for a meager 2 months, it's hardly enough of a sample size or length of time to conclude that ingesting collagen reduces wrinkles.
Conclusion
I do not believe eating collagen yields improvement in the skin. If experts in the field of dermal science reject that idea, then that alone is enough for me to take their side, rather than the side of those selling collagen products, who would no doubt have a bias towards information that helps them peddle their products.
It is physiologically impossible to drink a powdered collagen shake and have that alone directly result in less wrinkles, because the collagen is broken down into amino acids during digestion, making it no different than any other protein one ingests. In short, eating collagen will not signal your body to produce collagen. The only way for collagen to work as a wrinkle-reducer is to inject collagen directly into the skin, and even then, the effect is only temporary, and does not signal the body to produce collagen either.
To read more on my thoughts about Herbalife, its business prospects moving forward, and what I believe its fair value for the company based on a fundamentally-based appraisal, you can read my article titled "Herbalife: Still Profitable".
Disclosure: I am/we are short HLF.
I wrote this article myself, and it expresses my own opinions. I am not receiving compensation for it (other than from Seeking Alpha). I have no business relationship with any company whose stock is mentioned in this article.