Mondelez (NASDAQ:MDLZ) has issued a press release stating the company will no longer pursue its acquisition of The Hershey Company (NYSE:HSY). Even with the topper bid to $115/share from Mondelez, it seemed unlikely that the Hershey trust would have been willing to part with the company, instead asking for $125/sh. The Hershey trust, the largest shareholder of Hershey Company with about 8% ownership, had opposed the sale in the past and was likely to remain a large obstacle to the transaction if the price was not met.
As a result of the deal breaking, Hershey has given back about half of the takeout premium in after-market trading, falling 12% to about $99/sh. The result of the lower price is a higher yield, with the yield increasing to 2.5% from 2.2%. Now that Hershey's investment story will again be a standalone company, we think it's time to revisit the yield story.
Use of Cash: The use-of-cash test provides a visual overview of the various cash uses a company has been allocating cash towards. It shows the relative size of the cash uses versus the outstanding cash balance available to the company. It is a quick and simple way to view how the company has used its cash over the past 10 years, and is indicative of what the company may do in the next 10 years with its cash reserves. We examine dividend payments to all shareholders (including payments to preferred dividend holders) as well as net repurchases, which includes equity issued via stock option plans, etc., as well as interest payments on debt, this offers a more wholesome view of how the company allocates capital.
Over the past decade Hershey has been a great capital allocator, using cash flows to fund large share repurchases and maintain a growing dividend except in 2009 when the dividend stayed flat. The company is reasonably leveraged so the debt payments and interest payments are not particularly onerous.

Hershey still has $100M remaining on its share repurchase authorization, and we expect they will use it, especially given the share price decline over night and they were buying at higher prices in Q2. The repurchases over the quarter were simply to replace stock option dilution, so it's nothing to get excited about.
10-Year Dividend Yield and Payout Ratios: Higher dividends are great, but not if they come at the expense of dividend sustainability. Assessing the payout ratio is a key metric in determining the sustainability of a dividend, and is calculated as dividend per share dividend by earnings per share (DPS/EPS).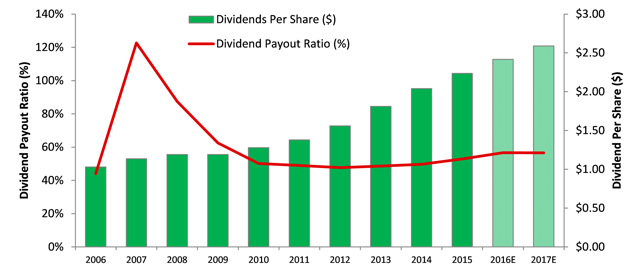 Like many companies, Hershey is saving capital in the tough times between 2008 and 2010, while still funding the dividend and increasing it in 2 out of 3 years they lost their status as a Dividend Aristocrat. See the current Dividend Aristocrat list here.
The dividend has increased over the past decade by more than 100%, from $1/sh in 2006 to $2.24 in 2015. Aside from the single year of stagnant growth in 2009 every year has seen an increase. The payout ratio has been in the 50% to 60% range for most of the decade, which is a reasonable level.
Long-term Dividend Growth: It is important to view dividend sustainability across market cycles, following the prolonged bull market we have seen in recent years it is necessary to look a bit further out to get a more balanced view of dividend sustainability.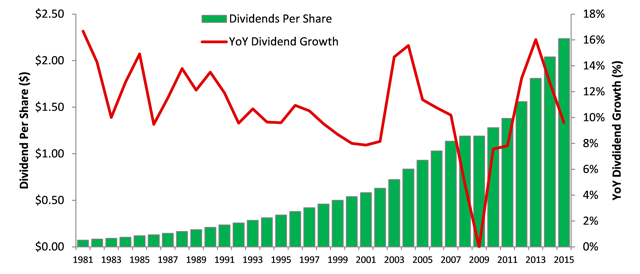 As mentioned above, Hershey's has earned its place as a Dividend Aristocrat, but fell off the wagon in 2009. It's been a great dividend payer over the decades.
Over the past 35 years the dividend has grown at an annual rate averaging 11%, which is a very strong growth to maintain across decades. Now that Hershey will once again be investable as a standalone company, we expect to see them continue increasing the dividend by ~10% annually over the coming few years, as this will be supported by increasing cash flows.
Credit risks: One of the largest risks to dividend sustainability is a leveraged company facing large debt payments and/or putting its credit ratings at risk, which would lead to higher interest charges.

Hershey has a $250M debt payment due this year (in September), which we expect they will refinance into the 2026+ period at a better rate, its current coupon is 5.45%. They have another $250 due in November as well at a much lower interest rate. Given that the company has conservative leverage with Net Debt / EBITDA of 1.7x and a A1 credit rating from Moody's we don't think refinancing will be any problem.
Interest coverage at over 16x is very high and indicative of no issues meeting its interest payments. Across the board, every leverage/debt metric for Hershey is very strong.
Summary: With the Mondelez/Hershey deal breaking and Hershey stock closing about half the gap to its pre-takeout price, we took a look at the stock again from a yield perspective. Given that little has improved over the past 6 months fundamentally, we think the stock may still have further to fall post-break. Nonetheless, as valuation metrics fall, as they shed their premium take-out multiples, we are increasingly excited about Hershey as a yield play. The company should see rising cash flows, it's conservatively leveraged, and it has a phenomenal dividend history. On top of this, the yield just increased to 2.5% from 2.2% overnight as the stock shed 12%. We will stay on the sidelines as the market digests this news, but will be looking to take a position in Hershey over the coming weeks.
Visit Smart Dividend Stocks, a site we designed for income investors looking to protect their dividend income streams from yield reductions, and discover new gems for their income portfolios, and follow us here on Seeking Alpha for more dividend ideas.
Disclosure: I/we have no positions in any stocks mentioned, and no plans to initiate any positions within the next 72 hours.
I wrote this article myself, and it expresses my own opinions. I am not receiving compensation for it (other than from Seeking Alpha). I have no business relationship with any company whose stock is mentioned in this article.