On July 15th, the Federal Trade Commission (FTC) began to dismantle the darker side of the multi-level marketing (MLM) industry in the US. Through fines and new regulations placed upon Herbalife (HLF), the FTC introduced a new regulatory standard that many anticipate will be enforced upon other MLMs. Market participants have searched for companies that could face significant business disruptions if and when the same restrictions were placed on them. Familiar MLMs are not perfect fits. Most, like Nu Skin (NUS), receive most or nearly all their revenues and profits outside the US. Others, like Primerica (PRI), face other potential regulatory issues but the HLF restrictions, many of which are focused on product sales, do not fit their models.
Enter LifeVantage (NASDAQ:LFVN). LifeVantage is a supplement company that shifted to an MLM model after it failed as a retail concept. Its primary supplement, Protandim, is hailed by believers for a wide range of uses from improving energy levels to fighting cancer. We see a company with a questionable history selling a product with questionable efficacy through distributors who receive a questionable benefit. Added together, given 78% of LifeVantage's revenues are generated in the US, we fear LifeVantage may have a questionable operating and stock price future in a post-HLF injunction world.
Questionable History
You can find a significant amount of information on the past of LifeVantage on a variety of blogs. Here are a few for your perusal
-LifeVantage Review: No retail focus mandatory autoship
-Protandim: Life extender or money waster?
LifeVantage is a 2004 reverse merger of Lifeline Therapeutics and a public shell company, Yaak River Resources. As it happens, Yaak was already the second use of a shell that originally went public in 1988 as Andraplex Corporation. At LifeVantage, William Driscoll, a former oil executive, and Paul Myhill, a former healthcare productivity consultant, worked jointly with Ceremedix, a small biotech firm, to create a supplement, CMX-1152. This supplement activated NRF2, where NRF2 is a protein that regulates antioxidant proteins. In 2005, due to a falling out with Ceremedix that we cannot find details on, LifeVantage created a similar supplement that mixed other antioxidants like green tea extract to the primary ingredient of CMX-1152, turmeric, to create a super antioxidant. They named this new formulation Protandim and set out to market it in health food and grocery stores.
Possibly because neither William nor Paul had a background that would lend credibility to developing a must-buy supplement, LifeVantage brought in Dr. Joe McCord, an experienced researcher, to be 'Chief Science Officer' and to pose as the actual creator of the supplement. Under his watch, LifeVantage went about finding labs and partners to run trials demonstrating the antioxidant effects of Protandim. Interestingly, almost all of these studies were carried out on mice or in-vitro. The only two published human studies were of groups of 30 or fewer individuals. The only favorable of these two studies was done in 2005 as a non-randomized, non-controlled trial and no full-scale human clinical trials have been done since to validate the results of this study.
Unfortunately for LifeVantage, the addition of Dr. McCord and his studies was not able to generate the retail sales it had hoped for. As mentioned by the former CEO, due to an inability to get retail customers to purchase the product, the company faced ruin. In a last ditch effort, in 2009, LifeVantage ceased retail sales and converted its sales effort into an MLM to sell Protandim. While at first it experienced strong growth, in 2014, sales growth began to decelerate due to difficulties in growing its distributor network and a decline in preferred customers. Given the high churn of the MLM industry, declines can lead to a death spiral. Thus as revenues declined in 2015, the stock price plummeted.
In an attempt to turn the business around, in late 2015, LifeVantage recruited a new management team. Its new CEO came from Jeunesse, another MLM, and brought along new practices and connections to the LifeVantage network. Protandim is still the largest component of sales, at ~65% of revenues, but new products like skin care and canine health supplements have added to growth. With a new management team in place, and growth beginning to emerge, bulls anticipate strong growth from here.
At a high level, LifeVantage's background does not seem that different from many other penny stocks turned multi-million dollar market cap companies. However, there are a few other points of note in the history of LifeVantage.
LFVN began with a core lie for the sake of marketing, that Dr. McCord was the creator of Protandim.
As Protandim's creator, Paul Myhill, noted, "We initially decided to hide that fact [that Myhill derived the core composition for Protandim] for marketing purposes and instead rely on the impeccable background of Dr. McCord." While Dr. Joe was paid handsomely for each bottle sold and successfully got labs to work on the product, he had to distance himself from these claims.
LifeVantage has had three accountants in the last year.
Its current auditor, WSRP, was appointed on July 13th, 2016. Before WSRP, it briefly utilized BDO from April 2016 until July. Before BDO, it used EKS&H. While the switch from BDO was due to a claimed conflict, we find this many auditor adjustments, particularly when two of the three are lesser known and have very few public company clients, to be eye catching.
Surprising consistency in reported active distributors.
For the six quarters from 4Q14 to 1Q16, the disclosed distributor count in America was flat at 44,000. Given the high distributor churn in the industry and the relatively low number being rounded, this seems implausible. At the least, it shows the difficulty in growing the network.
Current CEO, Darren Jensen, is being sued by his previous firm Jeunesse
Jeunesse accuses him of both stealing the formula for a skin cream that LifeVantage now markets and for contacting distributors to move them to the LifeVantage network
Stock price used for marketing
The company touts its inclusion in the Russell 3000 and stock price success as indicators of the validity of the company. From our experience, using this as a means of validation, particularly when combined with a non-institutional investor base, does not bode well (see VirnetX (VHC))
Large MLS jersey sponsorship
In our experience, sponsorships of stadiums and sports teams have an eerie ability to signal great shorts (see Apollo Education (APOL) and the University of Phoenix Stadium). We find the timing of LFVN sponsoring a $30mm 10-year jersey deal with Real Salt Lake, a major league soccer team, to be curious, particularly given the sponsorship size versus LifeVantage's annual $10mm in free cash flow. It is also worth noting it replaced Xango, another MLM with a checkered past.
Aggressive legal team
Companies with aggressive legal departments can attract the attention of investors looking to go short their companies. LFVN has a history of suing bloggers who posted about its business practices. You can find this author's original claims here: LazyMan LifeVantage write-up.
Questionable Products
Moving past the history of LFVN and focusing on its products, we find a combination of interesting partners and claims.
Here are several distributors promoting the cancer fighting abilities of Protandim.
https://www.youtube.com/watch?v=o5lJW0uUPF0
https://www.youtube.com/watch?v=tZVzQlHOJMQ
Lest you think that these claims are only made by rogue distributors, here is Dr. McCord speaking about it helping with cancer.
Of interesting note, while the antioxidant properties of Protandim are taken for granted as beneficial for health, the medical community has worries that antioxidants can actually CAUSE tumors and contribute to tumor growth.
While LFVN has been unable to demonstrate Protandim's cancer fighting abilities in any human studies, it has had quality control issues. In 2012 and 2013, it had two product recalls due to the health risks of metal fragments in the bottles.
But what of the other products? Non-Protandim products are overseen by the SVP of LifeVantage's R&D efforts, Nathalie Chevreau. Mrs. Chevreau has been involved in the supplement industry for several decades as she worked with weight loss drugs, beauty products, and several health cure-alls. Along the way, she has built significant experience as a tout for products facing government skepticism and criticism. For example, when she worked for Basic Research, which was accused of scamming consumers, she ended up testifying before Congress. Most recently before she joined LifeVantage, she ran a company that provided scientific support for supplements for hire. From her website, "I understand both the competitive nature of our industry and the need for 'real' science to support claims… science that is delivered on time so products can be launched promptly and effectively." The apostrophes around real are hers, not ours.
If you'd like to read more about Mrs. Chevreau, I recommend this website.
Questionable Value Proposition for Distributors
While some on Wall St. have questioned the benefit MLMs bring their distributors, it cannot be disputed that Avon (AVP), Tupperware (TUP), Amway, and others have brought financial success and freedom to many people who sell their products. In the case of LifeVantage, it appears the benefit for its distributors is concentrated in only a few distributors and 99% of all distributors would struggle to make ends meet without an additional source of income.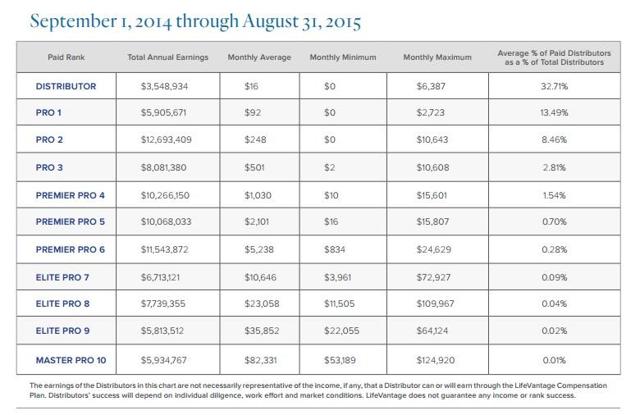 The above chart details the payouts to LifeVantage's distributors. Fewer than 1/2 of 1% could make $60,000 a year, putting their families comfortably in the middle class. While distributors join hoping for financial freedom, 99% of them will end up making less than $25k a year. This puts them at the poverty line for a family of four. To put it another way, if distributors relied on selling LifeVantage products for their family's income, nearly all of their families would qualify for food stamps. It is worth noting that more than 85% of LifeVantage distributors do not make enough IN AN ENTIRE YEAR to recoup the cost of a $1200 Platinum Pack, the pack required to be purchased when you sign up to qualify for higher commission levels. This does not account for the monthly minimum purchase requirements. A distributor must purchase $200-240 in product to remain eligible for 100% commissions, of which $40-50 must be personal consumption. Fewer than 30% of distributors make enough in monthly commission to offset the personal consumption requirement.
We appreciate that many LifeVantage distributors have second jobs or a spouse that provides income to their family. But the low net incomes earned by the vast majority of distributors drove the high turnover in distributors and caused the growth difficulties the company has faced in the past. Given distributors are sold on the opportunity with hopes of financial freedom and potential significant monetary success, we worry many do not appreciate just how few at the company make enough to live a middle class life.
We recognize that our math is actually favorable for the company as these stats show how the average of what individuals made as a member of the various tiers and many distributors do not maintain the same tier for an entire year. But we want to be conservative in how we present this data.
Questionable future in the post-HLF FTC complaint world
On July 15th, the FTC announced not only that HLF violated allowed trade practices but also that going forward its governing rules would be forever changed. Marketing practices that use false hopes through the selling of a gilded lifestyle are not allowed to be used for recruiting new distributors. Commissions are now to be calculated off of sales of product to customers, not to those of new distributors. Further, the distributors themselves must document how these sales are made, adding a significant onus onto the distributors.
While the FTC has yet to apply these restrictions to other MLMs, many in the investment world believe it is only a matter of time. We have made an attempt at understanding how these rules could affect LifeVantage, which we outline below. If our analysis is correct, the effect would be quite damaging to LifeVantage's future business prospects.
To help in this exercise, we have included the commission structure for LifeVantage. We understand this is not the most clear chart, which is potentially concerning given it is used by potential distributors to decide if they want to join the network. PV is points volume, which is generally 80-100% of the cost is in dollars (so 100PV will usually be $100-$120 in product). You can see the PV-$ comparison for various products here. A cheat sheet that is somewhat dated on price can be found on this website to help understand how the compensation table works.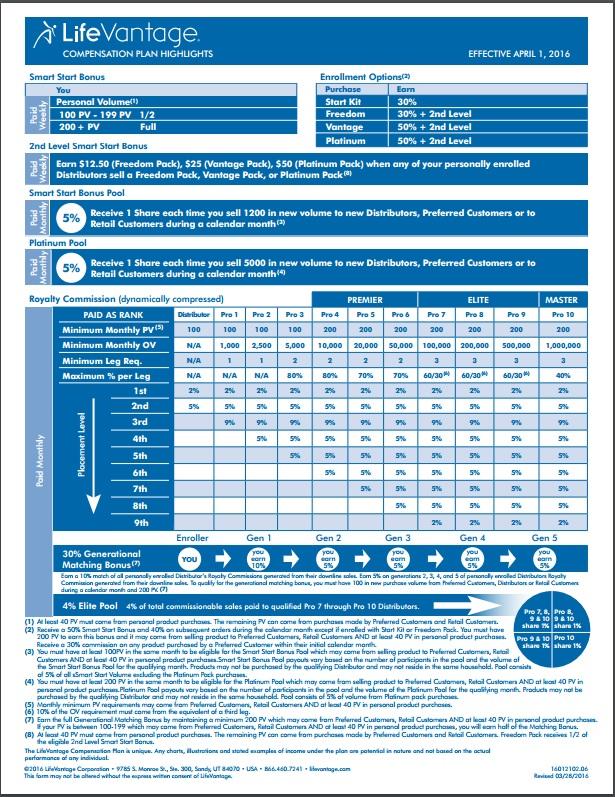 1. Per the FTC complaint, MLM compensation is to be generated only through sales to customers (preferred or retail) and personal/household consumption (with this source limited to 30% of total compensation). Further, no compensation can be generated solely for enrolling or recruiting a new participant. Given the payouts LifeVantage gives for recruiting distributors in your direct downline and the significant personal volume a distributor is required to purchase, many changes would seem to be warranted to meet the FTC complaint.
2. Each sale has to be documented in detail (method of payment, quantities sold, the purchaser name and contact info, a receipt...). We anticipate this burden would cause higher costs to LifeVantage and discourage distributors from persisting with the program.
3. For the first twelve months, own purchases that count towards rewardable consumption cannot be more than $200. After 12 months, they cannot be more than $125. To put in perspective, to receive 100% of your compensation as a LifeVantage rep, you need to make purchases worth 200 in PV a month, which comes out to $200-$240 a month. You can sell all but 40PV of that product, which raises the question of how much of it is actually sold to third parties.
4. "Business Opportunity Participants shall not be required to purchase a minimum quantity of products, except that Defendants may require Business Opportunity Participants to purchase an initial start-up package or its equivalent, provided that no Multi-Level Compensation is generated or paid on the purchase." This clause would seem to be particularly problematic. LifeVantage would need to completely rework its 200 PV a month requirement or at least the 40 PV of personal consumption and all the rest would have to come from documented sales. Further, a significant amount of a new representative's compensation comes from getting others to sign up and purchase starter packs. Per this clause, that compensation would seemingly be eliminated.
5. "Business Opportunity Participants are prohibited from participating in any autoshipment program or any similar program involving standing orders of product." In September of 2014, LifeVantage management claimed more than 50% of revenue came from autoship.
6. "For at least the first twelve (12) months after becoming a Business Opportunity Participant, Participants are entitled to a full refund from Defendants of the cost of any start-up package or its equivalent. If Defendants require, as part of their refund procedure, that any part of the start-up package or its equivalent be returned, Defendants will pay for any shipping costs associated with such return." This clause could also be problematic for LifeVantage. Given the high distributor churn and the super majority of participants who never receive adequate commissions to earn back their buy in costs from commissions, there could be many distributors who would ask for a refund in the first 12 months.
7. "Required Training for Business Opportunity Participants. Defendants shall not pay Multi-Level Compensation to any Participant, and shall prohibit and prevent such Participant from recruiting or sponsoring other Participants, until such Participant has successfully completed a training course conducted by Defendants that is focused on the following topics: A) the importance of purchasing only the amount of product that the Participant expects to sell in the near future; B) how to document retail sales; C) prohibitions on and consequences for falsifying retail sales documentation; D) how to identify and account for business-related expenses and calculate profit or loss; E) how to create a business budget and manage income and expenses; F) prohibited and permissible representations to Participants and potential Participants; G) how to receive a refund or buyback for unwanted product; and H) how to submit a complaint about the business opportunity to Defendants and to law enforcement." If these same courses were enforced on LifeVantage, it is hard to not imagine how they will negatively affect new distributor sign-ups and increase churn. One would assume it would require additional costs for LifeVantage to hold these classes and at least some distributors would not persist in the network after the class.
8. The various misrepresentation clauses would seem to pose a problem for how LifeVantage markets itself. As an exercise, consider these two clauses: A. "Statements that participants can "quit your job," "be set for life," "earn millions of dollars," "make more money than they ever have imagined or thought possible," "realize unlimited income," or any substantially similar representations;" and B. Descriptions or images of opulent mansions, private helicopters, private jets, yachts, exotic automobiles, or any substantially similar representations." Now go to the LifeVantage opportunity website and check out the videos and the terms that are used and the imagery on the website of Rolexs, European vacations, beaches, and expensive toys. Do these clauses seem incongruent with LifeVantage's marketing to you? It does to us.
9. The significant compliance and regulatory burden that came with the HLF order would likely lead to a significant increase in not just the burden on distributors but also the cost structure of LifeVantage in a way that would depress operating margins.
Conclusion
We see LiveVantage facing four difficulties that compound on one another.
1. A history of misrepresentations by the company and two near death experiences in financial results make us question the potential future success of the current business model. On the other hand, investors bullish on the stock, believe that distributor growth can continue to accelerate, leading to earnings growth and significant growth in free cash flow.
2. Its products offer questionable benefit to end users. Outside of a small, dated trial, there have been no significant human clinical trials demonstrating the benefits of Protandim. Similarly, the creators of its other products have checkered pasts at companies that faced significant legal and government scrutiny.
3. The benefits to distributors in the current model seem questionable. Outside of the moral worries over selling an unattainable dream, this situation leads to difficulty in recruiting new distributors and in retaining those you recruit.
4. The FTC has stepped up on regulation in the MLM space and enforced a framework that would likely prove significantly detrimental to LifeVantage if it were subjected to the same rules.
When we combine these factors together, our calculations lead us to expect weak future stock performance. Based on continued high churn in the business plus the company undertaking higher costs due to them adopting the new FTC MLM framework (either proactively or in response to FTC pressure), we anticipate over the next several years EBITDA will drift down to $9mm in EBITDA. At 5x, the bottom end of the LifeVantage trading range, this would be a $3.16 stock, close to the levels of a year ago.
We fully appreciate that the next couple of quarters could have strong earnings. LifeVantage benefits from the addition of a new management team with significant MLM experience, each member of which can tap into their networks to boost growth in the short term. However, as a bull, you must discount the risk that at any point the FTC can enforce its Herbalife paradigm on LifeVantage and the rest of the space. In the most draconian enforcement scenarios, we think LifeVantage would face bankruptcy if it cannot nimbly shift its business model.
Invest cautiously.