Even though the market has shown cracks recently, the overall market is still trading near all time highs. Despite companies reporting their 5th consecutive quarter of year-over-year declines in earnings, the overall market has been on a tear since the Brexit vote. Therefore, I have spent a lot of time on the sidelines waiting to see how things pan out. I've sold some winners and losers recently but haven't done much buying. However, I have been scanning the markets and one company in particular jumped out at me: The Kroger Co. (NYSE:KR) This has been a popular lately by value investors as the company is down over 21% this year vs. the nearly 7% gain for the S&P 500.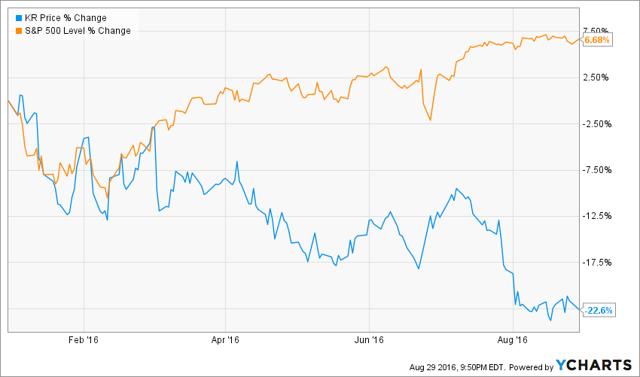 The Kroger Co is an operator of retail food and drug stores across the United States. They also manufacture and process food for sale in its supermarkets. Kroger operates approximately 2,778 retail food stores including 1,387, which have fuel centers. The Company also maintains its own store brands under the names Simple Truth & Simple Organic. The Company's stores include Kroger, Ralphs, Fred Meyer and King Soopers.
Underperformance Year-To-Date
Kroger has greatly underperformed the market this year. While this means that the company represents value from a fundamental standpoint, it is important to do some digging and find out what exactly caused the company to sell off while the market rallied.
Going back through the news, other than Kroger getting caught up in the market sell off to start the year, it looks like the bad news started when Kroger was considering buying The Fresh Market (NASDAQ:TFM). A week later, the retail sector sold off after Wal-Mart issued disappointing guidance for Q1, leading to a decline of 3.6%. The bad news continued into March when Kroger sold off by 7% following a disappointing earnings report where revenue slightly missed and their guidance showed slowing sales growth.
Even though the bad news stopped after the revenue miss in March, the stock continued to decline, losing 10% from March until now. During that time, Kroger reported earnings that were in line with guidance except that revenue still missed. Additionally, they announced an additional $500M buyback along with a 14.5% increase to their quarterly dividend. While the stock did bounce, it has since sold off.
So why is the stock struggling? Well, to put it simply, after a couple years of double digit revenue and earnings growth, that growth is now slowing. In its recent earnings reports, the company has guided for flat revenue growth in addition to missing on analyst estimates for revenue.
Growth Through Acquisitions
It is easy to see why growth is slowing for Kroger as they are by far the largest publicly traded supermarket operator in the United States. Ahold Delhaize (OTCQX:ADRNY) is really the only other company that comes close but they are headquartered overseas and their ADR is trading on the Over-The-Counter exchanges. Additionally, the supermarket sector of the market is already well established. Consumers already have multiple options in the suburbs or cities for shopping for groceries. For example, where I live, I have a Food Lion, Target (NYSE:TGT), Wegmans, Wal-Mart (NYSE:WMT), Safeway and Giant all within a 10-minute drive. What's missing? A Kroger. But why would the company open up a store here when there is already so much competition. It is for that reason that the company has spent a lot of money acquiring smaller grocery chains throughout the years.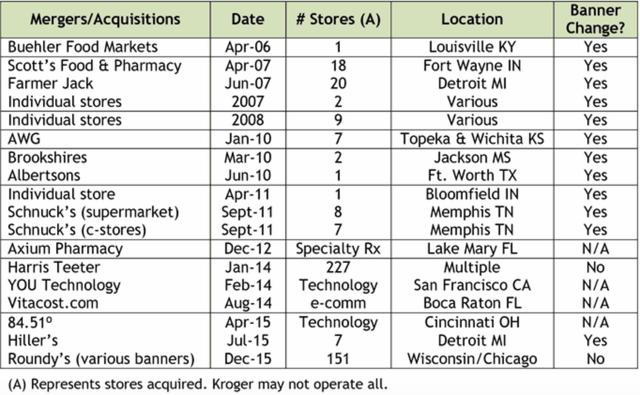 (Source: Kroger Co 2015 Fact Book)
Additionally, as is evident in the map provided below, Kroger is already well established across the nation with the exception of the Northeast. The company could either open up some or acquire smaller grocery chains as it has done in the past.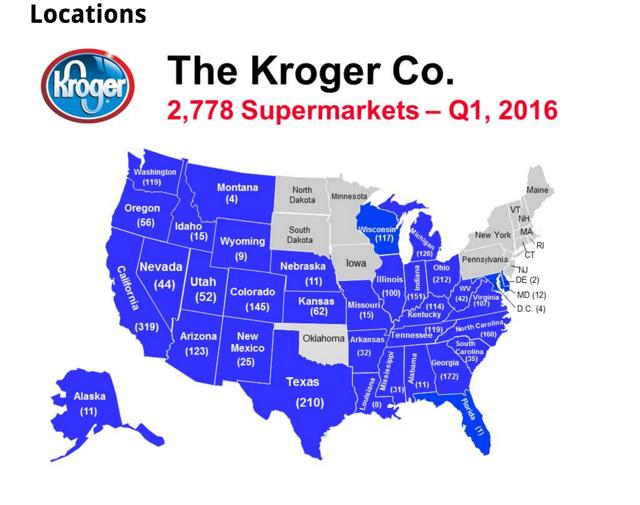 (Source: Kroger Co 2015 Fact Book)
Valuation vs. Peers
Comparing Kroger to its peers is somewhat of a challenge as many of the largest grocery chains are privately held. On the company's 2015 Fact Book, they list their major competitors in each market. While Wal-Mart Supercenters are prevalent in nearly every market, Trader Joes, Albertsons, Safeway, Publix also make the list in a few regions.
While Wal-Mart is much larger than just grocery, I will include it in the comparison, as it is one of Kroger's largest competitors in its markets. Additionally, I included Whole Foods (WFM) because while it didn't make the list as any of the major competitors, it is the largest of the publicly traded natural and organic chains and therefore represents a major threat to traditional grocery chains.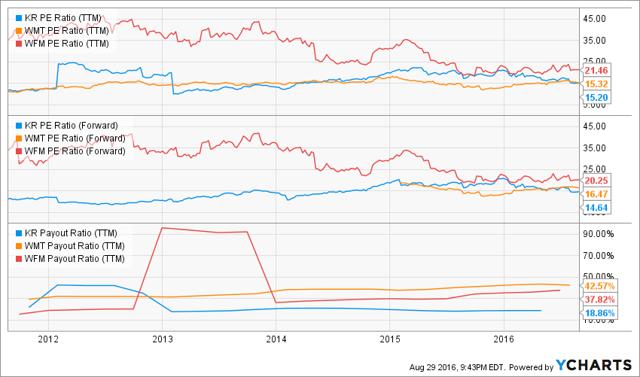 Taking a look at the three companies, Kroger trades at a very similar PE ratio to Wal-Mart yet it's forward PE is lower meaning that it is expected to grow earnings in the next year while Wal-Mart's earnings are actually expected to decline. Also, the payout ratio for Kroger stands at less than 19% meaning that the dividend is safe and the company still has plenty of room to grow it in the future. While Whole Foods and Wal-Mart each have a fairly low payout ratio as well, Kroger's is less than half and has been declining in recent years while the other two's have slowly been climbing up.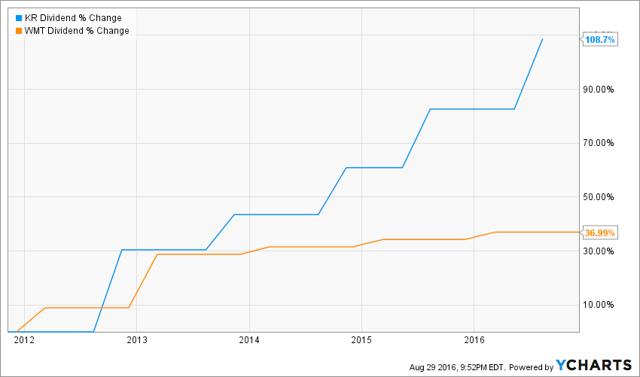 Sticking with the dividend, Kroger's dividend growth has greatly outpaced that of Wal-Mart as well as Whole Foods. Note: I didn't include Whole Foods in this graph because the special dividend skewed the data in that it made it difficult to see the separation in growth between Wal-Mart and Kroger. For the record, the 5 year dividend growth rate on YCharts was just under 93%.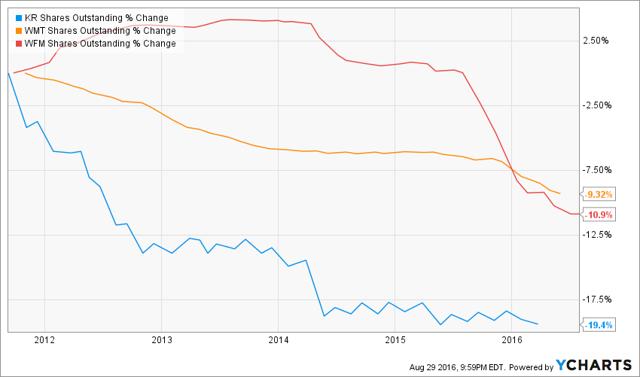 Finally, Kroger has also spent much of the last 5 years returning additional cash to shareholders in the form of buybacks and have successfully lowered their share count by nearly 20%. That is pretty impressive given the growth the company has seen over that time frame. To make things even better, they also recently authorized another $500M in share buybacks.
Summary:
Overall, Kroger looks like a great value pick in an expensive market. While there are risks like the company's high debt load, the company's defensive sector and great Cash Flow allow the company to carry the large amounts of debt without being worried too much about huge declines in recessions. Also, while Amazon and Wal-Mart pose large threats to traditional retailers through their online shopping platforms, online ordering of groceries is still a work in progress and Kroger is already getting involved in some markets.
While the company doesn't have the best dividend yield right now, the extremely low payout ratio leave the company well positioned to grow the dividend by double digits for years to come.
Finally, I will leave you with the Fast Graphs chart of Kroger. When the black price line is at or below the orange line, this is generally a sign that the company is trading at or below fair value.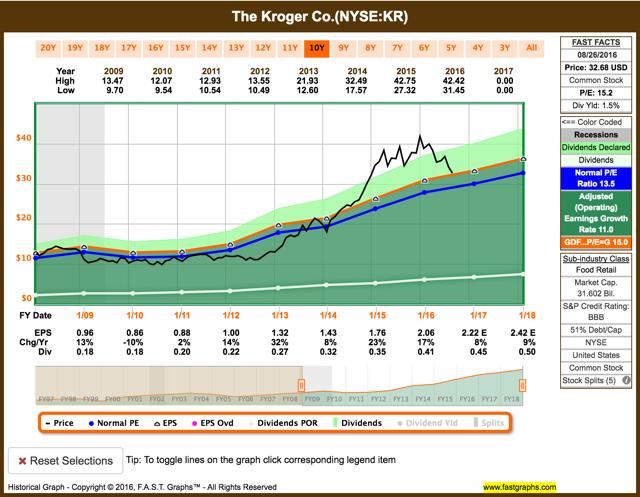 Disclosure: I am/we are long KR, TGT.
I wrote this article myself, and it expresses my own opinions. I am not receiving compensation for it (other than from Seeking Alpha). I have no business relationship with any company whose stock is mentioned in this article.
Additional disclosure: I am not a financial planner or a professional trader. I am not advising you to sell or to buy a stock. Prior to buying or selling a stock mentioned in my article, please do your own diligence and talk to your financial advisor or security professional.