The largest unmet medical need in the developed world is the need for safe and effective drugs to help treat obesity. There hasn't been a new one approved by the overly cautious FDA in 13 years and Big Pharma has been hesitant to invest hundreds of millions of dollars to come up with new treatment options as a result. After last week's resounding 20-2 positive vote by an Advisory Committee to approve Vivus' (NASDAQ:VVUS) Qnexa, is the FDA finally getting the message? Let's hope so.
Biotechs that can deliver new tools for medical professionals to treat the obesity epidemic stand to make billions if they can get their product to market. A third of our population is obese and 2/3rds are overweight. According to the 2011 Center for Disease Control's Diabetes Fact Sheet, there are over 20 million Type II Diabetics in the U.S. and another 80M pre-diabetics - that's 100M Americans that could benefit from obesity drugs. The benefits to the pre-diabetic and diabetic population will be a key growth driver for sales of these drugs. It doesn't take a large market penetration to equate to a blockbuster when you have this many patients to go after.
It could be several months after Qnexa is approved by the FDA before patients could get access to it. The FDA is going to ask for Phase IV studies to document cardiovascular risk, which could delay launch by several months. There is going to be a significant REMS in place to prevent pregnant women from being exposed to the drug which comes with a 200-500% increased risk for Oral Cleft birth defects. The REMS will also limit distribution of Qnexa through only mail-order pharmacies. You will not be able to walk into your neighborhood Wal-Mart and walk out with a bottle of Qnexa. Although Qnexa will likely still be a blockbuster, it could take some time to ramp up given the restrictions that will be placed upon it.
While we await the FDA's final approval of Qnexa on April 17th, eyes will begin to shift to Arena's (NASDAQ:ARNA) Lorcaserin and the Advisory Committee on May 10th. Will Arena's Advisory Committee go as well as Qnexa's or will the modest efficacy of Lorcaserin combined with perceived risk keep it from reaching the market? Arena must clearly show that there are absolutely no significant risks and there are tremendous benefits. A big key for Arena's success will be focusing on its completer statistics for efficacy, the impressive benefit for diabetics and underscore the safety of the novel drug.
Completer Weight Loss Response: 2/3rds of patients lose at least 5% of their body weight and 1/3 lose at least 10%. Average weight loss for completers is 8%.

You are 2X more likely to lose 5% of your weight and 3-4X more likely to lose 10% of your weight on Lorcaserin than diet and exercise alone.

Improvements in all co-morbidity factors including: Waist circumference, cholesterol, blood pressure, heart rate, HbA1c (.9 reduction,) and Fasting Glucose (-27 reduction.)
I believe that Arena has fully addressed the cancer risk with its latest studies and no longer believe this will be an issue. Lorcaserin will have at least a 24X safety margin and that will be enough for the FDA in my opinion. A patient would have to take a full bottle of pills every day for months to have any sort of increased risk of developing cancer. An increased cardiovascular risk is also unfounded and in fact, this didn't even appear as one of the items to address in the company's first complete response letter. The rates of CV events were less than one would expect from the general population.
According to the Briefing Documents for Vivus' Qnexa, a subanalysis of the patients who had diabetes showed that patients on the recommended mid-dose of the drug could expect a .4 drop in their HbA1c levels, a key metric for diabetes medications. In Arena's BLOOM-DM study for Lorcaserin for a diabetic population, HbA1c was reduced by an impressive .9, more than double Qnexa's. This level of reduction is in line with many diabetic-specific therapies and should be viewed favorably by the endocrinologists represented on the Advisory Committee, and by the FDA.
Click to enlarge: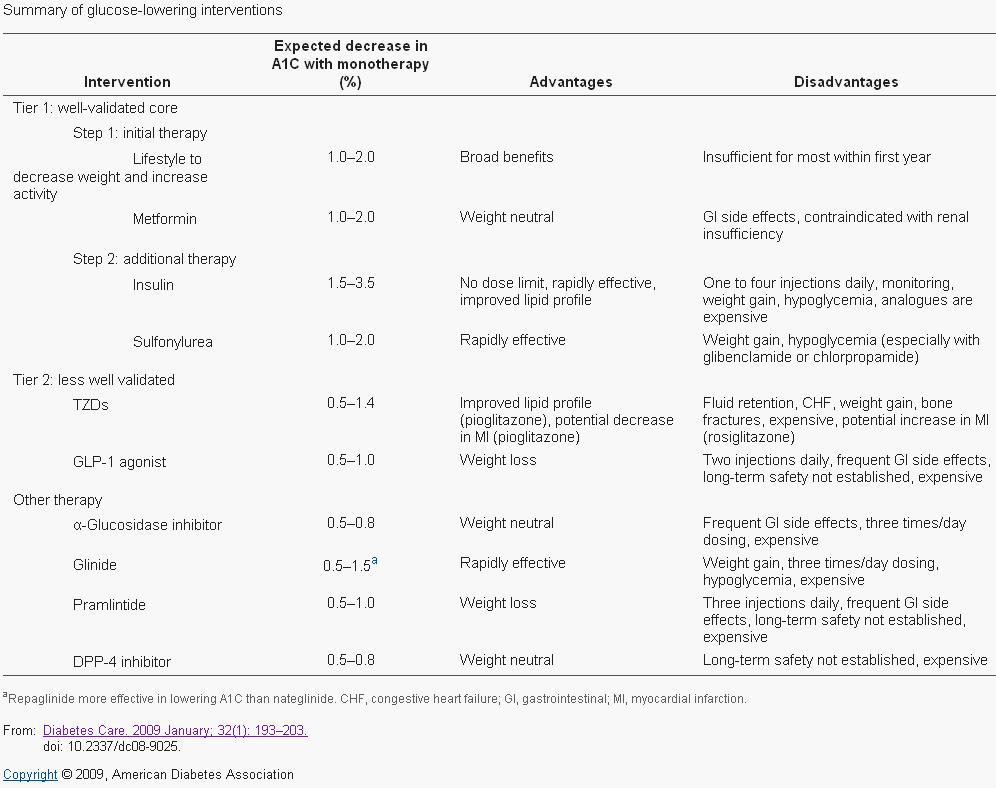 With Lorcaserin's low-risk profile and benefit for diabetics and pre-diabetics, you could see the drug become a first line therapy for many, before or with Metformin. Every 1% of market penetration to this target market equals 1M patients.
In 2010, Arena signed a partnership with Eisai for the U.S.-rights to distribute Lorcaserin. That agreement is laced with incentives and provides a robust revenue stream by paying Arena 31.5-36.5% of Net Sales to Eisai. In addition to the tiered payments for manufacturing the drug, Eisai will pay Arena purchase price adjustments of up to $1.2B with Lorcaserin sales between $250M-$1B. Pricing hasn't been announced but it is expected to be about $6 a day or $3 a pill - similar to other weight loss therapies.
Using these metrics, for every 1M patients who take Lorcaserin, it is $2.19B in annual sales. Let's be conservative and say Eisai's net is 60% of gross which would be $1.3B. I won't break-down each tiered payment to Arena but just use the mean of 34% which would be $442M to Arena for every 1M patients who take the drug. Lorcaserin is a small molecule drug and therefore cheap to produce, Arena's margins could top 90%. So with 100M Americans to go after, a market penetration of 2-5% seems reasonable, if not conservative.
A potential LorPhen craze after approval. Qnexa's main weight-loss component is 15mg of Phentermine, a 60-year old generic for weight loss. Phentermine works by releasing chemicals in your brain to make you feel less hungry. Phentermine is very effective but it can only be taken for up to 12 weeks at a time and after stopping treatment, patients quickly regain the weight. Even with those limitations, Phentermine is still the most widely prescribed drug for weight loss, around 6M prescriptions a year. Phentermine most famously was the key component in the PhenFen craze of 1996 and 1997. At its peak, there were 17M prescriptions written for the combination before it was determined that the Fen component of the drug cocktail, Fenfluramine, caused heart valvulopathy. Fenfluramine was a non-selective and potent agonist of 5-HT receptors. It affected both the 2c receptor found in the brain that causes satiety and more importantly the 5b receptor in the heart that causes valvulopathy.
Although it hasn't been tested in humans, you can hypothesize that if Phentermine were to be taken in combination with Lorcaserin, a highly selective agonist to the 5-HT2c receptor in the brain and not affect the 2b in the heart, then you would see PhenFen-like results of average weight-loss north of 10%. That weight loss would be as good if not better than Qnexa high-dose, without the nasty side effects from the Topiramate component of Qnexa and without the distribution restrictions.
Outside of weight loss, you could also see Lorcaserin prescribed "off-label" for other compulsive disorders such as smoking. In fact, a recent study was published in Nature that demonstrated Lorcaserin as being highly effective for smoking cessation in a pre-clinical study.
With a current stock price under $2, I'm in the minority as to the prospects for Lorcaserin. Arena is valued like it has little chance of approval or if it is approved, then it will have minimal market success. I believe the analysts are wrong. The benefits for Type II diabetics will propel Lorcaserin to a blockbuster and the LorPhen combination will happen resulting in many millions of patients taking the drug. Arena will be filing for European marketing authorization on March 2nd, putting the company on pace to receive a decision by the end of 2012. Given the upcoming Advisory Committee meeting, PDUFA of June 27th and potential EU decision later this year, Arena is an attractive speculative buy. Let's hope the FDA listens to the medical community's plea for new options to treat obesity and approves both Qnexa and Lorcaserin.
Disclosure: I am long ARNA.