Introduction: passive investing trends
It is fascinating to witness the rapid increase in demand for index funds and similar passive investing vehicles, and by no means should that be surprising to anybody. Passive investing strategies are usually rather convenient, cost-effective and might be more suitable for investors preferring the long-term approach, as well as for those willing to have more spare time. Even though the ongoing debate between the passive and active investment management style followers has outlined numerous strengths and disadvantages related to both methods, I am focusing on the potential implications of the recent trends in the investing world. Whatever your method of choice is, any changes in the balance of passive/active investor number are important for your portfolio.
Already surpassing the $6 trillion mark, assets under the management of passive mutual funds have grown by 230% since 2007, according to MorningStar. For as long as the present market conditions are supportive of lower-for-longer returns, transaction costs are often being put first. Unless the active investment managers beat the market (which they usually don't), the argument of switching to passive investing techniques might sound even more convincing. Hortense Bioy, European director of passive fund research at Morningstar, said in an interview with FT in May 2016: "The active management business is going to shrink at the benefit of passive. Those [active managers] that cannot prove they add value will disappear."
"Passive investments constitute roughly one-third of the US mutual fund market today, and we [Moody's] expect this share to expand well above current levels over next five years," Stephen Tu, a Vice President and Senior Analyst at Moody's, said at an announcement this July.
Finally, here is Bloomberg with "Steve Eisman's Next Big Short Is Hedge Fund Fees."

Source: ZeroHedge (2016).
Is passive investing supportive of higher ETF demand?
It is often argued that true passive investing styles do not exist. What is less argued about, however, is the extensive use of ETFs by passive investors. Even though one cannot be sure that the above-mentioned global shift will continue, it is important to remember that active investors share the passive investors' love for ETFs, too. Even though one has to choose the particular investment (which might be viewed as an active action), there is no need of building and balancing a portfolio when an ETF is used, which allows the investor to take a rather passive approach. It is not a secret that one can outperform the market via sector picks. Here is the year-to-date performance of Market Vectors Gold Miners ETF (GDX) vs. the SPDR S&P 500 ETF Trust (SPY) as a market proxy.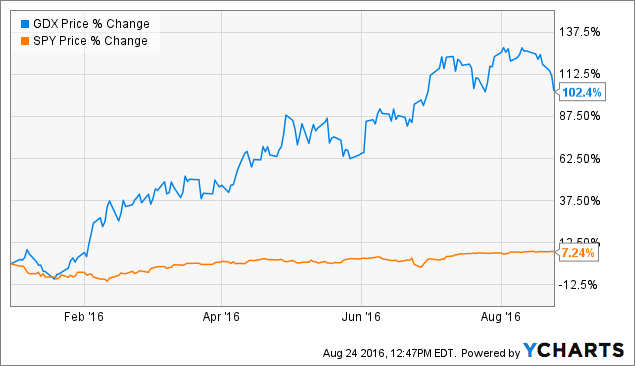 What is the conclusion here? For as long as ETFs possess their key advantages and are increasingly used by both sides (active and passive), the ETF market might become even more crowded.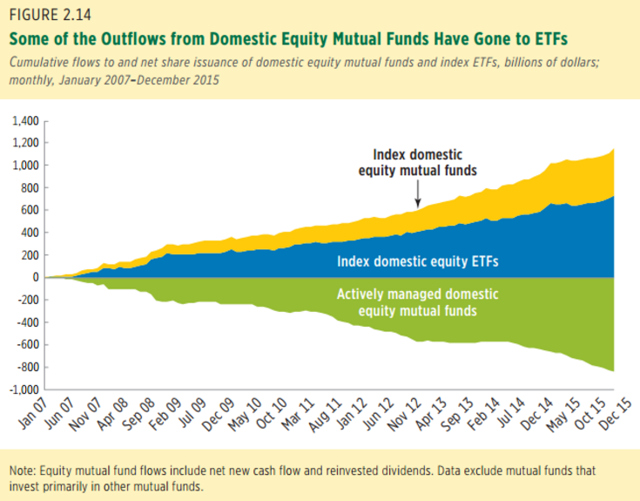 Source: Bloomberg (2016).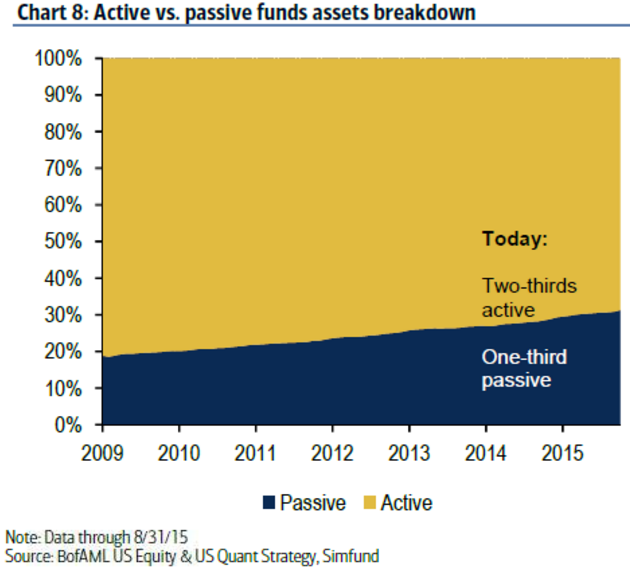 Source: Bloomberg (2015).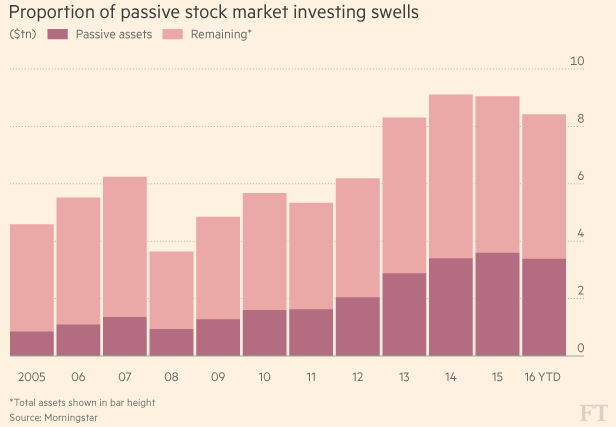 Source: Financial Times (2016).
Should we follow the money? Can one benefit from the above-mentioned developments?
The higher the ETF demand is, the more important the fund flows are. In fact, this data can be used for trading and sentiment assessment purposes. One cannot base investment decisions on the fund flows data alone. What one can certainly do is to track (and perhaps follow) the money flows. Below is a brief description of the analysis performed for this article.
Analysis overview
In my analysis of 9 sector ETFs, I am outlining the key conclusions regarding the monthly fund flows data. The data used in the analysis is provided by FactSet and comes from the ETF.com website. The following ETFs have been studied:
Main goal: to track the direction of money by outlining the ETFs that experienced the largest inflows/outflows during a particular month, as well as to assess their performance during the following months. It was decided to exclude SPDR S&P Retail ETF (XRT) due to lower market capitalization.
Main question: is it profitable to follow the monthly ETF fund flows?
Quick answer: on average, it only made sense to track the data for technology (represented by XLK), consumer staples (represented by XLP) and biotechnology (represented by IBB). Following the money flows into or out of these ETFs (going long or short according to the fund flows) for 1 month would generate an average return of 2.25% in Jan 2014 - August 2016.
Analysis
The results are summarized in the table below. I am outlining a number of takeaways one can make based on the provided results.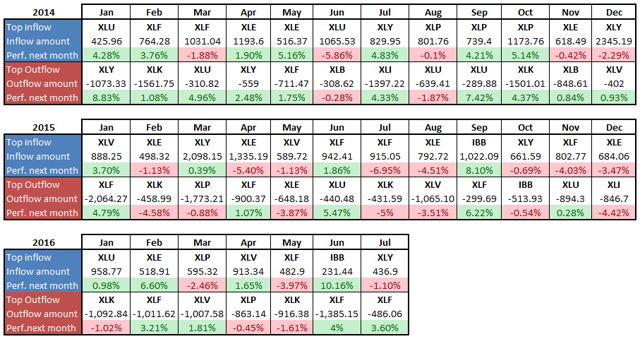 Made by the author using the data from ETF.com
Takeaway #1: on average, monthly fund flow data is a bad predictor of the next month's returns (when analyzing the largest inflows/outflows).
Even though it is always useful to track the money, investment managers are often wrong. In particular, investors have been mostly wrong with the following sectors:
Utilities: bearish outflows often acted as contrarian indicators.

Made by the author.
Energy: although investors were right with energy in February 2016, buying XLE on weakness did not always work during the oil price downturn.

Made by the author.
Consumer Discretionary: large capital flows often acted as a contrarian indicator.

Made by the author.
Financials: presumably due to the rate hike controversy, investors have been wrong 11 out of 13 times when the Financial Select Sector SPDR ETF was experiencing the largest monthly capital movements among the analyzed securities.

Takeaway #2: some sectors's data might be worth it to keep an eye on though.
Largest capital movements into and out of these sector ETFs have a stronger predictive ability for the next month's returns:
Technology: throughout the study period, investors have been mostly right to sell XLK. Average next month's decline stands at -1.13%.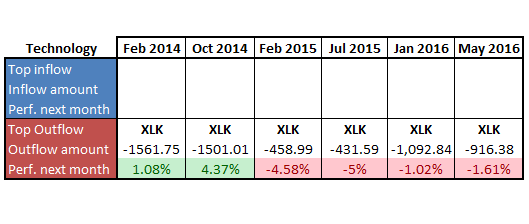 Made by the author.
Consumer staples: during the study period, average performance after the largest capital movements accounted for +1.7% for a top inflow and -0.67% for a top outflow.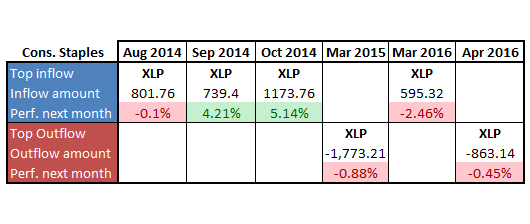 Made by the author.
Biotechnology: even though there is not enough data, we have a clear winner.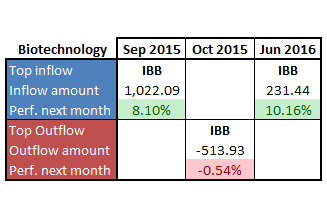 Made by the author.
Takeaway #3: capital movements exceeding $1 billion often act as a contrarian signal for the next month.
See what I mean? Notably enough, the selected securities have not experienced any $1bln+ capital movements in 2016. The occasions when the contrarian signal did not show up are marked in orange.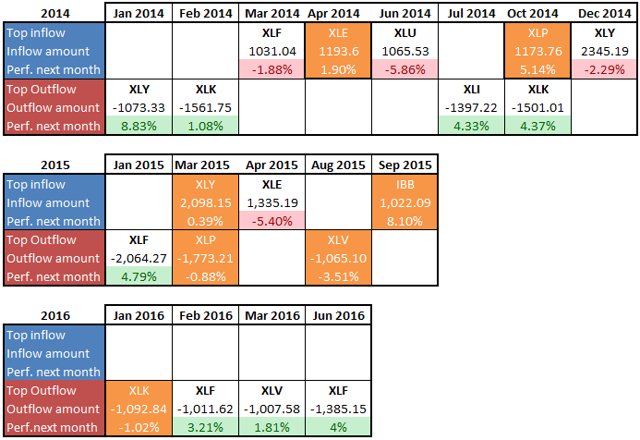 Made by the author.
Additional reading on passive investing
It is always of paramount importance to track and understand the ongoing industry trends. I outline some interesting reading material below.
It might be argued that passive investors' indifference might lead to corporate governance issues. Todd A. Gormley, Wharton finance professor, said in an interview this June: "I think the common wisdom is that they just don't care about governance [...] In fact, some activists have come out and said that they think the growth of passive investing is actually bad for governance." On the other hand, high passive investor stakes are often associated with stronger proxy fights as activist investors receive more support, it turns out. Here is the link for the full article on Wharton University's website.
The global stock market scene is going to be increasingly dominated by the larger, well-known names included in various market indices and funds' holdings. The more "passive money" there is, the more crowded most of the largest stocks become. In addition to that conclusion, some studies also outline a direct negative impact on consumers and a possibility of distorted signals about commodity prices. Here is The New Yorker with the full article.
Finally, here is Bloomberg with "Bernstein: Passive Investing Is Worse for Society Than Marxism." The article notes that increased use of index funds might lead to higher stock correlations and negatively impact the efficient allocation of capital.
Conclusion
Even though the monthly data did not prove to be a solid profit-generating tool, I am going to continue experimenting with different timeframes and ETFs. Since it is not entirely correct to assess the relationship between the flows and returns on a montly basis only (as investment managers may have different investment horizons), using shorter or longer timeframes might prove to be useful. Although the initial idea was to track the largest money flows, using all fund flow values (instead of only tracking the largest movements in either direction) might prove to be of higher value.
Meanwhile, I am carefully reconsidering my investing strategy in order to adjust for the above-described crowded trade effect. It is never an issue if you are in at the right time. On the other hand, it is always unfavourable when the investing opportunity you are focusing on is overlooked by the broad market. For as long as the prices need new buyers to grow, one should always make sure that the market clearly sees, knows and understands the investment one is considering.