Friday is set to deliver what is arguably the most important employment report for investors in years. Our data dependent U.S. Federal Reserve has apparently become data point dependent, declaring that their decision as to whether to raise interest rates at their upcoming FOMC meeting on September 20-21 will be heavily influenced by the outcome of the latest monthly employment report for August.
Knowing how vitally important central bank policy has become for investors in the post crisis period, it is worthwhile to consider exactly what we should reasonably expect from the employment report itself at the end of the week.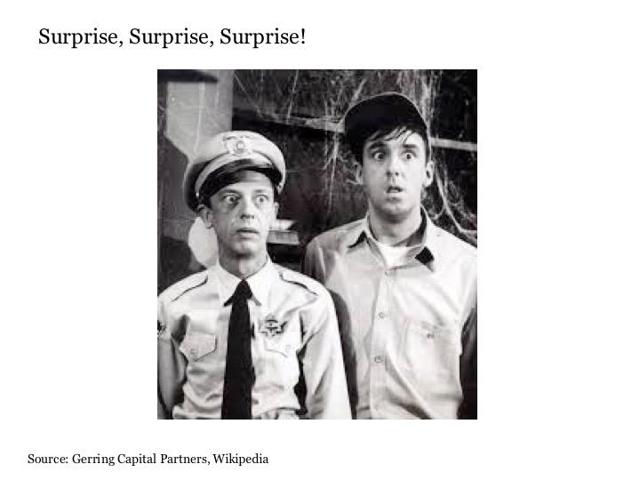 Consensus Expectations
Of course, the Fed's interpretation of the August jobs report on Friday will not be dependent on the absolute number of jobs estimated to have been created last month. Instead, it will be dictated more by whether the estimated number exceeds or falls short of consensus Wall Street expectations. At present, Wall Street is currently expecting that the U.S. economy generated 180,000 new jobs during the month of August.
Thus, any estimated jobs new number for August coming in at 180,000 or above will be considered surprisingly good, while anything meaningfully below 180,000 will be considered a disappointment.
An Estimate Of A Seasonal Adjustment Of An Estimate Of A Revision...

Notice in the above I repeatedly reference an estimated jobs number for the month of August. This is due to the fact that the way the employment report for August that we are set to hear this Friday is constructed is far from an exact science. Instead, it is a preliminary estimate that is then subject to meaningful revisions in future months.
This is one of the reasons I have vocally objected to the Fed so openly proclaiming their reliance on selected individual data points such as the monthly jobs report. For not only are they preliminary estimates that are subject to change, but the "final" number that the Bureau of Labor Statistics (BLS) ends up with a few months later can be completely different than the preliminary estimate.
In short, these monthly employment reports are largely useless when taken in isolation in trying to set the course of something as critically important as monetary policy, particularly when the focus is on the initial, just released preliminary numbers.
Reflections On Augusts Past
To highlight this revision phenomenon as well as to determine what we might expect by this supposedly vital preliminary number in the policy setting process, it is worthwhile to reflect back on what we have seen in past employment reports for the month of August during the post crisis period.
For those who have spent any time dissecting these monthly employment reports, they have an uncanny tendency to fall into patterns that repeat month after month in some cases and year after year in others.
Disappointment, Disappointment, Disappointment!
Let's first focus on what we might expect from this Friday's employment report for August. The following are the consensus Wall Street expectations for the August employment report dating back over the past five calendar years:
August 2011: +75,000 jobs
August 2012: +125,000 jobs
August 2013: +180,000 jobs
August 2014: +225,000 jobs
August 2015: +220,000 jobs
This sets the bar heading into the August employment report for each of the past five years. And the following is the preliminary number as reported by the BLS in early September.
August 2011: +0 jobs
August 2012: +96,000 jobs
August 2013: +169,000 jobs
August 2014: +142,000 jobs
August 2015: +173,000 jobs
Put simply, the preliminary estimate for the number of jobs created in each of the past five Augusts from 2011 to 2015 have come in below expectations, in some cases, meaningfully so including the notorious zero number from 2011.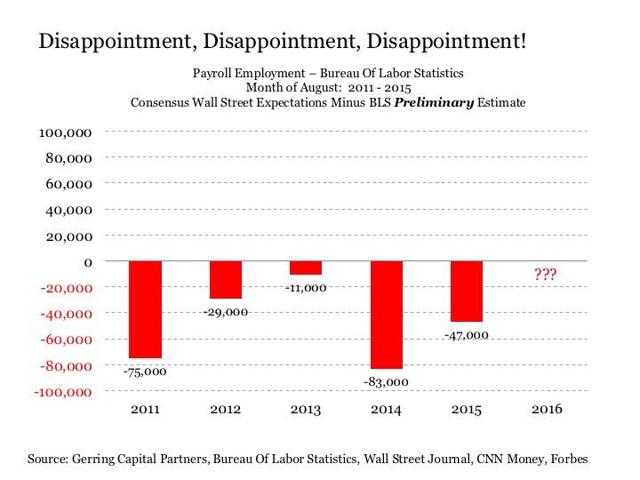 So given the track record of the past five years, what can we reasonably expect coming out of Friday's jobs number? If the recent trend continues, more disappointment with a preliminary jobs number that comes in below the expectations for 180,000 new jobs created in the month of August.
Make That Surprise, Surprise, Surprise!?!
But wait a minute. Before drawing any final conclusions, let's also consider one additional set of data points. Knowing that the initial reading on employment is a preliminary estimate, what turned out to be the "final" number after the subsequent revisions were made to the August employment figures over the past five years. These are listed below:
August 2011: +107,000 jobs
August 2012: +190,000 jobs
August 2013: +269,000 jobs
August 2014: +218,000 jobs
August 2015: +150,000 jobs
All of the sudden, these monthly jobs reports for August look a heck of a lot better. Gone is the ugly goose egg for August 2011. And the numbers for four out of these past five years were revised higher by anywhere between +76,000 and +107,000 new jobs above their preliminary estimates.
Only last August's employment reading ended up getting revised lower by -23,000 from its initial estimate. And all of these final numbers are huge (emphasis on HUGE) differences from their preliminary readings from the BLS. This is highlighted in the chart below.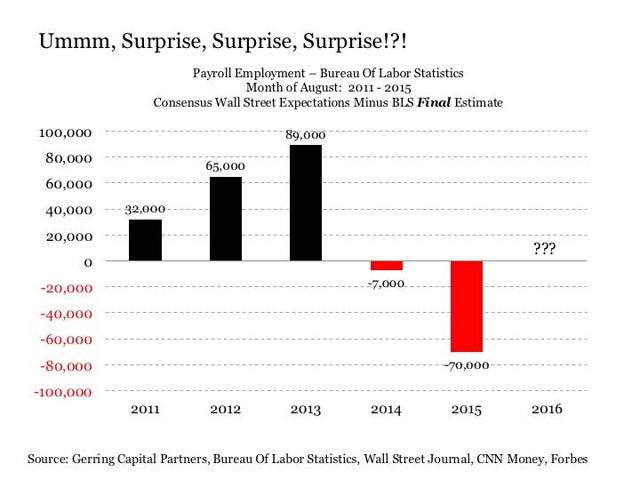 Instead of falling well short of expectations as first believed, most of these past Augusts ended up with final numbers that meaningfully exceeded expectations in the end. As for the 2014 number, it jumped from a big miss of -83,000 to nearly break-even at -7,000. Of course, the 2015 number did turn worse, highlighting the fact that future revisions do not always mean better. But even with that said, it was still different by half from the final reported number.
The Bottom Line
Those who may be positioned in stocks (NYSEARCA:SPY), bonds (NYSEARCA:AGG) and commodities (NYSEARCA:DJP) for a potential increase in interest rates by the U.S. Federal Reserve later this month may be in for a jolt on Friday once these employment numbers hit the headlines as they have shown the repeated propensity to fall short of Wall Street expectations during the month of August.
But one would reasonably hope that our data point dependent Fed does not overemphasize the August payroll number no matter whether it meaningfully beats or misses expectations or anywhere in between, as we should expect that they fully recognize the wide ranging error that exists with these preliminary estimate numbers from the Bureau of Labor Statistics and does not end up overreacting one way or another with their language in the days that follow the report.
For whether right or not, today's market is so heavily influenced by what the Fed may be doing, saying or even thinking at any given point in time anymore, and we as investors are left to navigate the aftermath of these Fed twitches whether we like it or not.
Disclosure: This article is for information purposes only. There are risks involved with investing including loss of principal. Gerring Capital Partners makes no explicit or implicit guarantee with respect to performance or the outcome of any investment or projections made. There is no guarantee that the goals of the strategies discussed by Gerring Capital Partners will be met.
Disclosure: I/we have no positions in any stocks mentioned, and no plans to initiate any positions within the next 72 hours.
I wrote this article myself, and it expresses my own opinions. I am not receiving compensation for it (other than from Seeking Alpha). I have no business relationship with any company whose stock is mentioned in this article.