Here are the top 25 companies ranked by P/E and Return on Invested Capital
I built a screen that I would like to share that acts as a starting point in identifying quality stocks that have great historical returns on invested capital and relatively low current valuations. The time period I used was from 2007 to 2015, or 9 years. Only companies that had a market cap over $1 billion and headquarters located in the U.S. were included. I used EBIT as the earnings metric, so it is not a perfect after-tax return on invested capital. I calculated invested capital two ways, one with goodwill, and one without goodwill. I defined return on invested capital as follows:
(Ebit / (Total Equity + Total Debt - Cash & ST Investments [- Goodwill])
I took the two methods for calculating returns on invested capital and then removed negative returns on invested capital for all years. Companies that had no reported data from the period 2007 to 2015 were also not included (i.e. Facebook (NASDAQ:FB)). I then took an average of all of the years for both methods and gave a rank to the average returns on invested capital. A low score meant a high return on invested capital. Finally, I calculated the P/E ratios and ranked them with the lower P/E's receiving a lower score. I then aggregated these scores, giving a 50-50 weighting to the two return on invested capital methods. Therefore, the lowest score was the stock with the highest return on invested capital and lowest P/E ratio compared to its peers. It's also important to note that this methodology is not perfect. For example, Apple (NASDAQ:AAPL) would rank very high on this list, but it had a negative return on invested capital for 2008 and 2007 due to the cash & ST investments being higher than the equity. Also, companies like Boeing (NYSE:BA) and Lockheed Martin (NYSE:LMT) were excluded because they had negative returns on invested capital using the method that excludes goodwill.
The average P/E ratio for this group is 12.4. I like to use this list to find quality companies that are likely to maintain a competitive advantage. However, the low P/E ratios are indicative of the risk the market is pricing into the future earnings stream of these companies, so it may be prudent to resolve that all companies on the list are attractive longs. However, there are still companies on this list that I believe will continue to achieve high returns on invested capital and maintain their economic moats. My favorites include, Viacom, IBM, Polaris Industries, and Lear Corporation. These stocks have had fairly large declines for different reasons, but I think that they will be solid positions to own over the next decade.
Average Return on Invested Capital With and Without Goodwill from 2007 to 2015

International Business Machines With Goodwill

45.96%

International Business Machines Without Goodwill

124.97%

Polaris Industries With Goodwill

85.06%

Polaris Industries Without Goodwill

98.48%

Viacom With Goodwill

23.24%

Viacom Without Goodwill

89.86%

Lear Corp. With Goodwill

27.47%

Lear Corp. Without Goodwill

49.21%
Viacom is a media company that owns Paramount Pictures, Comedy Central, MTV, CMT, BET, Spike, and Nickelodeon. The stock has been hit hard over declining ratings (which has plagued the industry to a lesser extent) and a brutal legal battle over control of the company. However, I think attractive valuation levels make Viacom a compelling long at current prices. Viacom's P/E ratio is the lowest it has been in the past decade.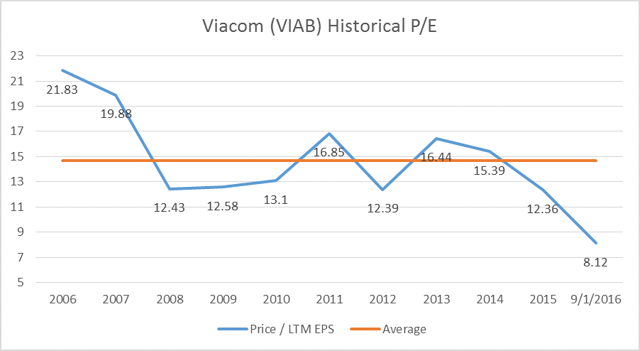 In addition, Viacom is relatively cheap when compared to its peers.
Price / Diluted EPS Before Extraordinary Items

Time Warner Inc. (NYSE:TWX)

15.70

CBS Corporation (NYSE:CBS)

15.50

Twenty‑First Century Fox, Inc. (NASDAQ:FOXA)

17.30

The Walt Disney Company (NYSE:DIS)

16.90

Discovery Communications, Inc. (NASDAQ:DISCA)

14.00

Scripps Networks Interactive, Inc. (NYSE:SNI)

10.80

Regal Entertainment Group (NYSE:RGC)

22.40

Viacom, Inc.

7.70

Average

15.04
Polaris Industries is another stock that has a low valuation with a high return on invested capital. Polaris manufactures and sells off-road vehicles, snowmobiles, motorcycles, and on-road vehicles. Polaris Industries operates brands such as Victory Motorcycles, Indian Motorcycles, and Polaris. The P/E ratio of 13.95 is below its long term average of $17.60.The major risks to Viacom are the decline of its TV networks and chord cutting from the industry. However, consumer tastes and content can quickly change and create a tailwind for the company. In addition, there is the prospect of Viacom spinning off Paramount Pictures to further unlock value. I think the attractive valuations and strong brands will stand the test of time.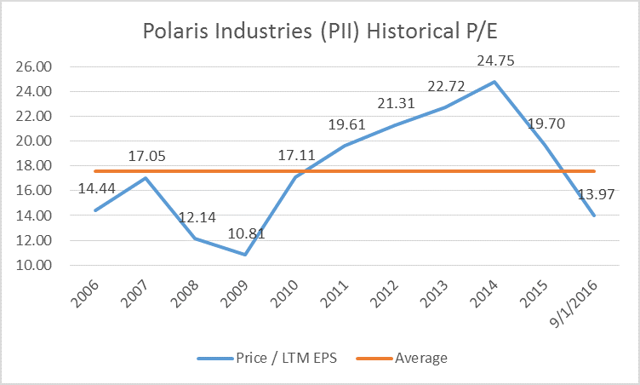 While Polaris is cyclical, the average returns on invested capital from 85 to 95.5 percent over the course of a decade speaks for itself. Not to mention the company has experienced positive dividend growth for over a decade as well. A below average P/E ratio, extraordinary returns on invested capital, and strong brand awareness makes Polaris favorable pick.
IBM, the well-known IT and services company also makes the list of high historical returns on invested capital. IBM's revenue has declined for 17 straight quarters now, but the company is poised for a turnaround. With potential for growth, strong cash flow, Warren Buffett's backing, and a swath of intellectual property, I believe IBM will have a solid future ahead of it. The company trades slightly below its long-term average P/E of 13.34 at 11.05.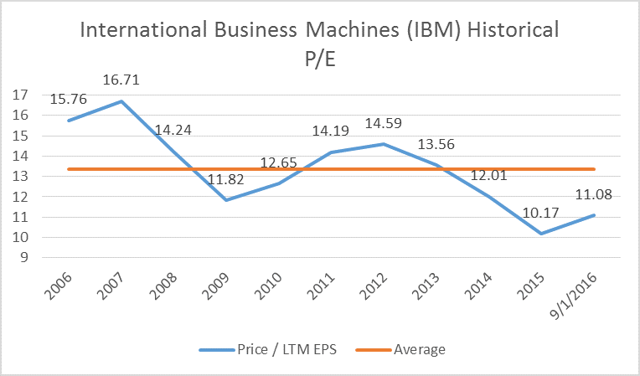 The company is also relatively cheap when compared to its peers.
Price / Diluted LTM EPS Before Extraordinary Items

HP Inc. (NYSE:HPQ)

5.70

Hewlett Packard Enterprise Company (NYSE:HPE)

18.20

Microsoft Corporation (NASDAQ:MSFT)

27.40

NetApp, Inc. (NASDAQ:NTAP)

31.40

Cognizant Technology Solutions Corporation (NASDAQ:CTSH)

23.20

Accenture plc (NYSE:ACN)

19.40

EPAM Systems, Inc. (NYSE:EPAM)

36.80

International Business Machines Corp.

13.00

Average

21.89
Finally, Lear Corporation is the last of my favorites. Lear Corporation designs, develops engineers, assembles, and supplies automotive seating, electrical distribution systems, and other systems for automotive equipment manufacturers worldwide. Through association with the automotive industry, Lear is cyclical. That being said the company remains one of the few low cost providers of seats to the automotive industry. The company is also shareholder friendly, with executive compensation being tied to return on invested capital. The company sports the lowest P/E and debt to EBITDA in the industry.IBM must be a long-term play. The company will take time for its intellectual property such as Watson to come to fruition. In the meantime investors can collect a 3.51 percent dividend yield at a 42.9 percent payout ratio. On a going-forward basis IBM should prove to be a solid pick for the long-term.
Debt / EBITDA & Price / Diluted EPS Before Extraordinary Items

Debt / EBITDA

P/E

Delphi Automotive PLC (NYSE:DLPH)

1.50

17.50

Faurecia S.A. (OTCPK:FURCF)

1.50

12.60

BorgWarner Inc. (NYSE:BWA)

1.80

12.50

Autoliv, Inc. (NYSE:ALV)

1.20

16.50

Johnson Controls Inc. (NYSE:JCI)

2.40

95.30

Tenneco Inc. (NYSE:TEN)

1.70

12.20

Lear Corp.

1.10

9.30

Average

1.60

25.13

Average without

1.47

13.43
While Lear is reliant on the auto industry, a strong management team, low debt, favorable cost-leadership should provide the recipe for a company that will continue to deliver exceptional returns on invested capital.
Overall I think these stocks are at least worth a look.
All data was retrieved from S&P Capital IQ.
Supporting Documents
Disclosure: I am/we are long PII, VIAB, IBM, LEA.
I wrote this article myself, and it expresses my own opinions. I am not receiving compensation for it (other than from Seeking Alpha). I have no business relationship with any company whose stock is mentioned in this article.