By Michael Cintolo, Chief Analyst, Cabot Growth Investor
We're not usually interested in energy stocks because their future is so dependent on the price of oil and gas, which are in turn dependent on too many factors outside the energy company's control. That combination often produces wild stock action with few durable trends.
However, the sector's recent action intrigues us for a few reasons. First is oil prices, which have been broadly etching a bottom for the past year (see chart). Some might call it a "reverse head and shoulders" pattern, but we'll simply say that, after a huge plunge, the major trend has gone sideways and could soon turn up.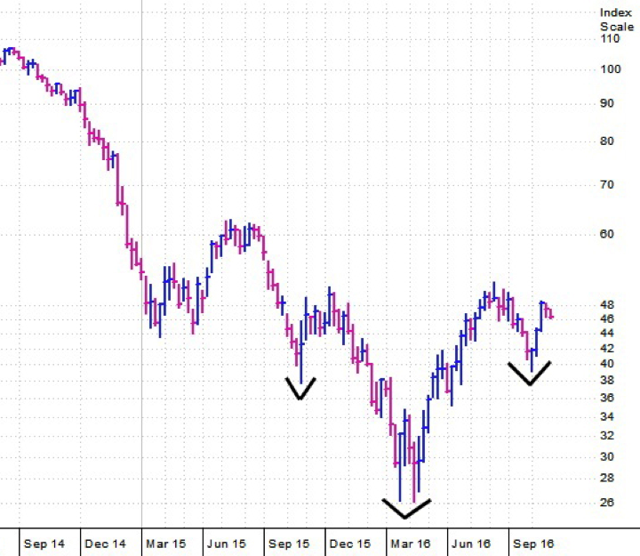 It's a similar story with energy stocks. The S&P Exploration Fund (XOP) traded tightly from mid-May through most of July, and after a shakeout, is now approaching multi-month highs.
Second, and importantly, we're seeing a lot of individual leading energy stocks break out ahead of the sector itself. Parsley Energy (NYSE:PE) is on our Watch List. The company's acreage in the core of the Permian Basin is as good as it gets, and a couple of recent land acquisitions have bolstered its well returns and potential drilling locations. In its second-quarter report, management is planning on 30% to 60% annual output growth through 2018.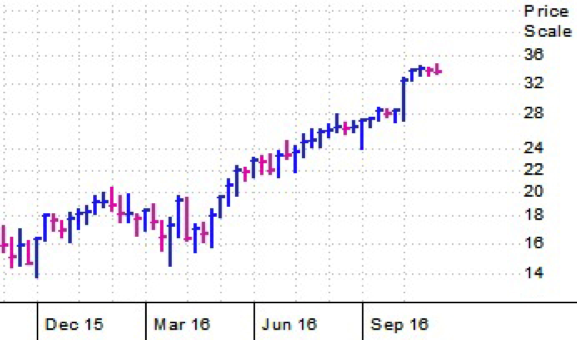 PE surged to new all-time highs (it went public in May 2014) on earnings a month ago and has traded tightly since. After a couple of recent share offerings (to help pay for the acquisitions), we think a shakeout is possible, but if energy prices get going, Parsley's cash flow will go through the roof.
Outside of the Permian, Rice Energy (NYSE:RICE) is one to watch. The company drills for natural gas in the Marcellus and Utica Shales in Pennsylvania and Ohio. The glut of gas in the U.S. has driven prices into the basement, but Rice's strong hedge position, high-performing wells (breakeven costs below $2 per unit of gas) and diversified business (Rice owns a big gathering facility in Ohio's Utica core, as well as 30% of its pipeline subsidiary Rice Midstream Partners) has investors excited. Rice's production was up 43% in the second quarter, and as the prices Rice fetches lift from here (operators in the Marcellus have been collecting far less than the national gas price, but that should slowly improve in the quarters ahead), the firm's cash flow could explode.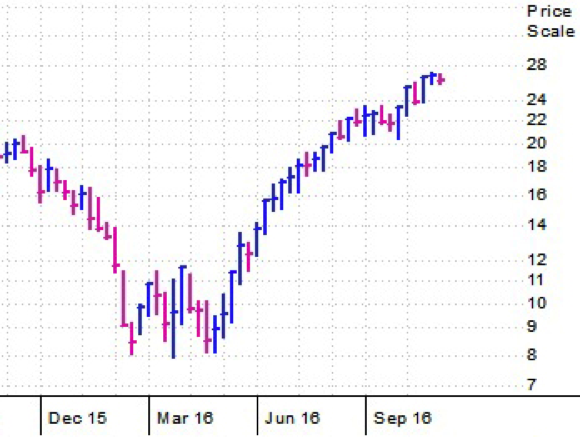 Like PE, RICE is relatively newly public (January 2014), and the stock has been on fire since its low earlier this year. The only "correction" the stock has experienced was a sideways six-week zone in July before lifting to higher highs.
Of the two, we're more inclined toward Parsley; we like its leverage to oil and the strength of many other Permian operators is encouraging. But both stocks look like leaders, and given that energy prices could soon lift from a big bottom area, both are worth watching.
Disclosure: I/we have no positions in any stocks mentioned, and no plans to initiate any positions within the next 72 hours.
I wrote this article myself, and it expresses my own opinions. I am not receiving compensation for it. I have no business relationship with any company whose stock is mentioned in this article.