So you are lucky enough to have reached retirement age, and you've been able to build up a nest egg over the years. First of all, congratulations! But now what? This article may be helpful if you're considering the ramifications of transitioning from the working/saving phase of your life to the retirement living phase. Specifically, this article challenges three common misconceptions among many income investors, and then provides information on five specific stocks that we believe are worth considering for an income-focused portfolio.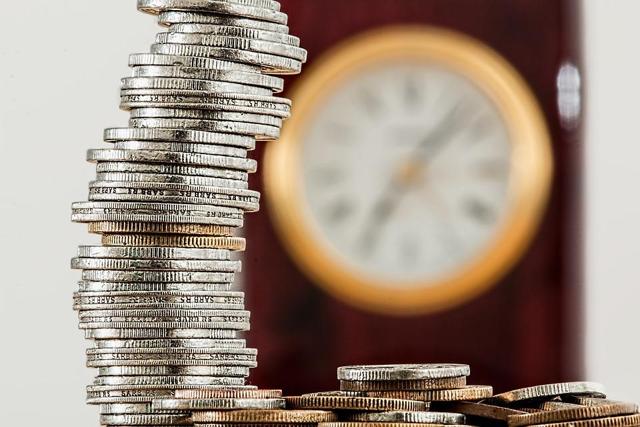 It's Okay to Own Stocks
Historically speaking, the conventional wisdom for investors has been to gradually reduce risk as you age by selling stocks and buying bonds. However, increasing life expectancies combined with artificially low interest rates make that conventional wisdom a little less conventional.
For perspective, in the early 1980s a 10-year treasury bond yielded over 10%, whereas today a 10-year treasury bond yields around only 1.5%. Imagine how much easier it would be to retire today if you could earn a 10% annual return backed by the full faith and credit of the US government.
Worth considering, even Vanguard's most conservative retirement fund, the Vanguard Target Retirement Income Fund (MUTF:VTINX) still has a 30% allocation to stocks (with 70% in bonds), and they describe the fund as being for investors age 73 and above. Also interesting to play around with, Vanguard offers a "retirement nest egg calculator" that recommends stock vs. bond percentages in order to make your nest egg last based on your current investment balance and spending needs. And based on their calculations, it makes a lot of sense for many investors to own a significant amount of stocks during retirement.
Don't Invest in Only the Highest-Yielding Sectors
Another common misconception is that income investors should only own the highest yielding sectors of the market. We strongly disagree with this notion, and greatly favor broader diversification. For example, many income investors believe it makes sense to own only utilities stocks because they are the highest yielding sector of the market (the Utilities sector ETF XLU yields around 4.1%), and they also offer relatively low volatility and safe businesses. However, there are certainly times throughout history when utilities stocks have underperform the rest of the market, and they often come after periods where they've outperformed such as what we're experiencing right now. And as the following table shows, the utilities sector delivered very strong total returns (dividends plus price appreciation) through the first half of this year, but it is already starting to pull back significantly this quarter, and may still have a lot more room to fall.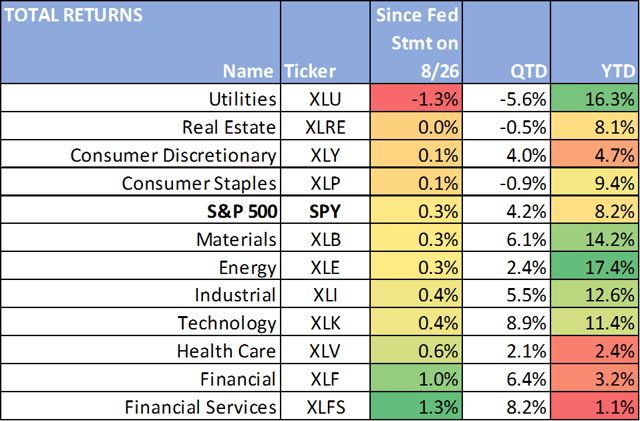 (note: total returns data as of 8/29/16)
To add to our case against investing in only the high dividend segments of the market, consider the following chart that recently appeared in the Wall Street Journal.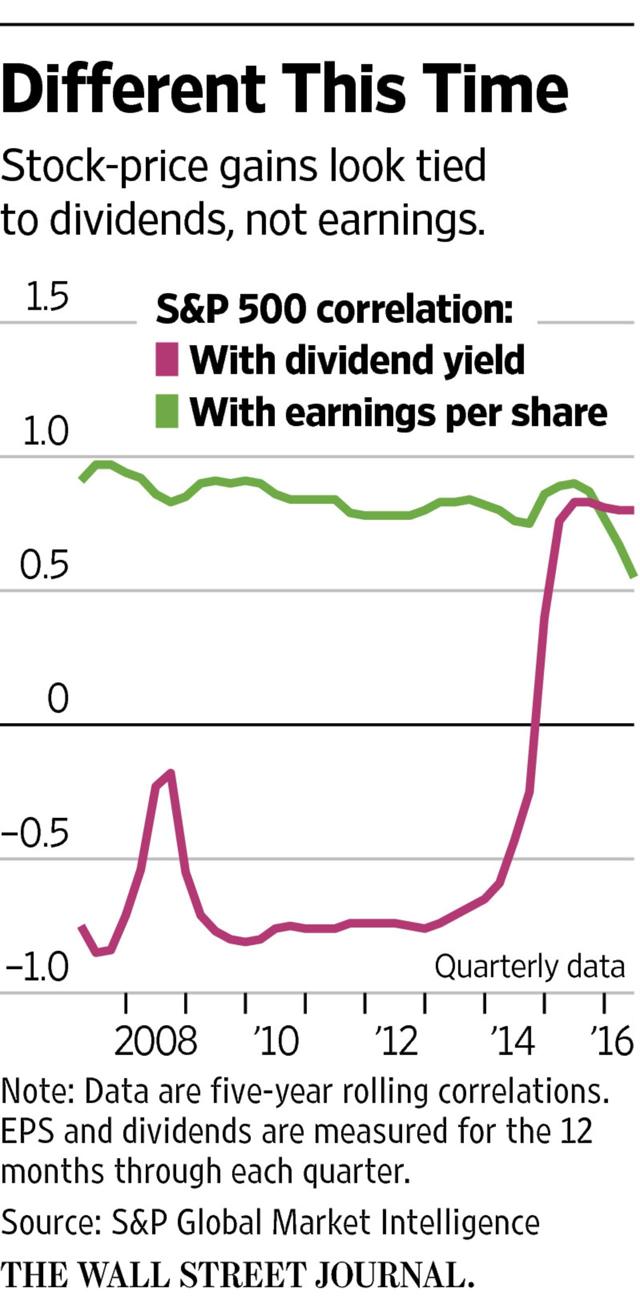 As the chart shows, prices have been driven more by dividend yields in recent years instead of by more traditional earnings metrics. In our view, this is an indication that high-dividend stocks may be overheating, and it helps make the case for diversification.
As another example of the importance of diversification for income investors, consider this chart from the WSJ showing the enormous inflows into funds pursuing high yield strategies.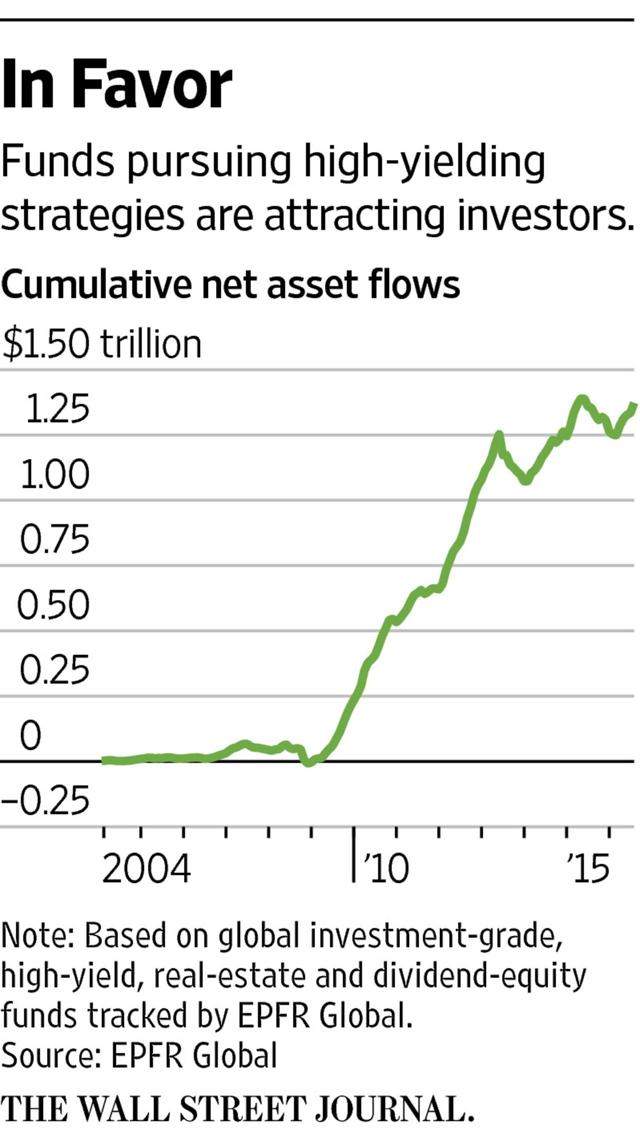 Or this one showing the popularity and crowding of certain high-yield sectors of the market.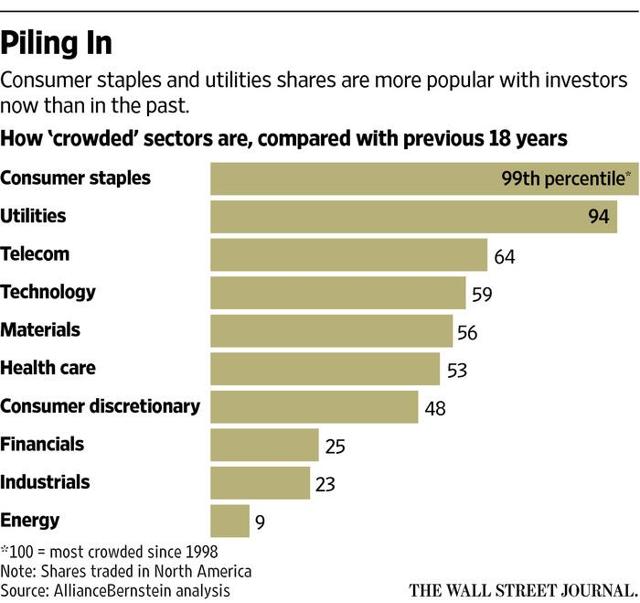 In our view, all of these metrics are an indication that certain high-dividend investments may be overheating, and a reminder that diversification is critically important.
It's Okay to Spend Some Principal
Another common misconception is that investors should never invade their principal, and instead they should only spend the interest or dividend payments during retirement. However, this not realistic for many investors, and we believe it makes more sense for income investors to focus on a total returns strategy whereby they can generate income from interest and dividends plus capital gains (i.e., they can generate income by selling some of their investments).
A total returns income investing strategy has several benefits including flexibility in determining when cash is received, and it allows for more control over your taxes (i.e. you can recognize short-term or long-term capital gains at times when it is most efficient for you). Additionally, a total returns income investing strategy gives you the ability to better diversify your investments instead of focusing only on the high dividend paying sectors of the market (which may be overheating).
Total return income investing can also help prevent investors from going too far out on the risk spectrum by investing in high-risk junk bonds, for example, just to generate a high enough yield to meet their needs. We believe in a total returns income investing strategy whereby investors sell some of their investments to generate cash instead of relying only on interest and dividends which can be risky and insufficient.
In addition to avoiding the mistakes created by common misconceptions (such as those described above), we have also highlighted five specific investment opportunities (below) that we believe are worth considering for income-focused investors.
Verizon Communications (NYSE:VZ) - Yield: 4.4%
The first example of an investment that we believe is attractive within an income-focused portfolio is Verizon Communications. Verizon is a telecommunications company, and we believe it is attractive because of its steady safe business, its high quality network, its best-in-class reputation, its enormous cash flows, its dividend safety, its low beta, and its recent pullback since announcing the Yahoo acquisition.
In the case of Verizon, it's all about generating steady cash flows to pay the big dividend and generate a moderate amount of long-term capital appreciation for shareholders. This is the reason many investors invest in Verizon in the first place, management knows this, and management essentially runs the business to meet these shareholder needs. For some perspective, the following chart shows Verizon's dividend payout ratio (dividends paid divided by free cash flow generated) over the last few years.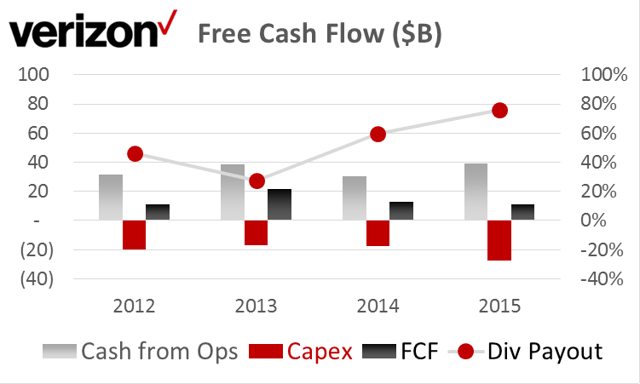 And while the payout ratio was getting higher through the end of 2015 (and rose to 87% for the first six months of this year), it is still at a manageable level to maintain the dividend. Additionally, Verizon has taken steps in 2016 to increase the dividend cushion. For example the recent acquisition of Yahoo's core business will add a lot of free cash flow to Verizon because Yahoo generates a lot of cash but had not been paying a dividend. Also, Verizon acquired Yahoo for a very low price in our view, and there are many opportunities for Verizon to operate Yahoo more efficiently thus generating even more cash flow to feed Verizon's big dividend. Additionally, the price of Verizon has pulled back 7% over the last month making for a more attractive entry point for this long-term free-cash-flow-generating machine. (Note: You can read our recent article on the Yahoo sale/acquisition here).
HCP Inc. (NYSE:HCP) - Yield: 5.9%
HCP Inc. is a big-dividend (5.9%) healthcare REIT that we consider attractive within the constructs on an income focused portfolio for a variety of reasons. For starters, it invests primarily in real estate serving the healthcare industry in the United States across five distinct sectors: senior housing, life science, medical office, hospital and post-acute/skilled nursing. This is an attractive place to be because these sectors are expected to grow as the population ages as shown in the following chart.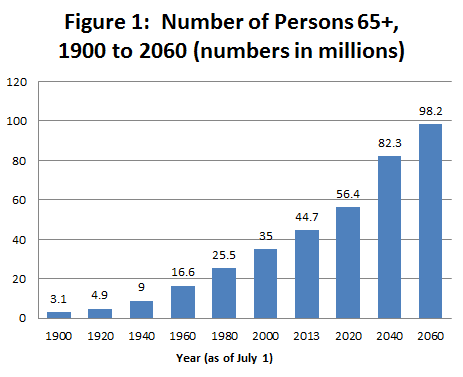 Additionally, we consider HCP attractive because the market is overly pessimistic and scared about its upcoming spinoff of its largest tenant, HCR ManorCare. HCR ManorCare has been experiencing ongoing challenges related to skilled nursing, and we believe HCP's decision to spin-off HCR ManorCare is a smart one. Specifically, the spin-off will unlock value by giving HCP shareholders exactly what they want (i.e., a big dividend, low risk, and "Dividend Aristocrat" status), while simultaneously buying time and options in determining how best to maximize the value of the HCR ManorCare business as a standalone separate company.
For added perspective, the following chart shows HCP's valuation is attractive relative to healthcare REIT peers on a price to funds from operations (FFO) basis.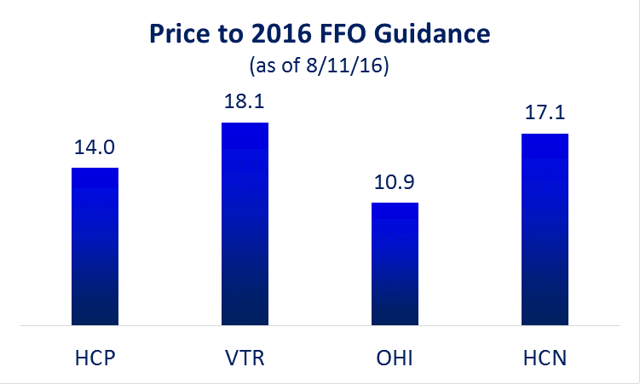 Keep in mind these peers have varying levels of exposure to risky skilled nursing facilities (for example, Omega Healthcare (NYSE:OHI) is focused on skilled nursing (and assisted living), whereas Ventas (NYSE:VTR) already spun off its skilled nursing, and Welltower (HCN) and HCP still have some exposure to skilled nursing). However, based on the business mix, we don't believe HCP is overvalued, and we do believe it could be a very valuable addition to an income-focused investment portfolio.
EPR Properties (NYSE:EPR) - Yield: 4.8%
If you're uncomfortable with the upcoming changes at HCP, EPR Properties is another REIT that we believe could be very attractive within the constructs of an income-focused portfolio. EPR is a self-administered specialty REIT that pays a big monthly dividend (4.8%, annualized), it has significant growth potential, and the stock just pulled back around 5% in the last month (making for a more attractive entry point, in our view).
EPR invests in over 270 properties located throughout North America, and the property types mainly consist of entertainment (megaplex movie theaters), recreation (ski resorts and water parks) and education (public charter schools). EPR's business has been experiencing significant growth (see chart below), and management expects continued growth in the future.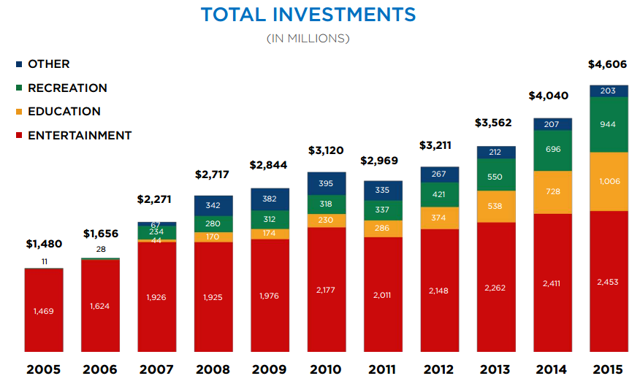 Also worth noting, because of EPR's relatively small size (it has a $5.1 billion market capitalization) it may be easier for it to grow than some of its larger REIT peers such as Realty Income (NYSE:O) which has a market capitalization of over $17 billion. Further, as Realty Income continues to look to grow inorganically through acquisitions, EPR could eventually become a buyout target (for Realty Income or someone else) in which case the shares would be bought out at a premium (a good thing for investors).
iShares Russell 1000 Value Index ETF (NYSEARCA:IWD) - Yield 2.3%
In light of our earlier caveat about not investing in only the highest yielding sectors of the market, our next income portfolio idea is an exchange traded fund, the iShares Russell 1000 Value Index ETF. This large cap ETF is attractive in an income portfolio for a variety of reasons including it broad sector diversification (it reduces risk by holding nearly 700 large cap value stocks diversified across all market sectors), its above average dividend yield (2.3%), its ability to generate income via capital appreciation (it's okay to spend some principal to generate income), its low expense ratio (0.20%), and our belief that large cap value stocks will outperform large cap growth stocks in the years ahead.
With regards to our expectation that large cap value stocks will outperform large cap growth in the years ahead, the following graph show performance of the two categories over the last 10 years.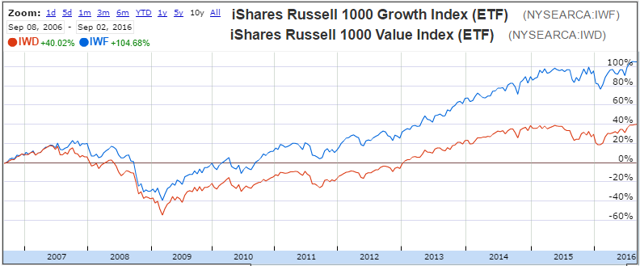 And as the table shows, growth stocks have significantly outperformed value stocks over the last 10 years. We believe this result is largely because quantitative easing and artificially low interest rates have been more beneficial to growth stocks than value stocks (i.e. lower rates makes it easier to borrow money for growth). However, we expect central bankers will gradually become more hawkish as they slowly raise interest rates, and this will be more beneficial to value stocks such as IWD. Also, generally speaking, there is a long history of value stocks outperforming growth stocks over the long-term as shown in the following chart (realistically the trend goes back much further than this chart shows), and in some sense value stocks are due from simply a mean reversion standpoint.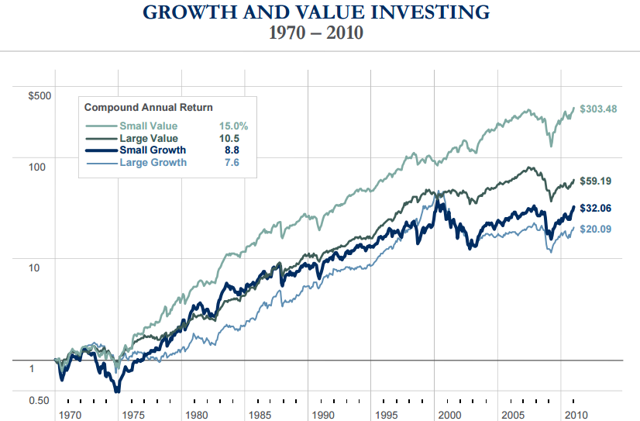 (source: Raymond James)
Main Street Capital (NYSE:MAIN) - Yield: 6.5%; 8.1% including supplemental dividend payments
Main Street Capital is a big-dividend business development company (BDC) that we like within the constructs of a diversified income-focused investment portfolio for a variety of reasons. For starters, Main Street Capital is a well-diversified, internally-managed, BDC focused on providing debt and equity financing to a wide-variety of smaller and mid-sized companies. We believe the fact that it's internally managed helps align management and shareholder interests. And we appreciated the wide industry diversification because it reduces many idiosyncratic risks.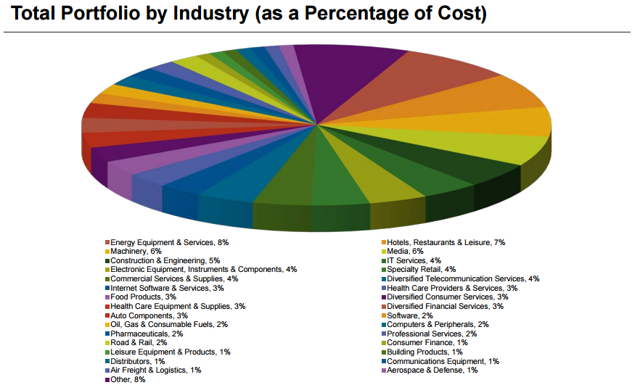 We also like the fact that Main Street's balance sheet continues to grow which we consider to be one indication that attractive investment opportunities continue to exist in the marketplace. For reference, this chart shows how Main Street's growing business has continued to support dividend payment growth.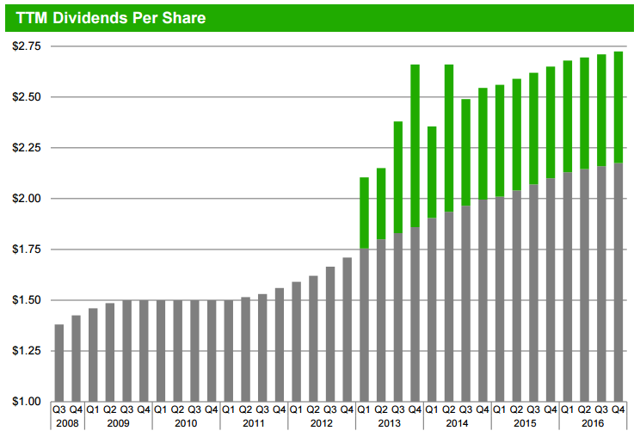 One word of caution with Main Street is that because it is a business development company investors should consult with their financial advisor before holding it in a tax preferred account such as an IRA because it could trigger some unexpected tax consequences.
Conclusion
If you are about to transition from the working and saving phase of your life, to the retirement living phase, congratulations. That is a great accomplishment. And as you consider your options on how to make your nest egg last, be careful not to allow any of the common misconceptions trip you up. The stock ideas provided in this article are intended to be only a sample, and owning more than just five securities in an income portfolio is critically important for risk management purposes. We have provided more investment ideas in our next article titled: Building an Income Portfolio Part 2: More Stock Ideas, More Caveats. And considering the amount of time and sacrifice that's likely gone into building your nest egg, it's worthwhile to be informed on how to go about spending it.
Disclosure: I am/we are long IWD. I wrote this article myself, and it expresses my own opinions. I am not receiving compensation for it. I have no business relationship with any company whose stock is mentioned in this article.