Shares of Ambarella (NASDAQ:AMBA) are falling sharply in trading on Friday, 9/2, following what was actually a very strong Q2 ER. We think the growth narrative only strengthened in the quarter, and believe this sell-off offers investors a opportunity to the "buy the dip" before the stock soars into the Holiday season.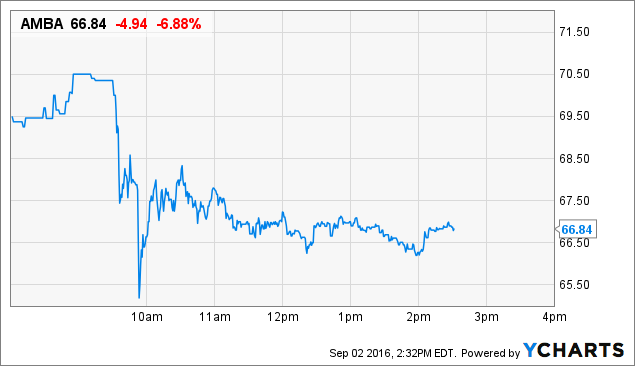 The sell-off makes partial sense to us. The stock had surged more than 70% from May into the Q2 ER. The company didn't smash estimates across the board or give mind-blowing guidance, and investors are naturally profit-taking. Against the back-drop of recent hawkish Fed commentary, a market trading near all-time highs, a disappointing August jobs report, and global macro-economic uncertainty at-large, we can understand why the stock had an influx of sellers on Friday.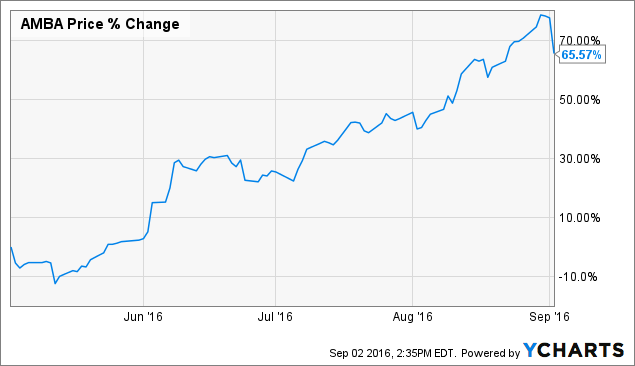 We see this drop, however, as a solid buying opportunity. We think investors need to take a step back and look at the bigger picture here. AMBA remains in the early innings of its growth story. We said that in June, and still think its true today given the massive TAM presented by HD/UHD video capture.
HD/UHD video capture has applications across several spaces, and we think those markets are still in their infancy. New products across several markets continue to pop up, such as selfie cameras or baby monitoring cameras, and while some are concerned about competition, the truth is that most of these new products are being built on AMBA's chips because they are the best and most-trusted on the market. That doesn't look like its going to change, and despite global economic uncertainty, it looks like international economies are very involved in growing the multiple HD/UHD video capture markets (China and Europe have been very active in the IP security, home monitoring, flying cam, and automotive markets).
In our opinion, no matter which way you slice it, AMBA is still in the second or third inning of its growth story. Several developments in the quarter support this thesis. We have highlighted some of those developments below:
The company is starting to see some strength in the film market, which seems like a natural fit for flying cameras. This paves the path for yet another AMBA growth narrative on both a small scale (individual photographers) and a large scale (movie studios). Product multi-functionality is providing a near-term technical competitive advantage for AMBA, so we aren't particularly concerned about competition there. Moreover, this product multi-functionality advantage is spilling over to the whole drone market, where AMBA is growing market share wherever HD or UHD is available. In the near future, HD will become the standard in this market, followed by UHD. AMBA is highly leveraged to benefit from a transition to higher video quality.
The call mentioned several selfie drones which were built on AMBA SoCs during the quarter. This is another growth narrative for the company within the flying camera space. A selfie drone is essentially a hovering personal attendant aimed at photographing the self. Considering the rise of the selfie stick not too long ago, the selfie drone should sell quite well as the innovation upgrade to the selfie stick. It could also have overlap with the action camera market, and maybe even excite sales there by adding an additional layer of video coverage.
A 4K UHD push into the sports wearable market will likely be the catalyst to drive that market to the next level. According to management, consumer demand for 4K UHD is accelerating, and this coupled with the highly anticipated launch of the Hero 5 later this year should fuel a multi-quarter bounce-back in the sports wearable market starting in Q4. Again, because this bounce-back will be fueled by demand for higher video quality, AMBA is a particularly leveraged beneficiary.
The home monitoring market remains in its infancy but seems to be where big companies are focused. In our last article, we commented on the smart home transition, and this seems to be accelerating as Apple (NASDAQ:AAPL), Comcast (NASDAQ:CMCSA), and Xiaomi (Private:XI) are all making pushes into the market. Importantly, all 3 companies are utilizing AMBA in this transition.
AMBA is also beginning to see new opportunities in the automotive market. AMBA was formerly involved almost entirely in the after-market, but now the company is starting to realize revenue for video camera recorders that are being offered either as a dealer fit option or an integrated option in new OEM car models. This represents a significant expansion of automotive TAM for the company, and likely indicates upside to future Street estimates. We maintain that, just as there has been a body cam surge over the past several quarters, there will be a dash cam boom in the near future.
With all this mind, investors should note that the stock isn't that expensive considering the strength of the company's secular growth narrative. Last year, the company earned $3.31 per share. This year, analysts are looking at $2.41, while next year's estimate is set at $2.97. That is still well-off the $3.31 the company earned last year, so although the 22.6x forward multiple might seem rich, investors should realize that the $2.97 FY17 estimate has lots of room to grow.
We like the stock here. The growth narrative is as strong as it has ever been, and the stock is still around 50% off its highs. What has been a headwind for the company (the action camera market) will normalize in Q3 and become a multi-quarter tailwind starting in Q4. The stock isn't expensive considering the company's underlying growth potential, and the addressable market seems to grow larger every quarter.
Disclosure: I am/we are long AMBA, AAPL.
I wrote this article myself, and it expresses my own opinions. I am not receiving compensation for it (other than from Seeking Alpha). I have no business relationship with any company whose stock is mentioned in this article.