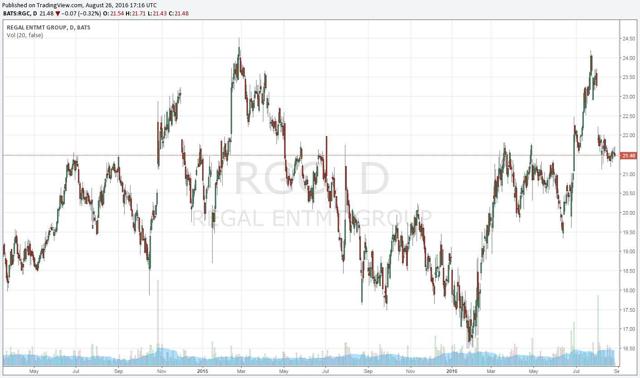 By The Valuentum Team
Regal (NYSE:RGC) is a leader in the stable US exhibition industry and boasts a modern asset base with ~13 screens per theatre on average. Roughly 55% of its theatres have what it calls premium amenities (enhanced seating, premium food and beverage offerings, etc.). The company is focused on growing its already impressive asset base through both organic and inorganic growth, which stands to improve its scale advantage assuming it maintains its historical levels of operational efficiency. Average annual free cash flow generation over the past 5 years has been approximately $250 million, which the company claims is well ahead of the competition and is consistent through good and bad box office periods.
Regal's management has used its free cash flow generation as the basis of its strong dividend yield (~4.1%), but the long-term safety of the payout through every market cycle (especially the depths of the credit cycle) is questionable at best, in our opinion. The biggest drag on Regal's Dividend Cushion ratio (currently sits at -1.2) is its poor balance sheet health, though its free cash flow coverage of cash dividend obligations is not stellar either. As of the end of the first quarter of 2016, for example, the company had a net debt position of nearly $1.9 billion on the books. Its credit quality leaves much to be desired as a result and at last check was below investment grade.
Think this through -- a company paying out an enormous dividend that has poor credit quality. We think fixing such credit issues should take immediate priority over paying a dividend, but management has shown its ongoing willingness to return outsize amounts of cash to shareholders in recent years though special dividends. Incredible. Though its yield may appear attractive, we are not fond of the long-term safety of Regal's dividend by any stretch of the imagination. The next downturn in credit may challenge management's ability to keep rewarding equity holders at debt holders' expense.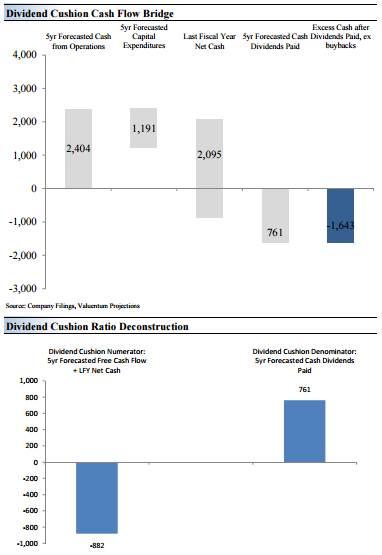 Image Source: Valuentum, Regal's stock landing page
Regal's Investment Considerations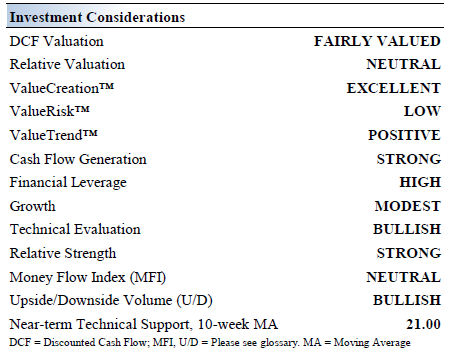 Investment Highlights
• Regal operates the largest and most geographically diverse theater circuit in the US. The company operates multi-screen theaters, which have an average of 12.6 screens per location (well above the North American industry average). It has ~7,400 screens in 40+ states. The company was founded in 2002 and is based in Knoxville, Tennessee.
• In addition to being the largest theater circuit in the US, Regal boasts a modern asset base. It averages nearly 13 screens per theatre, approximately 80% of which have stadium seating and ~55% of which feature premium amenities. These qualities allow it to maintain significant leadership in its top markets.
• The long-term box office trend line shows annual growth of about 4%, and given that Regal is the largest exhibitor, investors should expect its top line to expand at this pace. Regal's free cash flow generation is stronger than that of its peers, but we think the company should be laser-focused on reducing leverage at this juncture.
• Regal has a number of initiatives for 2016 and beyond. These include the continued roll out of its enhanced food menu and alcohol service and growing the number of screens with reclining seats. It is targeting ~25% of its circuit having reclining seats by the end of 2017.
• Regal boasts a lofty dividend yield, but we're not fans of its credit quality. The company boasts a non-investment grade rating: B1/B+. In fact, we don't think the company should be paying a dividend in the context of its credit health.
Business Quality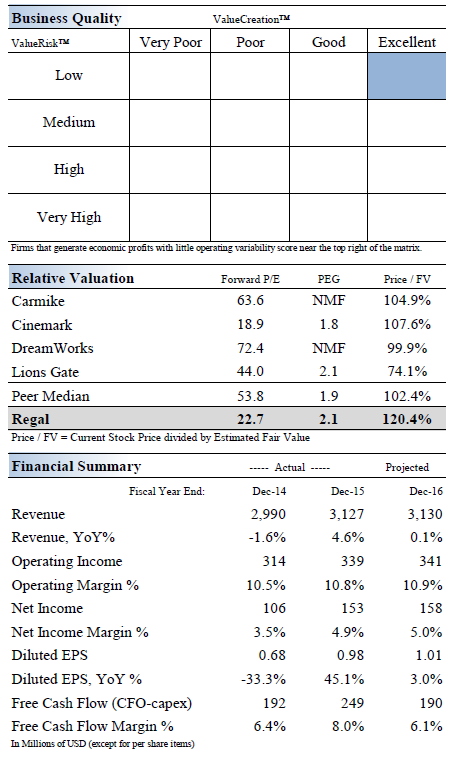 Understanding the Flaws of Selecting Peers in Relative Valuation Analysis
There sometimes isn't a great peer, rival, or business model to use in relative valuation analysis, but we cover a large number of equities in the movie production industry and the median forward metrics seek to be representative of this sprawling group. Even in the case of a near-perfect peer, rival or business model, there are still myriad potential pitfalls of using any relative valuation approach, which is why our research and analytical work is grounded instead (or in addition to) in discounted cash-flow analysis and a company-specific fair value estimate based on the intrinsic qualities of the actual company being valued.
Many investors may feel that multiple analysis or relative value analysis is the only way to view equity valuation. It's possible that a lot of investors may not know the benefits of the discounted cash flow (DCF) process over any other valuation process. The DCF focuses on the intrinsic qualities of the company to arrive at a company-specific fair value. Using a variety of different valuation approaches, including relative valuation, remains the cornerstone of the Valuentum process, but with any relative valuation assumption, the very idea of comparing it to another company will always be imperfect (no two companies are ever the same).
Regal's Economic Profit Analysis
Regal's 3-year historical return on invested capital (without goodwill) is 19.7%, which is above the estimate of its cost of capital of 8.4%. As such, we assign the company a ValueCreation™ rating of EXCELLENT. The solid grey line reflects the scenario that results in our fair value estimate.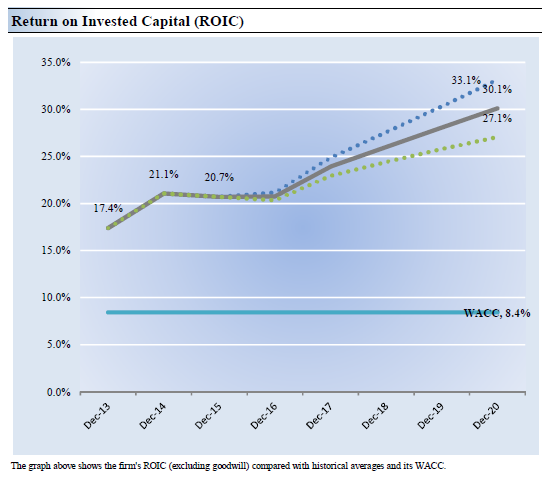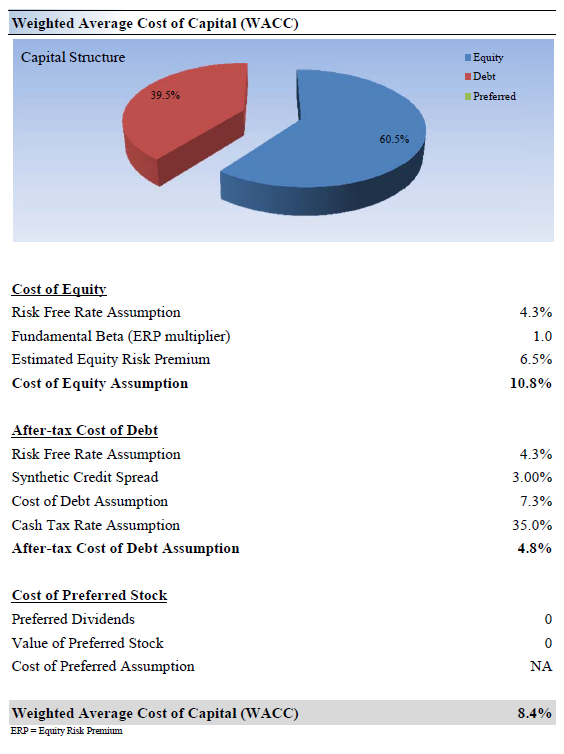 Cash Flow Analysis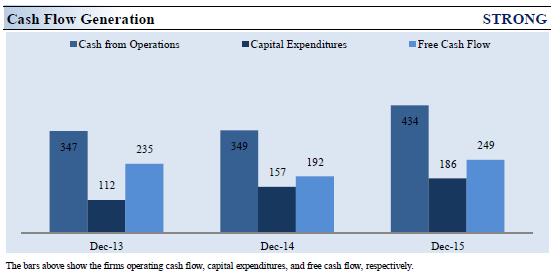 Companies that generate a free cash flow margin (free cash flow divided by total revenue) above 5% are usually considered cash cows. Regal's free cash flow margin has averaged about 7.4% during the past 3 years. As such, we think the company's cash flow generation is relatively STRONG.
The free cash flow measure shown above is derived by taking cash flow from operations less capital expenditures and differs from enterprise free cash flow (FCFF), which we use in deriving our fair value estimate for the company. At Regal, cash flow from operations increased about 25% from levels registered two years ago, while capital expenditures expanded about 66% over the same time period.
Valuation Analysis
We think Regal is worth $19 per share with a fair value range of $15-$23.
The margin of safety around our fair value estimate is derived from an evaluation of the historical volatility of key valuation drivers and a future assessment of them. Our near-term operating forecasts, including revenue and earnings, do not differ much from consensus estimates or management guidance. Our model reflects a compound annual revenue growth rate of 3% during the next five years, a pace that is lower than the company's 3-year historical compound annual growth rate of 3.5%.
Our model reflects a 5-year projected average operating margin of 12.5%, which is above Regal's trailing 3-year average. Beyond year 5, we assume free cash flow will grow at an annual rate of 1.8% for the next 15 years and 3% in perpetuity. For Regal, we use a 8.4% weighted average cost of capital to discount future free cash flows.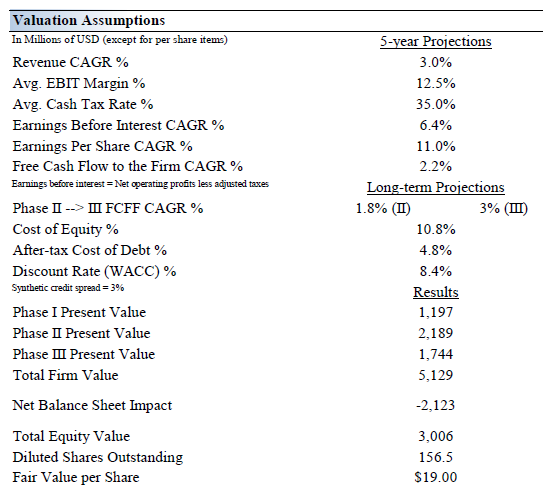 Margin of Safety Analysis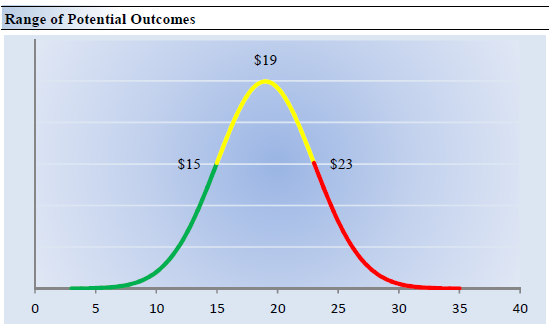 Our discounted cash flow process values each company on the basis of the present value of all future free cash flows. Although we estimate the company's fair value at about $19 per share, every company has a range of probable fair values that's created by the uncertainty of key valuation drivers (like future revenue or earnings, for example). After all, if the future were known with certainty, we wouldn't see much volatility in the markets as stocks would trade precisely at their known fair values.
Our ValueRisk™ rating sets the margin of safety or the fair value range we assign to each stock. In the graph above, we show this probable range of fair values for Regal. We think the company is attractive below $15 per share (the green line), but quite expensive above $23 per share (the red line). The prices that fall along the yellow line, which includes our fair value estimate, represent a reasonable valuation for the company, in our opinion.
Future Path of Fair Value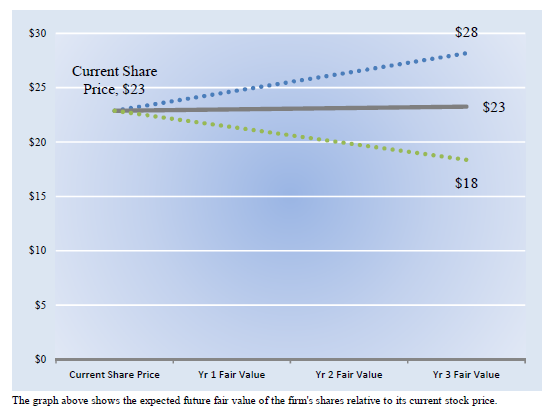 We estimate Regal's fair value at this point in time to be about $19 per share. As time passes, however, companies generate cash flow and pay out cash to shareholders in the form of dividends. The chart above compares the company's current share price with the path of Regal's expected equity value per share over the next three years, assuming our long-term projections prove accurate.
The range between the resulting downside fair value and upside fair value in Year 3 represents our best estimate of the value of the company's shares three years hence. This range of potential outcomes is also subject to change over time, should our views on the company's future cash flow potential change.
The expected fair value of $23 per share in Year 3 represents our existing fair value per share of $19 increased at an annual rate of the company's cost of equity less its dividend yield. The upside and downside ranges are derived in the same way, but from the upper and lower bounds of our fair value estimate range.
This article or report and any links within are for information purposes only and should not be considered a solicitation to buy or sell any security. Valuentum is not responsible for any errors or omissions or for results obtained from the use of this article and accepts no liability for how readers may choose to utilize the content. Assumptions, opinions, and estimates are based on our judgment as of the date of the article and are subject to change without notice.
Disclosure: I/we have no positions in any stocks mentioned, and no plans to initiate any positions within the next 72 hours.
I wrote this article myself, and it expresses my own opinions. I am not receiving compensation for it (other than from Seeking Alpha). I have no business relationship with any company whose stock is mentioned in this article.