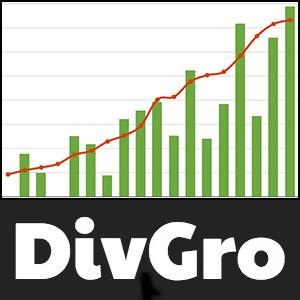 Over the past couple of months I've been positioning DivGro for option trading. To do so, I increased the number of shares of several positions to 100 or multiples thereof. My goal is to boost dividend income by selling covered calls against several of the stocks I own, collecting option premiums in return.
I closed five positions this month and increased my holdings of three positions to 100 shares each, readying them for option trading. I also initiated a position in Cisco Systems, Inc (CSCO), a great candidate for option trading!
DivGro's projected annual dividend income (PADI) decreased further this month. Nevertheless, I'm on schedule goal-wise and I'm confident to reach my goal of $12,000 before year's end. Good news is that I've achieved my goal of earning $10,800 in dividend income for 2016.

In August I executed several option trades, receiving option premiums totaling more than $1,100. Those options remain potential obligations until they expire or get exercised. I mark option income as secured income only when I no longer have the obligation against me. Please see my August 2016 options update for details.
In September, I'll continue to look for opportunities to execute option trades, specifically selling more covered calls.
August Highlights
Generating a growing dividend income stream is the main goal of DivGro. I review my dividend income regularly and consider factors that could affect future dividend payments.
I received dividend income of $791 from 19 DivGro stocks in August, for a year to date total of $11,248. Dividend income increased 41% over the total received in August 2015.
I recorded 4 buys and 5 sells this month. Also, one stock announced a dividend increase. These activities removed $272 from DivGro's PADI, which now stands at $10,791.
Here is DivGro's projected monthly dividend income (red line) plotted against monthly dividends: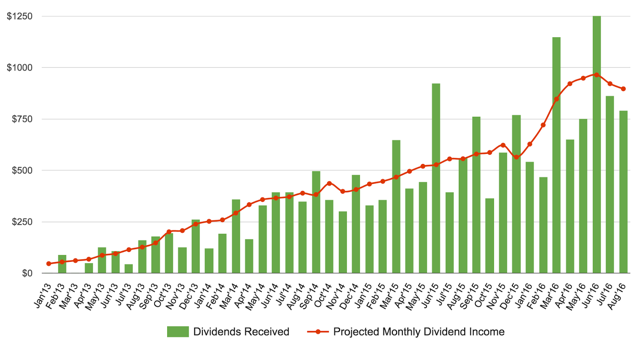 Comparing dividend income by month is another way to see progress:
In August, I added shares to 3 existing positions:
• Dominion Resources, Inc (NYSE:D)
• Kimberly-Clark Corporation (NYSE:KMB)
• The Coca-Cola Company (NYSE:KO)
Also, I opened the following position in DivGro:
• Cisco Systems, Inc (NASDAQ:CSCO)
Lastly, I closed the following positions:
• Deere & Company (NYSE:DE)
• Digital Realty Trust, Inc (NYSE:DLR)
• Dr Pepper Snapple Group, Inc (NYSE:DPS)
• HCP Inc (NYSE:HCP)
• Macquarie Infrastructure Company LLC (NYSE:MIC)
As a result of these transactions, DivGro's PADI decreased by $300.
Dividend Changes
The following stock announced a dividend increase:
• Macquarie Infrastructure Company LLC (MIC)
DivGro's PADI increased by $14 due to this dividend change.
Dividends Received
I received dividends from 19 different stocks this month, for a total of $791 in dividend income:
• Apple Inc (NASDAQ:AAPL) - $57.00
• AbbVie Inc (NYSE:ABBV) - $45.60
• Caterpillar Inc (NYSE:CAT) - $46.20
• Deere & Company (DE) - $18.00
• Eaton Vance Tax-Managed Global Diversified Equity Income Fund (NYSE:EXG) - $49.76
• General Dynamics Corporation (NYSE:GD) - $26.60
• HCP Inc (HCP) - $94.88
• Main Street Capital Corp. (NYSE:MAIN) - $41.40
• Macquarie Infrastructure Company LLC - $87.50
• Nuveen Premium Income Municipal Fund 2 (NPM) - $23.28
• Realty Income Corporation (NYSE:O) - $9.98
• Omega Healthcare Investors, Inc (NYSE:OHI) - $84.00
• The Procter & Gamble Company (NYSE:PG) - $21.42
• Raytheon Company (NYSE:RTN) - $17.58
• STAG Industrial Inc (NYSE:STAG) - $27.80
• AT&T Inc (NYSE:T) - $72.00
• Toronto-Dominion Bank (NYSE:TD) - $25.25
• Texas Instruments Inc (NYSE:TXN) - $22.80
• United Parcel Service, Inc. (NYSE:UPS) - $19.50
Markets
It is worth looking at the markets to understand the environment we're investing in, even though I no longer compare DivGro's performance to those of the markets:

In August, the DOW dropped -0.17%, the S&P 500 dropped -0.12%, and the NASDAQ gained 0.99%. Yield on the benchmark 10-year Treasury note rose to 1.57%.
Below are charts showing the market activity of these indices in August, courtesy of Google Finance. (Click on the charts to see detail). Each chart shows a 20-period exponential moving average (in red). I've also included a 20-period relative strength index below the main chart.

Portfolio Statistics
Based on the total capital invested and the portfolio's current market value, DivGro has delivered a simple return of 19.08% since inception. In comparison, DivGro's IRR (internal rate of return) is 11.54%. (IRR takes into account the timing and size of deposits since inception, so it is a better measure of portfolio performance).
I track yield on cost (YoC) for individual stocks, as well as an average YoC for my portfolio. DivGro's average YoC decreased from 4.48% last month to 4.29% this month.
Another interesting statistic is percentage payback, which relates dividend income to the amount of capital invested. DivGro's average percentage payback is 9.73%, up from last month's 9.60%.
Finally, DivGro's projected annual yield is at 3.88%, down from last month's value of 4.00%. I calculate projected annual yield by dividing PADI ($10,791) by the total amount invested.
Looking Ahead
I continue to hold a large portion of my portfolio in cash, some 15%. With my focus currently on preparing DivGro for options trading, I'll see if there are opportunities to round out more positions for options trading. I'm also hoping to sell a few more of the weaker positions in September. With several positions now ready for option trades, I'm looking forward to selling some more covered calls in September. Volatility increased a bit this month (see the CBOE market volatility index VIX) but remains very low, so option premiums are not so high at the moment.
Please see my Performance page for various visuals summarizing DivGro's performance.
This article is a summary of my August 2016 monthly review of DivGro, which first appeared on my blog on August 6. Interested readers can click on the link for more details, including a spreadsheet of my entire portfolio.
Thanks for reading! If you like this article and would like to read similar ones in future, please click the Follow link at the top of this article.
Disclosure: I am/we are long ALL THE STOCKS MENTIONED.
I wrote this article myself, and it expresses my own opinions. I am not receiving compensation for it. I have no business relationship with any company whose stock is mentioned in this article.