My last review
My first article on Seeking Alpha was on Vale (NYSE:VALE) (OTC:VALEF). It was mid-May and I concluded saying "To sum it all up, after the recent correction I remain positive both on the stock and the bonds. Still, the stock is likely to experience big swings over the next months. For those willing to be in the game with lower volatility, the four- to six-year bonds currently yielding between 7.0% and 8.0% per year in USD offer the most appealing risk/return proposition to investors."
This was a bold call given that Brazil was in a middle of a political turmoil with the impeachment procedures against the former President Dilma Roussef just starting. It also coincided with the $44 billion civil suit against Vale, BHP Billiton and Samarco for ecological, economic and social damages caused by the spill. However, for the reasons outlined in the article I saw this as an opportunity. As a wise man once said: "be fearful when everyone is greedy and greedy when everyone is fearful." So I did and it paid off.
What happened since then?
The stock gained almost 30% from $4.30 to $5.50. After another fail attempt to break the $6.20 resistance, Vale pulled back and is now fighting with its 50-day moving average. If it breaks below this average I wouldn't be surprised to see a retesting of May lows, more or less where its 200-day moving average is right now. In fact, momentum isn't very bullish because the MACD is pointing south and the RSI has room to fall further.
Source: Stock Charts
The bonds also rallied. The 4.375% USD 2022 issue that I mentioned in the previous article increased 15% from 85% to 98% (without including accrued or paid interest). The other way to put it is that yields contracted from 7.5% in mid May to 4.5% today. Naturally, depending on the duration of the bonds, your gain could have been higher or lower than this.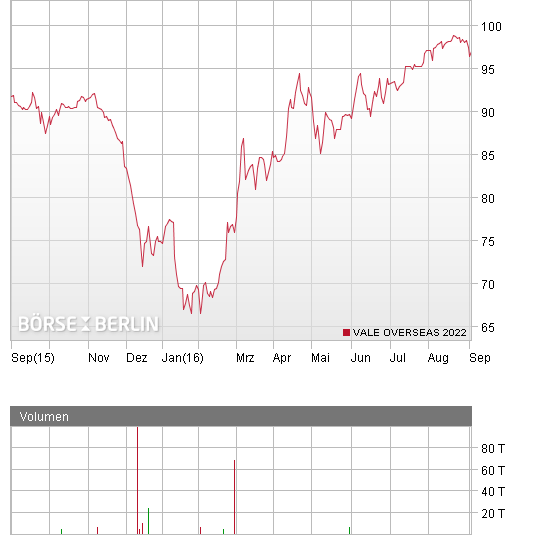 Source: Boerse Berlin
In May I disclosed I owned Vale bonds, but not the stock. Today, I own none of them. Yes, I know a bond yielding 4.5% is hard to find these days. Still, here's what drove my decision to sell the bonds.
Iron Ore
Vale is the biggest producer of iron ore in the world and two thirds of its revenue comes from this commodity. So, iron are prices have a direct impact on the stock and the bonds.
Iron ore is recovering in 2016. Prices jumped in the first quarter, pulled back in April and have been climbing since then. If you compare them with Vale stock you'll see that they move together, including the latest pull back in August.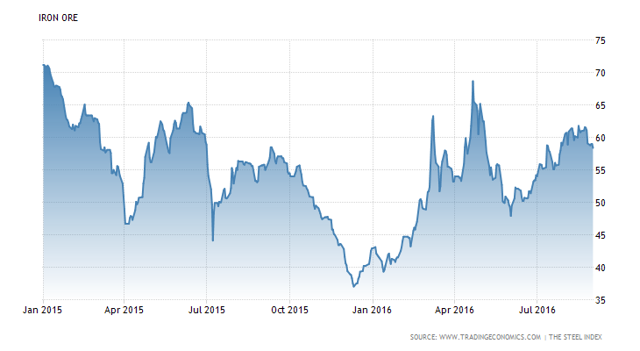 Source: Trading Economics
Steel prices also recovered in the first quarter of 2016 supporting the gains in iron ore prices. However, contrary to iron ore, steel retreated in the second quarter of 2016. This makes me uncomfortable with the last rally in iron ore and wondering if it is sustainable.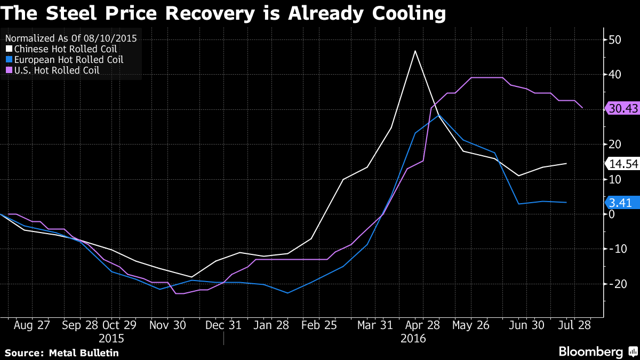 Source: Bloomberg
Another reason why the rally in iron ore in the second quarter seems shaky is inventory levels in China (the biggest importer of the commodity). In fact, port inventories alone increased over 30% in less than one year, reflecting lower demand from the nation's steel producers.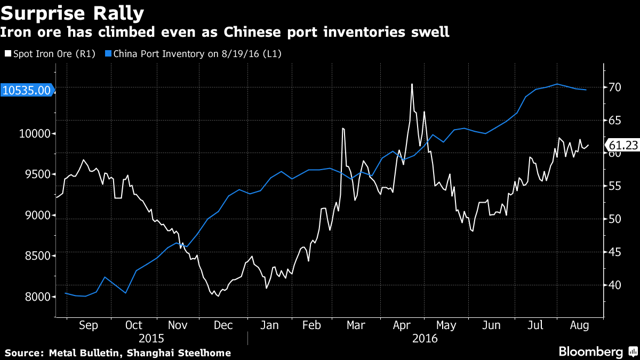 Leverage
Contrary to what is happening across the industry, with companies like Glencore or Anglo American selling assets to improve their balance sheet strength, Vale has not yet started its deleveraging process. This could be a mistake because even though market conditions improved, things could go sour once again very quickly.
In fact, when compared with the second quarter of 2015, Vale's net debt increased $1 billion or 4% to $27.5 billion. During the same period the company's interest coverage ratio and net debt to EBITDA also deteriorated.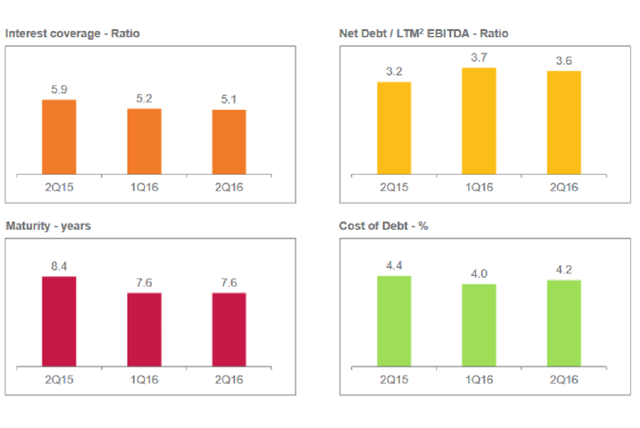 Source: Vale
I know that since the first quarter of 2016 there has not been any significant deterioration nor improvement. Still, I was expecting a bigger focus in deleveraging in line with what happened across the industry.
In Summary
It has been a very good rally in Vale's stock and bonds, leaving both shareholders and bondholders with some big fat profits on their bank accounts. However, given the risks involved I'm not keeping my skin in the game for a mere 4.5% return per year. Better safe than sorry and I don't want to see my gains vaporize in a correction. That's why I realized the gains.
Disclosure: I/we have no positions in any stocks mentioned, and no plans to initiate any positions within the next 72 hours.
I wrote this article myself, and it expresses my own opinions. I am not receiving compensation for it (other than from Seeking Alpha). I have no business relationship with any company whose stock is mentioned in this article.
Editor's Note: This article discusses one or more securities that do not trade on a major U.S. exchange. Please be aware of the risks associated with these stocks.