"The good times are free and no one can take that away."
Zac Brown
"Bull markets are born on pessimism, grow on skepticism, mature on optimism, and die on euphoria."
Sir John Templeton
"Life and investing are long ballgames."
Julian Robertson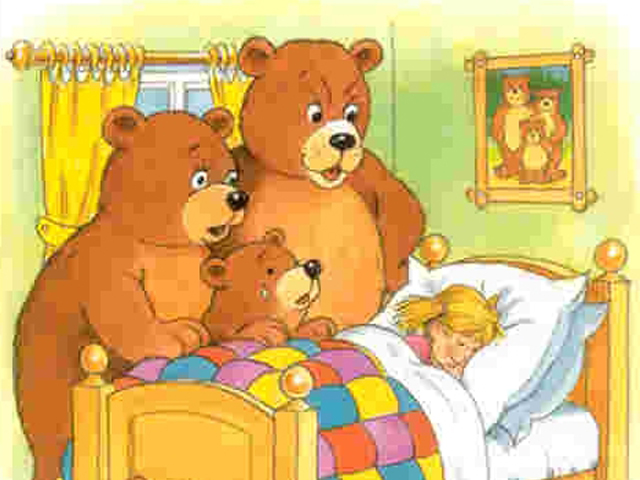 Introduction
This past week has seen a barrage of global economic data that may seem confusing on the surface, but when analyzed more closely, shows a goldilocks scenario for global economic growth, particularly relative to the United States, which is a distinct reversal from the 2011-2015 investing landscape, where U.S. stocks and bonds effectively became deflationary assets, as they were the good house in a bad neighborhood.
Revived global growth relative to the U.S. should benefit the new market leadership in 2016, including commodities, commodity stocks, emerging market equities, industrial firms, and cyclical plays.
In contrast, market leaders from 2011-2015, particularly the interest rate sensitive leaders, including REITs, utilities, and dividend paying stocks will struggle in an environment of rising long-term interest rates. These securities, which have had a blow-off top, in my opinion this year, alongside the blow-off top in sovereign bonds, are vulnerable to a shift in investor preferences. In summary, we are in a goldilocks scenario, just not the one that investors were envisioning.
Thesis
Global growth outside U.S. is set to relatively pick up, while U.S. growth slows on a relative basis, changing the narrative of the investment landscape that has prevailed since 2011.
China's Cyclical Recovery
While everybody, including your humble author was focused on U.S. economic data this week, China and the United Kingdom stole the show.
China's official PMI came in at 50.4 in August, crossing into expansionary territory, and registering its highest reading since 2014.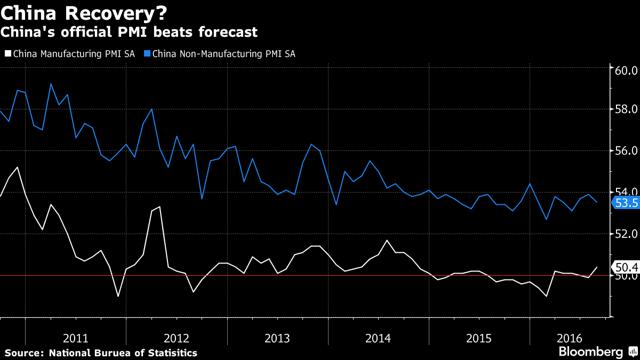 Chinese shares, as measured by the iShares China Large-Cap ETF (NYSEARCA:FXI), have rallied to their 2016 highs, as growth in China appears to be on the rise.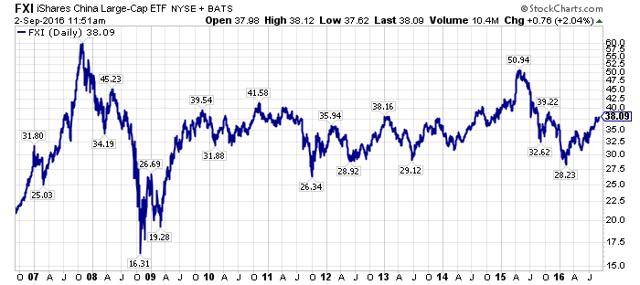 Further evidence of this change in sentiment exists in the price of metallurgical coal, a key steel making ingredient, which is much rarer than iron ore, which also is a base ingredient for steel production. Metallurgical coal has skyrocketed in August, as supply cuts have finally intersected with increased global demand.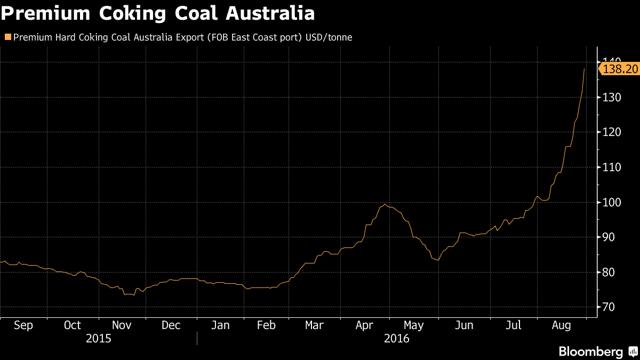 This is positive for the largest coking coal producers, including number one exporter BHP Billiton (NYSE:BHP), Rio Tinto (NYSE:RIO), and number two exporter, Teck Resources (NYSE:TCK), which has been a key holding in The Contrarian Portfolio's during 2016.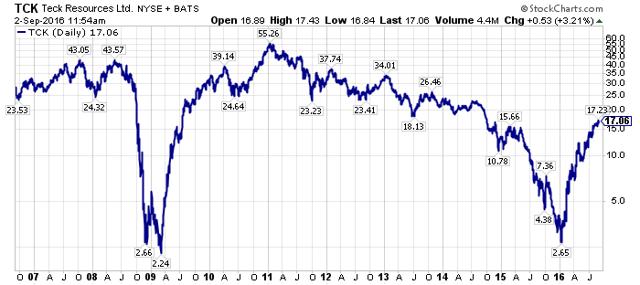 The recovery in TCK shares has been staggering, from the low of $2.65 reached early this year, yet the company, which has not diluted equity holders, and has a developmental oil project nearing completion, that will form the fourth pillar in Teck's resource portfolio, alongside metallurgical coal, copper, and zinc, is still underpriced, in my opinion.
In summary, emerging markets, which are shown below in the chart of the iShares MSCI Emerging markets ETF (NYSEARCA:EEM), are beginning to outperform the S&P 500 Index for the first time in over five years.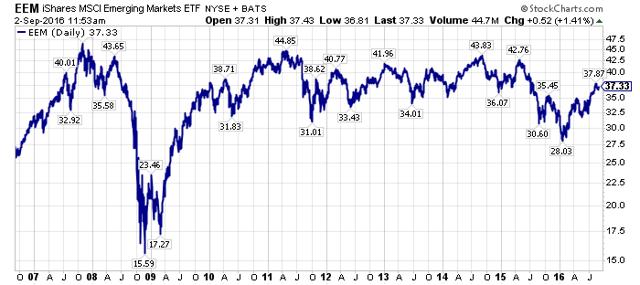 The U.K. - Not As Bad As Everyone Feared
After China's release of their PMI, the United Kingdom followed suit, posting its highest reading in 10-months, vaulting above the median estimate from Bloomberg of 49, with a reading of 53.3.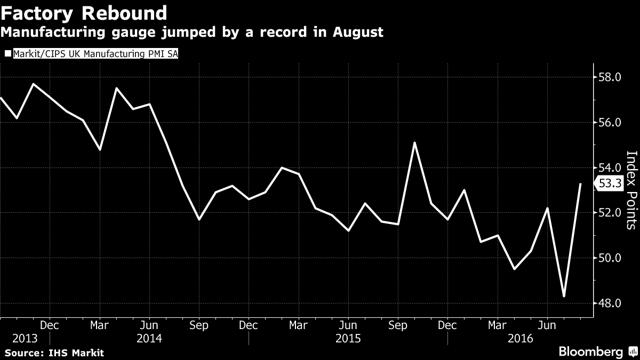 The weaker British Pound, which has collapsed as the chart of the Currency Shares British Pound Sterling Trust (NYSEARCA:FXB) shows, has boosted Britain's competitiveness in a world of global devaluations.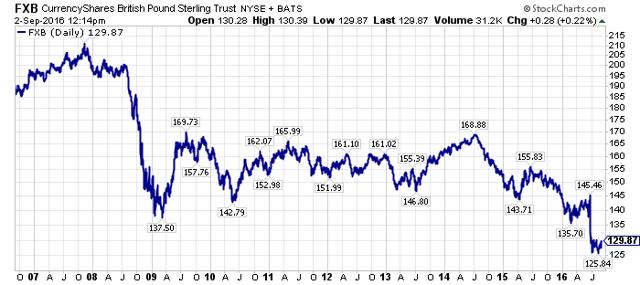 Not surprisingly, British stocks, as measured by the iShares MSCI United Kingdom ETF (NYSEARCA:EWU) responded favorably, though they are still off markedly from their 2014 high, which is in contrast to the U.S. stock market, as measured by the S&P 500 Index.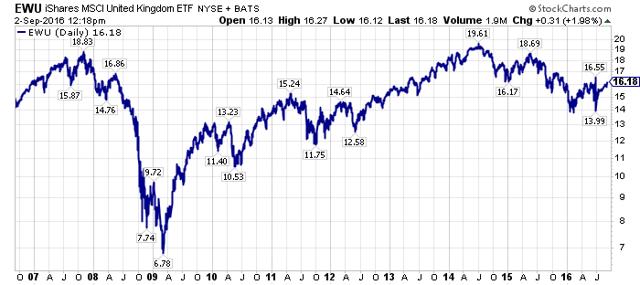 The U.S. - Not Too Hot, Not Too Cold
Speaking of the U.S., the Institute For Supply Management's PMI came in at a surprising 49.4, below expectations of 52, and, in contrast to China's PMI, the U.S. manufacturing index crossed the dividing line from expansionary territory to contraction.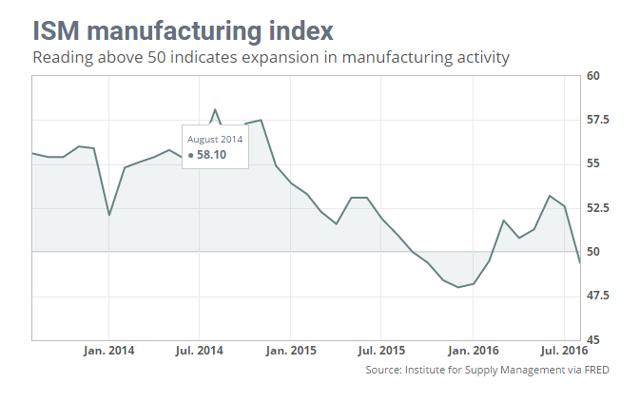 The U.S. PMI, was released on Thursday, then on Friday morning, August's Employment Report came out, and it too, underwhelmed expectations, showing a non-farm payroll gain of 151,000 jobs, below the 180,000 expected by economists on average.
While payroll growth came in under expectations, the more interesting disappointment was in wage growth, which edged higher by just 0.1%.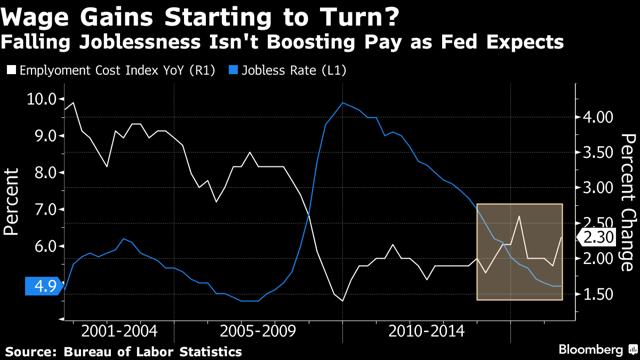 The slower wage gains in August are in contrast to the faster pace of wage gains in 2016, which are now running at 2.4% year-over-year.
The stock market, as measured by the SPDR S&P 500 Index ETF (NYSEARCA:SPY), liked the news, and advanced, coming within shouting distance of its all-time highs. The recovery since 2009, particularly relative to the rest of world's markets is amazing, and highlights the fact that U.S. securities, including both stocks and bonds, have become the world's safe-haven in a low-growth environment.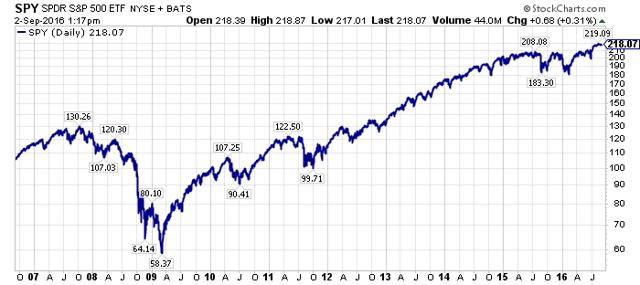 Interest Rates - Shorting Has Been Like Wrestling A Bear
The bond bubble is even bigger than the stock market bubble, from my perspective. And, something interesting happened in the face of weaker U.S. economic data, and that is that bond prices declined, and yields went up, particularly at the long end of the curve. This is shown by the chart of the iShares 20+Year Treasury Bond ETF (NYSEARCA:TLT), in the chart below.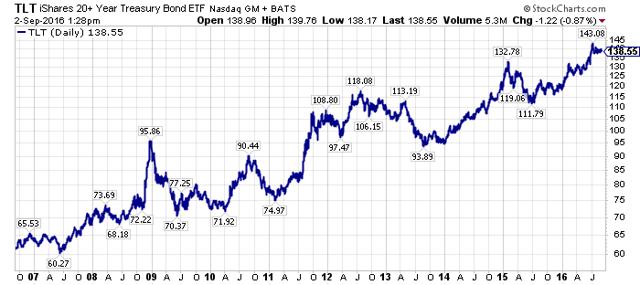 Rising long-term U.S. bond yields dovetails nicely with a revived global growth environment, particularly relative to the United States.
Rising Long-Term Rates Are Good, Except For…
Inflationary assets including commodities, commodity stocks, emerging market equities, industrial stocks, and cyclical equities will all benefit from a rise in interest rates.
However, a rise in long-term interest rates is detrimental for some of the standout winners of the bull market. This includes REITs as measured by the Vanguard REIT ETF (NYSEARCA:VNQ), utilities, as measured by the Utilities Select Sector SPDR ETF (NYSEARCA:XLU), dividend paying stocks, as measured by the SPDR S&P Dividend ETF (NYSEARCA:SDY) and high yield shares, as measured by the iShares iBoxx $ High Yield Corporate ETF (NYSEARCA:HYG).
The performance of these yield-oriented assets is shown in the 10-year chart below versus the performance of the SPY and TLT.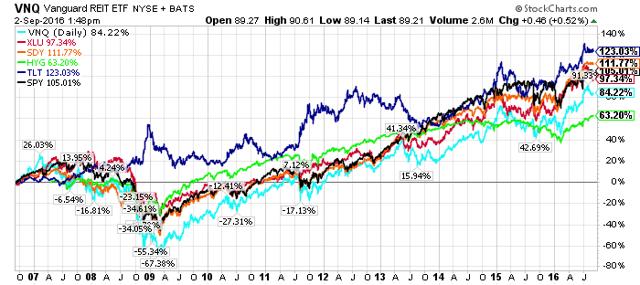 It is amazing to see the TLT outperforming SPY over the last ten years, and this tells you a lot about the risk environment that we have lived through, which has felt anemic to almost everyone.
Safer, defensive, yield-oriented assets have been the go-to speculative plays, and if global growth is picking up relative to the U.S., that could be indicative of an environment where these formerly favored securities struggle relative to their out-of-favor counterparts.
In my last few public articles on SA, I have included a list of interest rate sensitive equities, that should be closely monitored by investors to make sure that they are comfortable holding these stocks from a valuation, and potential drawdown standpoint.
Here is the list again, and please note how most of these equities have struggled over the last month as interest rate expectations have increased: HCP, Inc. (NYSE:HCP), AT&T (NYSE:T) Realty Income (NYSE:O), National Retail Properties (NYSE:NNN), Chevron (NYSE:CVX), Old Republic International (NYSE:ORI), AbbVie (NYSE:ABBV) Caterpillar, (NYSE:CAT), Cullen/Frost Bankers, (NYSE:CFR), People's United Financial (NASDAQ:PBCT), Simon Property Group (NYSE:SPG), Public Storage (NYSE:PSA), Welltower (NYSE:HCN), Equinix (NASDAQ:EQIX), ProLogis, (NYSE:PLD), Equity Residential (NYSE:EQR), AvalonBay Communities (NYSE:AVB), Ventas (NYSE:VTR), Boston Properties (NYSE:BXP), NextEra Energy (NYSE:NEE), Duke Energy Corporation (NYSE:DUK), Southern Company (NYSE:SO), Dominion Resources (NYSE:D), Exelon (NYSE:EXC), American Electric (NYSE:AEP), Pacific Gas & Electric (NYSE:PCG), Sempra Energy (NYSE:SRE), PP&L Corporation (NYSE:PPL), Edison International (NYSE:EIX).
The Takeaway - A Transition Is Underway
The goldilocks moniker has been used in an adoring way by market commentators to describe the perfect environment for U.S. equity investors, particularly from 2011 to 2015 as interest rates were low, and growth outpaced the rest of the world.
What if that environment is about to change and international markets grow faster than the United States? In a true risk-on environment, what would that mean for long-term interest rates? What if the goldilocks investment landscape will now favor the shunned, reflationary asset classes that have been out-of-favor for the past five years, but have staged a stunning reversal in 2016?
Investors should ask themselves these questions today, and see what answers they come up with, specifically in regard to their portfolio construction.
To close, the investment landscape is changing, and if you are interested in joining a unique, growing community of contrarian, value investors, and would like to see all of the historical trades and current positioning of the "Bet The Farm", and the "Best Ideas" Portfolios, please consider signing up for my premium research service, " The Contrarian". To receive my future public articles on Seeking Alpha, please click the "Follow" button above. Thank you for your readership.
Disclosure: I am/we are long TCK AND SHORT O AND TLT VIA PUT OPTIONS. I wrote this article myself, and it expresses my own opinions. I am not receiving compensation for it (other than from Seeking Alpha). I have no business relationship with any company whose stock is mentioned in this article.
Additional disclosure: Every investor's situation is different. Positions can change at any time without warning. Please do your own due diligence and consult with your financial advisor, if you have one, before making any investment decisions. The author is not acting in an investment adviser capacity. The author's opinions expressed herein address only select aspects of potential investment in securities of the companies mentioned and cannot be a substitute for comprehensive investment analysis. The author recommends that potential and existing investors conduct thorough investment research of their own, including detailed review of the companies' SEC filings. Any opinions or estimates constitute the author's best judgment as of the date of publication, and are subject to change without notice.