"A pessimist sees the difficulty in every opportunity; an optimist sees the opportunity in every difficulty." - Winston Churchill

Oh how bearish the majority of people have been. Investors have seen it necessary to dance around the "Sell in May" , the "June Swoon", the "Bye Bye in July", the August warnings and now have to tiptoe around the September Swoon or the S&P crash that is predicted to take stocks down. The problem for all of those prior warnings is that they all had one thing in common. They didn't pay attention to what the stock market was telling us as they all fell victim to the influence that befalls investors rather than the information the market presents.
So what have we learned. There are a few things that can be concluded from what has transpired since the beginning of the year. We have seen the S&P rally 20+% from the lows, and it is indeed ready for consolidation or a pullback. The second part of that statement isn't a shocking revelation, but identifying when it may occur is, and as we have seen it is usually wrong.
We can now say that IF an investor listened to any of those influential warnings, instead of looking at the information they would be suffering the same fate that has befallen many investors before them. They now sit and wonder what to do now.

In contrast, the investors who reacted to the information presented are comfortably in a position to dictate their next move.
Of course when a correction finally comes, it will be accompanied by the " I told you so" chatter from the crowd that couldn't shoot straight. Maybe it is me, but I don't see it being a foolish move to have stayed in the equity market avoiding the misplaced warnings since last February.
Michael Mauboussin explains that one of the traits that great investors share comes from knowing the difference between information and influence as he explains;
"Investing is an inherently social exercise. As a result, prices can go from being a source of information to a source of influence. This has happened many times in the history of markets. Take the dot com boom as an example. As internet stocks rose, investors who owned the shares got rich on paper. This exerted influence on those who did not own the shares and many of them ended up suspending belief and buying as well. This fed the process. The rapid rise of the dot-com sector was less about grounded expectations about how the Internet would change business and more about getting on board. Negative feedback ceded to positive feedback, which pushes a system away from its prior state."
Successful investors don't get caught up in the influence of the prevailing theme du jour. That is difficult because it requires the trait of not caring what others think of you, which is not natural for humans. Indeed, many successful investors have a skill that is very valuable in investing but not so valuable in life: a blatant disregard for the views of others. That sounds arrogant, pretentious, and at times can be viewed as downright belligerennt.
As with most rules of investing, following that trait is walking a tightrope. Forming a successful strategy entails considering various points of view, as I have said so often, look at ALL of the data. However, at the end of the day it is a fine line as to what is being considered versus what is put into practice. Ultimately shaping a thesis that is thoughtful and away from the consensus is the trademark of many successful investors.
The crowd can be right, but when it is wrong you need the psychological fortitude to go against the grain. That was very evident when the market tested the wills of investors at the lows. This is much easier said than done, and goes back to not really caring what others are thinking of a particular outlook.
As I view the situation today, the simple rules that got me here will be applied now. Drastic portfolio changes are not made until the underlying trend changes. Violating that rule is a mistake. It's rarely a good idea to do a portfolio overhaul during emotionally charged markets. The best time to tweak portfolios is after run like we just witnessed, when the market is consolidating and moving sideways.
Stay within your comfort zone. You never want to invest in new or exciting situations just because everyone else is doing it. Doing so falls into the influence trap that Mr. Mauboussin speaks about. Periodic review of your holdings keeps you aware of what you own, and then should be followed up with the question, why do I own it?
Of course, it can never be emphasized enough, have a plan. You always need different scenarios that you will employ when you will buy, sell or do nothing in a number of different market scenarios. Take yourself out of the equation as much as possible.
I view this next part of my strategy as one of the most important in formulating a plan. Investors are bombarded constantly with various headline and events that can shape the market outcome. The trick is assigning the probability of various events and outcomes, rather than running and scrambling with each headline.
For sure we all heard that when oil was at $30 a barrel, the banking system would come under great stress causing another 2008 type event. A nice headline to disrupt portfolio planning was laid at our doorstep. It was one that I viewed as having a very low probability of developing, That conclusion was reached when one looked at ALL of the data available.
It takes a special mindset, one that can't be influenced by what is being heard around them. So the process of making these decisions is staying disciplined and focused. When that takes place it gives an investor a huge edge. Learning to focus on the process and accept the periodic and inevitable bad outcomes is crucial. No one gets it right every time.
Keep in mind that over time, good decisions will bring favorable results even if you will be wrong from time to time. No one knows their attributes and faults better than themselves. Each investor should realize what type of person they are, and what they can and cannot handle in the markets in terms of risk.

Economy
GDPNOW forecasts Q3 GDP growth of 3.5%, down from 3.6% projected a week or so ago.
U.S. manufacturing ISM reports continue to be weak and muddle along, as the August read was 49.4. This result brings us back to the sub 50 readings that we saw in the October '15 to February '16 timeframe.
The bears will be quick to point out the poor manufacturing number just reported, but will be just as quick to forget the July reading of 52.6. The 12 month average is 50.2, slightly above the expansion threshold.
This week's construction spending report showed a rebound via strong performances from key sectors and upward revisions to June's figures. Office spending and Private Nonresidential spending both made new all-time highs this month, while Manufacturing and Private Residential spending rates look healthy.

The Consumer
Everyone likes to make comparisons to 2008. It has been reported that auto loans could usher in the next wave of defaults and become the next subprime crisis.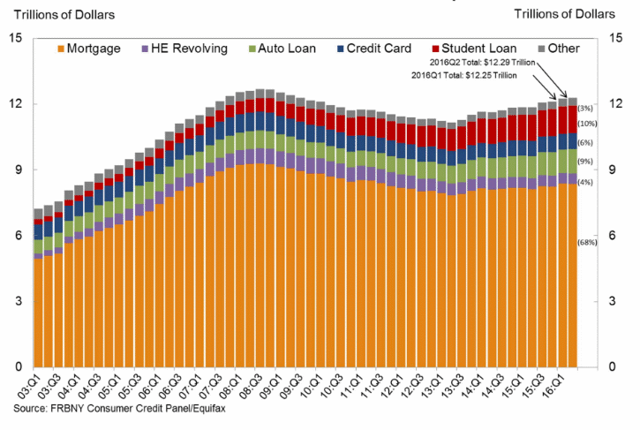 That isn't the way I see it. As shown in the chart above, auto loans make up 9% of the consumer debt load. Sure that segment of debt has increased from 6% to 9% in the last decade, but the mortgage market is about 7.5 times that at 68%. Statistics also show that credit scores at origination for all auto loans have not deteriorated.
So it would appear the risks in the auto loan market are not remotely comparable to the risks we witnessed leading to the financial crisis.
The BEA reported that U.S. consumer spending increased for a fourth straight month in July amid strong demand for automobiles. Along with that data point consumer spending appears to have retained some of its momentum from the second quarter, when it grew at a 4.4 percent annual rate, the fastest in nearly two years.
Conference Board's Consumer Confidence index handily beat expectations, rising from 97.3 to 101.1 versus 97.0 expected. A number of categories showed strong readings, but the most significant gains were in the fields of employment and income.

A recent NY Times article reports that the increase in middle income jobs may finally be materializing.
Non Farm Payroll numbers were reported at 151,000. The notion that the Fed was going to make a decision on a September rate hike based on this payroll number was absurd to begin with. Given the market reaction to a tepid jobs number, it is clear many are still fearfully obsessed with the next rate increase.

Ebulliophobia is the fear of bubbles. Admittedly it does not refer to the kind of bubbles we discuss in the financial world, but I do believe some pundits do have some sort of phobia simply because of their constant use of the term.
Anyone suggesting there is another housing bubble forming just need to look at the latest figures on home ownership.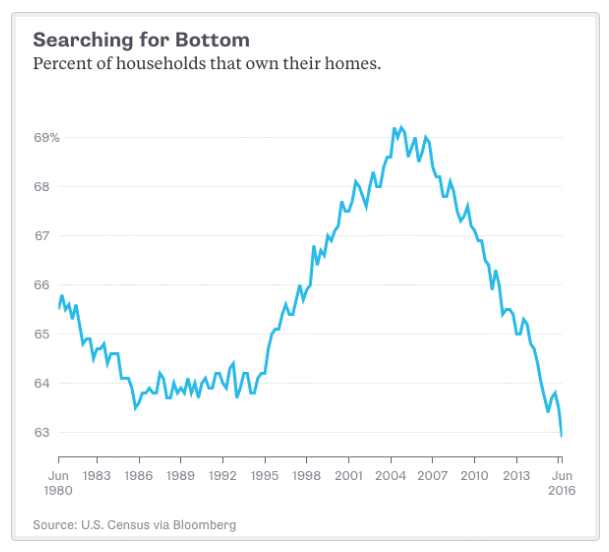 As with any excess, the reversion usually results in a severe overshoot in the opposite direction. In this case there could be a lot of pent up demand that will play out for years to come. That equates to a positive, not a negative situation.
The bubble talk is all about the recent home price increases that have been reported across the board. This time around the increases are being fueled by the lack of supply in the housing market. The National Association of Realtors reports;
"Total housing inventory at the end of July inched 0.9 percent higher to 2.13 million existing homes available for sale, but is still 5.8 percent lower than a year ago (2.26 million) and has now declined year-over-year for 14 straight months. Unsold inventory is at a 4.7-month supply at the current sales pace."
Pending home sales reached their second highest reading in over a decade.
Lawrence Yun, NAR chief economist;
"A sizable jump in the West lifted pending home sales higher in July, amidst tight inventory conditions that have lingered the entire summer. Contract activity last month was able to pick up at least modestly in a majority of areas. More home shoppers having success is good news for the housing market heading into the fall, but buyers still have few choices and little time before deciding to make an offer on a home available for sale. There's little doubt there'd be more sales activity right now if there were more affordable listings on the market."

Global Economy

While consumers seem content here at home, the most recent round of Euro confidence indices (across various consumer and business sectors) from Eurostat were bad news for European growth bulls. Consumer confidence is now trending decisively lower. While these various indices don't all translate directly into economic output statistics, their deterioration presents a picture that has quite a number of clouds present.
Something to keep an eye on and then mesh with other data from the eurozone to shape an opinion of the situation there.
Eurozone manufacturing PMI came in at 51.7 the lowest in the last 3 months.
Chris Williamson, IHS Markit's chief business economist;
"The rate of expansion dipped to a three-month low but is at least holding up in the face of the uncertainty caused by the U.K.'s vote to leave the EU. The survey indicates that factory production is growing at a steady though unexciting annual rate of just under two per cent."
Bucking the Eurozone trend, U.K. Manufacturing PMI handily beat expectations. That comes after a disappointing report in July. The index was reported at 53.3 compared to the July result of 48.2.

Chinese manufacturing Purchasing Managers' Index, which mainly tracks large state-owned companies, rose to 50.4 last month, the highest reading since October 2014.
PMI readings above 50 signal expansion.

A refreshing change from the host of negativity surrounding the vote to leave the E.U. It may have created opportunity for some that are interested in investing in the REIT sector in the U.K..

Earnings
SP 500 Weekly Earnings Data;:
Forward 4 quarter estimate: $125.88 vs last week's $125.82.

P.E ratio: 17.23(x)

SP 500 earnings yield: 5.80% vs last week's 5.76%.

Year over year growth rate of the forward estimate: +1.66% vs last week's +1.46%.

Sentiment
The fact remains that Bonds are still favored over Stocks.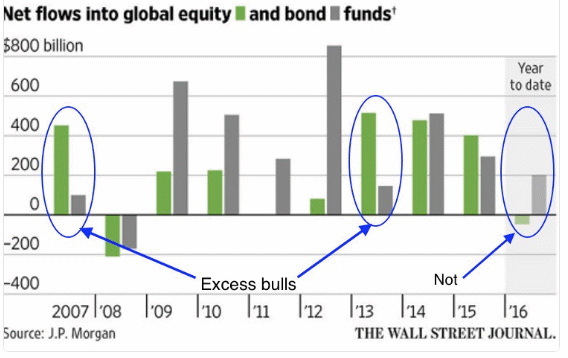 There is no fever pitch mania to get involved in the stock market at this time.
Different week, same results. AAII Bullish Sentiment came in at 28.6%, down 0.8 points from last week's reading of 29.4%. At the same time, AAII Bearish Sentiment jumped to 31.5%, up 1.8 points from last week's reading of 29.64%.

Crude Oil
Two weeks ago, I showed what could be a long term head and shoulders pattern developing which could turn out to be a positive sign for the bulls. The negatives that must be discussed include the fact that we are entering into a seasonally weak period where gasoline demand falls off. Resistance levels right around the $50 level will provide a stern test that must be passed for this pattern to emerge.
In the meantime my short term support level of $46.50 was decisively broken when the weekly inventory reports were announced. That report was flat out bearish. Production didn't ramp up again, which was a welcome sign, but the seasonal decline in gasoline demand is on and consumption fell from 9.7million barrels two weeks ago to 9.5 million barrels today. For the week WTI was down $3.17, as it closed at $44.20 on Friday.
We saw a bounce off of the $43 level this past week. Watch and wait as an area of major support looms in the $37- $38 level. Unless we get a negative headline, I don't think we get to that level.

The U.S. Dollar
The long term chart of the U.S. Dollar Index has the appearance of a head-and-shoulders top. The opposing view says the double bottom may have been put in, and the dollar will start to move higher.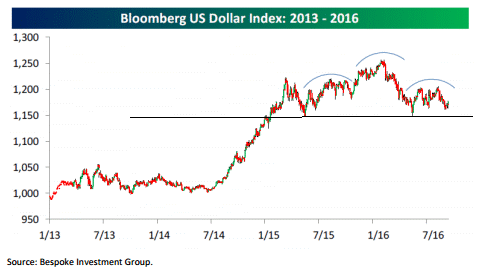 Clearly the issue could be resolved with a break below the support line I drew on the chart or a break above the right shoulder of the pattern.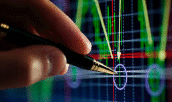 The Technical Picture
It's time to lose the infatuation with low VIX reading being a sign of complacency and a negative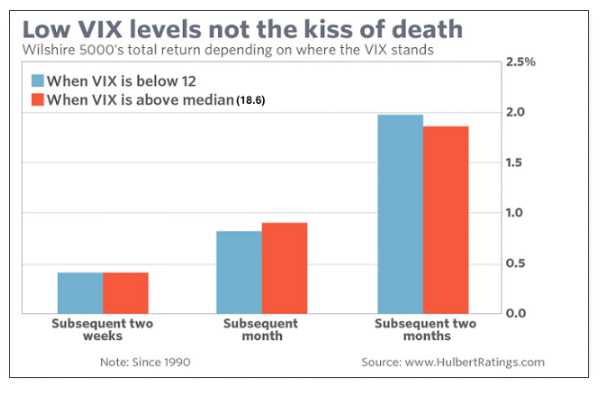 Mark Hulbert provided this data that suggests on its own, a very low VIX is not necessarily bearish: forward returns in the SPX are no different than when the VIX is above its median of 18.6.
The entire trading range for the month of August was 2148 - 2194. Barely above 2%. That leaves investors waiting for a break either way.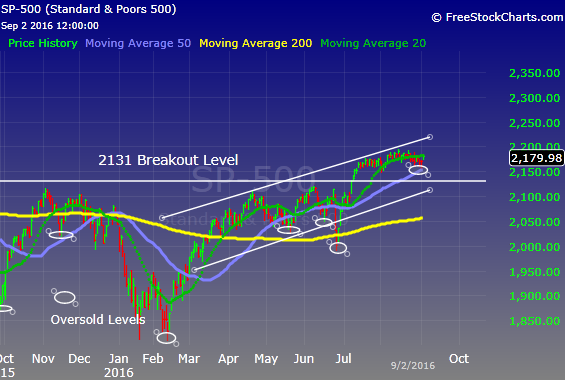 Source: FreeStockCharts.com
The S&P danced just above and just below the 20 day Moving average this past week, and wound up closing above that trend line. There are several possible short term scenarios, but nothing worth mentioning until the range is broken one way or the other. Short term support is at the 2131 and 2085 pivots, with resistance right where the index closed and then 2212.

Market Skeptics
Not to be outdone by the barrage of negativism from many analysts, well known individual investors have joined the parade.
Finance history is replete with terrible market calls by very wealthy people. Most of the time they come with agendas.
Instead, it is better to instead consider your own goals and motivations, which are probably very different from those of billionaires. The average investor has goals of saving for retirement, buying a home or paying for their kids' college education. Similarly they are not especially concerned with promoting a particular company or cementing their legacy.
Druckenmiller, Soros, Icahn, Gundlach and Gross are all legendary investors. Keep in mind that they are not trying to accomplish the same things with their portfolios that you are likely aiming for with yours. So it's clear the goals are quite different and blindly following them into or out of a trade or portfolio is not the greatest of ideas.
The primary, and most important takeaway from all of the bearish viewpoints presented today; equity markets do NOT put in tops when the sentiment is so skeptical and at times outright bearish.

Individual Stocks and Sectors
Sector rotation continued in August, as money was taken out of Telco and Utilities. Financials were the biggest beneficiary, while Energy and Technology received a fair share of attention.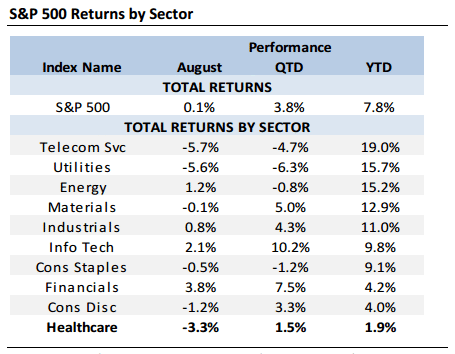 Source: Thomson Reuters
Healthcare was the big loser, as it now has fallen back into the red for the year. The headline risk is the underlying problem, while the fundamental picture remains healthy.
The graphic below shows just how much technology has take over in the last two decades.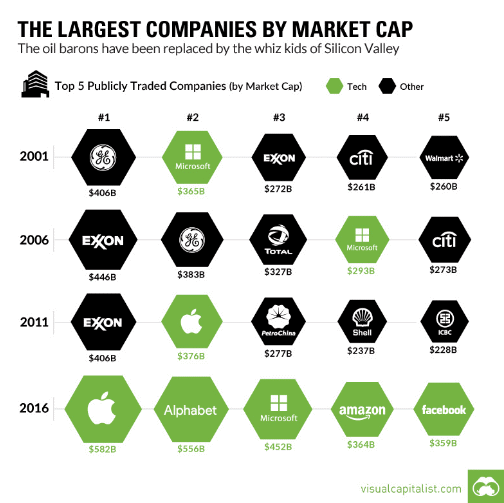 This growth trend will only continue in the future. One of my favorites, Cisco Systems (NASDAQ:CSCO) broke to a new high while gaining 2.7% for the month. That breakout and the 3.4% yield has caught the eye of investors.

Biotech Industry
The political headline risk for investors dabbling in the sector has reared its ugly head again. Looking back to last year, investors got whacked when Ms.Clinton tweeted her 'price gouging' comment.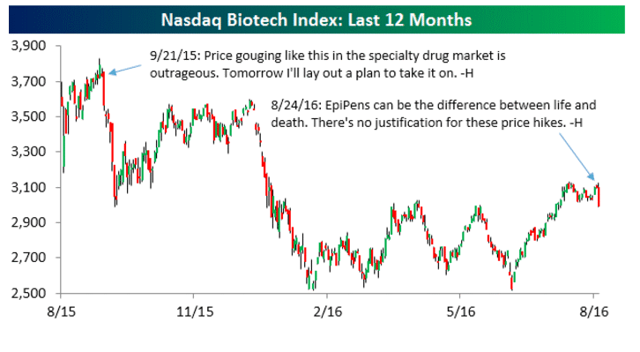 Source: Bespoke
Well, it appears as though the media and Ms.Clinton has once again had enough of the rally in biotech stocks. She tweets that there was 'no justification' for the price hikes in Mylan's Epipen, and once again the tweet echoed across the biotech world.
Not only did Mylan (the culprit) decline, but the rest of the specialty drug/biotech sector followed suit and fell more than 3.5% on the day. The damage was also felt in stocks like Express Scripts (NASDAQ:ESRX) and CVS Pharmacy (NYSE:CVS) as they were targeted for playing a part in the issue.
It is now a way of life for investors in Biotech to expect that their investments are targets for the negative publicity.
Anyone with a mindset that the political commentary will be upsetting and wouldn't feel comfortable buying if/when more weakness occurs, this sector isn't for you. Big cap biotech is not overvalued, and the broad brush being applied to the entire sector creates opportunities for investors that realize the condemning of the entire industry over a single drug is absurd.
Many stocks are being valued that way now because of one thing; political noise. Investors have to be patient until it dies down. Suffice to say there won't be a light that flashes to let us know that the political ramblings are over. Full Disclosure, I do not own shares of Mylan (NASDAQ:MYL).
For those involved in the sector now, it will be important for the group to retake the recent breakout levels that were achieved back on August 1st. As I see the picture today, the Biotech index (NASDAQ:IBB) sits at a critical support level, and it will need to hold or further weakness could take prices lower again.

Energy
The Oil and Gas exploration ETF (NYSEARCA:XOP) posted a gain of 6.2% in August, while individual E&P stocks recently mentioned here fared even better.
Notes from the recent EnerCom conference in Denver.
So far this year we have seen ~$20 billion change hands for leasehold acreage and mineral interests for U.S. onshore unconventional assets. The Permian Basin has dominated the trend (7.8B) year to date.
I believe we may be in the early stages of an A&D/M&A frenzy in the U.S. onshore oil patch, as companies aggressively try to build a drilling inventory that is economic in a sub $50/Bbl oil price environment. A company that I own shares in, QEP Resources (NYSE:QEP) highlighted their recent acquisitions and the rationale for making those purchases during the conference.
With recent outsized gains in the sector and WTI weakening, a consolidation is warranted. I plan to use any weakness to scale into positions in the sector.

The Financials have underperformed for a long time and they are relatively inexpensive. Both the Power shares KBW bank index (NASDAQ:KBWB) and the Select Financial sector ETF (NYSEARCA:XLF), continue to show strength. A mere whiff of an interest rate hike has awakened buyers to move into the space.

The month of August saw the S&P post a whopping loss of 2 points. Given the dire warnings and the huge run up in prices that preceded the month, many who remained invested in the equity market will gladly take that result. There were plenty of nice gains in individual stocks in sectors that were discussed here during the past month. All in all, August wasn't the debacle it was being made out to be.
All of that is history and it is time to realize that we enter the September - October time frame at elevated levels, understanding that this period can be volatile. Over the last 50 years, the Dow has averaged a decline of 0.8% in September with positive returns 36% of the time. In the last 20 years the September scoreboard reads 11 up, 9 down. The really bad declines have come most often during downtrends. Last September saw a decline of 2.6% in the S&P, and if you remember that was preceded by 6.2% loss in August.
We should be mindful that this year brings the presidential election preview and of course the recent Fed developments. All said though, if earnings growth does resume over the next quarter or two, longer term investors are likely to be rewarded for their patience, by sitting through any market weakness that could occur.
Given the advance and resilience we have seen lately, a 3-5% pullback could come at any time. Anything more would be a result of a headline that really rattles the markets and will have to be assessed when it occurs. That leaves me with the strategy of using pullbacks to look into select stocks and sectors that warrant further attention.

I abhor looking too far ahead when it comes to the markets. So many things can take place to upset the applecart. So I will leave the bulk of the soothsaying to the wizards that called for investors to abandon the market for the last 8 months, but certainly won't follow them now.
I would much rather review and assess the data as it comes in on both the technical and fundamental level. Taking a peek into year end, anyone expecting a straight move to higher levels is likely to be disappointed.
The anxiety over the Fed and the election is likely to increase as these event draw near. No one can prepare a portfolio for the outcome of any political result. Trying to guess not only the outcome, but the resulting policy is wasted effort. Investors should have learned that from all of the Brexit talk and suggested positioning.
The next president could take the economy into overdrive or into recession, and take the market with it. However, trying to make adjustments now is simply guessing. In my view, it is a wait, observe, then possibly react situation.
If it fits into your strategy, the "active" long term investor can simply harvest profits from the sector rotation gains that have been garnered. That provides the cash to take advantage of opportunities down the road.
The "passive" long term investor need do nothing but tweak their portfolios as warranted given their personal situation. Remaining on the long side of the market, until the primary long term trend is decidedly broken.
Best of Luck to All !
Disclosure: I am/we are long CSCO,QEP.
I wrote this article myself, and it expresses my own opinions. I am not receiving compensation for it (other than from Seeking Alpha). I have no business relationship with any company whose stock is mentioned in this article.