Despite shattering another five-year minimum, natural gas (NYSEARCA:UNG) prices found some rough patches this week.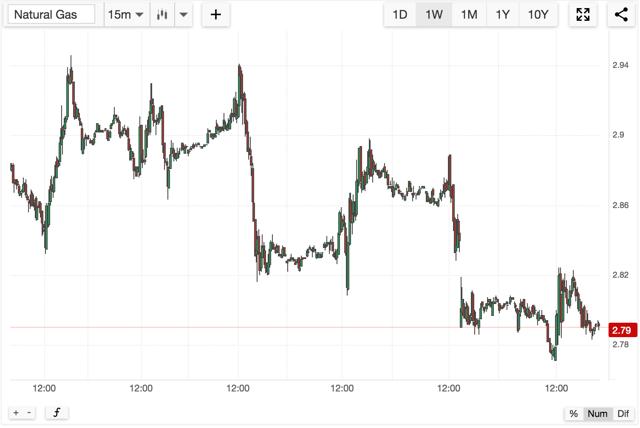 Source: Trading Economics
Natural gas prices ended the week down -3.125% this week. As we highlighted in our last week's weekly natural gas report, we said that "prices could still remain subdued within this range in the near-term barring from any hurricane risk."
This week's natural gas storage report was 51 Bcf or 10 Bcf higher than what the consensus estimated. Geckoi Capital, a natural gas research firm, projected a +49 Bcf storage injection while we expected a +46 Bcf storage injection. The disappointing report definitely took some off the market participants off-guard, but we think the demand falloff from hurricane Hermine caused most of the weakness. There were some bullish revisions to next several week's injections, but not enough to offset the large demand fall we've seen so far. Traders we spoke to about the situation initially showed concerns on potential supply outages, but quickly shifted their views when National Hurricane Center revised the path of Hermine more inland.
Going forward, we think there are still uncertainties with regard to how much demand has been affected. We know now that GOM production should be back online shortly, so supply side could increase while demand remains depressed. This could result in an upward revision for 9/9 week natural gas report. Current estimate is around ~70 Bcf.
It's still hard for us to see how natural gas prices move up above the current range of $2.50-$3.00/MMBtu in the next month. September will see LNG demand fall to zero as Cheniere shuts down the plant for maintenance, and with no summer heat to support power burn demand, it could finally be the first month we see slightly below average injections playout each week. Current injections look to be on pace to add ~290 Bcf by the end of September (not including 9/2 storage).
Thank you for reading our Weekly Natural Gas Recap. If you would like to read more articles from us, please be sure to hit the follow button! For those interested on the outlook of natural gas prices, HFI Research publishes a weekly outlook for premium subscribers. If you are interested, please direct message us for more information!
Disclosure: I/we have no positions in any stocks mentioned, and no plans to initiate any positions within the next 72 hours.
I wrote this article myself, and it expresses my own opinions. I am not receiving compensation for it (other than from Seeking Alpha). I have no business relationship with any company whose stock is mentioned in this article.